2023 Zebre Parma vs Hollywoodbets Sharks
URC Round 4 Recap: Zebre Triumphs, Top Teams Falter And Healy's Magic
URC Round 4 Recap: Zebre Triumphs, Top Teams Falter And Healy's Magic
Discover the dramatic shifts in the 2023 URC, as unbeaten teams falter, Zebre celebrates and Ben Healy's magic reshapes rugby dynamics.
Nov 15, 2023
by Philip Bendon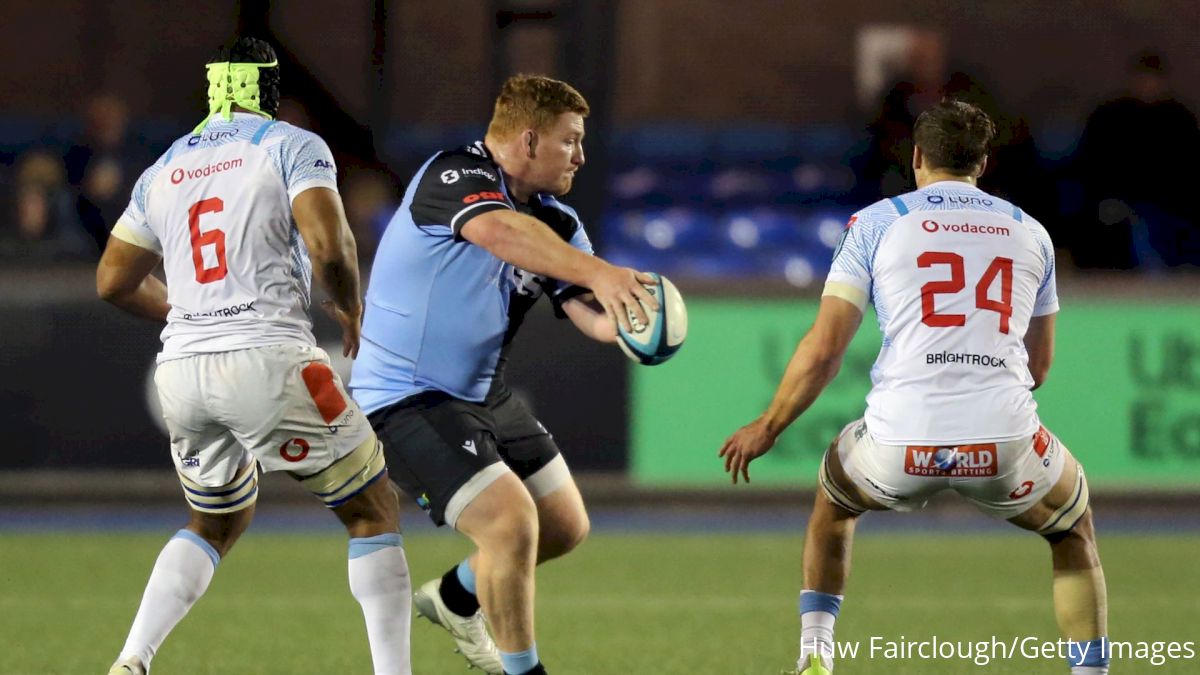 It was moving time in Round 4 of the 2023 BKT United Rugby Championship, as the league table saw a major shake-up.
Heading into the round, there were three unbeaten teams remaining in the league - the Irish duo of Munster and Connacht, as well as Italian side Benetton.
With minutes remaining in each fixture, it appeared as though this would remain the case. Yet, in a rather disappointing fashion for the two Irish sides, late concessions of points saw them both slip to their first defeats.
These losses, combined with victories for other top-ranked teams, saw the top two sides drop to fifth (Connacht) and eighth (Munster), respectively.
Amidst the reshuffle, South African powerhouse the Vodacom Bulls surged to the top of the table, while perennial powers Leinster and Glasgow are nipping at their heels.
With so much to discuss, here are five of the key takeaways from Round 4:
Losing Streak Broken
It may have taken 18 months, but the 500-pound gorilla has been shifted, as Zebre secured a monumental victory at home against the Hollywoodbets Sharks.
Coming close on several occasions over the past two seasons, the Italians finally were rewarded for their endeavors, as they closed out a tight 12-10 victory in front of their loyal fans.
The spirit, the clashes, the emotions 😤

All so intense and wonderful.#WeAreZebre #BKTURC #URC #ZEBvSHA pic.twitter.com/3tMSTegzo4

— Zebre Parma 🦓 (@ZebreParma) November 12, 2023
The win itself feels like a watershed moment for the club, which, as touched upon, has come mightily close on several occasions over the past 18 months.
While it is unlikely they will challenge for a knockout place, picking up victories is crucial for them to garner trust with their fanbase that they are indeed going in the right direction.
Snakes And Ladders
"Any given weekend" is the mantra for the modern-day URC, as the league continually works toward parity amongst the top sides.
Certainly, the Irish sides, Glasgow and the top South African sides are a step ahead of the Welsh and Italian sides at present, but this does not mean any team is infallible, especially on the road.
Given that the most successful team in the league's first two seasons, the DHL Stormers, are sitting with two wins and two losses, having struggled on their European tour, it proves once again that wins are tough to come by.
Adding further weight to the competitive nature is how far Connacht and Muster slipped with a single loss, while the Bulls, Leinster and Glasgow all have surged. Given it is the early days of what will be a long season, the table almost certainly will continue to shift on a week-to-week basis.
Healy Magic
Could Irish Rugby be looking at the one that got away?
Arguably, the biggest offseason story has been the defection of former Munster star Ben Healy to Edinburgh and Scotland.
Having seen his former teammate Jack Crowley leapfrog both at the provincial and international levels, Healy decided to move across the Irish Sea.
Playing a bit of a role for Scotland in both the Six Nations and Rugby World Cup, Healy will be relishing his consistent game time in the Scottish capital.
Slotting a match-winning drop goal to hand Connacht its first loss of the season, Healy reminded Irish and Scottish fans of his immense potential. For Edinburgh, having a genuine match winner in the No. 10 shirt has exponentially increased its chances of a title run this season and into the future.
Unfiltered drama 😱

Relive the final moments of Saturday night's wild win over Connacht at Hive Stadium.

Join us for Bulls 🎟️: https://t.co/d9rUFKFyjo pic.twitter.com/KVjFIYsJJK

— Edinburgh Rugby (@EdinburghRugby) November 13, 2023
Bulls On The Stampede
The table toppers secured a much-needed win in the Welsh capital Cardiff in Round 4, setting up what could be a sublime European tour, if they were to win in Round 5.
Should Jake White's side win in Scotland, they will return home with three wins from four outings, as well as a losing bonus point, which will set them up beautifully heading into December.
Unlike their fellow countrymen in the Stormers, Sharks and Lions, White's team has successfully navigated this period without their Springbok stars. Considering the significant impact that World Cup-winning stars Kurt-Lee Arendse, Canan Moodie, Willie Le Roux and Marco van Staden are likely to make, the Bulls are quickly becoming league favorites.
Former Champs Struggle
Two road losses following two thumping home wins make for grim reading for the DHL Stormers and their head coach John Dobson.
Yes, they are set to welcome back several Springbok stars following their tour, but if they are to return home winless, the chances of a top-4 finish will be slim.
Next up, is a Munster side that will be hurting from its late loss to Ulster and likely will welcome back a number of World Cup players.
While it is highly possible Dobson's team can win in Limerick, in reality, Munster should have too much for them at home.
This, therefore, places significant pressure on the Cape Townians to win a week later in Cardiff. Failure to collect points from these two fixtures could see them fall up to 14 points behind the Bulls in the South African shield.
It would then take a mighty effort to reel in their Pretoria-based rivals and, more crucially, could see them going on the road in the playoffs. There is little doubt that they could win all of their remaining home fixtures, but the margin for error will be razor-thin should they not collect any points over the next fortnight.