Premiership Rugby
Gallagher Premiership Round 4 Preview: World Cup Stars Set To Return
Gallagher Premiership Round 4 Preview: World Cup Stars Set To Return
Get ready for more of the action-packed 2023-2024 Gallagher Premiership season, with our exciting preview – fixtures, teams and top contenders.
Nov 1, 2023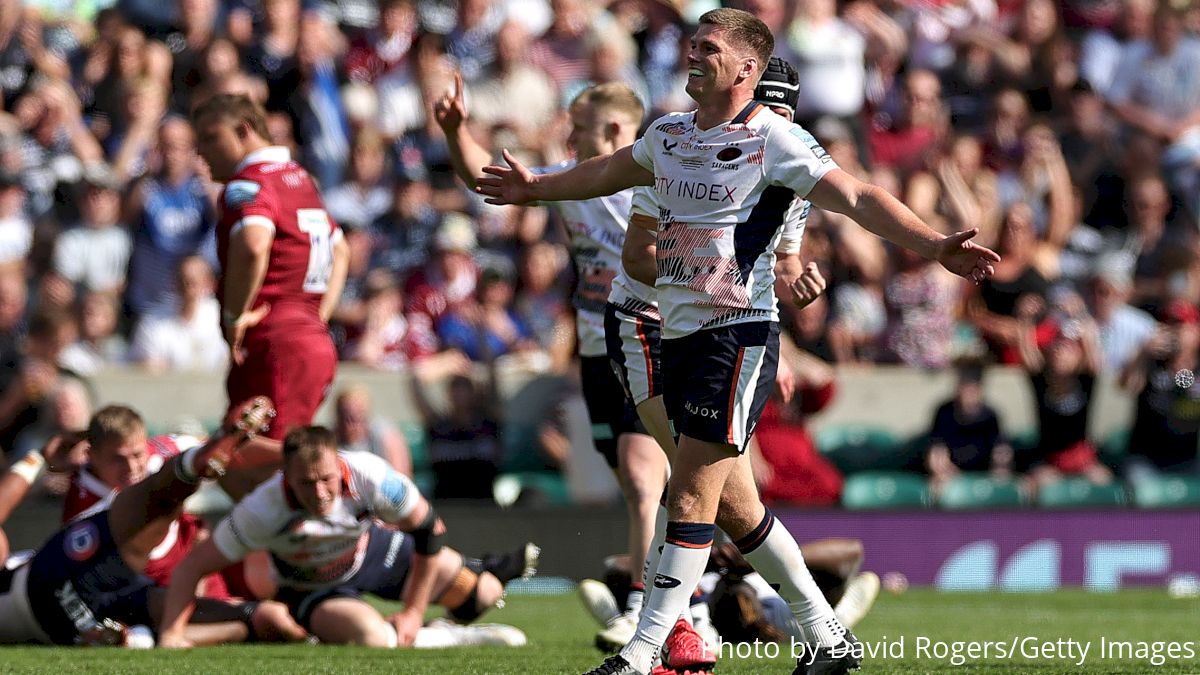 Now that the 2023 Rugby World Cup has ended, attention turns to domestic club rugby and the drama that awaits in the Premiership.
After three rounds of action, all 10 teams in the league have lost at least once, which adds an extra layer of tension to the games this weekend.
Here, Flo Rugby takes a closer look at the game of the weekend, the player to watch and the biggest storyline of the round.
Game Of The Weekend
There are some great matchups to look forward to, but none are quite as loaded as the battle at the StoneX between Saracens and the Leicester Tigers.
A month ago, the clash would have been billed as the last two Premiership champions going head to head.
While this, of course, hasn't changed, the jeopardy masked beneath has developed into something much more enticing, as both sides have started the season with losing records.
In fact, there are quite a few parallels between their respective starts in the opening three rounds.
Both lost their first two matches and looked looked languid, with many of their star players still away in Paris competing in the Word Cup.
Of course, the absence of Handre Pollard and Owen Farrell has completely disjointed the attacking structure of both Tigers and Saracens, and they cannot return quickly enough.
However, while the England and Argentina contingents have reported back for training, the South Africans, namely Pollard, will be away for a while, since they must finish their World Cup winners' tour.
But for all the absences of key players, Saracens did manage to get back on track with a dominant win at Kingsholm against Gloucester over the weekend, while Tigers snatched a win at The Rec with a last minute penalty from Jamie Shillcock.
𝙏𝙃𝙀 𝙆𝙄𝘾𝙆...🧊 @JamieShillcock

Where did you watch the final moment of the game in Bath, Tigers fans?#BATvLEI 🏉 #COYT 🐯 pic.twitter.com/zAdMPiyaCg

— Leicester Tigers (@LeicesterTigers) October 29, 2023
Both victories were desperately needed and helped put the two clubs back on the right track. However, there's still much to do before either side can start to relax.
The Tigers are eighth in the table with five points, while Saracens sits below them in ninth with a meager four points. It's a precarious position for both, which is why neither can afford to lose this weekend.
Starting the season with three losses in four matches could be detrimental and ultimately derail any shot at reaching the playoffs.
That's why this matchup is not just a must-see - with English internationals making their return - it's almost a must-win for both.
Player To Watch
No player defines an organization quite like Owen Farrell. The fly-half is the centerpiece of Saracens, and this weekend, he'll make his grand return to club rugby alongside all his fellow England internationals.
The last time he played for Saracens was in the Premiership final, where he led his side to a famous victory, picking up the player of the match award for his efforts.
Since then, Farrell has been lambasted by the public for receiving a red card and short ban for a high tackle in a warm-up game against Wales.
There were then calls for him to lose his starting spot, after George Ford exhibited a drop-kicking masterclass against Argentina in the opening round of the World Cup.
Skips 😍#YourSaracens💫 https://t.co/R2nGgkhpRr

— Saracens Rugby Club (@Saracens) November 2, 2023

Through all the criticism, Steve Borthwick stuck by his captain and was rewarded heartily, as Farrell put in his best performance in an England shirt in years against South Africa in the semifinals, running the reigning champions right to the line.
The veteran then followed the display by leading England to bronze in the third-fourth playoff against Argentina.
He's capped a lot of flack in the last couple of months for his on-field performances, but there's no doubt Farrell still is an excellent player, operating at the highest level. His poise, leadership and game-management will be invaluable when Saracens face Tigers this Saturday.
The Storyline to Follow
Of all the action this weekend, the most intriguing storyline will be taking place at Sandy Park.
So far this season the new-look Exeter Chiefs have bulldozed their way to two huge victories at home against last season's Premiership finalists - Saracens and Sale Sharks.
This unprecedented run of success has stood the rugby world to attention, as many predicted the club would struggle after many key players left in the summer.
That means the Chiefs are heavily reliant upon their academy products, and while these players may not have the name recognition of those who preceded them, they've shown more than enough mettle to earn the respect of their competitors.
Indeed, they've scored a staggering 16 tries across two matches at Sandy Park so far this season. Is this an early blip or a sign of things to come?
Well, we might find out Sunday when Bristol Bears make the short trip down to Devon. If Exeter can orchestrate another demolition job at home, it might be time to start dubbing Sandy Park the Chiefs' fortress.