2023 Perpignan vs Section Paloise
Five Highlights from Top 14's Return Last Weekend
Five Highlights from Top 14's Return Last Weekend
Pau's surprising start didn't slow down when the Top 14 came back from its World Cup break, while early-season issues are continuing to plague La Rochelle.
Oct 31, 2023
by Briar Napier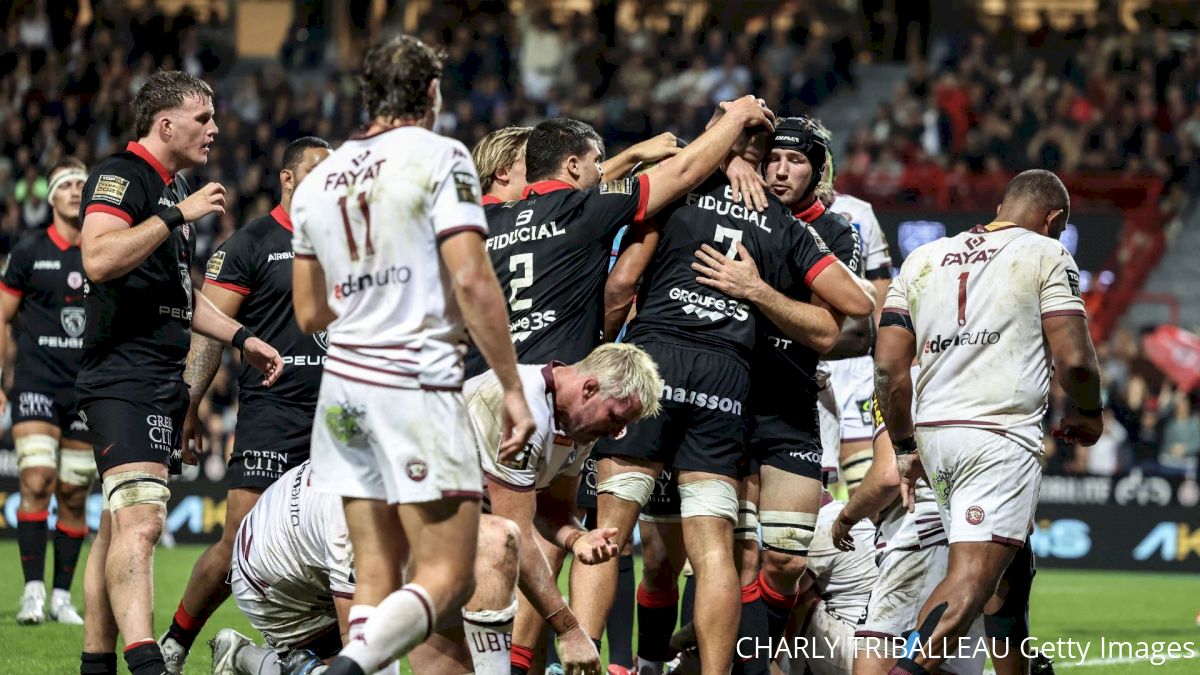 While international rugby ruled the scene across France over the past couple of months, the country's domestic league was eagerly anticipating its own return after an extended break for the 2023 Rugby World Cup.
The Top 14's first week back in action since early September did not disappoint.
Here's a look at five of the top highlights from Round 4 , as the competition got back up and running this past weekend:
Perpignan Gives Pau A Scare
A surprise to begin the Top 14 season has been current leader Pau, which finished 12th last year as the threat of relegation playoff wasn't too far away for much of the 2022-2023 campaign.
Thanks to Bayonne taking down Stade Francais over the weekend, Pau tops the table for the first time in club history — though the Bearn club's own victory over bottom Perpignan didn't come easily.
Scoreless in the first half, as Lucas Velarte and Mathieu Acebes got the Blood and Golds out in front through first-half tries, Pau ripped off the Band-Aid and exploded for a five-try second half to pull away.
Spanish winger Samuel Ezeala secured a brace to help improve Pau's point differential to +46, the second-best in the Top 14 behind Racing 92.
Further reinforcements will arrive when all-time New Zealand caps leader Sam Whitelock joins from World Cup duty to play with brother Luke, so Pau has a right to be hopeful thanks to its superb start, whereas Perpignan, anchored to last place with no victories and a -110 differential, looks bound to be favorite to be sent down.
Whether or not Pau should temper any expectations, however, may depend on how its fixture Sunday against reigning league champion and continental powerhouse Toulouse goes.
#TOP14 - La passe de la J4

🏴󠁧󠁢󠁥󠁮󠁧󠁿The Royal "charnière" of @SectionPaloise 😅

Le duo anglais Robson-Simmonds à la manœuvre pour cet essai qui permet aux Béarnais de monter sur le trône 👑 pic.twitter.com/MoeTsRJ2Ng

— TOP 14 Rugby (@top14rugby) October 29, 2023
Toulouse Surges Late, Beats Bordeaux
And speaking of Stade Toulousain, it, like Pau, is 3-1 to begin the season, but Les Rouges et Noir had to work to get the four points in the club's return fixture against Bordeaux-Begles.
With standout fly-half Romain Ntamack — a former World Rugby Breakthrough Player of the Year — still out of the picture for the foreseeable future as he nurses a knee injury that forced him to miss the World Cup, it was his brother, Theo, who ensured that a Ntamack was on the Toulouse scoresheet upon the club's return to play.
The No. 7 scored a try in the first half that was one of the few bright spots for Toulouse, as fullback Nans Ducuing's try inside 10 minutes (plus accurate kicking from Mateo Garcia) had Bordeaux up 16-8 at halftime.
But coach Ugo Mola's substitutions in the second 40 worked wonders, as tries two minutes apart from Baptiste Germain and Ange Capuozzo — plus a trifecta of a conversion, penalty and drop goal in the final 11 minutes from Germain — helped Toulouse get over the hump and set itself up well for a crucial match in the table against Pau next weekend, while Bordeaux attempts to get corrected against slumping Montpellier on Saturday.
La Rochelle's Slide Continues
What has gone wrong with La Rochelle lately?
Les Maritimes have appeared near-unstoppable over the past three seasons, as they've made two Top 14 finals and captured two EPCR Champions Cup titles in that span, but Stade Rochelais has looked anything but that four matchdays into the 2023-2024 season.
Coach Ronan O'Gara's side has won one out of a possible four games and didn't look convincing in its return fixture against Castres over the weekend, giving up a double-digit lead, as the visitors — who failed to qualify for the Champions Cup a season ago — captured their first victory at the Stade Marcel Deflandre in five years. They ever down to 13 men briefly in the first half, and Castres scored twice while short-handed.
Pierre Popelin's penalty in the 67th minute gave Castres the lead for good, as it now sits second in the standings, while La Rochelle flounders in 11th.
It's a long campaign in the Top 14, and it's unlikely that a team of La Rochelle's talent and stature is down for an extended period of time, but alarm bells are starting to ring a bit at the club after the nearly two-month break didn't fix some lingering issues.
Lyon Avoids Disaster Vs. Clermont
Lyon's first quarter of action against Clermont was about as bad as it could get, with the visitors storming out to a 13-0 lead inside 20 minutes, but Lyon's finish throughout the rest of the match was oh, so good — and it has its ever-improving Georgian star, Davit Niniashvili, largely to thank for that.
The Lelos had high hopes to show out in a fairly weak Pool C, though were disappointing and finished fifth; Niniashvili upon his club return, meanwhile, showed little to no signs of rust, as he got Lyon on the scoresheet with a 20th-minute try.
Niniashvili then completed the double when the wing — with his side already well out in front by this points — got his second in the 76th minute to pick up the late bonus point.
Lyon got through the early trouble to cruise 41-22.
Also, Irish fly-half Paddy Jackson was responsible for 26 points on his own, as the summer signee, who was picked up on a one-year deal from London Irish after the Premiership club went into administration, had his boot on point throughout the match. He had three conversions and five penalties, plus a 48th-minute try to put it all together.
𝐍𝐢𝐧𝐢'𝐬 𝐨𝐧 𝐟𝐢𝐫𝐞, 𝐲𝐨𝐮𝐫 𝐝𝐞𝐟𝐞𝐧𝐜𝐞 𝐢𝐬 𝐭𝐞𝐫𝐫𝐢𝐟𝐢𝐞𝐝 🔥
Excès de vitesse pour notre ailier géorgien flashé à 36 km/h sur cet essai 📸

Revivez la belle victoire lyonnaise avec le Grand Format ➡️ https://t.co/Ong4O4rKsd
.#LaForceduLOU#LaMeute pic.twitter.com/gZvCXJM5Qj

— LOU Rugby (@LeLOURugby) October 30, 2023
Villiere Returns To Form For Toulon
It was a bit of a rough World Cup for Toulon winger Gabin Villiere, who started on the left in Les Bleus' first two pool stage matches against New Zealand and Uruguay, before being replaced in the XV against Namibia by 20-year-old Bordeaux starlet Louis Bielle-Biarrey, who was one of the tournament's breakthrough players with three tries.
But upon Villiere's return to the Red and Blacks in the Top 14's return weekend, he looked much like the player of old who scored a hat trick against Italy in the 2022 Six Nations.
Against newly promoted Oyonnax, the reigning EPCR Challenge Cup champions stormed out to a comfortable 41-7 victory. It came after three underwhelming performances to start the year prior to the World Cup break, with Villiere scoring a try 22 minutes in — while narrowly missing out on a second a few minutes into the second half — as the 27-year-old was named man of the match in his club return.
Seta Tuicuvu and Matteo Le Corvec were the other try scorers (to go with a pair of penalty tries) as Toulon, which will get the services of new signing and speedy New Zealand wing Leicester Fainga'anuku soon, looks to climb back up the Top 14 table and gain a burst of momentum.