World Rugby
Springboks' Record Run Had Potential Pitfalls, But They Never Wavered
Springboks' Record Run Had Potential Pitfalls, But They Never Wavered
Was it "Boks Office" rugby from South Africa at the 2023 World Cup? Not always. But results at all costs were put on a pedestal, and SA is reaping rewards.
Oct 30, 2023
by Briar Napier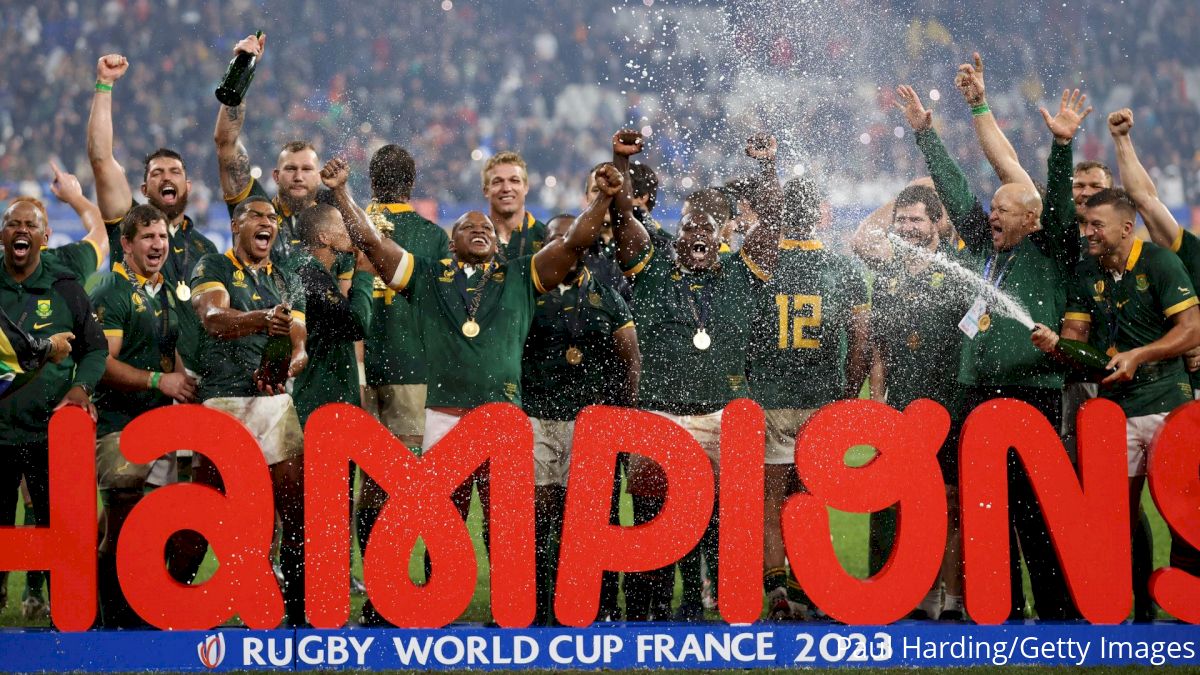 Was South Africa's charge to 2023 Rugby World Cup final truly "Boks Office?"
Hardly.
But while sexier picks to win it all in France, such as the hosts, an on-fire Ireland and — of course — mighty New Zealand and its game-breaking attack, the reigning world champion Springboks always were hanging around, almost lurking in the shadows and scanning the pitch for opportunities in crucial matches.
South Africa picked its spots and did what it wanted to do on a rugby pitch, instead of reacting to what others did to them. It worked wonders, and now, no other nation on the planet has won more World Cups than the Springboks — and they've done it in two less tournaments, having been expelled from the first two World Cups in 1987 and 1991 due to Apartheid.
Most of SA's matches in France, especially in the knockouts, were rife with tension, but the Springboks, an experienced side full of proven winners, didn't crumble. They brought aggression, tenacity and their trademark physicality, and they only turned the dial further on all of those attributes when games demanded it.
It's a well-deserved World Cup victory, again. From Rassie and Jacques, to the "Bomb Squad" and more, South Africa was a side that traded in the flair for pure production and results, and the plan was executed to perfection
South Africa is back on top of the rugby world once again. Below is a deep dive into how the Springboks did it to keep the Webb Ellis Cup in South African hands:
For South Africa 🇿🇦#StrongerTogether #Springboks #RWCFinal #RSAvNZL pic.twitter.com/v5hfD1N7LF

— Springboks (@Springboks) October 28, 2023
Defying "Death"
As the World Cup grew nearer, following the pool stage draw in late 2020, it became evidently clear as the months counted down that South Africa — the defending world champion, having topped the field in Japan in 2019 — was going to be in for an onslaught in order to make it two consecutive Webb Ellis Cups.
Due to the draw being so early, nearly three years before the start of the tournament, the World Rugby Rankings and strength of sides in each pool dramatically shifted in advance of the competition.
Pool B ended up being considered the "Pool of Death," as it featured three sides ranked in the top 5 of the world rankings — the Springboks, Ireland and Scotland — plus a much-improved Tonga, which benefited with fellow Pacific Islanders Samoa from the approval of the "birthright rule," which expanded their potential national team player selection pools, by World Rugby in November 2021.
That draw, in combination with its quarterfinal crossover match from Pool A shaping up to be either iconic rival New Zealand or white-hot host France, made South Africa's path to a repeat look especially daunting on the surface.
The Boks' mettle was immediately tested in two of their first three matches in Pool B, but with differing results.
South Africa's opener against Scotland went according to plan, as Pieter-Steph du Toit and Kurt-Lee Arendse (the latter of whom was set up by arguably the pass of the tournament - a no-look kick from Manie Libbok) scored tries in the second half to allow the Springboks to earn four points in an 18-3 triumph.
However, all eyes were on their third match (following a 76-0 demolition of Romania) against world No. 1 Ireland — which was coming off of a Six Nations Grand Slam to boot — in a fixture many saw as a possible preview of the final.
It ended up being the Springboks' only defeat of the World Cup, as Ireland won 13-8, with Libbok missing two makeable kicks (one penalty, one conversion) in a match worthy of all of the hype.
The Boks' hopes to win the pool outright essentially were dashed from there, but disaster was avoided with a bonus-point victory over Tonga to see them officially advance to the quarterfinals in second place in Pool B.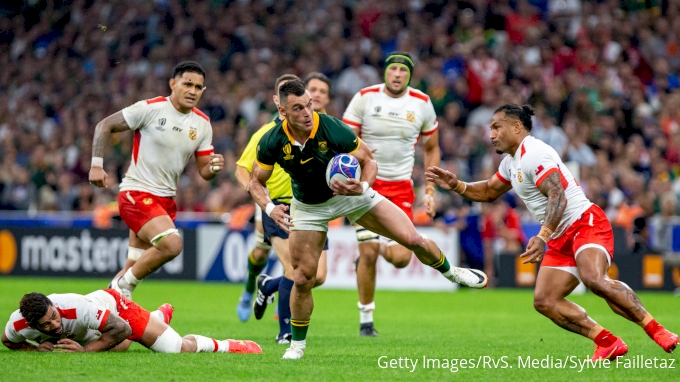 Classiques En France
When qualifiers for the quarterfinals were decided, South Africa drew France, which won Pool A with a raucous home crowd backing it, while additionally capturing an achievement that no one else had ever accomplished — beating New Zealand in the World Cup pool stages. Les Bleus did beat the All Blacks in the tournament's opening match.
Mixed with a potential 2019 World Cup Final rematch against England in the semifinals and (if South Africa got that far) the survivor of a quadrant featuring Ireland, New Zealand, Wales and Argentina in the final, the Springboks were going to have to fight through a murderer's row of rugby powerhouses.
But when SA narrowly defeated France in a scintillating 29-28 victory at the Stade de France — ending France's World Cup dreams, despite Les Bleus having one of their best teams playing on home soil — it was a mammoth performance and dramatic way to advance after one of the finest games of rugby ever played at a World Cup, and maybe ever.
The first 31 minutes of the SA-France match saw six total tries scored, before the Boks' trademark physicality began to take over and allowed them to hold on for dear life until the final siren.
More drama arrived in the semifinals, when that clash with England did happen, after the 2019 runners-up beat Fiji in a quarterfinal scare, and was it ever a heart-stopping affair.
England largely led and dominated the match for the better part of 70 minutes, stifling the Springboks' vaunted scrum and being moments away from shocking the Boks and getting back to the final.
But, forward reinforcements arrived, as replacement lock RG Snyman scored a try with 11 minutes to go, then substitute props Ox Nche and Vincent Koch were vital at winning a last-ditch Springbok penalty while down two points, as fly-half Handre Pollard slotted through the ensuing kick just two minutes from full-time, winning 16-15 for SA.
Cool as ice 🥶 #Springboks #StrongerTogether #RWC2023 pic.twitter.com/RUM9FnNoMv

— Springboks (@Springboks) October 21, 2023
New Zealand's cut-and-dry win over Argentina in the other semifinal, meanwhile, meant that for the first time since their iconic meeting at Ellis Park in the 1995 final, the Springboks and the All Blacks — historic adversaries and the two most successful rugby nations of all time — would meet again in the grand finale of a World Cup.
The 2023 final, 28 years in the making, did not disappoint.
Tense throughout, the tide began to turn when New Zealand captain Sam Cane was sent off, and the sure-footed Pollard went a perfect 4-for-4 on penalties in the first half.
Even when Beauden Barrett scored a try to get the All Blacks within a point of tying it, South Africa held firm (and got a break when Jordie Barrett missed a penalty with seven minutes to go) and won 12-11 to be the first nation to ever hold four Webb Ellis Cups aloft — and, at least temporarily, put to rest the debate of which country can most accurately stake their claim to being the worldwide kings of the sport.
South Africa Wins Matches By Slimmest Margins
If you were keeping count of South Africa's knockout-stage victories, you would've noticed that the Springboks won their quarterfinal, semifinal and the final by a combined three points.
Yes, incredibly, SA won by the absolute minimum amount of points possible for three straight victories, smashing the previous record low knockout-round margin of victory from a World Cup champion set by Australia in 1991 (17 points over three matches).
Were the Springboks perfect in the World Cup? Absolutely not, and even in the knockout stages, they were battered around at times and didn't appear as if they were the strongest side on the pitch.
But what South Africa did in France was enough — and because of that, it's just the second country, along with New Zealand in 2011 and 2015, to retain a World Cup title in back-to-back fashion.
South Africa was resilient and showed determination and heart throughout the competition, obviously, but when diving deeper into just how fantastic it was, it becomes much easier to understand why it is world champion once again.
Despite playing all of the five squads ranked below them in the post-World Cup edition of the World Rugby Rankings, the now No. 1-ranked Springboks completed 974 of a possible 1,144 tackles throughout the tournament for a success rate of 85%, including 98 dominant tackles, which by far ranked as the most from any country in the competition
And, with the exceptions of Libbok's missed kicks against Ireland, South Africa rarely let a major moment or opportunity slip — such as the fact that it won seven turnovers to New Zealand's one in the final — and usually found itself at the right place at the right time, with the quality oozing throughout the side to grip onto chances and convert them emphatically.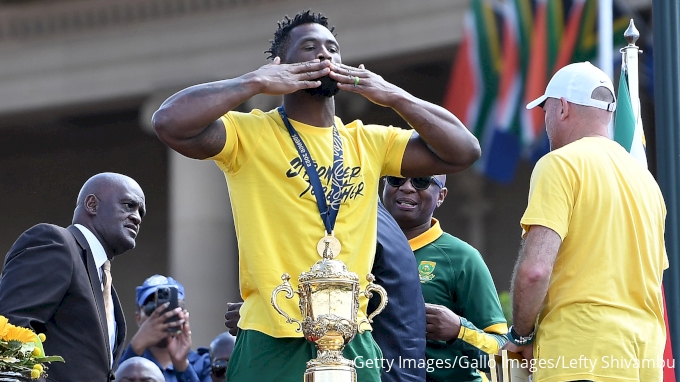 The fact that much of the Boks' squad had played in, and won a World Cup just four years earlier, certainly helped in regards to staying calm in tough goings, as well, with the core figures such as captain Siya Kolisi, Du Toit (who had 28 tackles and won Man of the Match in the final) and Pollard, who returned to the squad in the pool stages to help stabilize the Springboks' kicking issues, doing what was needed to ensure South Africa could return to glory.
Jacques Nienaber, Rassie Erasmus and company certainly didn't make a fourth World Cup easy on themselves, but holding the Webb Ellis Cup once again in the Stade de France on Saturday had to have felt oh, so sweet.