World Rugby
Battle of the Back Three: Who Should Start In England's Wider Channels
Battle of the Back Three: Who Should Start In England's Wider Channels
Discover England Rugby's 2023 World Cup wing and fullback selection conundrum as Steve Borthwick picks his team for Rugby World Cup Quarterfinals.
Sep 26, 2023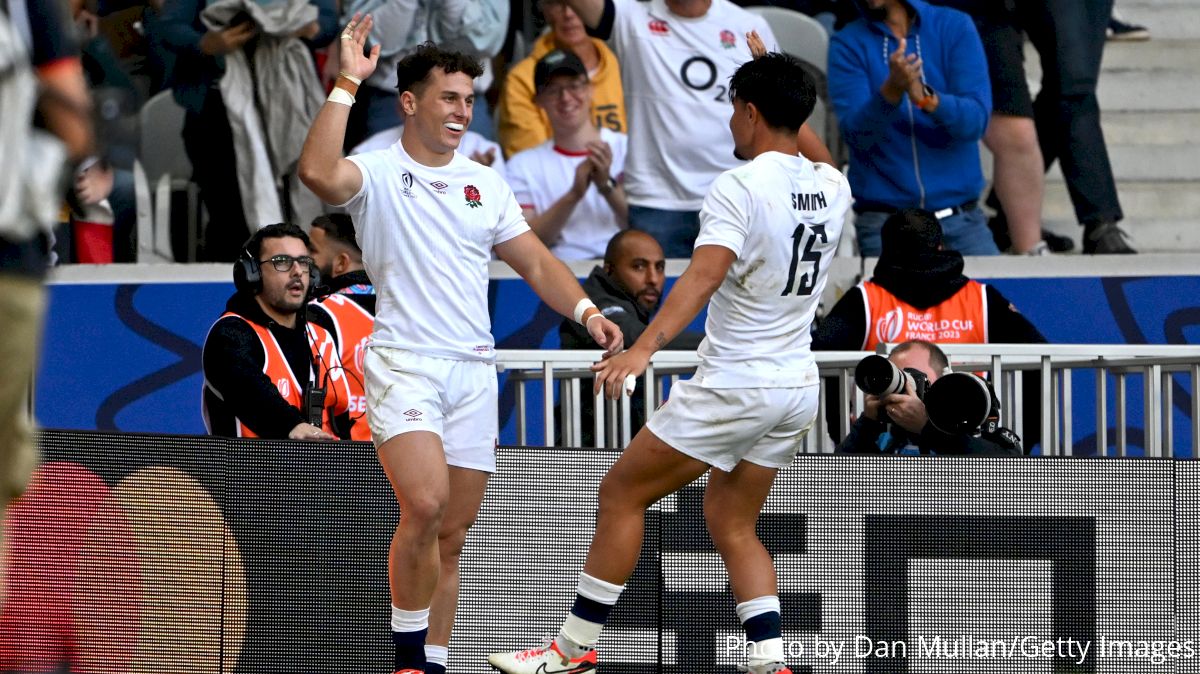 Instead of settling the nerves and calmly moving one step closer to the knockouts, England's battering of Chile opened up a whole new host of questions surrounding their squad selection, specifically in the backs.
So far, under Steve Borthwick, the men in white have exhibited a rather pedestrian form of rugby, built around a few set phases and tactical kicking whenever possible.
It means the team often find themselves without the ball, preferring to play off a few rucks instead of drawing out long sustained periods of pressure with the ball in hand. Inevitably, this means attacking invention has become somewhat of an afterthought in the England camp.
Freddie Steward is without question one of the best players under the high ball, which is why he suits this style perfectly.
He's not the most profligate runner in possession or the most nimble, but that doesn't matter when his catching ability is so high. This means the call for invention and line breaks often falls on his wingers.
During the Six Nations, Anthony Watson was a mainstay in Borthwick's back three, offering a perfect balance of aerial ability and fancy footwork.
Unfortunately, Watson was ruled out of the World Cup a month ago after sustaining a calf injury, which forced England to reshape their backline.
Elliot Daly and Jonny May made their way into England's starting lineup for their two opening World Cup fixtures against Argentina and Japan. Neither performed particularly well; both looked sluggish and slow at times - a forgivable sight given their age.
However, against Chile, the script was rewritten as Borthwick decided to mix things up and slot Henry Arundell and Max Malins onto the wings.
Arundell, in particular, made the headlines for a show-stopping performance, bagging a record equally five tries in his first World Cup start to put him top of the tournament's try-scoring charts.
The last Englishman to score that many tries in a men's international was World Cup winner Josh Lewsey.
Achieving such a feat is highly impressive and acted as a timely reminder of Arundell's expert finishing abilities. His lightning pace and electric step are real weapons and could provide the added juice England needs to start humming in attack. Let's not forget the youngster also used his pace to charge down a few kicks and retain possession effectively.
Then there's Malins, who is also a capable pair of hands and especially good in the air. After all, his preferred position is fullback.
All that means Malins and Arundell seemingly have the skills to replace Daly and May on the wings without creating too much of a ruckus.
They're both faster, dangerous in the air, and, in the case of Arundell, a unique finisher who has all the tools to unlock even the sturdiest of defences.
It doesn't feel like much of a gamble to slot them into the starting XV, the only hindrance being their lack of first-team experience.
May and Daly were key features in England's run to the 2019 final, but it's important to remember they were at different points in their careers back then.
Now, there are better, younger, more exciting options, and it's time to move on.
The real selection question hangs over the fullback position.
Admittedly, it would be foolish to replace Steward right now. Over the past two years, he's been England's most consistent performer and is widely renowned for his solidity under the high ball.
When the knockouts roll around, the importance of ball retention and kicking will be even more pronounced.
As a result, it would be rash to consider anyone other than Steward to start for England, at least to begin with.
The alternative option is Marcus Smith. The young Harlequins star is an exceptional player, with seemingly more energy than the Duracell Bunny.
His vision and confidence in attack are starkly at odds with Steward. All that was visible over the weekend when Smith carved up the Chileans with minimal fuss. In one particular move, he darted through a gap in the midfield, kicked the ball downfield once a defender approached him, and then scurried after the bobbling ball before recollecting it to score.
It was an outstanding moment of individual brilliance, directly at odds with how Borthwick has structured his team over the past nine months.
Of course, Smith's primary position is at fly-half, but with George Ford and Owen Farrell both above him in the pecking order, it appears fullback is his best route to earning a starting spot.
For now, Steward is the favourite to start ahead of him, but if England find themselves trailing, struggling to make yards in attack, Smith should be called upon to change the game.