World Rugby
Ireland Retains World Number One Status Following Titanic Springbok Clash
Ireland Retains World Number One Status Following Titanic Springbok Clash
Ireland's triumphant win against South Africa to retain the world's top ranking - catch the thrilling match recap and key highlights now
Sep 23, 2023
by Philip Bendon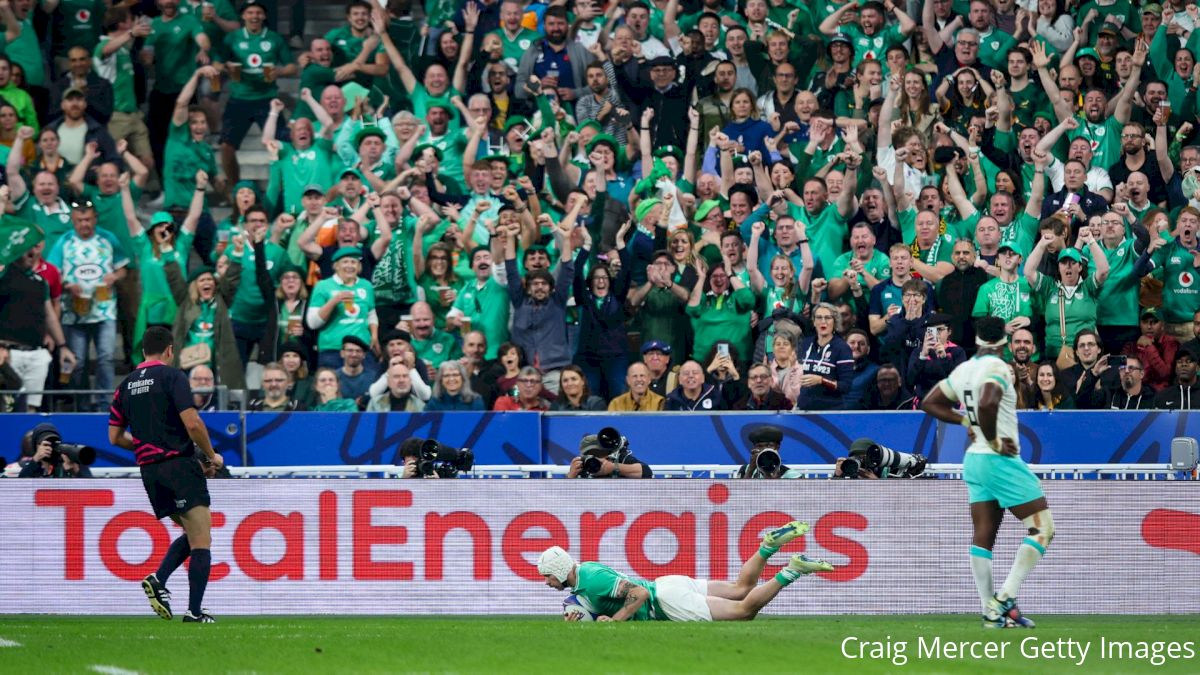 And so it remains, Ireland are the number one ranked team in the world as they defeated nearest rivals South Africa 13 - 8 in Paris.
Ferocious physicality would be the order of the day as the top two sides in the World proved why, alongside hosts France, they are the teams to beat this year.
Leading from the front, Ireland captain Jonathan Sexton was impervious as he challenged the Springbok line, oftentimes feeling the brunt of the Bok defensive line.
Defensively, Sexton was supreme as he completed a whopping eleven tackles, with the Springboks clearly targeting his channel primarily through an exceptionally impressive Damian De Allende.
In a fixture with such little to choose between the two sides, it was Ireland's ability to convert points-scoring opportunities whilst the South African goal-kickers once again floundered.
Under pressure at the set piece initially, Ireland adjusted accordingly, namely at the line-out, as the corrected the issues that caused them to cough up several try-scoring opportunities.
Showing bravery in the face of mightily impressive Springbok defence, Ireland continually went for the corner despite their initial line-out struggles.
They would eventually be rewarded in the 36th minute as winger Mack Hansen scooted over before flirting dangerously with the deadball line in a bid to make Sexton's conversion easier.
South Africa were at their physical best throughout as they, by and large, controlled the physical proceedings but struggled to convert their efforts into points.
It would take just seven minutes into the second half for four of the Springbok's much-vaunted bomb squad to enter the fray.
As expected, they certainly made an impact as the game began to open up; most telling was the impact of giant secondrow RG Snyman who made several strong carries and offloads to get the Boks over the advantage line.
As the minutes ticked by and the Springboks upped the ante, they would take the lead courtesy of wing Cheslin Kolbe, who controlled a long pass from Manie Libbok to go over in the 51st minute.
Yet despite several more opportunities, South Africa couldn't make their efforts count as the Irish cover defence mopped up the backfield with authority.
In the end, it would come down to a scrum on the Irish five-meter line to decide how the match would end. For the second time since their introduction, the bomb squad would fail to come out on top as referee Ben O'Keefe awarded the free kick to Ireland and, with it, the match.
Next up for Ireland is a clash with Six Nations rivals Scotland in two weeks' time, whilst the Springboks will tackle Tonga on Sunday, October 1st.