World Rugby
2023 Rugby World Cup: 5 Standouts From The Ranks Of Major League Rugby
2023 Rugby World Cup: 5 Standouts From The Ranks Of Major League Rugby
Major League Rugby continues to grow, and the ceiling for what players who play in the league can do at a Rugby World Cup is being raised right with it.
Sep 26, 2023
by Briar Napier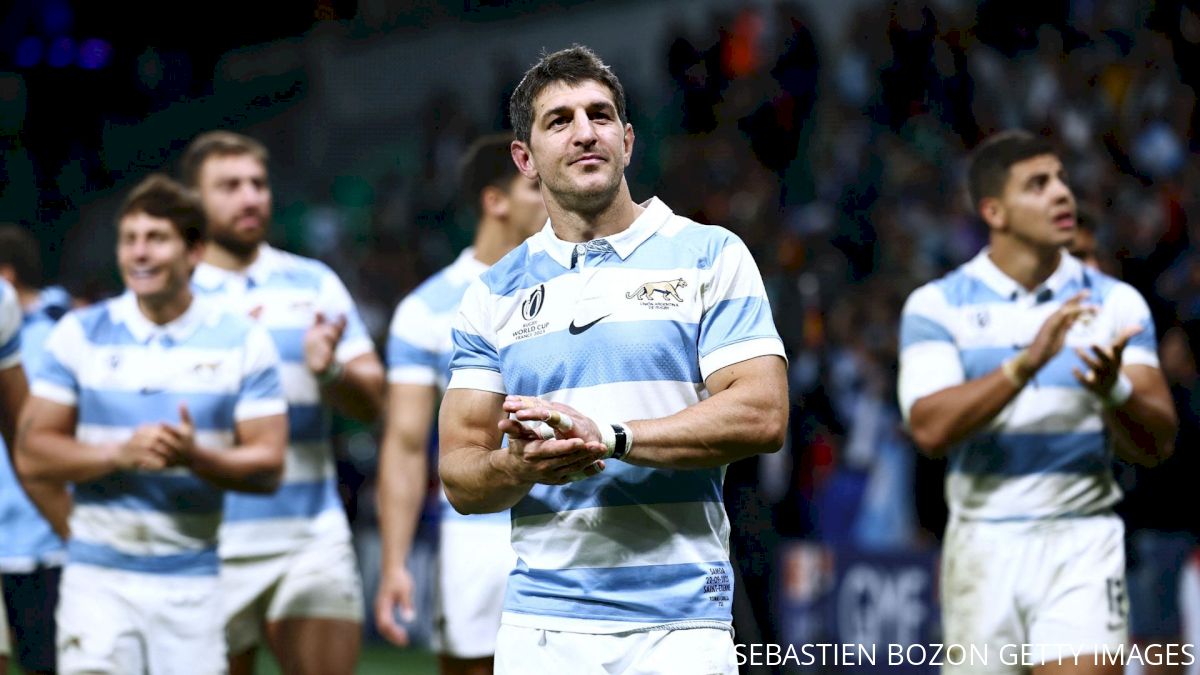 Major League Rugby still has a long way to go before it can be considered among the best club rugby competitions in the world, but the strides that North America's top league has made since its inaugural season in 2018 are already being felt at the highest levels of the game.
Namely, it's due to the fact that nine current MLR players (plus numerous alums and players signed on to join MLR clubs for the 2024 season) are currently suiting up for their countries at the 2023 Rugby World Cup in France, having impressed enough in the MLR to attract attention from their coaching staffs and earn a plane ticket to Europe in the process to play with their national sides.
MLR is only growing in strength year by year, with the league welcoming an expansion side for the 2023 season as it expands to 13 teams and to more geographical regions of North America than it ever has. It produces plenty of talented rugby talents, too, and when the next World Cup arrives four years from now, there may be even more names from the league who you'll see duking it out with the best players in the world.
Here's a look at five Major League Rugby standouts who have been making their presences felt in France at the 2023 Rugby World Cup:
Tomas Cubelli, scrum-half, Miami Sharks (Argentina)
Cubelli hasn't arrived in MLR yet, but just like another notable Argentinian athlete (Lionel Messi) did earlier this year, he'll be looking to be a big name that will bring fresh energy to sunny south Florida, just on a rugby pitch instead of a soccer one.
One of Los Pumas' most-capped players at this year's World Cup, Cubelli — the expansion Miami Sharks' first official signing as the club prepares for its 2024 MLR debut — is currently attempting to help drag Argentina out of Pool D and into the knockout rounds in the country's first World Cup under the tutelage of coach Michael Cheika.
Capped over 90 times by his country, Cubelli played multiple seasons in Super Rugby with the Brumbies, Jaguares and Western Force and will be given guidance in the dressing room by a familiar face in former Argentina under-20s coach Jose Pellicena, who has been named Miami's first head coach.
A major part of the Pumas' run to the World Cup semifinals in 2015, Cubelli has the opportunity to immediately be one of the MLR's best players at his position as he brings international pedigree and plenty of leadership qualities; he's additionally been designated as the Sharks' first captain, with the club clearly showing that they're willing to put a lot on his shoulders right away and feel comfortable doing so.
Wian Conradie, flanker/No. 8, New England Free Jacks (Namibia)
Namibia is the country playing in France with the most current MLR players (five) simultaneously suiting up for their national team, and though it's been a rough World Cup for the Welwitschias, Conradie can at least take the experience of playing some of the best players in the world back with him to North America, where he's a feared player in his position for the Free Jacks.
The MLR's Forward of the Year this past season, the 28-year-old entered the 2023 World Cup (his third with Namibia) on a roll: Conradie scored seven tries and made 234 tackles as a two-way star as he led New England to the regular season and playoff double. The Free Jacks won both the Eastern Conference and Championship Final trophies, taking the MLR Shield in particular for the first time in the club's existence, and without its core of Namibian stalwarts — Conradie among them, along with the other example which will be listed later in this article — it's unlikely that the Free Jacks would've been able to reach similar heights this past MLR season.
That success hasn't been replicated at the World Cup as Namibia has been ripped apart by Tier 1 sides Italy, New Zealand and France in Pool A play, but the Welwitschias do have an opportunity to close their tournament on a high with a final match against Uruguay on Wednesday in Lyon.
Le Roux Malan, centre, New England Free Jacks (Namibia)
How's this for a breakout year? Malan, in the span of just a few months, has both scored a history-making try for his club that's helped it win a major trophy; then he has gone out and played at a World Cup with his country for the first time. That'll do.
Teaming with Conradie to make up the Free Jacks' dangerous Namibian duo that helped the club pick up plenty of silverware in the most recent MLR season, Malan finished second on the team with nine tries (despite missing the first half of the year with a thumb injury) on the season and was a First Team All-MLR selection at No. 12, being one of four New England players to make the end-of-season list. But he'll be forever remembered in particular by Free Jacks fans for what he did in the MLR Championship Final against the San Diego Legion.
With New England down 24-20 and driving in San Diego's half, Malan received a pass and exploited a gap near the goal line, getting past a line of defenders (including legendary New Zealand centurion Ma'a Nonu) and barrelling over for a go-ahead try that saw the Free Jacks take the lead in the 76th minute and their season on the line. New England staved off San Diego's final charges and picked up the club's first-ever MLR Shield in the process, with Malan's moment of magic being enough to help it get over the line and make history.
Malan's World Cup is unfortunately over, however, as he suffered a gruesome ankle injury against the All Blacks in pool play that may see him miss a significant chunk of time. When he does return to the pitch for New England, though, he'll be welcomed back with plenty of good graces — and he has a sweet All Blacks shirt signed by the team, given to him as part of a thoughtful gesture from New Zealand, that he'll get to take with him.
Sama Malolo, hooker, San Diego Legion (Samoa)
The only current MLR player to have scored a try at this World Cup (so far), Malolo hasn't just got off the mark and found the try line once — he's additionally among the World Cup's top try leaders at the moment.
A Second Team All-MLR pick for the Western Conference-winning Legion this past season, the New Zealand-born Malolo, who's been brought in off of the bench in both of Le Manu's matches thus far in France against Chile and Argentina, has scored three tries in that same timeframe. That should come as little surprise to those who have followed the MLR for some time now as Malolo, formerly with the Utah Warriors before he signed with the Legion prior to the 2023 season, at age 23 in 2021, scored 11 tries across just ten matches as he finished as the league's joint-highest try scorer and was named an All-MLR First Team selection.
That type of firepower caught the attention of the Samoan national team as the uncapped Malolo (who had previously played with Australia at youth level) qualified for selection on ancestry grounds and made Le Manu's squad for the flight to France.
Coach Seilala Mapusua's choice to trust in Malolo has since proven to work wonders. Malolo secured a brace in Samoa's opening match of the tournament, a 43-10 demolition of debutants Chile, and in a hard-fought 19-10 defeat to Los Pumas, Malolo scored again in the 75th minute to give Samoa some life and a boost as it attempted to pull off a late stunner.
As of this writing Saturday morning, no player outside of the Tier 1 nations has more tries at the World Cup than Malolo, showing that the MLR can indeed help mould talented players that can then go on to make waves on some of the biggest stages in the world.
Facundo Gattas, loosehead prop/hooker, Old Glory DC (Uruguay)
A two-time World Cup squad member with Los Teros, Gattas re-signed with Old Glory for the 2024 season in the middle of the World Cup, solidifying his status as a key member of the squad for time to come in the MLR.
It's been a bounce-back World Cup for both Gattas and Uruguay in general; the player's time in Japan four years ago ended early when he received a red card in a pool play loss to Georgia, and the Teros were locked to the bottom of the pool at just four points at the pool's end.
Now? Uruguay opened up the 2023 World Cup by putting on one of the more surprising performances of the tournament, playing right with France for chunks of the second half during their 27-12 meeting in Pool A in front of a raucous pro-Les Bleus atmosphere in Lille — a match in which Gattas was subbed on after 50 minutes — then forced Italy to come back from 17-7 down in order to escape with a victory this past Wednesday in Nice (Gattas played then, too, brought onto the pitch at 57 minutes).
Third place in the pool and automatic qualification to the 2027 World Cup in Australia will be tough for the Teros to pull off now (even with a match coming up against Namibia that they should be favoured in), but there's been a clear mentality shift in the Uruguay camp while Gattas, who played in 14 matches with Old Glory as it secured a Championship Series berth in this past MLR season, has been right in the thick of it.