World Rugby
Unveiling the Pivotal Match-Ups At Week Two Of The Rugby World Cup 2023
Unveiling the Pivotal Match-Ups At Week Two Of The Rugby World Cup 2023
Discover the top 5 head-to-head clashes defining Week 2 at Rugby World Cup 2023. A thrilling analysis of key individual match-ups awaits.
Sep 16, 2023
by Philip Bendon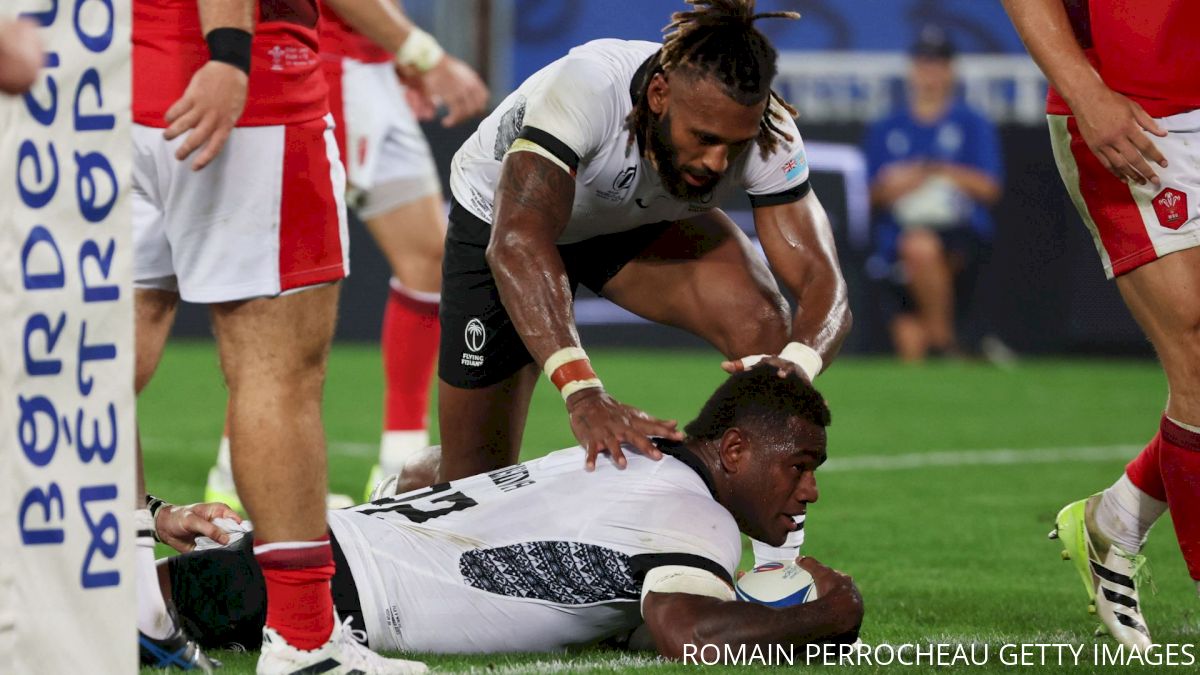 The Rugby World Cup 2023 has captured the hearts of sports enthusiasts worldwide with its thrilling display of power, precision, and passion on the pitch. As we delve into the heart of the tournament, week two promises to be a defining moment, where the world's best rugby nations clash in fierce competition. While team dynamics play a crucial role, it's often the individual match-ups that provide the moments that etch themselves into the annals of rugby history.
In this article, we turn our spotlight to the top five individual match-ups that will undoubtedly shape the narrative of week two. From seasoned veterans to rising stars, these titanic battles will showcase the diverse skills and styles that make rugby such a dynamic and captivating sport.
Expect fireworks as these rugby gladiators collide, leaving spectators breathless with every bone-crunching tackle, evasive sidestep, and inch-perfect pass. We'll analyse the strategies, strengths, and potential game-changing moments that could emerge from these epic confrontations. So, whether you're a die-hard fan or a casual observer, join us in unravelling the drama, intensity, and magic of the Rugby World Cup 2023 through the lens of its top individual match-ups.
Malakai Fekitoa vs Garry Ringrose (Tonga vs Ireland)
Tempting as it was to select the duo's centre partners Bundee Aki and Pita Ahki for what will be a bruising encounter in the twelve channel. Fekitoa and Ringrose are two of the best outside centres in the world, offering dynamic playmaking foils for their teammates.
Ringrose is the point with which the lethally effective Irish defence orbits around. Rock solid in a one-on-one tackle situation, as well as being the key drifter in the Irish defence, i.e. the player who forces the opposition attack towards the touchline. Ringrose has become one of the first names on the Irish team sheet. In attack, the Leinster star offers both a strong strike running ability as well as a silky smooth distribution game, with his educated boot being the cherry on top of what is the exact prototype of a world-class modern centre.
Fekitoa will be all too familiar with Ringrose following his one-year stint with Irish side Munster. Having started slowly, Fekitoa and Munster agreed to a mutual break of his contract just before he hit out-of-this-world form in Munster's remarkable run to the United Rugby Championship title. Seemingly back to the levels that made him an All Black, Fekitoa is a bruiser in defence who seemingly puts in two to three momentum-stopping tackles per match. In attack, Fekitoa's ability to get his hands free in contact keeps the Tongan game flowing in attack and oftentimes requires multiple tacklers to stop the ball from getting free.
Marika Kororibete vs Semi Radradra (Australia vs Fiji)
Everybody stay calm…. Two of the game's very best players are on a collision course as Australia look to all but secure a quarterfinal berth whilst Fiji look to get their feet back in the winner's circle.
To sum up, the two players, as simply powerful runners, would be doing the duo a severe disservice.
Starting with Koroibete, who dominated Australia's National Rugby League competition before making the switch to Rugby Union. Since coming back to the XV player code, the 31-year-old Fijian-born flyer has been dubbed "The scariest winger in the world". Simply put, defenders do not want to see him coming down their channel. With an ability to spin on sixpence or truck a defender, it is a rare occurrence to see the Wallaby stopped by a single defender.
A former Fijian Rugby League teammate of Korobiete, Radradra knows the threat his mate will pose this weekend. Yet, as a former League turned Union superstar himself, the powerhouse utility back will have no fear when they cross the white lines. Such is the reputation that he has built over the past decade; Radradra was at one point the highest-paid player in the game. Commanding a salary of this magnitude does not come without a serious resume. Starting with his Rugby League days, where he scored 82 tries in 94 appearances for the Paramatta Eels, his impact in Rugby Union took a little longer to be felt.
Starting with French giants Toulon, his time with the three-time European Champions came just as the club was teetering off from their dizzying heights as the most dominant club in Europe. As the team began to clear their books and rebuild for a more sustainable lifestyle, Radradra would move to rivals Bordeaux-Begles, where he would stay for two seasons before signing with English Premiership side Bristol Bears on a big money deal. Regarded as one of the toughest playmakers to stop at the club level, he has replicated this form onto the international stage.
Reverting to last week's heartbreaking loss to Wales, where he dropped the final pass that would have likely seen his team win. He will be keen to remind everyone of just how effective he had been throughout the fixture till that point.
Samu Kerevi vs Josua Tuisova (Australia vs Fiji)
Hands down, this will be the biggest physical encounter across any backline match-up at this year's Rugby World Cup. Offering a snippet into the physique of these two men, week one's commentators stated they had never seen quads quite like Tuisova's, only to realise the camera was focused on his calves…
Both men continue the run of Fijian-born players clashing this weekend, and without overstating the physical point, both players tip the scale at over 110kg (240 lbs) each.
Tuisova gets the start this week, having featured from the bench in round one and will enter the fixture with a clear goal of breaking the gain line with every carry.
With this in mind, rugby fans can expect to feel every contact between himself and Kerevi through their television screens.
Unlike any other comparison, these two players are so similar in what they offer one could almost write an identical player bio. Both are exceptionally strong in the carry, and each possesses an ability to free their hands to get clean offloads away.
Defensively, both are consistent in defence but are more likely to go in search of the big hit that could change a game. This, therefore, might make it seem like they are somewhat anonymous for certain points when not in possession, only to put a highlight reel hit in moments later.
If it isn't clear by the above text, this is possibly one of the most match-ups this tournament for the sheer physical power on display.
Courtney Lawes vs Michael Leitch (England vs Japan)
The first of our forwards match-ups pits two wily 34-year-old veterans head-to-head as leaders of their respective packs.
Lawes will once again captain England, whilst Leitch will assist captain Kazuki Himeno as he taps into his vast experience as a long-time captain himself. In fact, when Leitch takes to the pitch for his 15th Rugby World Cup appearance, he will become the most capped Japanese player in the tournament's history.
It is not just the experience the two players bring to their respective sides, as both remain World Class operators, in particular at line-out time, where both are key jumpers.
At 6'7", Northampton Saints icon Lawes is a disruptor of opposition throws whilst also being as close to a banker on England's own throw-ins as there is in the game.
Leitch, who is not quite the tall timber that Lawes is, still operates as one of Japan's primary targets when they need guaranteed ball. At 6'2" and 105kg, Leitch is relatively lightweight by modern backrow standards but uses this to his advantage as often beats his heavier opponents to the punch as he gets into the air a split second earlier.
Around the park, the two players are key ball carriers for their teams and are strong at ruck time.
Given their age, both players are likely playing in their final World Cups and will be looking to lock in a quarterfinal appearance. Given the two sides look likely to be the class of Pool D, albeit Argentina and Samoa will certainly have their say, this match is the crunch fixture remaining in pool play.
Caelen Doris vs Vaea Fifita (Ireland vs Tonga)
Two physical freaks for their respective packs, this match-up will see one of World Rugby's bone collectors in Vifita collide with possibly the best number eight in the world in Doris.
Another of Tonga's former All Blacks, Fiifita, brings not only a wealth of experience at the top level but also a utility ability to move around the pack that the Tongans had been crying out for.
At 6'6", his ability to contest at line-out time will be crucial against an Irish line-out that has not hit its lofty standards in recent months. Whilst around the park, Irish ball carriers will be on the lookout to avoid one of his trademark hits, having seen them up close and personal in the URC.
Twenty-five-year-old Doris, on the other hand, is a key member of what is quite possibly the greatest-ever Irish backrow. Comprising of a British and Irish Lions captain Peter O'Mahony and World Player Of The Year Josh van der Flier, the Irish pack is as good as any in the world.
Yet, even amongst such esteemed company, Doris stands out as a uniquely talented ball player who combines the best of a roaming number eight with a hard-nosed direct operator. Over the ball at ruck time, Doris has already racked up a career's worth of turnovers in just three years.
Like many of his Irish counterparts, Doris has yet to be truly tested throughout the build-up to this year's World Cup. As such, he will be welcoming the opportunity to face off with a skilful operator such as Fifita ahead of what will be immense challenges further down the line.