World Rugby
Dazzling Skills, Clinical Execution Rugby World Cup Week One Top 5 Tries
Dazzling Skills, Clinical Execution Rugby World Cup Week One Top 5 Tries
Experience the thrilling highlights of Rugby World Cup 2023's opening week with our top five tries, showcasing extraordinary skills and precision.
Sep 15, 2023
by Briar Napier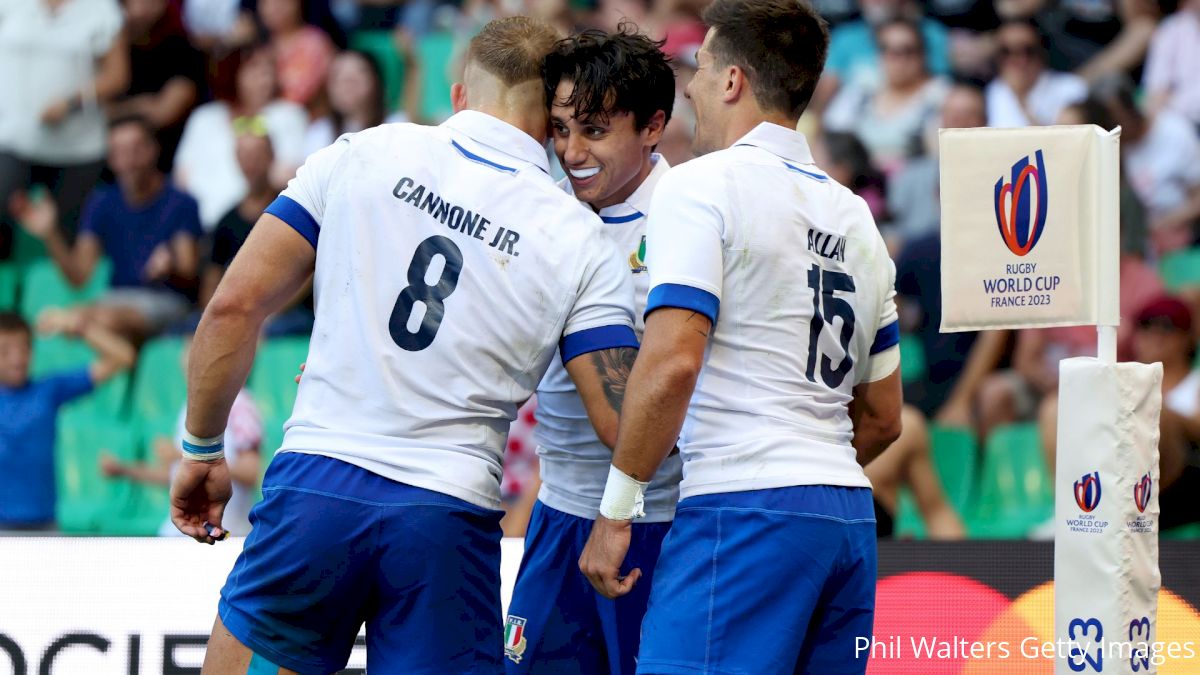 The premier international rugby tournament in the world often brings out the best in players, and the first round of matches at the 2023 Rugby World Cup was no exception.
The tries were flowing on the opening weekend as 50 were scored in all across all the teams who played combined. However, a few in particular stand out for their sheer quality, momentous nature or some combination of the two.
Here's a look back at the top five tries from the first week of play at the 2023 Rugby World Cup, with five different nations earning spots on the list:
5. Capuozzo's Dazzling World Cup Debut
It remains to be seen if Italy's stay atop Pool A lasts, with fixtures against mighty France and New Zealand still on the docket, but if the Azzurri look as good as they did in their bonus-point World Cup opener against Namibia, don't be shocked if Italy if giving the hosts and All Blacks fits over the rounds to come.
Italy picked up its most lopsided win ever at a World Cup with a 52-8 rout in which it scored seven tries, none of which were better than the one scored in the 55th minute by highly-regarded Toulouse winger Ange Capuozzo.
The reigning World Rugby Men's 15s Breakthrough Player of the Year didn't disappoint in his first World Cup match, and his try put the exclamation point on his debut; an Italian line-out on the right touchline quickly found its way to Capuozzo on the opposite end of the pitch, and as soon as received the ball, the wicked-quick winger was away and far ahead of any chasing Welwitschias.
A quick one-two with a supporting Monty Ioane on his left near the end of the run found its way back to Capuozzo, to which he then sidestepped Namibia's JC Greyling and dove forward to finish the job and picked up the first of what could be many tries in his World Cup career.
WORLD. CLASS.

Ange Capuozzo scores his first Rugby World Cup try in style 🇮🇹#RWC2023 | #ITAvNAM pic.twitter.com/rstYPMvHys

— Rugby World Cup (@rugbyworldcup) September 9, 2023
4. Chile Makes History — and Men Miss
Debutant Chile's first World Cup try in its history was always going to be a special moment no matter how it arrived, but for the Condores to break the seal in the way that they did against Japan was particularly impressive.
Motivated by its national anthem being played just moments earlier in Toulouse, Chile, in just the sixth minute of action, got a breakthrough when fullback Inaki Ayarza broke a tackle, shooed away a defender with a hand-off and sprinted through the Japanese defence with plenty of space, in front of him. A pass to Marcelo Torrealba on his left saw the Condores have just one defender to beat in front of him for the score, but a player caught up to him from behind and got the ball free from his grasp to create a scramble.
In the chaos, the ball ricocheted forward off of a Japanese player — therefore allowing the play to continue — and a quick-thinking Rodrigo Fernandez arrived out of nowhere to kick the ball just enough forward toward the try line, allowing him to scoop it up and dive in untouched.
The Blossoms went on to win convincingly to start Pool D play strong, but the Condores, having already surpassed expectations by just being in France, got a reason to celebrate as their inaugural World Cup journey rolls on throughout the next few weeks.
History made for #CHI

Rodrigo Fernandez gets Chile's first-ever try at a Rugby World Cup 👏#RWC2023 pic.twitter.com/B3vZVFvf3T

— ITV Rugby (@ITVRugby) September 10, 2023
3. Penaud Keeps Pushing, Finds Five
What made Damian Penaud's second-half try for France — a critical moment in Les Bleus' massive victory to open up their home World Cup against New Zealand — so important wasn't just the fact that it was one of the best No. 14s in the world doing what he does best, but also because of what happened just a few minutes before he scored what would be the go-ahead try.
In the 53rd minute, Penaud received a kick pass down the right touchline from a teammate and scurried down the line toward paydirt. He dove for the try line as multiple All Blacks were in hot pursuit, but New Zealand's Richie Mo'unga dived with him and poked the ball away from Penaud's grasp at the last moment, pulling off a world-class, try-saving tackle.
Outstanding tackle 👏

Perfect timing from Richie Mo'unga 🇳🇿@AllBlacks | #RWC2023 | #FRAvNZL pic.twitter.com/3ETD9NRkmb

— Rugby World Cup (@rugbyworldcup) September 8, 2023
As the All Blacks saw, however, players of Penaud's quality can't be brought down for long.
Just two minutes later, in nearly the exact same spot, Penaud received a pass from fly-half Matthieu Jalibert after a strong attack from France, getting the five points on the second time of asking and giving his team the spark that it needed to run away with the match in the second half and hand New Zealand its first-ever defeat in World Cup pool play in the process.
Turning point!

Damian Penaud leapt across the line to take the lead over New Zealand @FranceRugby | #RWC2023 | #FRAvNZL pic.twitter.com/udMi5H9Nyt

— Rugby World Cup (@rugbyworldcup) September 8, 2023
2. Fiji Flies With Trademark Flash
Last-gasp passes, slicing through defences and numbers sprinting in support. If you wanted to see a quintessential Fiji try against Wales in each team's Pool C opener, you got it within the match's first 20 minutes.
Captain Waisea Nayacalevu, who had scored three minutes earlier to answer a try from Wales' Josh Adams, got the party started by faking a pass one way and going the other, going about 10 metres before being tackled. As he went to ground, however, he underhand-tossed in desperation to Semi Radradra on his right, who broke through Wales' defence on a spectacular run past the Welsh 22-metre line. The Fijians brought numbers with him, and when Radradra was finally caught, flanker Lekima Tagitagivalu was there on his right shoulder for a quick pass, and the Pau man reached the promised land from there.
Fiji take the lead! 🇫🇯

Lekima Tagitagivalu with the second Fijian try of the evening!#RWC2023 pic.twitter.com/6lRtgub4fv

— ITV Rugby (@ITVRugby) September 10, 2023
It was an electric moment in an end-to-end thriller which unfortunately ended in disappointment for Fiji by a 32-26 score, but especially after tries like its second against Wales, it'd be silly to rule Fiji out of knockout-round contention this early in the pool stage. For their next World Cup fixture against Australia in a critical clash on Sunday, expect more of the same from the Flying Fijians.
1. No Eyes, No Problem for Libbok
Just a reminder that Manie Libbok did this.#RWC2023 | #RSAvSCO pic.twitter.com/hObqeqnXKJ

— Rugby World Cup (@rugbyworldcup) September 12, 2023
Obviously.
For South African fly-half Manie Libbok to mess around in training with a no-look kick to a teammate is one thing, but to have the audacity and confidence to do it in a World Cup match against a top-tier Scotland side (and have it immediately lead to a brilliant and critical try for the Springboks) is simply a different class.
With the Springboks up 11-3 early in the second half, just a few minutes after Pieter-Steph du Toit scored to create some distance away from the Scots, Libbok made a quick darting glance toward the right touchline shortly after receiving a pass just beyond the halfway line. Libbok then looked away from the touchline — while his right boot kicked the ball in that direction in front of a sprinting Kurt-Lee Arendse, who caught the pass perfectly in his stride and crossed over with plenty of space to spare for an easy try thanks to one of the best assists you'll ever see on a rugby pitch.
The play gave the Springboks the extra insurance they needed to see off Scotland after it played them to a gritty 6-3 first half, and in a moment of magic worthy of earning a start for the reigning world champions, Libbok now has a viral highlight to go into his catalogue.
Pure perfection from Manie Libbok 🤩

Kurt-Lee Arendse didn't even have to break stride#RWC2023 | #RSAvSCO pic.twitter.com/zRoMg8Xv5T

— Rugby World Cup (@rugbyworldcup) September 10, 2023