World Rugby
England's Flyhalf Conundrum - Ford, Farrell, Smith Or A Combination
England's Flyhalf Conundrum - Ford, Farrell, Smith Or A Combination
Discover the intense showdown between Owen Farrell, George Ford, and Marcus Smith at Rugby World Cup 2023 – English Rugby's Flyhalf Dilemma.
Sep 13, 2023
by Philip Bendon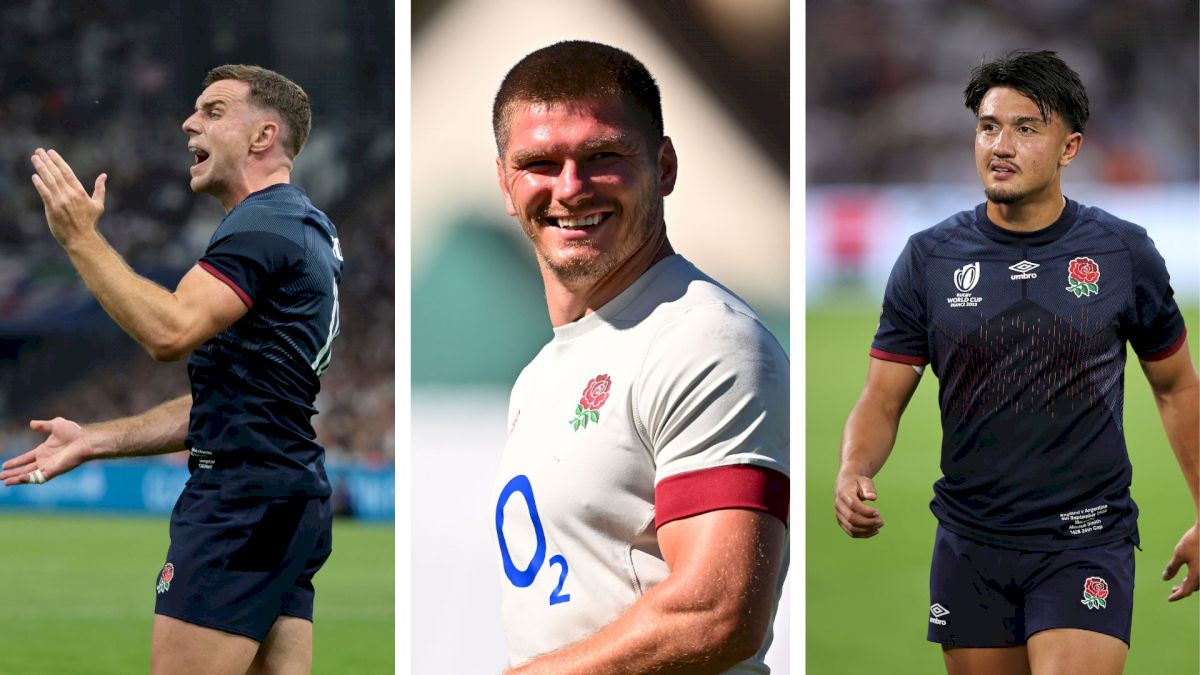 In the ever-evolving world of English rugby, a perennial debate rages on, who should don the coveted number 10 jersey as England's flyhalf? With a trio of exceptional talents at their disposal – George Ford, Owen Farrell, and Marcus Smith – England head coach Steve Borthwick faces a perplexing conundrum. Each of these gifted playmakers brings a unique set of skills and qualities to the table, making the selection process a compelling puzzle for coaches, pundits, and fans alike.
George Ford, with his tactical brilliance and deft kicking game, has long been a dependable presence on the international stage. Owen Farrell, a tenacious competitor and a master of game management, has steered England to numerous victories as both a flyhalf and inside centre. Meanwhile, the youthful sensation Marcus Smith brings unmatched speed, creativity, and ability to unlock defences at the drop of a hat.
As England strives for rugby glory at the 2023 Rugby World Cup, the choice of flyhalf becomes not only a matter of individual talent but a strategic decision that can shape the team's style of play and ultimately determine their success. In this article, we delve into the intricacies of England Rugby's flyhalf conundrum, examining the strengths and weaknesses of Ford, Farrell, and Smith to shed light on the perplexing question of who should start as the flyhalf for the England national team.
George Ford
Single handily scoring all of England's points during their 27 – 3 opening weekend victory over a fancied Argentina side. Ford brought what many England fans had been crying out for since the 2019 semi-final victory over the All Blacks at Nissan Stadium in Yokohama.
Strengths
A controlled tactical masterclass that kept his fourteen-man team on the front foot, Ford's performance was encapsulated by his three clinically taken drop goals. Whilst the English attack struggled to create consistent patterns, Ford did what he has done for years and kept the ball in front of his powerful pack of forwards.
Kicking nineteen times out of hand, Ford outproduced Argentina's top kicker, Gonzalo Bertranou, by over three times.
From the kicking tee, Ford proved once again his ability to land a big shot when all of the chips are down. Keen-eyed observers of Ford will be unsurprised by his performance, given he has regularly kicked in the mid to high eighties in terms of percentage from the tee.
Although his performance will be remembered for his stellar kicking display, Ford topped the England carrying charts with thirteen carries for seventy-six meters. This would be three carries ahead of backrow Ben Earl and fifty-two meters more than centre Joe Marchant, who was the next player on the stat line.
Given the unique nature of the fixture, one in which few expected England to front up in the manner in which they did. It would be fair to expect the English attack to evolve with Ford in control of proceedings as England begins what is a less than daunting run through the remainder of their pool action.
Weaknesses
Defensively, the 5'9" playmaker is not a bruiser, a point that the English coaching staff will be acutely aware of. Making just six tackles against Argentina, Ford did well to avoid wasting energy on an area where other players would be more efficient.
Fortunately for England, inside centre Manu Tuilagi is one of the best defenders in the game and has the ability to cover Ford's outside shoulder. On the inside at scrum time, the English backrow of Earl, Lawes and Tuilagi (covering for Curry) were quick to break away and shut down the Pumas attack.
Throw into the mix outside centre Joe Marchant's growing confidence that has seen his club form translate to the international stage, and his teammates pretty well cover Ford.
Owen Farrell
In the ever-turning world of quick-click trial by social media, the demonisation of Farrell's character has gone beyond his transgressions on the rugby pitch. Whilst the slander of his name has gone beyond what is fair, the constant barrage of attacks on Farrell is a transparent, begrudging acceptance of his greatness. In the same vein as the negative smear campaign against Ireland's Johnny Sexton and Wales's Dan Biggar over the years, there can be no arguing that the trio will go down as all-time greats who were the ultimate competitors.
As the New York Jets head coach Robert Salah said this offseason, "If you ain't got no haters, you ain't poppin".
Like his father, Ireland head coach Andy. The Saracens stalwart leads with his actions and can never be questioned when it comes to his commitment to English Rugby.
Strengths
As touched upon, Farrell's leadership is unmatched by any in the England squad. As a dominant figure, the 31-year-old's presence in the squad has been questioned by those on the outside but never by his teammates.
Tactically, there are few players better than Farrell, who, like his long-time teammate Ford, has an innate understanding and feel for a game. His one key point of difference to Ford is his physical edge and willingness to attack a defensive line or put in a big hit (more on this later).
Continuing the trend of similarities to Ford, Farrell is an innately accurate striker of a rugby ball, a trait that will be of immense importance should England have designs of a title run.
Finally, like all the greats before him, Farrell possesses one key strength that cannot be measured on the stat sheet. The French call it "Je ne sais quoi", a quality that cannot be named or described. In English, one could say "The It Factor". When a moment is needed, one would be hard-pressed to find a better man than Farrell.
Weaknesses
Whether a figment of the rugby public's imagination or a point that has been magnified in recent months. Farrell's propensity to get it wrong in the tackle has been the key stick with which detractors have beaten him.
In reality, having just finished served a reasonably short ban in comparison to what many felt just. Farrell has not always been punished for hits that would have had other players booking long holidays on the touchline.
Clearly, in each instance, Farrell has either been punished by the lawmakers or chastised by the rugby public. The incident in question has been at a key point in the match where he is looking to make an impact. A point which was well made by his former teammate Chris Ashton on the BBC Five Live Rugby Podcast.
This issue will be playing on the minds of Borthwick and his fellow selectors now that Farrell has served his ban and is eligible for selection. Throw into the mix Ford's remarkable performance in game one, and the coaches may also fear throwing what looked like a balanced backline out of kilter.
Marcus Smith
The junior lieutenant in the trio of stars, the highly touted 24-year-old is the man many English fans feel will lead them to the promised land of attacking brilliance in coming years.
Bursting onto the scene as a hot-stepping dynamo for English Premiership side Harlequins, Smith has yet to replicate his club form on the international stage.
Whether it is the domineering presence of Farrell or the returning to form of Ford, Smith has seen his stock drop as of late and, for the moment, looks to be the third option.
Strengths
A bundle of energy, excitement and ingenuity, Smith is the closest reincarnation of former All Black Carlos Spencer.
Explosive off the mark, Smith has punished defences at club level with his ability to accelerate through a gap and possesses a box of tricks that would rival David Blaine.
Creating a spark that can lift his team from obscurity, Smith has a unique talent that creates space for those around him due to his individual threat. Never has this been more evident than in England's frantic comeback draw with the All Blacks in November 2022 when Smith spearheaded what had the potential to be England's greatest comeback.
Weaknesses
Judging a player this young and inexperienced can, at times, be a futile exercise, given the potential growth. However, for the here and now, Smith's strengths have been offset at the international level by a seeming lack of belief in his ability. Whether this has been due to the intense presence of Owen Farrell playing one spot out from him at inside centre is hard to gauge.
One thing that has certainly hampered Smith to date has been a trait of dropping deeper into the pocket as the pressure comes on. Thus putting his backline on the back foot away from the gain line and allowing the defensive line to set.
Defensively, Smith, like Ford, is not a dominant figure and, as such, opens a window of opportunity to big centres to come down his channel. Whilst this can certainly be countered by employing a similar strategy to protecting Ford, Smith is a step below his more experienced teammate in at least slowing down opposition ball carriers.
Kicking at roughly 75% for Quins over the years, Smith has interestingly bucked this trend at the international level, kicking at 80-85% in 2021 and 2022.
Deciding Factors
As laid out above, all three players bring something slightly unique to the table. The question, therefore, is, how does Steve Borthwick envisage his team playing?
Based on the principle that history is instructive and further backed up by England's opening match, Borthwick wants to play an old-school English-style game. Physically dominating opponents whilst building scoreboard pressure.
Therefore, this eliminates Smith for the time being, leaving his chosen leader in Farrell and his in-form tactician Ford.
Although it may feel like a back to the future for English fans, the feeling that the two could start together in the dual playmaking 10/12 axis continues to grow. This would likely pave the way for a spot on the bench for Smith as an explosive game-breaker to bring on as opposition defences tire.
The question with this set-up is twofold: firstly, does this stifle Ford and secondly, do you risk losing the best of Farrell when he is out of position?
Avoiding the darkest timeline in which lengthening does not strike twice. It is entirely plausible that a combination that has been effective in the past could work again—combined with the style of play that England appear to have settled on, having two highly efficient kickers could prove to be a winning recipe.