World Rugby
Intense Rugby World Cup Pool B Sees Three Top Teams Battle For Two Spots
Intense Rugby World Cup Pool B Sees Three Top Teams Battle For Two Spots
Discover Rugby World Cup Pool B Prediction: A fierce battle with the top 5 teams in the pool of death. Get insights for thrilling matches! #RWC2023
Sep 2, 2023
by Philip Bendon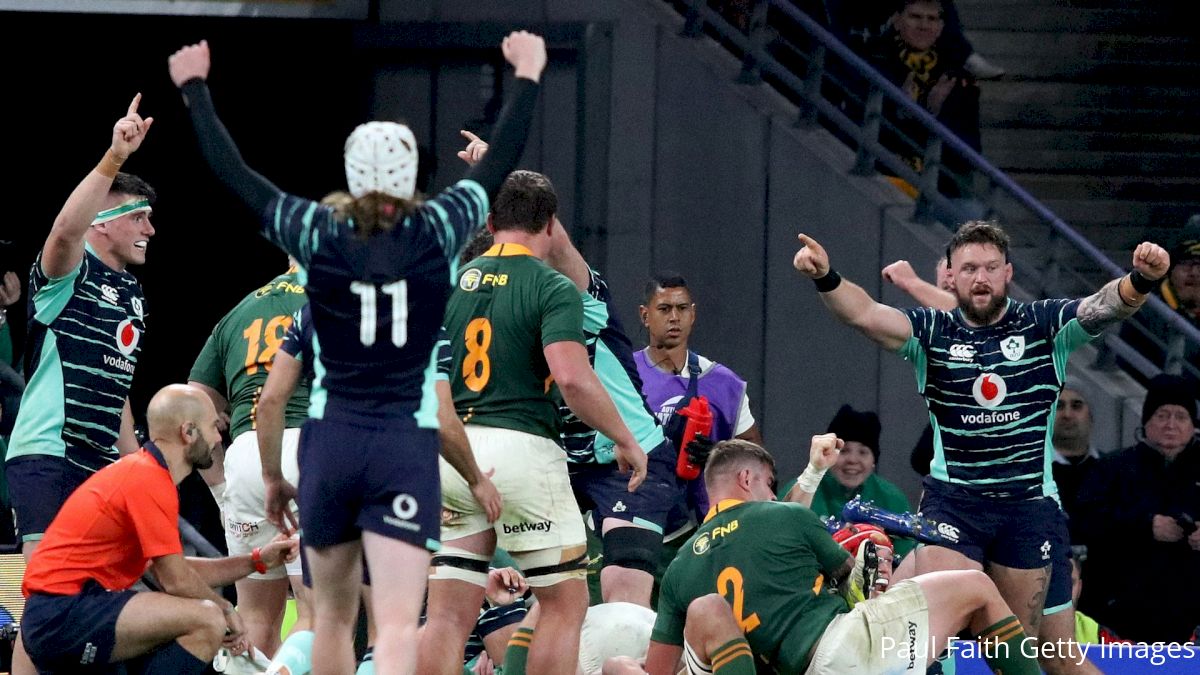 Next up in our Rugby World Cup 2023 Pool Preview Series is Pool B, which has been affectionately dubbed "The Pool Of Death".
Playing host to three of the top five ranked teams in the world, there has never been more on the line across a set of pool matches in the tournament's history.
Starting round one with a bang, reigning World Champions South Africa will tackle a red-hot Scottish side at the Stade Velodrome in Marseille.
Crucially, this fixture will define the complexion of the pool ahead of both sides' clashes with world number-one-ranked Ireland in rounds three and four.
For the loser of this fixture, a win against Ireland will be non-negotiable, whilst for the winner, they will be a sliver of breathing space.
In addition to the big three in this pool is the wild card of the group in South Pacific powerhouse Tonga. Stacked to the gills with quality, including a sprinkling of former All Blacks and Wallabies, the men in red will leave their mark on this pool.
Physically, there are few tougher sides to content within the game than the Tongans, who will fancy their chances to cause an upset or two en route to what would be a historic quarterfinal appearance.
Finally completing the group are European qualifiers Romania, who will be out to make some memories for a country that has seen the sport take a backward step in recent seasons. Bringing joy to their fans will be the number one goal for this side, who have a unique opportunity to give Romanian Rugby the shot in the arm it desperately needs.
Ireland
The number one team in the world entered the tournament buoyed by a historic run of thirteen consecutive victories. Crucially, this run includes victories over every major competitor they are set to face at the tournament, including back-to-back away victories over former boogey team the All Blacks, plus a Six Nations Grand Slam title. Simply put, Ireland are just about the toughest side in World Rugby to prepare for, given their ability to morph from one style of play to another at a moment's notice. Unlike in previous World Cup cycles, Ireland are not entering this tournament on a downward trajectory but rather on one where their game is continually developing. Above all else, however, is their unwavering self-belief instilled in them by talismanic head coach Andy Farrell and iconic captain Johnny Sexton. Whilst their chequered past with the tournament looms large, this squad have been open about their intentions to lay waste to all before them and embrace the challenge that has stumped every Irish team before them. To openly state this ambition would have been close to committing treason in previous cycles and would have had media types writing elongated think pieces about Irish arrogance. Yet, given the fact that they have answered any question put to them under Farrell, who would bet against them? Take into account their pool layout, which starts with the two "easier" fixtures against Romania and Tonga before their tournament starts in earnest against South Africa and Scotland. And one gets a picture of a run that dovetails nicely towards what will be a titanic knockout fixture against either France or New Zealand.
South Africa
The reigning World Champions look every bit title contenders once again as they enter the tournament on cloud nine, having handed both Wales and New Zealand heavy defeats. Although many would've expected the Welsh result given the trajectory of the two teams handing their greatest rivals, the All Blacks, a record defeat was something few saw coming. Outside of perhaps Ireland's series victory in 2022, never has a side made the All Blacks look so ordinary. In front of a sold-out crowd of 82,000 at Twickenham Stadium in London, the Springboks dragged their Kiwi rivals to deep water from which there was no escape. Implementing a revolutionary new substitute bench consisting of seven forwards. Picking up from where their starters left off, the Bok reinforcements battered the All Blacks at the point of contact, who, outside of a moment of brilliance from replacement scrumhalf Cam Roigard, would have remained scoreless. Nevertheless, a 35 – 7 drubbing of one of their main competitors for the World Cup had a two-pronged effect. Firstly, the confidence boost they will carry into the tournament could prove invaluable. On the flip side, the psychological damage it placed on rivals, namely the All Blacks, will linger. Above all else, this Springbok pack, outside of perhaps flyhalf, have more strength-in-depth than any other team in the tournament. Possessing at least three high-quality options in each position across the park, this Bok side is built for the attritional nature of a World Cup.
Scotland
Simply put, this is the best Scottish team of the professional era. Bursting at the seams with quality, in particular, across the backline, Gregor Townsend's side enter the tournament as the first Scottish side since the 1990s with a realistic chance of putting together a deep play-off run. Yet, for all of this positivity, the Rugby Gods have not been kind to the North Men as they enter Pool B as the consensus third-best team in the group. Hand the draw been kinder to Scotland, they would have almost certainly been favourites in either Pool C or D. However, that is not the way the cookie crumbled, and now the pressure is on for the Scots to upset two sides who have historically had their number. In their last ten head-to-heads against both Ireland and South Africa, the Scots have been victorious on just one occasion each. Last beating Ireland in 2017, Scotland's record against their cross-channel rivals is uninspiring, to say the least. Against the Springboks, it is even more difficult reading for Scottish fans as their side has not beaten the South Africans since 2010. Yet, despite what reads like a horror novel from the pen of Edgar Allan Poe, there remains a belief that this Scotland side can upset the apple cart in France. Of course, it will not be easy, nor will their clash with an immensely physical Tongan side. But if all the talk coming from both within the camp and from their fan base is to become a reality, now is the time to pull it off. Pulling the strings will once again be talismanic flyhalf Finn Russell, who at 30-years-old is hitting his peak as a playmaker. For so long, the pied-piper of Scottish Rugby, Russell has shown a maturity to his game over the past eighteen months that offers his teammates much-needed stability to go along with his moments of magic.
Tonga
To call Tonga a potential upset waiting to happen does not do the South Pacific Islanders justice. The men in red, whilst unlikely to have the depth to win the whole tournament, are a quality outfit capable of pushing towards the knockouts. For this dream to become a reality, Tonga will need to beat at least two of the "big three". Whilst certainly possible, this is a big ask; however, knocking over one of these three is a very real possibility. Up first is Ireland, who will be faced with the fine balance of managing their squad ahead of two titanic clashes against the Springboks and Scotland. Could the Tongans catch the world's top-ranked side napping and pull off the upset? Possibly, and they will take great heart from their Pacific neighbours Samoa, who pushed an albeit second-string Ireland to the brink in Bayonne during the World Cup warm-ups. In reality, one gets the feeling the most likely "upset" will come a week later against Scotland, who, like Ireland, will be looking to manage their players following what will be a bruising encounter against the Boks and ahead of what could be a crunch clash with the Irish. Of the big three, the one side who, at the present moment, looks untouchable are the Springboks, who have a simply gargantuan side capable of bulldozing any opposition. Whilst an upset over the Boks would be magnificent, one gets the feeling the Tongans are targeting the two Six Nations sides. Should they pull off one or two of these fixtures, then their final-round clash against Romania will be an opportunity to run up a big score whilst rotating their squad. As this column will have made clear, Tonga are a punter's dream, capable of pulling off a major upset, but in reality, the odds are stacked against them.
Romania
Hands down the weakest side in this group, the Romanians have a long history with the World Cup but, as of yet, have never progressed past the pool stages. Of their eight previous appearances, Romania have won one game in the pool on six occasions, with two winless campaigns also on their record. Having been disqualified for fielding an illegible player during the qualification process for the 2019 tournament, their return comes as Spain was disqualified from qualifying for also fielding ineligible players. In short, the Romanians are realistically cannon fodder for four strong teams, and their primary goal will be to push their opponents and score tries. Unfortunately, it does not take much to view the worst-case scenario in which one of the big sides puts a record score past them.
Prediction
This pool is a three-horse race, and no doubt the most competitive of the bunch and, as such, is the most likely to see a team top the group without a 100% win rate.
Currently, the odds on favourites are the Springboks, whose pedigree in the tournament is second to none, with three titles to their name. However, Ireland have shown in recent years an ability like few others to match the Springboks' physicality.
Possessing six wins from their last ten head-to-head with the Boks, including a victory in the republic, Ireland will not fear the Boks.
Scotland, as touched upon above, have the feel of a team on the verge of greatness but, in reality, have yet to show an ability to handle the powerful packs of Ireland and South Africa.
Tonga could throw this group into disarray, but it would take a gargantuan effort to do so, whilst Romania will be an easy five points for every team in the group.
Given their consistency over the past two years and a generally healthy squad, Ireland will top this group, albeit narrowly over the Springboks. This will mean that Scotland loses both of their big fixtures and leaves a tournament in which they could have done so much early.
In the end, Pool B will head shake out as:
Ireland

South Africa

Scotland

Tonga

Romania