World Rugby
2023 Rugby World Cup Pool C Preview: Wide-Open Pool Has Its Opportunities
2023 Rugby World Cup Pool C Preview: Wide-Open Pool Has Its Opportunities
Rugby World Cup Pool C Preview: Australia, Georgia, Fiji, and Wales Face Off in a thrilling four-way showdown in the tournament's most open pool.
Sep 3, 2023
by Briar Napier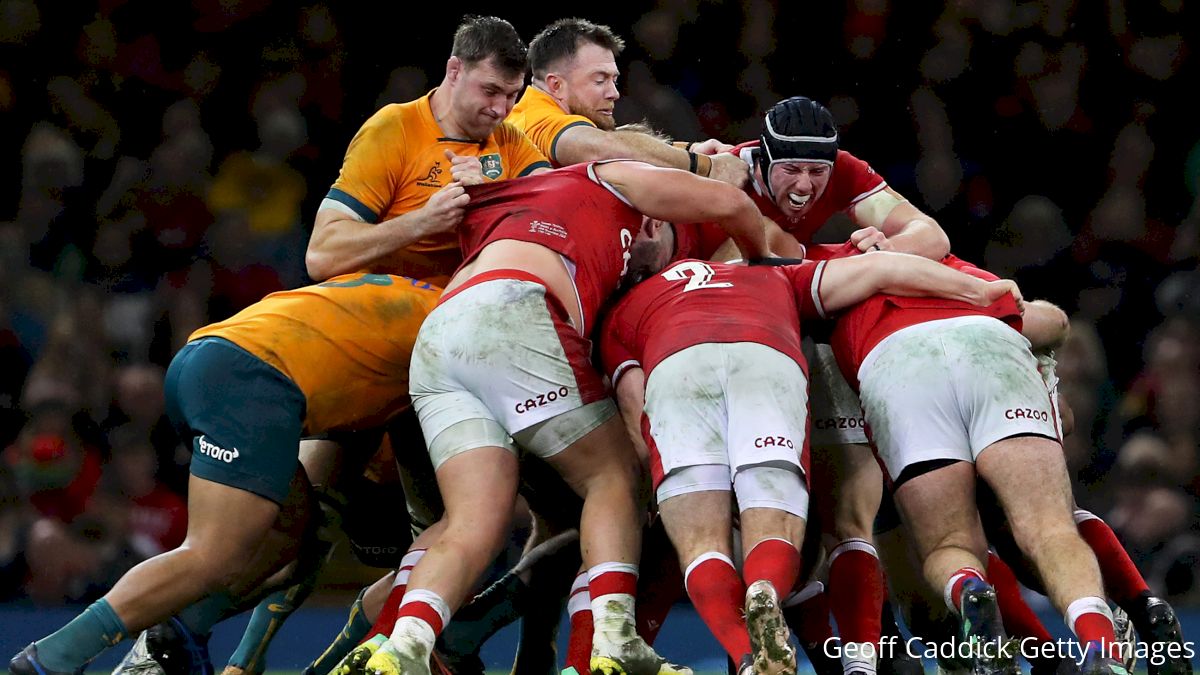 Arguably the most wide-open pool in this year's Rugby World Cup, the two teams that will advance out of Pool C are by no means set in stone.
Former champion Australia may be the biggest name to most casual rugby fans, but the Wallabies — especially following disastrous recent form — are probably not the favourites to top the table. In fact, they may not even be tipped to finish runner-up.
Meanwhile, Fiji has gone in the complete opposite direction and achieved its highest world ranking ever, while a familiar boss on the Wales touchline will look to steer it in the right direction after a nightmare in 2022. Georgia and Portugal round up the group, with each bringing their own dangerous attributes to the fold, too.
Pool C play kicks off when Australia faces Georgia on Sept. 9 at the Stade de France in Saint-Denis. Other pool fixtures will be played in Bordeaux, Nice, Saint-Etienne, Toulouse, Decines-Charpieu and Nantes.
Wales
Previous World Cups: Qualified for every tournament
Best finish: Third, 1987
Wales, where to begin?
On paper, it has the top-to-bottom squad talent of any team in Pool C and is returning many of the big names that took it to a fourth-place finish in Japan four years ago. On the other hand, Wales' past 12 months have seen a number of underwhelming performances and head-scratching defeats.
Following an impressive victory on South African soil against the defending world champion Springboks in the summer of 2022, the wheels completely fell off by the end of the year. Wales allowed 55 points on home ground to New Zealand in its opener at the Autumn Nations Series, then shockingly lost to Georgia in Cardiff for its first defeat to a Tier 2 nation in nine years. A 21-point lead against Australia was then squandered in the end-of-year finale in a 39-34 loss, spelling the end for coach Wayne Pivac as he was sacked shortly after.
In perhaps a move to try and quickly restore familiarity and confidence, Wales brought back coach Warren Gatland in response to Pivac's firing for a second stint after he led the country's touchline from 2007-2019. The three-time Six Nations Grand Slam winner will be aiming to try and restore Welsh rugby to its former glory, but a poor return Six Nations in which Wales finished fifth and had a worse point differential than last-place Italy wasn't exactly a source of booming optimism.
Still, this is a highly experienced, veteran squad with four players — George North, Dan Biggar, Leigh Halfpenny and Taulupe Faletau — who have hit the 100 caps mark and are aware of Gatland's tactics and tendencies already. Biggar, at fly-half in particular, is still one of the best in the world at what he does on his day, and with Wales legend and all-time caps leader Alun Wyn Jones having retired from international duty earlier this year, much of his supporting cast will be left to try and follow up from 2019's World Cup success without him.
Australia
Previous World Cups: Qualified for every tournament
Best finish: Champions, 1991 and 1999
Australia hasn't won consecutive games since October 2021, is entering the World Cup on a five-match losing streak, and coach Eddie Jones lashed out at reporters who he thought were being too negative at a Sydney airport press conference before the Wallabies flew out to France.
So, why exactly is it worth being cautiously optimistic about Australia? Part of the reason is that Jones opted to roll with plenty of youthful energy in his squad selection, though it also comes with sizable risk.
Former national team mainstays Michael Hooper and Quade Cooper didn't make the plane, with La Rochelle lock Will Skelton wearing the armband as captain instead. Fifteen Wallabies in the team are under the age of 25, as well, but if there's any coach in the world capable of squeezing water out of stone in the Australia camp right now, it's Jones. He has taken the team to a World Cup final once already (in 2003 in his first coaching stint) and was coach of Japan during its famous 2015 World Cup upset of South Africa, after all.
The shining example of Jones' bold plan to roll with youth is scrum-half Tate McDermott, and for good reason. He'll be vice-captain in France at the age of 24 after a strong Super Rugby season with the Queensland Reds, taking them to the quarterfinals as one of the better Aussie sides in the competition. He additionally captained his country during its narrow 23-20 defeat to New Zealand in the World Cup warmups last month and should continue to be a major part of Jones' setup for however long Australia stays in Europe.
Fiji
Previous World Cups: Qualified 1987 and 1991, 1999-present
Best finish: Quarterfinals, 1987 and 2007
There is a clear path to the knockout rounds for the Flying Fijians. That alone should command your attention and make them one of the tournament's most dangerous teams, especially because if Fiji advances, it won't play any of the "Big Four" — New Zealand, France, Ireland or South Africa — in the quarterfinals, regardless on if it finishes first or second in the pool.
Fijian rugby is on a high at the moment, entering the World Cup with its highest all-time ranking of seventh following a historic 30-22 win against England at Twickenham last weekend. It was no fluke, either: Fiji played a brilliant, cerebral game well beyond the unfair stereotype that it plays with recklessness and abandon, setting it up for what could be a historic few weeks in France if the good vibes continue.
The perpetual underdog world-renowned for punching above its weight, Fiji is now in the somewhat unfamiliar spot of being a favourite of many to return to the knockouts after 16 years away, especially considering the instabilities of the Tier 1 nations in Pool C. Coach Simon Raiwalui, only appointed in February, must keep his squad focused on the tasks at hand before looking too much ahead; if the Flying Fijians can do that, the South Pacific could have one of its greatest World Cup performances ever in store.
Toulon centre and captain Waisea Nayacalevu will be the man on the pitch tasked with keeping his squad's head straight, but he had no problem doing so in front of nearly 57,000 at Twickenham as he scored a second-half try to shock one of rugby's most storied nations. Playing in his third World Cup, Nayacalevu will lead what should be an electric backline featuring the likes of him, Semi Radradra and others who can do what Fiji is best known for — turn matches upside down with blistering pace.
Georgia
Previous World Cups: Qualified 2003-present
Best finish: Pool stage, five times
Gritty, hard-nosed and the longtime force of the Rugby Europe Championship, Georgia has for years been among the best Tier 2 countries in both Europe and the world, but the moves that coach Levan Maisashvili and his squad have made over the past year have drawn plenty of eyeballs their way.
The Lelos defeated Italy for an epic Tier 1 victory in July 2022, but just a few months later in November, they did one better by stunning Wales at the Millenium Stadium for the greatest victory in their history and one of Wales' biggest humiliations. A late penalty in the dying embers of the match by Luka Matkava sealed history for Georgia and Pivac's fate as he was sacked just a few weeks later.
Highly anticipated rematch with Wales aside, Georgia has plenty of potential elsewhere to pluck points in the pool and should be favoured to pick up at least one win over Portugal. The ongoing domination of the REC could combine with a strong World Cup to make the calls even louder for Georgia to replace Italy in future Six Nations tournaments; contributing to a knockout blow of Wales, Australia and/or Fiji in France could be enough to convince the string-pullers of the Six Nations to let the Lelos in.
If you want on-pitch evidence of just how much Georgian rugby has grown since its first World Cup appearance 20 years ago, however, look no further than scrum-half Vasil Lobzhanidze. The youngest player ever to start a World Cup match when he did so for the Lelos aged 18 in 2015 against Tonga, the now-26-year-old with 75 caps is an indispensable piece of the Georgian XV that could reach 100 caps before 30 — and be one of the most important players in arguably the most important World Cup in the country's rugby history.
Portugal
Previous World Cup: Qualified 2007
Best finish: Pool stage, 2007
Welcome back, Portugal, which returns to the World Cup for the first time in 16 years after winning the Final Qualification Tournament late last year, eliminating the United States in the process and ensuring that the World Cup would be without a North American presence for the first time ever.
Ironically, however, Portugal shouldn't have even been playing for a spot in France in the first place.
At the 2022 Rugby Europe Championship (which also acted as one part of a World Cup qualification route for non-qualified European sides), Portugal first got a stroke of good luck when it was automatically awarded four points after Russia was disqualified from the tournament after three rounds due to the country's invasion of Ukraine. Then, when Spain was deducted a total of 10 points from the two-year table for fielding an ineligible player in both the 2021 and 2022 Rugby Europe Championships, the amount it lost bumped Portugal up from fourth to third in the standings — and, therefore, into the Final Qualification Tournament as Europe 3. The Lobos did the rest from there.
Portugal took an exciting path to get to France, and former Les Bleus winger Patrice Lagisquet will be returning home to guide a Lobos squad that has numerous players who play club rugby in the French lower leagues. Make no mistake, however — Portugal is a massive underdog (the Lobos' captain, centre Tomas Appleton, is a dentist outside of rugby), and it would be a monumental shock if it were to pick up the country's first-ever World Cup win over the next few weeks.
That's not to say Portugal is void of talent and/or exciting players, though. Winger Rodrigo Marta is 23 years old yet is already the country's all-time leading try scorer, having ripped Poland apart for four tries earlier this year in Rugby Europe Championship play. He could be capable of some sudden magic as the Lobos, already having surpassed expectations, should play like a unit with nothing to lose.
Pool Prediction
Take your pick. Any combination of Wales, Australia or Fiji could reasonably take up the top two spots in the pool, while Georgia is a sneaky threat to finish third and automatically secure qualification to Australia 2027, further boosting its cred to possibly joining the Six Nations down the line.
Australia-Fiji on Sept. 17 in Saint-Etienne screams knockout-round decider, while Wales will be looking to take care of business before its pool finale against Georgia and avoid a repeat of the disaster suffered against the Lelos less than a year ago.
With many of the tournament's heavy hitters in Pools A and B, a semifinal run or more is completely in the cards for the teams who make it out of Pool C. Who will, exactly, is the question that remains.
Wales

Fiji

Australia

Georgia

Portugal