World Rugby
Five Players Who Could Break the Single-Tournament World Cup Try Record
Five Players Who Could Break the Single-Tournament World Cup Try Record
Five players who could break the Rugby World Cup try-scoring record in France. Currently, the record is held by Bryan Habana, Jonah Loum and Julian Savea.
Aug 25, 2023
by Philip Bendon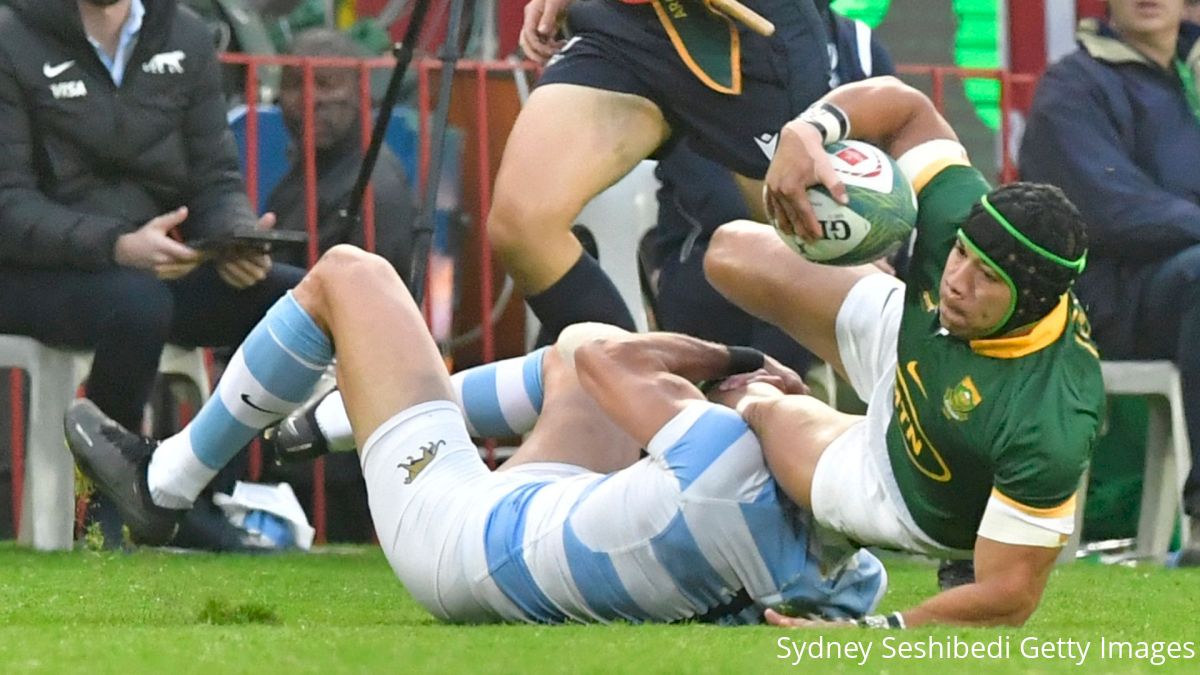 Jonah Lomu. Bryan Habana. Julian Savea.
All are legends in international rugby, and the three men are tied together for one major accolade — scoring the most tries in a single Rugby World Cup, with eight.
In the interest of what should be a raucous World Cup in France that's now just a couple of weeks away, it's worth exploring the names who could make a run at that number for 2023.
This year's Six Nations had a record number of tries, after all, and the 2019 RWC had an average of 6.33 tries per match as numerous teams stormed out to strong offensive performances with key figures and players. What's to say that the trend can't continue this time around, either?
Strap in and watch the five-pointers roll — there's sure to be plenty to go around, especially from a share of spectacular headliners from across the globe.
Here's a look at five players who could challenge Lomu, Habana and Savea's shared mark over the next few weeks at the RWC:
Record: 8 - Jonah Lomu (New Zealand), 1999; Bryan Habana (South Africa), 2007; Julian Savea (New Zealand), 2015.
Damian Penaud, France
A try machine at Clermont for much of the past decade before moving on to Bordeaux Begles after this past Top 14 season, Penaud — the top try scorer at this year's Six Nations — is in the prime of his career at age 26 and has multiple things going for him as he eyes a massive World Cup. First and foremost is the obvious: every France match at the RWC will be on home soil, giving the hosts a major advantage as they seek their first World Cup title, even with a shaky 2023, which has included defeats to Scotland, Ireland and a close call against Italy. Second is the fact that France's pool gives it the potential to put up a lot of points in some of its matches — the fixtures against New Zealand and Italy will probably be grind-it-out affairs, but France has outscored Namibia 134-23 across their two all-time meetings while Uruguay (which did win all three of its RWC warmups against Namibia, Chile and Argentina XV, to be fair) could be broken open by Les Bleus' fierce attack. First-choice fly-half Romain Ntamack's knee injury and subsequent ruling out additionally means France needs another avenue to put up the points, and Penaud — who scored four tries in two matches in the Six Nations against fellow European powers England and Wales — just so happens to be playing like a man who is magnetized to the try line.
Will Jordan, New Zealand
World Rugby's Breakthrough Player of the Year in 2021, Jordan — who scored an incredible 15 tries in just 11 tests for his national side that year — has since been saddled with a "migraine-related condition," per his club, and seen his ability to follow up on that epic year be affected as he's been sidelined for a significant chunk of time. The Crusaders man, who missed eight months of play in late 2022 and early 2023 due to the ailment, came back to club rugby in May and showed flashes of the quality he was remembered for two years ago as since his return, he's scored five tries in nine matches across all competitions for both club and country — including scores in both Rugby Championship matches he suited up with the All Blacks for. Now, as he enters his debut RWC at age 25, Jordan, when healthy, is among the finest attacking talents on Earth today, and on his day, can absolutely play an integral part in returning the Webb Ellis Cup back to New Zealand and be a genuine threat to the single-tournament try record. After all, he did score five tries in a single match against Tonga during his magical 2021 campaign, and as NZ has seemed to recover well from a disastrous summer 2022 to go 11 matches unbeaten as of Wednesday, perhaps Jordan will be properly unleashed at a Rugby World Cup for the first time.
Mack Hansen, Ireland
The de-facto tournament favourites as the current No. 1-ranked rugby nation in the world, Ireland — infamous for just coming up short at the RWC, having never advanced past the quarterfinal round despite seven appearances — ironically has found a high-flying winger who is an Australian by birth. Eligible to represent Ireland through his mother, any chance Hansen has at sniffing the RWC's single-tourney try record likely relies on his team finally breaking its hoodoo at the grandest stage in international rugby, but if it does, it's likely that Hansen had something to do with what would be a groundbreaking run for the country. Put on the shortlist for the Six Nations Player of the Championship (eventually won by France superstar Antoine Dupont for the second straight year and third time overall), Hansen was vital toward Ireland's fourth-ever Grand Slam in the annual event, pacing his country with three tries (level with James Lowe) with two coming against Italy and the other versus Scotland. A standout at club level for Connacht, as well, he helped take the team to the most recent United Rugby Championship semifinal despite being the seventh-seeded team in the knockout rounds and scored a try during Connacht's eventual elimination to the Stormers. Can a deep knockout-round run with Hansen scoring on repeat be done for Ireland at the RWC, as well?
Cheslin Kolbe, South Africa
It'd be criminal not to include a figure from the defending world champions on this list, and the name that would be most likely to light up the RWC again for the Springboks would be Kolbe. His amazing try in the 2019 World Cup final against England — in which he sidestepped Owen Farrell out of his boots to put the exclamation point on South Africa's 32-12 victory — is all you need to watch to understand the sheer quality that Kolbe possesses on a rugby pitch. Don't let his lack of height, at around 5-foot-7, fool you: Kolbe (who will join Tokyo Suntory Sungoliath in Japan for club rugby following the World Cup) is a chiselled man with superb strength for his size but is best known for being one of the fastest and quickest players in the world — much like how Habana was in his prime with the Boks — whose lower centre of gravity makes him near-impossible to bring down with a full head of steam and enough space to work with. The sheer amount of attacking options that coach Jacques Nienaber are able to turn to (fellow speedster Makazole Mapimpi may feature heavily, as well, for instance) limits Kolbe's try-scoring ceiling a little bit, but if South Africa needs a moment of magic in a bottle, it doesn't have a better option than him.
Josh Adams, Wales
Why not close off this list with the man who came closest to equalling the single-RWC try record last year? Spectacular in Japan with a tournament-leading seven tries, Adams' scoring output was helped by Wales' run to the bronze final for the third time in its World Cup history, with the Cardiff star frequently swinging the hammer for his country on its way there. A hat-trick in pool play against Fiji, plus tries in both the narrow semifinal loss to South Africa and the third-place match against New Zealand, upped his tally even more and proved him to be one of the event's most dangerous players and the ability (especially at club level recently) hasn't seemed to diminish much over time. For Cardiff in all competitions, Adams in 2022-23 had an incredible nine-match try-scoring streak, though was additionally saddled with injuries, an obvious question mark as he preps to go abroad with a Wales team needing all the help it can get at the moment at an all-time low 10th in the world. Wales needs another deep run in the knockouts for Adams to sniff the try-scoring record again (or even approach Lomu and Habana's shared all-time record of 15 RWC tries), but with a winnable Pool C, which includes Australia, Fiji, Georgia and Portugal, it's not out of the question as long as Adams can stay out of the trainer's room.