2023 New Zealand All Blacks vs South Africa
How To Watch New Zealand Rugby Vs. South Africa
How To Watch New Zealand Rugby Vs. South Africa
The All Blacks take on the Springboks in a Rugby World Cup warm-up at Twickenham Stadium on Aug. 25.
Aug 23, 2023
by Aidan Browne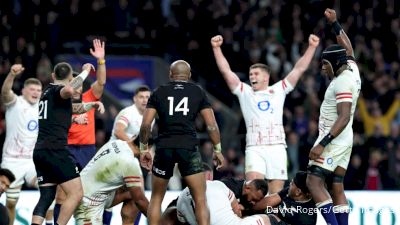 One of the biggest rivalries in international rugby will see another edition, as the New Zealand All Blacks face the South Africa Springboks in a warm-up match before the 2023 Rugby World Cup.
Though it's seen as a warm-up match, there's never a lack of intensity when the two sides meet, and Friday looks to be no different.
To make things even more intriguing, the match will take place at Twickenham Stadium, the home of England Rugby and one of the most prestigious grounds in the sport.
Subscribe To FloRugby To Watch The New Zealand All Blacks vs. South Africa Rugby
Rugby World Cup 2023: FloRugby's World Cup Training Squad Tracker
Three Teams Set to Surprise Everyone at the Men's Rugby World Cup 2023
The match will mark the second time in history the two sides will meet at the largest rugby-only ground in the world.
How To Watch New Zealand Rugby Vs. South Africa
The All Blacks will play the Springboks on FloRugby and the FloSports app.
Replays of the game also will be available on both platforms.
Match Information
The match will start at 2:30 p.m. Eastern on Friday, Aug. 25.
The London weather forecast predicts a cloudy evening with no rain on the docket.
Fans from all over the world will be attending the match, as the 82,000-seat Twickenham Stadium is projected to sell out, according to multiple reports.
When Is The 2023 Rugby World Cup?
The 2023 Rugby World Cup will start Sept. 8 at 3:15 p.m. Eastern, when France takes on New Zealand.
The World Cup will be in France with the first match taking place at Stade de France in Saint-Denis.
The final match of the World Cup will occur at 3 p.m. Eastern on Sept. 28.
The final match also will take place at Stade de France in Saint-Denis.