2023 Ireland vs England - Men's
Ireland Downs Rudderless England In Dublin In Keith Earls' 100th Test
Ireland Downs Rudderless England In Dublin In Keith Earls' 100th Test
Ireland defeats England 29-10 at Aviva Stadium in Dublin on the occasion of Keith Earls' 100th test match for Ireland ahead of the 2023 Rugby World Cup.
Aug 19, 2023
by Philip Bendon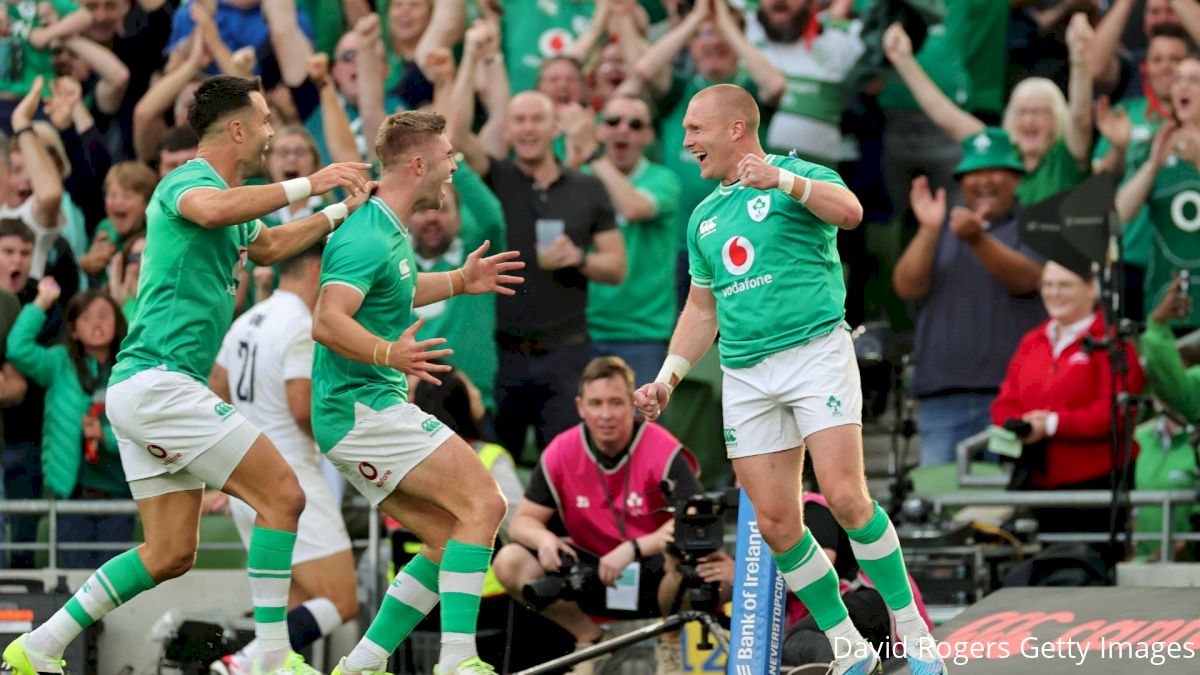 Andy Farrell's Ireland retains its status as the world's No. 1 side with a comprehensive 29-10 victory over England at Aviva Stadium in Dublin.
On the occasion of veteran Keith Earls' 100th appearance for Ireland, the men in green looked assured, albeit a bit rusty due to their lack of game time.
Despite the occasional error, there was a clear gulf in direction between the two squads.
On one hand, Ireland had the ability to go through the gears when given half a chance, with all of its players appearing confident on the ball.
In stark contrast, England's kick-first approach stifled any front-foot ball they had throughout the game.
While England got off the mark first, courtesy of a George Ford penalty, Ireland would secure the first try.
Busting through the English defense, backrow Peter O'Mahony showed his deft skills to pop the ball to an onrushing Bundee Aki, who strolled over.
Ross Byrne chipped the ball over the bar from right in front to nudge Ireland into a 7-3 lead with seven minutes played.
It would take another 32 minutes for the next score, as Ireland pounced once again just before halftime.
The score would be worth the wait, as O'Mahony once again got the action underway with a powerful rummage down the left flank.
From here, the ball would be recycled quickly by scrumhalf Jamison Gibson-Park, firstly to Byrne, who shoveled the ball onto winger Mack Hansen.
The Connacht star then showed off his footballing ability with a pinpoint, accurate cross-field kick for center Garry Ringrose to pounce on.
While the first half was far from a vintage performance for either side, the groundwork had been laid for the second half.
The opening 15 minutes continued the start-stop nature of the fixture, with England continually looking to slow things, while Ireland looked for opportunities to strike.
Seemingly frustrated with the direction of the game, England began to infringe and force proceedings.
This lack of accuracy would come to a head, as No. 8 Billy Vunipola was given his marching orders for a no-arms high tackle on Andrew Porter.
As was the case last weekend at Twickenham, England had to wait anxiously to see if the bunker would upgrade Vunipola's yellow card to a red.
They wouldn't have to wait long, as Vunipola's afternoon came to an end shortly after, as the incident was upgraded.
Now down to 14 men for the remainder of the fixture, England's already tough task became insurmountable.
It wouldn't take long for Ireland to utilize the advantage, striking a minute later. This time, it would be winger James Lowe who would go over unchallenged, following a clever short cross-field kick.
Byrne would miss his second conversion of the evening, leaving Ireland ahead 19-3.
Ten minutes later, Ireland would be in again, as Mack Hansen scooted over to put any hopes of an English comeback to bed.
Byrne continued his off night with the boot by missing the wide conversion, but Ireland was looking comfortable at 22-3, with 15 minutes left to play.
In a nod toward their passion for the jersey, the English players kept fighting and were rewarded with a try on 72 minutes, as replacement prop Kyle Sinckler burrowed over from close range.
England's joy was short-lived, however, as Ireland reinstated its dominance by scoring the final points.
As if composed by a Hollywood scriptwriter, the man of the hour, Keith Earls, would be on the end of a sublime Irish move, which he would finish with a spectacular dive over the line.
We'll never stop watching this tbh! 🥹🫶#TeamOfUs pic.twitter.com/Tq3ASts6fw

— Irish Rugby (@IrishRugby) August 19, 2023
In the end, the final score of 29-10 could have been much worse for England, as Ireland rarely looked out of third gear, a point Hansen pointed out post-match.
"It was good to get the win," said the winger. "We probably didn't play as well as we wanted to, though. There were a few mistakes we need to fix up before we go to the World Cup."
Clearly dejected at his team's performance, Borthwick was honest in his assessment post-match, saying: "I think probably right now I feel as every English fan feels, disappointed with the result and the lack of progress in the areas we wanted to. There will be plenty of things we take away from this, and clearly, we'll have to go through the process with Billy Vunipola.
"We knew another week of disruption was coming; now it is going to be amplified with Billy. With 15 men on the pitch, there was a tightness in the game. When we went to 14 men, we struggled.
"We certainly put a large emphasis on discipline and safety. What we need to do is take that incident in isolation and the previous incident the previous week, but also make sure that the penalty count away from that is reduced. The penalties put us under pressure.
"I think right now is not the moment to think through all the eventualities. We will debrief the game and go through the disciplinary process with Billy Vunipola.
"I empathise with supporters. We wanted more progress today than we saw. Against the best side in the world, you've got to keep 15 players on the pitch.
"Through the first period of the game, I thought there were signs, but we've got to take our opportunities. One of our objectives today was to show an ability to move the ball. I saw the intent to do that, but we didn't execute in the way we wanted to. The overriding emotion is disappointment that we didn't step forward in the way we'd have liked."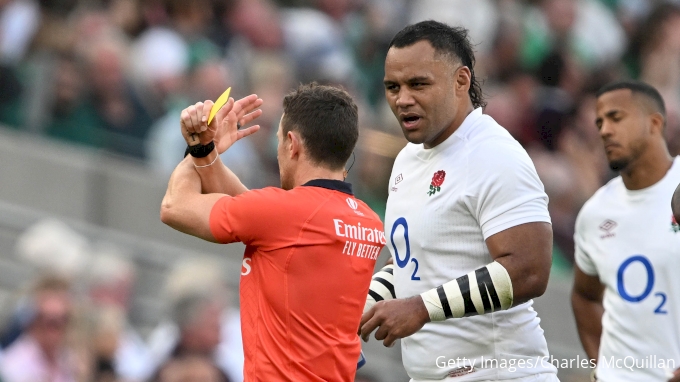 On the flipside, Ireland boss Andy Farrell was pleased with aspects of his team's performance but stressed there was plenty of growth left in his charges.
"We all know England's lineout defense is very good, and we couldn't get our rhythm in that regard," he said. "I'm really proud of how we found that rhythm back. James Ryan did a great job in that respect. We played some good stuff in the second half.
"You know you are in a good place when there is ownership. They take responsibility for how they play.
"We've got a few days to go over there in Bayonne. We'll assess that as we go. We've got a good squad because of the competition for places over the last few years and the experiences we've had together. That's the situation you want to be in.
"It's not just about going low; it's timing, it's depth perception, it's everything like that. It's not just tackling, it is discipline in general. We spend a lot of time on it, and thankfully, we seem to be doing ok with it. But it's rugby, and stuff is going to happen, and we'll have to react to it."