United Rugby Championship
United Rugby Championship 2023/24 Fixture List Revealed
United Rugby Championship 2023/24 Fixture List Revealed
The United Rugby Championship have announced their fixture list for the upcoming 2023/24 season with champions Munster facing the Cell C Sharks in round one
Jul 11, 2023
by Philip Bendon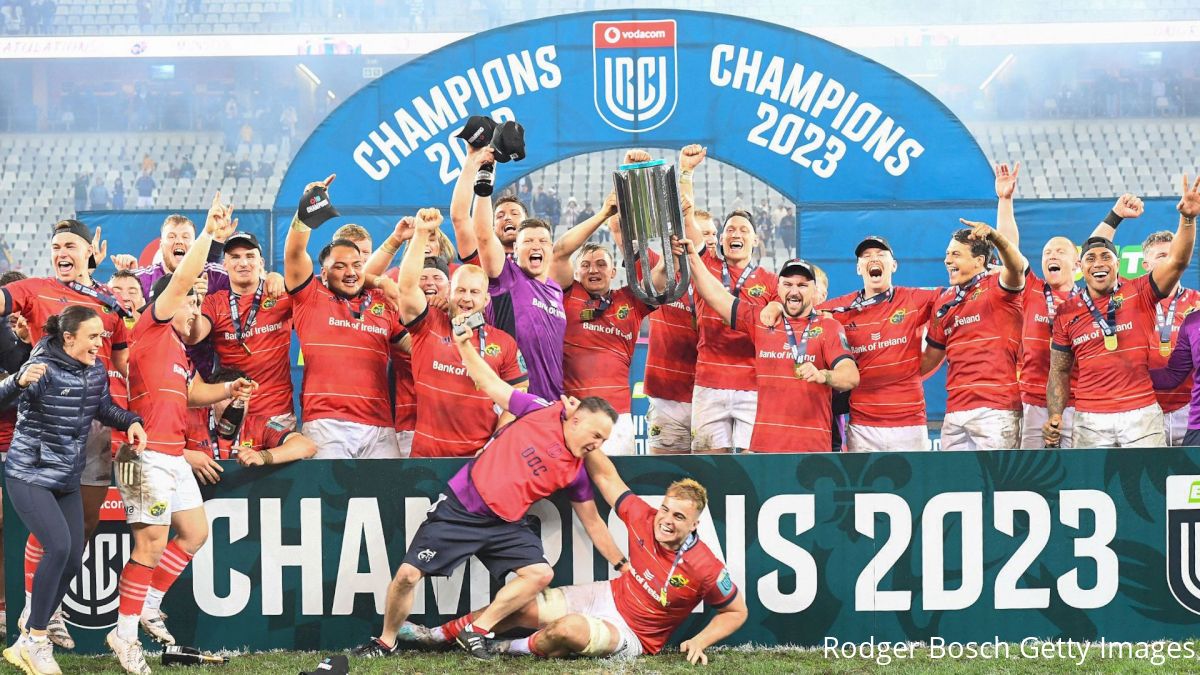 Season twenty-three of the United Rugby Championship (URC) will get underway on October 21st as the Rugby World Cup hits its semi-final stages.
Now in its third season of the current format, the URC has already had winners from two separate nations, with South Africa's DHL Stormers winning year one before Munster Rugby claimed the 2022/23 crown.
Now 102 days away from the kick-off of the 144-game season, the competition organisers have released the fixtures lit.
Getting underway in Italy this season as Ulster travel to Parma to face Zebre, before Connacht host the Ospreys at the same time as the DHL Stormers travel to face the Emirates Lions. The competition reaffirmed its status as the most international league in professional rugby.
Speaking at the schedule release, United Rugby Championship CEO Martin Anayi said: "The fixture list is the central pillar to the operation of our league and teams and providing certainty to fans, clubs and broadcasters earlier than ever will have a positive impact.
"Providing a set of fixtures that aims to balance kick-off times which encourage attendance and deliver big broadcasts while factoring in the travel necessary to compete in the Vodacom URC is a monumental task that cannot be underestimated.
"Each year we feel we are learning more and more about how to refine and improve our process and the final fixture list itself and I must express great gratitude to our broadcast partners who have supported so many requests from the league and our clubs. To deliver this fixture list 102 days ahead of kick-off is unprecedented for our league and gives us another target to beat again next year."
With such a jam-packed fixture list, there are several fixtures in round one that stand out as can't miss.
Starting with the defending champions Munster Rugby who will face off with 2022/23 quarterfinalists the Cell C Sharks in Saturday's final fixture.
A day later, Leinster Rugby will travel to Scotstoun to tackle fellow 2022/23 semi-finalists, the Glasgow Warriors, in a fixture between two sides who are highly touted as potential league winners.
Key changes to the upcoming season were announced in an in-depth press release from the URC, which read, "After a two-year window of home or away fixtures against non-Shield opponents, the sequencing has been refreshed. The home and away sequence from this season will be reversed for the 2024/25 campaign to ensure a fair balance of home and away games against the same opponents over a two-year cycle.
"In a new approach aimed at reducing long-haul travel across the league, the South African teams will tour twice rather than three times. This means a four-match tour to Europe in the early part of the season, followed by a two-game tour after the Six Nations (a balance of two three-game tours will be implemented if future calendars allow for it).
"Additionally, the earlier generation of fixtures will assist all teams in their cross-hemisphere travel with improved access to different seat classes and cost efficiencies related to bookings made further in advance.
"The opening weekends of the Vodacom URC will see games played across Saturday and Sunday afternoons to avoid clashes with Rugby World Cup fixtures on Friday and Saturday nights.
"With no November Test series break, Vodacom URC teams will take on a schedule of 11 consecutive weekends of rugby (including EPCR), so January will also provide two relief weekends for teams to take a break in play and to accommodate traditional festive fixturing on Tuesday 26 December in Wales and Ireland.
"Further efficiencies in fixture generation and grading have also been made possible due to the Vodacom URC's supplier arrangement with Ligalytics, a German sports scheduling firm that works with many sports, including rugby, soccer, cricket, basketball and hockey."
Full 2023/24 Vodacom United Rugby Championship Fixtures
R1 – Saturday, October 21
Zebre Parma v Ulster 13h00 IRE & UK / 14h00 ITA & SA | ITA, Viaplay, SuperSport, Premier Sports
Connacht v Ospreys | 15h00 IRE & UK / 16h00 ITA & SA | TG4, S4C, Viaplay, SuperSport, Premier Sports
Emirates Lions v DHL Stormers | 15h05 IRE & UK / 16h05 ITA & SA | SuperSport, Viaplay, Premier Sports
Dragons RFC v Edinburgh | 15h05 IRE & UK / 16h05 ITA & SA | Viaplay, SuperSport, Premier Sports
Cardiff Rugby v Benetton | 17h15 IRE & UK / 18h15 ITA & SA | S4C, Viaplay, SuperSport, Premier Sports
Munster v Cell C Sharks | 17h15 IRE & UK / 18h15 ITA & SA | TG4, Viaplay, SuperSport, Premier Sports
Sunday, October 22
Vodacom Bulls v Scarlets | 14h00 IRE & UK / 15h00 ITA & SA | SuperSport, BBC Wales, Viaplay, Premier Sports
Glasgow Warriors v Leinster | 16h00 IRE & UK / 17h00 ITA & SA | Viaplay, RTÉ, SuperSport, Premier Sports
R2 – Saturday, October 28
Ospreys v Zebre Parma | 13h00 IRE & UK / 14h00 ITA & SA | BBC Wales, Viaplay, SuperSport, Premier Sports
Connacht v Glasgow Warriors | 15h00 IRE & UK / 16h00 ITA & SA | TG4, Viaplay, SuperSport, Premier Sports
DHL Stormers v Scarlets | 15h00 IRE & UK / 16h00 ITA & SA | SuperSport, S4C, Viaplay, Premier Sports
Leinster v Cell C Sharks | 16h55 IRE & UK / 17h55 ITA & SA | RTÉ, SuperSport, Viaplay, Premier Sports
Edinburgh v Emirates Lions | 17h00 IRE & UK / 18h00 ITA & SA | Viaplay, SuperSport, Premier Sports
Sunday, October 29
Benetton v Munster | 14h00 IRE & UK / 15h00 ITA & SA | ITA, RTÉ, Viaplay, SuperSport, Premier Sports
Dragons RFC v Cardiff Rugby | 14h30 IRE & UK / 15h30 ITA & SA | Viaplay, SuperSport, Premier Sports
Ulster v Vodacom Bulls | 17h00 IRE & UK / 18h00 ITA & SA | BBC NI, TG4, Viaplay, SuperSport, Premier Sports
R3 – Friday, November 3
Glasgow Warriors v DHL Stormers | 19h35 IRE & UK / 20h35 ITA / 21h35 SA | Viaplay, SuperSport, Premier Sports
Ospreys v Cell C Sharks | 19h35 IRE & UK / 20h35 ITA / 21h35 SA | BBC Wales, Viaplay, SuperSport, Premier Sports
Saturday, November 4
Zebre Parma v Vodacom Bulls | 13h00 IRE & UK / 14h00 ITA / 15h00 SA | ITA, Viaplay, SuperSport, Premier Sports
Leinster v Edinburgh | 15h05 IRE & UK / 16h05 ITA / 17h05 SA | RTÉ, Viaplay, SuperSport, Premier Sports
Scarlets v Cardiff Rugby | 17h15 IRE & UK / 18h15 ITA / 19h15 SA | Viaplay, SuperSport, Premier Sports
Munster v Dragons RFC | 17h15 IRE & UK / 18h15 ITA / 19h15 SA | RTÉ, S4C, Viaplay, SuperSport, Premier Sports
Connacht v Ulster | 19h35 IRE & UK / 20h35 ITA / 21h35 SA | TG4, Viaplay, SuperSport, Premier Sports
Sunday, November 5
Benetton v Emirates Lions | 13h30 IRE & UK / 14h30 ITA / 15h30 SA | ITA, Viaplay, SuperSport, Premier Sports
R4 – Friday, November 10
Zebre Parma v Cell C Sharks | 17h30 IRE & UK / 18h30 ITA / 19h30 SA | ITA, Viaplay, SuperSport, Premier Sports
Cardiff Rugby v Vodacom Bulls | 19h35 IRE & UK / 20h35 ITA / 21h35 SA | BBC Wales, Viaplay, SuperSport, Premier Sports
Ulster v Munster | 19h35 IRE & UK / 20h35 ITA / 21h35 SA | BBC NI, RTÉ, Viaplay, SuperSport, Premier Sports
Saturday, November 11
Benetton v DHL Stormers | 15h00 IRE & UK / 16h00 ITA / 17h00 SA | ITA, Viaplay, SuperSport, Premier Sports
Ospreys v Glasgow Warriors | 17h15 IRE & UK / 18h15 ITA / 19h15 SA | Viaplay, SuperSport, Premier Sports
Scarlets v Emirates Lions | 17h15 IRE & UK / 18h15 ITA / 19h15 SA | S4C, Viaplay, SuperSport, Premier Sports
Edinburgh v Connacht | 19h35 IRE & UK / 20h35 ITA / 21h35 SA | Viaplay, TG4, SuperSport, Premier Sports
Sunday, November 12
Dragons RFC v Leinster | 13h15 IRE & UK / 14h15 ITA / 15h15 SA | S4C, RTÉ, Viaplay, SuperSport, Premier Sports
R5 – Friday, November 17
Edinburgh v Vodacom Bulls | 19h35 IRE & UK / 20h35 ITA / 21h35 SA | Viaplay, SuperSport, Premier Sports
Ulster v Emirates Lions | 19h35 IRE & UK / 20h35 ITA / 21h35 SA | BBC NI, TG4, Viaplay, SuperSport, Premier Sports
Zebre Parma v Cardiff Rugby | 19h35 IRE & UK / 20h35 ITA / 21h35 SA | ITA, BBC Wales, Viaplay Xtra, SuperSport, Premier Sports
Saturday, November 18
Cell C Sharks v Connacht | 15h00 IRE & UK / 16h00 ITA / 17h00 SA | SuperSport, RTÉ, Viaplay, Premier Sports
Dragons RFC v Ospreys | 17h15 IRE & UK / 18h15 ITA / 19h15 SA | Viaplay, SuperSport, Premier Sports
Munster v DHL Stormers | 17h15 IRE & UK / 18h15 ITA / 19h15 SA | TG4, Viaplay, SuperSport, Premier Sports
Leinster v Scarlets | 19h35 IRE & UK / 20h35 ITA / 21h35 SA | TG4, S4C, Viaplay, SuperSport, Premier Sports
Glasgow Warriors v Benetton | 19h35 IRE & UK / 20h35 ITA / 21h35 | Viaplay, SuperSport, Premier Sports
R6 – Friday, November 24
Cardiff Rugby v DHL Stormers | 19h35 IRE & UK / 20h35 ITA / 21h35 SA | BBC Wales, Viaplay, SuperSport, Premier Sports
Edinburgh v Benetton | 19h35 IRE & UK / 20h35 ITA / 21h35 SA | Viaplay, SuperSport, Premier Sports
Saturday, November 25
Emirates Lions v Zebre Parma | 12h55 IRE & UK / 13h55 ITA / 14h55 SA | SuperSport, Viaplay, Premier Sports
Vodacom Bulls v Connacht | 15h00 IRE & UK / 16h00 ITA / 17h00 SA | SuperSport, RTÉ, Viaplay, Premier Sports
Cell C Sharks v Dragons RFC | 17h05 IRE & UK / 18h05 ITA / 19h05 SA | SuperSport, S4C, Viaplay, Premier Sports
Leinster v Munster | 18h30 IRE & UK / 19h30 ITA / 20h30 SA | TG4, Viaplay, SuperSport, Premier Sports
Glasgow Warriors v Ulster | 19h35 IRE & UK / 20h35 ITA / 21h35 SA | Viaplay, SuperSport, Premier Sports
Sunday, November 26
Ospreys v Scarlets | 15h00 IRE & UK / 16h00 ITA / 17h00 SA | Viaplay, SuperSport, Premier Sports
R7 – Friday, December 1
Munster v Glasgow Warriors | 19h35 IRE & UK / 20h35 ITA / 21h35 SA | TG4, Viaplay, SuperSport, Premier Sports
Saturday, December 2
Vodacom Bulls v Cell C Sharks | 13h00 IRE & UK / 14h00 ITA / 15h00 SA | SuperSport, Viaplay, Premier Sports
Cardiff Rugby v Scarlets | 15h00 IRE & UK / 16h00 ITA / 17h00 SA | Viaplay, SuperSport, Premier Sports
Emirates Lions v Dragons RFC | 15h05 IRE & UK / 16h05 ITA / 17h05 SA | SuperSport, BBC Wales, Viaplay, Premier Sports
DHL Stormers v Zebre Parma | 17h15 IRE & UK / 18h15 ITA / 19h15 SA | SuperSport, Viaplay, Premier Sports
Ulster v Edinburgh | 17h15 IRE & UK / 18h15 ITA / 19h15 SA | Viaplay, SuperSport, Premier Sports
Connacht v Leinster | 19h35 IRE & UK / 20h35 ITA / 21h35 SA | RTÉ, Viaplay, SuperSport, Premier Sports
Benetton v Ospreys | 19h35 IRE & UK / 20h35 ITA / 21h35 SA | ITA, S4C, Viaplay, SuperSport, Premier Sports
R8 – Friday, December 22
Glasgow Warriors v Edinburgh | 19h35 IRE & UK / 20h35 ITA / 21h35 SA | Viaplay, SuperSport, Premier Sports
Ulster v Connacht | 19h35 IRE & UK / 20h35 ITA / 21h35 SA | BBC NI, TG4, Viaplay, SuperSport, Premier Sports
Saturday, December 23
Zebre Parma v Benetton | 13h00 IRE & UK / 14h00 ITA / 15h00 SA | ITA, Viaplay, SuperSport, Premier Sports
DHL Stormers v Vodacom Bulls | 17h00 IRE & UK / 18h00 ITA / 19h00 SA | SuperSport, Viaplay, Premier Sports
Tuesday, December 26
Cardiff Rugby v Dragons RFC | 15h00 IRE & UK / 16h00 ITA / 17h00 SA | BBC Wales, Viaplay, SuperSport, Premier Sports
Scarlets v Ospreys | 17h15 IRE & UK / 18h15 ITA / 19h15 SA | S4C, Viaplay, SuperSport, Premier Sports
Munster v Leinster | 19h35 IRE & UK / 20h35 ITA / 21h35 SA | RTÉ, Viaplay, SuperSport, Premier Sports
Saturday, January 6
Cell C Sharks v Emirates Lions | 15h00 IRE & UK / 16h00 ITA / 17h00 SA | SuperSport, Viaplay, Premier Sports
R9 – Saturday, December 30
Benetton v Zebre Parma | 13h30 IRE & UK / 14h30 ITA / 15h30 SA | ITA, Viaplay, SuperSport, Premier Sports
Edinburgh v Glasgow Warriors | 15h00 IRE & UK / 16h00 ITA / 17h00 SA | Viaplay, SuperSport, Premier Sports
DHL Stormers v Cell C Sharks | 17h00 IRE & UK / 18h00 ITA / 19h00 SA | SuperSport, Viaplay, Premier Sports
Monday, January 1
Ospreys v Cardiff Rugby | 15h00 IRE & UK / 16h00 ITA / 17h00 SA | BBC Wales, Viaplay, SuperSport, Premier Sports
Dragons RFC v Scarlets | 17h15 IRE & UK / 18h15 ITA / 19h15 SA | S4C, Viaplay SuperSport, Premier Sports
Leinster v Ulster | 17h15 IRE & UK / 18h15 ITA / 19h15 SA | RTÉ, Viaplay, SuperSport, Premier Sports
Connacht v Munster | TBC | TG4, Viaplay, SuperSport, Premier Sports
Saturday, January 27
Vodacom Bulls v Emirates Lions | 15h00 IRE & UK / 16h00 ITA / 17h00 SA | SuperSport, Viaplay, Premier Sports
R10 – Friday, February 16
Scarlets v Munster | 19h35 IRE & UK / 20h35 ITA / 21h35 SA | BBC Wales, TG4, Viaplay, SuperSport, Premier Sports
Zebre Parma v Edinburgh | 19h35 IRE & UK / 20h35 ITA / 21h35 SA | ITA, Viaplay, SuperSport, Premier Sports
Saturday, February 17
Emirates Lions v Vodacom Bulls | 13h00 IRE & UK / 14h00 ITA / 15h00 SA | SuperSport, Viaplay, Premier Sports
Leinster v Benetton | 15h00 IRE & UK / 16h00 ITA / 17h00 SA | RTÉ, Viaplay, SuperSport, Premier Sports
Cell C Sharks v DHL Stormers | 15h05 IRE & UK / 16h05 ITA / 17h05 SA | SuperSport, Viaplay, Premier Sports
Cardiff Rugby v Connacht | 17h15 IRE & UK / 18h15 ITA / 19h15 SA | S4C, RTÉ, Viaplay, SuperSport, Premier Sports
Glasgow Warriors v Dragons RFC | 19h35 IRE & UK / 20h35 ITA / 21h35 SA | Viaplay, S4C, Viaplay, SuperSport, Premier Sports
Sunday, February 18
Ospreys v Ulster | 15h00 IRE & UK / 16h00 ITA / 17h00 SA | Viaplay, SuperSport, Premier Sports
R11 – Friday, March 1
Edinburgh v Ospreys | 19h35 IRE & UK / 20h35 ITA / 21h35 SA | Viaplay, BBC Wales, SuperSport, Premier Sports
Munster v Zebre Parma | 19h35 IRE & UK / 20h35 ITA / 21h35 SA | TG4, Viaplay, SuperSport, Premier Sport
Saturday, March 2
Emirates Lions v Cell C Sharks | 13h00 IRE & UK / 14h00 ITA / 15h00 SA | SuperSport, Viaplay, Premier Sports
Benetton v Glasgow Warriors | 15h00 IRE & UK / 16h00 ITA / 17h00 SA | ITA, Viaplay, SuperSport, Premier Sports
Vodacom Bulls v DHL Stormers | 15h05 IRE & UK / 16h05 ITA / 17h05 SA | SuperSport, Viaplay, Premier Sports
Connacht v Scarlets | 17h05 IRE & UK / 18h05 ITA / 19h05 SA | TG4, S4C, Viaplay, SuperSport, Premier Sports
Cardiff Rugby v Leinster | 19h35 IRE & UK / 20h35 ITA / 21h35 SA | S4C, RTÉ, Viaplay, SuperSport, Premier Sports
Ulster v Dragons RFC | 19h35 IRE & UK / 20h35 ITA / 21h35 SA | Viaplay, SuperSport, Premier Sports
R12 – Friday, March 22
Glasgow Warriors v Cardiff Rugby | 19h35 IRE & UK / 20h35 ITA / 21h35 SA | Viaplay, SuperSport, Premier Sports
Ospreys v Munster | 19h35 IRE & UK / 20h35 ITA / 21h35 SA | BBC Wales, TG4, Viaplay, SuperSport, Premier Sports
Saturday, March 23
Cell C Sharks v Ulster | 13h00 IRE & UK / 14h00 ITA / 15h00 SA | SuperSport, Viaplay, Premier Sports
Scarlets v Benetton | 15h00 IRE & UK / 16h00 ITA / 17h00 SA | S4C, Viaplay, SuperSport, Premier Sports
DHL Stormers v Edinburgh | 15h05 IRE & UK / 16h05 ITA / 17h05 SA | SuperSport, Viaplay, Premier Sports
Connacht v Emirates Lions | 17h15 IRE & UK / 18h15 ITA / 19h15 SA | RTÉ, Viaplay, SuperSport, Premier Sports
Zebre Parma v Leinster | 19h35 IRE & UK / 20h35 ITA / 21h35 SA | ITA, RTÉ, Viaplay, SuperSport, Premier Sports
Dragons RFC v Vodacom Bulls 19h35 IRE & UK / 20h35 ITA / 21h35 SA | S4C, Viaplay, SuperSport, Premier Sports
R13 – Friday, March 29
Dragons RFC v Zebre Parma | 19h35 IRE & UK / 20h35 ITA / 21h35 SA | BBC Wales, Viaplay, SuperSport, Premier Sports
Leinster v Vodacom Bulls | 19h35 IRE & UK / 20h35 ITA / 21h35 SA | TG4, Viaplay, SuperSport, Premier Sports
Saturday, March 30
Benetton v Connacht | 13h00 IRE & UK / 14h00 ITA / 15h00 SA | ITA, TG4, Viaplay, SuperSport, Premier Sports
Cell C Sharks v Edinburgh | 13h00 IRE & UK / 14h00 ITA / 15h00 SA | SuperSport, Viaplay, Premier Sports
Ospreys v Emirates Lions | 15h05 IRE & UK / 16h05 ITA / 17h05 SA | S4C, Viaplay, SuperSport, Premier Sports
DHL Stormers v Ulster | 17h15 IRE & UK / 18h15 ITA / 19h15 SA | SuperSport, Viaplay, Premier Sports
Munster v Cardiff Rugby | 19h35 IRE & UK / 20h35 ITA / 21h35 SA | RTÉ, S4C, Viaplay, SuperSport, Premier Sports
Scarlets v Glasgow Warriors | 19h35 IRE & UK / 20h35 ITA / 21h35 SA | Viaplay, SuperSport, Premier Sports
R14 – Friday, April 19
Ulster v Cardiff Rugby | 19h35 IRE & UK / 20h35 ITA & SA | BBC NI, BBC Wales, TG4, Viaplay, SuperSport, Premier Sports
Glasgow Warriors v Cell C Sharks | 19h35 IRE & UK / 20h35 ITA & SA | Viaplay, SuperSport, Premier Sports
Saturday, April 15
Emirates Lions v Leinster | 14h00 IRE & UK / 15h00 ITA & SA | SuperSport, RTÉ, Viaplay, Premier Sports
Benetton v Dragons RFC | 14h00 IRE & UK / 15h00 ITA & SA | ITA, S4C, Viaplay, SuperSport, Premier Sports
Vodacom Bulls v Munster | 16h05 IRE & UK / 17h05 ITA & SA | SuperSport, RTÉ, Viaplay, Premier Sports
DHL Stormers v Ospreys | 18h15 IRE & UK / 19h15 ITA & SA | SuperSport, S4C, Viaplay, Premier Sports
Connacht v Zebre Parma | 19h35 IRE & UK / 20h35 ITA & SA | TG4, Viaplay, SuperSport, Premier Sports
Edinburgh v Scarlets | 19h35 IRE & UK / 20h35 ITA & SA | Viaplay, SuperSport, Premier Sports
R15 – Friday, April 26
Scarlets v Cell C Sharks | 19h35 IRE & UK / 20h35 ITA & SA | BBC Wales, Viaplay, SuperSport, Premier Sports
Ulster v Benetton | 19h35 IRE & UK / 20h35 ITA & SA | BBC NI, RTÉ, Viaplay, SuperSport, Premier Sports
Saturday, April 27
Zebre Parma v Glasgow Warriors | 13h00 IRE & UK / 14h00 ITA & SA | ITA, Viaplay, SuperSport, Premier Sports
Vodacom Bulls v Ospreys | 14h00 IRE & UK / 15h00 ITA & SA | SuperSport, S4C, Viaplay, Premier Sports
Cardiff Rugby v Edinburgh | 15h05 IRE & UK / 16h05 ITA & SA | Viaplay, SuperSport, Premier Sports
Emirates Lions v Munster | 16h00 IRE & UK / 17h00 ITA & SA | SuperSport, TG4, Viaplay, Premier Sports
DHL Stormers v Leinster | 18h05 IRE & UK / 19h05 ITA & SA | SuperSport, TG4, Viaplay, Premier Sports
Dragons RFC v Connacht | 20h00 IRE & UK / 21h00 ITA & SA | S4C, RTÉ, Viaplay, SuperSport, Premier Sports
R16 – Friday, May 10
Dragons RFC v DHL Stormers | 19h35 IRE & UK / 20h35 ITA & SA | BBC Wales, Viaplay SuperSport, Premier Sports
Edinburgh v Zebre Parma | 19h35 IRE & UK / 20h35 ITA & SA | Viaplay, SuperSport, Premier Sports
Saturday, May 11
Vodacom Bulls v Glasgow Warriors | 13h00 IRE & UK / 14h00 ITA & SA | SuperSport, Viaplay, Premier Sports
Cell C Sharks v Benetton | 15h05 IRE & UK / 16h05 ITA & SA | SuperSport, Viaplay, Premier Sports
Scarlets v Ulster | 15h05 IRE & UK / 16h05 ITA & SA | Viaplay, SuperSport, Premier Sports
Emirates Lions v Cardiff Rugby | 17h15 IRE & UK / 18h15 ITA & SA | SuperSport, S4C, Viaplay, Premier Sports
Munster v Connacht | 17h15 IRE & UK / 18h15 ITA & SA | RTÉ, Viaplay, SuperSport, Premier Sports
Leinster v Ospreys | 19h35 IRE & UK / 20h35 ITA & SA | TG4, S4C, Viaplay, SuperSport, Premier Sports
R17 – Friday, May 17
Zebre Parma v Scarlets | 19h35 IRE & UK / 20h35 ITA & SA | ITA, BBC Wales, Viaplay, SuperSport, Premier Sports
Edinburgh v Munster | 19h35 IRE & UK / 20h35 ITA & SA | Viaplay, TG4, SuperSport, Premier Sports
Saturday, May 18
Vodacom Bulls v Benetton | 13h00 IRE & UK / 14h00 ITA & SA | SuperSport, Viaplay, Premier Sports
Ospreys v Dragons RFC | 15h00 IRE & UK / 16h00 ITA & SA | Viaplay, SuperSport, Premier Sports
Emirates Lions v Glasgow Warriors | 15h05 IRE & UK / 16h05 ITA & SA | SuperSport, Viaplay, Premier Sports
Connacht v DHL Stormers | 17h05 IRE & UK / 18h05 ITA & SA | RTÉ, Viaplay, SuperSport, Premier Sports
Cell C Sharks v Cardiff Rugby | 17h15 IRE & UK / 18h15 ITA & SA | SuperSport, S4C, Viaplay, Premier Sports
Ulster v Leinster | 19h35 IRE & UK / 20h35 ITA & SA | Viaplay, TG4, SuperSport, Premier Sports
R18 – Friday, May 31
Glasgow Warriors v Zebre Parma | 19h35 IRE & UK / 20h35 ITA & SA | Viaplay, SuperSport, Premier Sports
Leinster v Connacht | 19h35 IRE & UK / 20h35 ITA & SA | RTÉ, Viaplay, SuperSport, Premier Sports
Saturday, June 1
Benetton v Edinburgh | 13h00 IRE & UK / 14h00 ITA & SA | ITA, Viaplay, SuperSport, Premier Sports
DHL Stormers v Emirates Lions | 13h00 IRE & UK / 14h00 ITA & SA | SuperSport, Viaplay, Premier Sports
Scarlets v Dragons RFC | 15h00 IRE & UK / 16h00 ITA & SA | BBC Wales, Viaplay, SuperSport, Premier Sports
Cell C Sharks v Vodacom Bulls | 15h05 IRE & UK / 16h05 ITA & SA | SuperSport, Viaplay, Premier Sports
Cardiff Rugby v Ospreys | 17h15 IRE & UK / 18h15 ITA & SA | S4C, Viaplay, SuperSport, Premier Sports
Munster v Ulster | 17h15 IRE & UK / 18h15 ITA & SA | TG4, Viaplay, SuperSport, Premier Sports
Quarter Finals – Friday and Saturday, June 7 and 8
Semi Finals – Saturday, June 15
Grand Final – Saturday, June 22