World Rugby
'Amazing': The Post-Match Message From Junior Springboks To Ireland
'Amazing': The Post-Match Message From Junior Springboks To Ireland
Bafana Nhleko found time in the aftermath of his biggest win as the Junior Springboks head coach to send his condolences to grieving Ireland.
Jul 6, 2023
by RugbyPass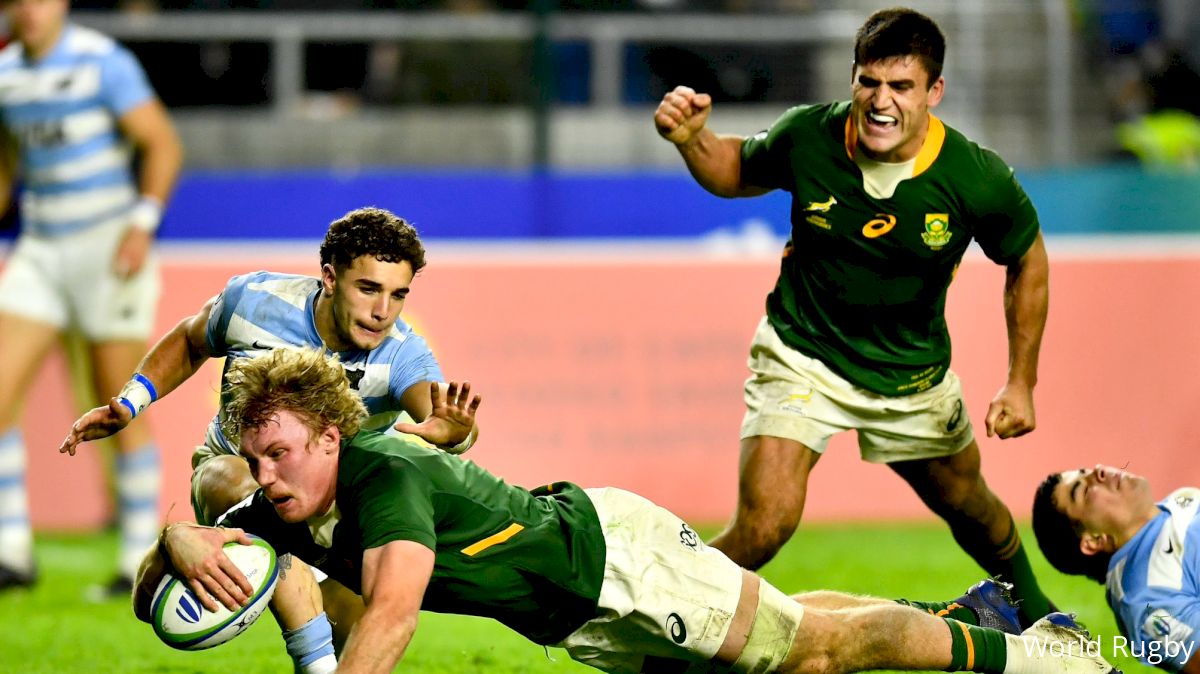 Bafana Nhleko found time in the aftermath of his biggest win as the Junior Springboks head coach to send his condolences to grieving Ireland, the team South Africa will face in this Sunday's Junior World Championship semifinal in Athlone.
Given the personal level of abuse Nhleko and his South African U20s had to endure since last week's humiliating pool defeat to Italy in Paarl, it would have been easy in the time shortly after his team's pool-topping victory over Argentina on Tuesday night for him to be selfish and bask in the glow of his reputation-restoring comeback victory.
Instead, he was mindful of next weekend's semifinal opponents and the bereavement they suffered Monday afternoon when ex-Scotland test scrum-half Greig Oliver, the father of Ireland scrum-half Jack, was tragically killed in a paragliding accident in Cape Town.
"Very sad with the news that came out of the Irish camp recently, and condolences to them and their families," said Nhleko to RugbyPass. "I can imagine it can't be easy for them. They have played some amazing rugby, them and the French, throughout the tournament. They are the two best teams, to be fair, and we are expecting a tough, tough game."
Match Day 3 at the tournament – the final round of pool matches – provided a feast of entertainment across the six matches, and when the dust settled, the Junior Springboks were the last southern hemisphere nation standing.
The Junior Springboks versus Argentina tunnel mood in Athlone. #WorldRugbyU20s pic.twitter.com/ZQte2BeGJ6

— RugbyPass (@RugbyPass) July 4, 2023
A win for Argentina – and they had that in the grasp when leading for most of their Pool C match in Athlone – was set to leave Georgia winning the pool, and that would have completed an all-European semifinal lineup for the first time at the Junior World Championship.
Instead, the last-four pairings wound up with France versus England and with the Irish taking on their greatly relieved tournament hosts.
It's a three-to-one hemisphere divide Nhleko doesn't argue against.
"Absolutely, the scoreboard doesn't lie," he said. "For various reasons, the southern hemisphere sides have struggled, but we got the luck of the draw in terms of the pool, and things have just worked out. It could have very much been all-northern hemisphere semifinals, but we have got an opportunity, and it is up to us to use it."
They were fortunate as they trailed Argentina 16-7 at the break and could have wobbled, but a late second-half flourish swept them to a 24-16 victory to vindicate the fate Nhleko still had in his team, despite last week's shock loss to Italy, prompting an outpouring of vitriol from parts of the South African rugby public.
It's shaping up to be a thrilling semi-finals day on Sunday 🙌

☘️ @IrishRugby v @JuniorBoks 🇿🇦
🇫🇷 @FranceRugby v @EnglandRugby 🏴󠁧󠁢󠁥󠁮󠁧󠁿

Who do you think will be reaching the final? 👇#WorldRugbyU20s pic.twitter.com/vtIICmCjAD

— World Rugby (@WorldRugby) July 5, 2023
Asked what his message at halftime was with his team trailing the Argentinians by nine points, he said: "Extremely colorful, but we said to the boys we are still very much in the game. We were just a penalty, three points away from getting back into it. We sense when we keep ball in hand that we have got a good team – we just needed to keep hold of it and put pressure on.
"I'm very happy to get the win, especially in front of a very passionate Athlone crowd. I thought the second 40 was very good for us. Tough, tough first 40, same gremlins with discipline being an issue.
"But you could see the energy (of the crowd), you could feel it as the game and momentum started turning. Our players need to play well for that to happen, and hopefully, the fans will come out in numbers for next Sunday's game and really get behind the team."