European Professional Club Rugby
Key Takeaways From The 2023/24 Champions and Challenge Cups Draw
Key Takeaways From The 2023/24 Champions and Challenge Cups Draw
The Heineken Champions Cup and EPCR Challenge Cup Rugby competitions had their pool draws for the 2023/24 season at Tottenham Spurs Stadium in London.
Jun 23, 2023
by Philip Bendon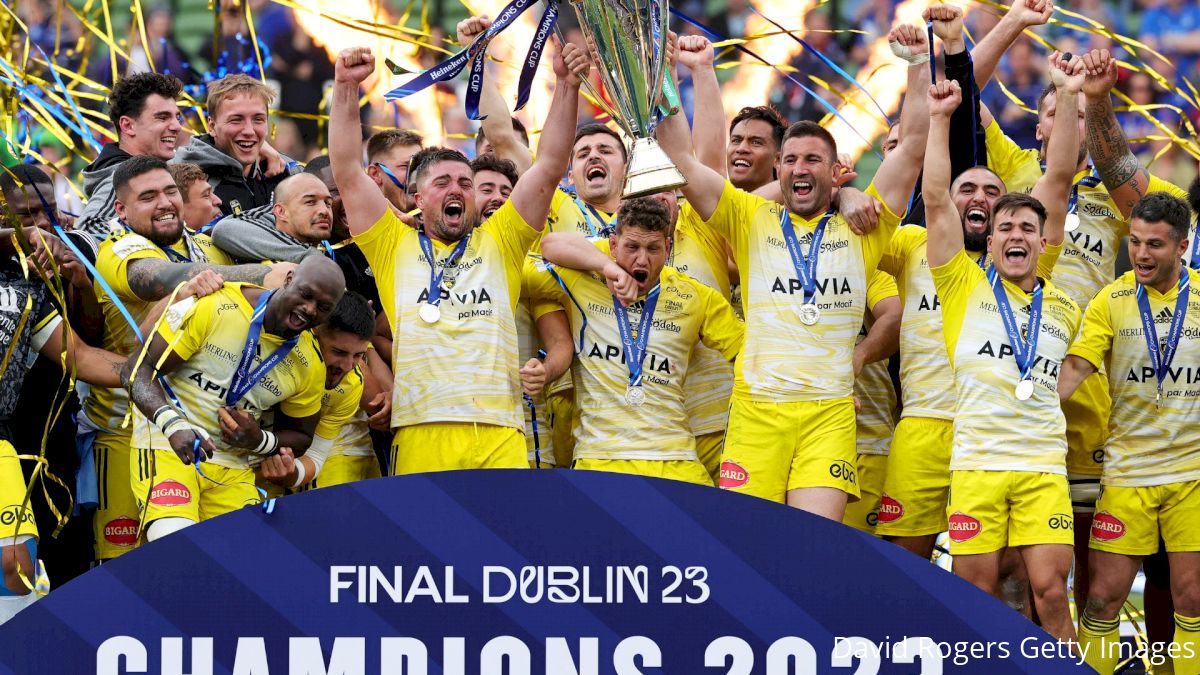 The 2023/24 Heineken Champions Cup and Challenge Cup's pools were confirmed yesterday at Tottenham Hotspurs Stadium in London.
Outside of two invitational teams in the Challenge Cup who have yet to be announced, the teams will all now know who they will be facing come December.
La Rochelle And Leinster Rivalry Renewed
Back-to-back finalists Leinster and La Rochelle will renew their budding rivalry earlier than normal next season, having both been drawn in pool four. Whilst the head-to-head series is skewed heavily in La Rochelle's favour having defeated Leinster three times in a row, there has been four points between them in the past two finals. In a rather perverse way, one could understand why the Dubliners would rather meet Ronan O'Gara's side in the pool stages rather than the knockouts, given the general consensus that has emerged from Dublin since their defeat that they are rarely tested before the knockout stages. Leinster will next season have a series of tough battles in the pool stages as they face Top 14 quarterfinalists Stade Français, Premiership semi-finalists Leicester Tigers and Premiership finalists Sale Sharks. In the new format, they will play each of those teams once before a knockout stage but will not face fellow URC team, The DHL Stormers, in the pool.
Can English Teams Compete?
The 2022/23 season was the toughest season in professional English Rugby. Domestically the Premiership saw three of their clubs fold as the iconic brands of Wasps RFC, London Irish and Worcester Warriors entered administration. On the international stage, the national side struggled in Steve Borthwick's first season in charge. One thing that has never been in doubt is that England possesses some of the most talented rugby players on the planet. The issue for the Premiership clubs is that with their shrinking salary cap and the growth of foreign leagues, several of these players are now looking to take their services elsewhere. Already confirmed to be departing next season are Premiership stars Sam and Joe Simmonds, Jack Nowell, Henry Arundell and Joe Marchant, whilst several more are rumoured to be joining them. Thus, the question must be asked can any Premiership side outside of Saracens realistically expect to progress past the quarterfinal stage?
Is The Format Too Complicated To Gain Traction?
Four pools of six was always an interesting choice for the EPCR, yet with an ever-expanding season, an eight-game tournament makes sense at face value. Yet the word 'algorithm' already has rugby fans up in arms about what looks to be an overly complicated qualification format. In short, there are three competing leagues in the competition, and they are the United Rugby Championship (URC), Top 14 and Premiership. With each pool containing two teams from each league, EPCR made the decision to avoid the oversaturation of teams playing each other. Therefore, teams from the same league will not face each other in the pool stage. For example, Munster Rugby and the Glasgow Warriors will not face each other in pool three action but will play every other team once. Thus, this presents a competitive issue given that in pool two, arguably the two strongest sides in Racing92 and Toulouse will not face each other, and as such, the pool could come down to points difference should they tie on log points.
Fixtures To Be Confirmed But Jeopardy Guaranteed
The schedules for both the Champions and Challenge Cups with dates, venues, kick-off times, and TV coverage will be announced as soon as possible. Fixtures will be determined using the aforementioned algorithm, which will take into consideration the outcome of yesterday's draws, league calendar restrictions, individual club calendar restrictions and broadcast requirements from the various stakeholders. Once decided, fans can expect four exceptionally tight pool games given there is more on the line than the previous format, which saw sides qualify for the knockout stages with just a single win. This added level of jeopardy harkens back to the best days of the tournament, which is an exciting development.
Who Will Be The Invitees For The Challenge Cup?
Continually looking to develop and grow, the European Professional Club Rugby (EPCR) governing body will invite two clubs from outside of the three leagues to compete in the Challenge Cup. Just who these sides will be remains to be seen, yet rumours have been circling of Georgian and possibly Spanish entries. If this were to be the case, it would signal a true step forward for the growth of the professional game into territories where there is a clear appetite for the sport.