French Top 14
Can La Rochelle Do The Double? Five Talking Points For the Top 14 Semis
Can La Rochelle Do The Double? Five Talking Points For the Top 14 Semis
The French Top 14 Rugby semi-finals are upon us, here are five key talking points ahead of Stade Toulousain vs Racing 92 and Stade Rochelais vs Bordeaux.
Jun 9, 2023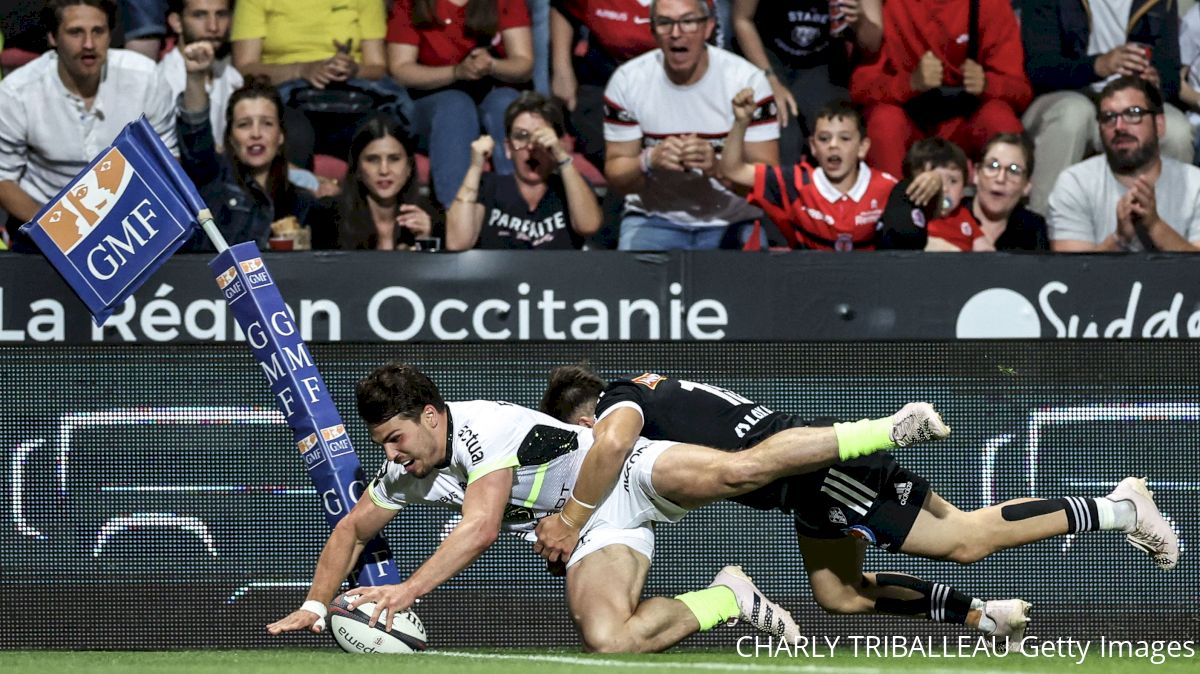 Just one game stands between the four remaining teams and the Top 14 final.
It's a tantalising prospect for all involved, and the sheer adrenaline rush flowing through the players' veins will become palpable once things kick off on Friday night when table toppers Toulouse take on Racing 92 at the Anoeta Stadium.
And then, less than a day later, the same stadium will host the other semi-final clash between La Rochelle and Bordeaux Bègles.
Toulouse and La Rochelle have curated a reputation as being the two best teams throughout the regular season and therefore are the outright favourites to qualify.
They'll take some beating, but Racing and Bordeaux are more than worthy adversaries, adding a competitive edge to an already-loaded knockout round of rugby.
There are plenty of storylines coursing through these two monumental knockout fixtures and plenty of box-office players fighting to make their mark. Here Flo Rugby takes a closer look at five key talking points heading into the semi-final weekend.
Toulouse Are The Tournament Giants
Of all the teams still in the competition, Toulouse are by far and away the most decorated. They have 21 Top 14 titles in their trophy cabinet – the most of any French club – and last won it all in 2021.
By comparison, La Rochelle and Bordeaux are still searching for a maiden Top 14 trophy. La Rochelle have only appeared in one final, while Bordeaux have even less experience in the knockout stages. Since their formation back in 2006, Les Girondins have failed to reach the end-of-season spectacle on 16 successive occasions.
Racing are the only other team remaining who have experience winning it all, last taking the title in 2016 when New Zealand great Dan Carter was running the show. The Parisians haven't appeared in a final since then and will be hoping to end that minor drought to claim a seventh league title.
Clearly, history is on Toulouse's side.
Finn Russell's Last Hurrah
With Finn Russell set to join Bath Rugby this summer, an exit in the semi-finals would be his last-ever appearance for Racing 92.
To ensure it isn't, he will have to put in a career-defining performance, much like his runout against England in the Six Nations earlier this year.
In that game, the Scottish maverick carved up the defence, steering the rudder of attack with consummate ease, delivering expert mis-passes and precise in-field kicks which befuddled the 15 Englishmen facing him.
Standing opposite him this weekend will be Romain Ntamack, an equally adept fly-half who specialises in moments of pure ingenuity, much like Russell, making this head-to-head a true spectacle for the neutral.
Of course, Ntamack has prior experience at the business end of the tournament, and while Russell is no stranger to the knockouts, he has never featured for Racing in a Top 14 final.
Indeed, he will need to channel his inner Carter if he is to emulate his predecessor and lead Racing to another final appearance.
Let The Dupont Show Commence
Antoine Dupont is a little bit special. Just when you think he's reached the peak of his powers, he pulls out an insane kick on his weaker foot or outmuscles an opponent twice his size.
The French scrum-half is one of the best rugby players around and has been the difference maker time and again on both the club and international circuit.
He was pivotal in Toulouse's Top 14 title wins of 2019 and 2021 and, more recently, was the showpiece for France in this year's Six Nations, collecting the Player of the Tournament award for his efforts.
When analysing his overall game, you find there's very little that Dupont can't do. He's an excellent kicker, has a fierce step, possesses a blistering pace, is incredibly physical and is unwaveringly calm.
These characteristics place him on a pedestal above almost anyone else, and it's hard to imagine any Racing player stifling his flow on Friday night.
Can Bordeaux Handle La Rochelle's Physicality?
Bordeaux are very much the underdog heading into their semi-final clash with the high-flying La Rochelle. It's uncharted territory for Les Girondins and will be a huge test of their youthful backline.
There's enough star talent in their ranks to cause La Rochelle some serious problems, but with youth comes inexperience, which may play a huge part in the way the game pans out.
La Rochelle are a band of consummate professionals who use their sheer power and brute physicality to feat on oppositions. The strength of their pack is enough to wear down any team and will be a valuable tool in stifling the creativity of the Bordeaux's backs.
Battle Of The Backups
Matthieu Jalibert is the beating heart of the Bordeaux backline. His ability to glide past defenders with a single step makes him one of the most dangerous tens with ball in hand.
His return into the Bordeaux ranks, following a short stint out injured, has reinvigorated the team and given their attacking game a new lease of life.
He perfectly complements the strengths of his squad, much like La Rochelle's Antoine Hastoy, whose composure under pressure and consistent goal-kicking has kept the men in yellow on top in contests throughout the season.
This face-off at fly-half is the maverick vs the moderator, and to make matters even more interesting, both a vying for a spot in France's World Cup squad.
At the moment, Jalibert is the preferred choice, but Hastoy will be a hard prospect to ignore if he steers La Rochelle to their first-ever Top 14 title, having helped them retain the Champions Cup a few weeks earlier.