2023 Canada U20 vs. USA U20
Exclusive: USA Rugby's Scott Lawrence Talks All Things American Rugby
Exclusive: USA Rugby's Scott Lawrence Talks All Things American Rugby
USA Men's Rugby Rugby General Manager Scott Lawrence discusses the future of American Rugby with FloRugby's Philip Bendon ahead of the U20 Rugby series.
Jun 6, 2023
by Philip Bendon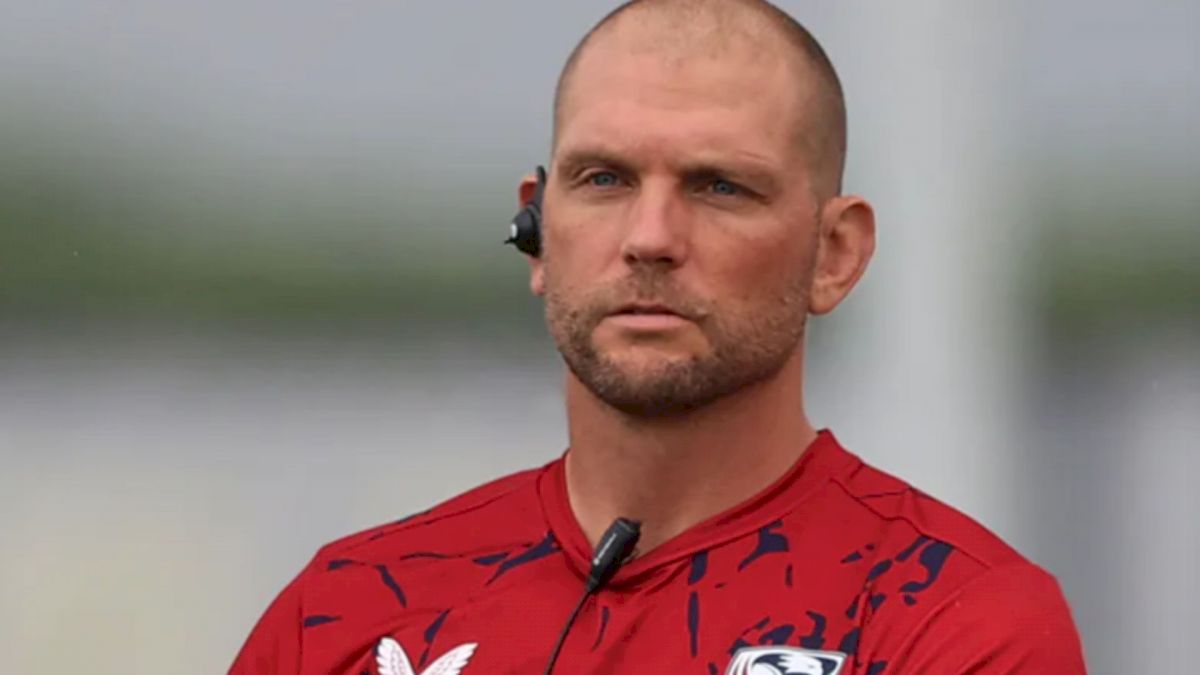 As English playwright John Heywood said, "Rome wasn't built in a day, but they were laying bricks every hour." This is exactly the plan that USA Rugby is taking in the lead-up to the 2031 and 2033 Rugby World Cups.
Taking major strides domestically over the past five seasons, Rugby in the USA is in arguably its healthiest state since the advent of the professional game.
The Major League Rugby (MLR) competition continues to go from strength to strength. As any tier-one rugby nation will attest to, a strong domestic club competition is non-negotiable for any country looking to make major strides.
Offering players a chance to play week-in, week-out is invaluable for developing depth, quality and, crucially, a culture within a community.
Perhaps the most relevant example here has been the meteoric rise of Japanese Rugby since their breakthrough tournament in 2015. Defeating the mighty Springboks in the biggest upset in Rugby history. The Brave Blossoms built on this success four years later at their home Rugby World Cup.
Reaching the quarterfinals for the first time in history, Japan laid the blueprint for other aspiring Rugby nations. Now firmly a tier-one nation, Japan and its domestic league are attracting the very best players in the game.
For American Rugby, whilst the disappointment of missing out on this year's Rugby World Cup will sting, the foundations are being laid for future success.
Developing a strong player base who will be capable of driving the Eagles forward is at the forefront of USA Rugby's priorities. Thus, this evening's U20 match with rivals Canada is an opportunity for USA Rugby fans to catch a glimpse of the players who will look to form the backbone of the senior squad for years to come.
Key to this development is USA Rugby Men's Rugby General Manager Scott Lawrence. FloRugby's Philip Bendon caught up with Scott to discuss his thoughts on the state of the game and, specifically, which players to watch from this crop of U20 talent.
PB: Looking ahead to the upcoming U20 series, which newcomers in the squad are you particularly interested in seeing at this level?
SL: Aidan Christians, Aki Pulu, Animae Amiatu, Connor Devos, and Steffan Crimp are all young talents in key positions.
North American Qualifiers, off to the races tomorrow.

Watch Live on @FloRugby pic.twitter.com/brbA7CIldt

— USA Rugby (@USARugby) June 6, 2023
PB: Having just come across from the MLR, how valuable is the league to the development of the emerging talent in USA Rugby?
SL: Major League Rugby has really grown in its investment in emerging talent. These things take time, and I think we'll start to see some of the talents push its way through like we're seeing in places like Utah and Houston.
PB: Building on the previous question, do the Franchises have incentives to bring through American talent in a similar vein to, say, the Top 14 clubs do with French players?
SL: Major League Rugby has a set of salary cap incentives provided by Major League Rugby for domestic talent development.
PB: With the MRL Clubs now having up to 10 international players, do you think there is a possibility that the clubs could bring this number back down to make room for more American players?
SL: Always a possibility of anything, and I hope USA Rugby and Major League Rugby can work together to make that possible.
PB: On the flip side of this, how valuable do you think it has been for American players to see the likes of Ma'a Nonu, Matt Giteau and others playing in the league? How much do you think they could've learnt from some of the game's best?
SL: It's been nice to have them here domestically, and I think the players that have played alongside and against them are learning from it. American players and the general American public aren't particularly interested in the global marquee names.
PB: Final question on the MLR, with Chicago joining this season and Miami coming in next year, is there scope for more growth in the coming seasons? What do you think would be the ideal size for the league?
SL: Great question; emerging leagues for new sports in the USA go through periods of growth and transition. We'll know the answer to that question in due time. For now, the announcements are exciting, and Miami is going to be a welcome addition.
The @SeawolvesRugby have defeated @utwarriorsrugby in a nail-biter to clinch a western conference eliminator at home at Starfire Sports Stadium!

Check out the match highlights.

📺 @therugbynetwork | #SEAvUTAH | #MLR2023 pic.twitter.com/xCRefn4ZLb

— Major League Rugby (@usmlr) June 5, 2023
PB: From a USA Rugby perspective, how do you feel the current structures are in terms of supporting emerging players? Is there a particular model that you are following? I.e. the successful Irish and New Zealand models?
SL: Of course, there are certain best practices that you should copy-edit-paste from other countries, but where rugby sits in the sporting landscape for those two countries is vastly different from the United States and demands our own network-based model.
PB: Alongside the regular pathways, is there an initiative or perhaps even a consideration towards chasing athletic talent from other sports such as American Football, Basketball, etc.?
SL: Several cross-over athletes have come to rugby, primarily 7s. Rugby is not a primary sport here. In some way or another, most of us are all from different sports until we became single sport focused after the age of 18. We have a nationwide Talent ID combined format program and several routes for cross-over players through the USA Rugby Academy and Junior National Teams.
PB: Tying back to the previous question, with the Rugby World Cup in 2031 coming to the USA., where do you envisage USA Rugby is in terms of not necessarily world rankings but in player numbers and regular competition against Tier one nations?
SL: The United States put the first man on the moon seven years after JFK said we would. The World Cup is eight years away. We are actively working right now toward competing with the world's best when it happens.
PB: Whilst 2031 is quite some time off, and this might be a similar answer to question one, are there any U20 players you feel could be top-quality internationals come to that tournament?
SL: The players mentioned above are all possibilities as long as we can get them active professional minutes over the next 2-3 years.
PB: A bit of a tough question, but having missed out on qualification for France 2023. Where do you think things went wrong? Was there an area that you could pinpoint? Or was it an accumulation of issues?
SL: If you look at the rear view too long, you're certain to crash. Our focus right now is out the front windshield, and we have an exciting next three months to get after with our U-20s and senior national team.
PB: Finally, a slightly different question, I am set to be interviewing Nafi Ma'afu in the coming weeks. How do you see his potential? Could he feature for the Eagles any time soon? Is he the kind of player you'd like to see back in the MLR, or is his development going to be quicker in European Rugby?
SL: Nafi is recovering from an ACL repair. We're anxiously awaiting him getting back healthy and playing again so we can take a closer look at him.
To follow the first steps of USA Rugby's next generation, tune in this evening, Tuesday, June 6th, at 6 pm Eastern Time to watch their match with Canada. The game will be streamed live and exclusively on the FloSports app.