United Rugby Championship
United Rugby Championship: Top Five 2022/23 Munster Rugby Moments
United Rugby Championship: Top Five 2022/23 Munster Rugby Moments
Looking back at the top five moments of the 2022/23 United Rugby Championship season for Munster Rugby ahead of their final clash with the DHL Stormers.
May 25, 2023
by Philip Bendon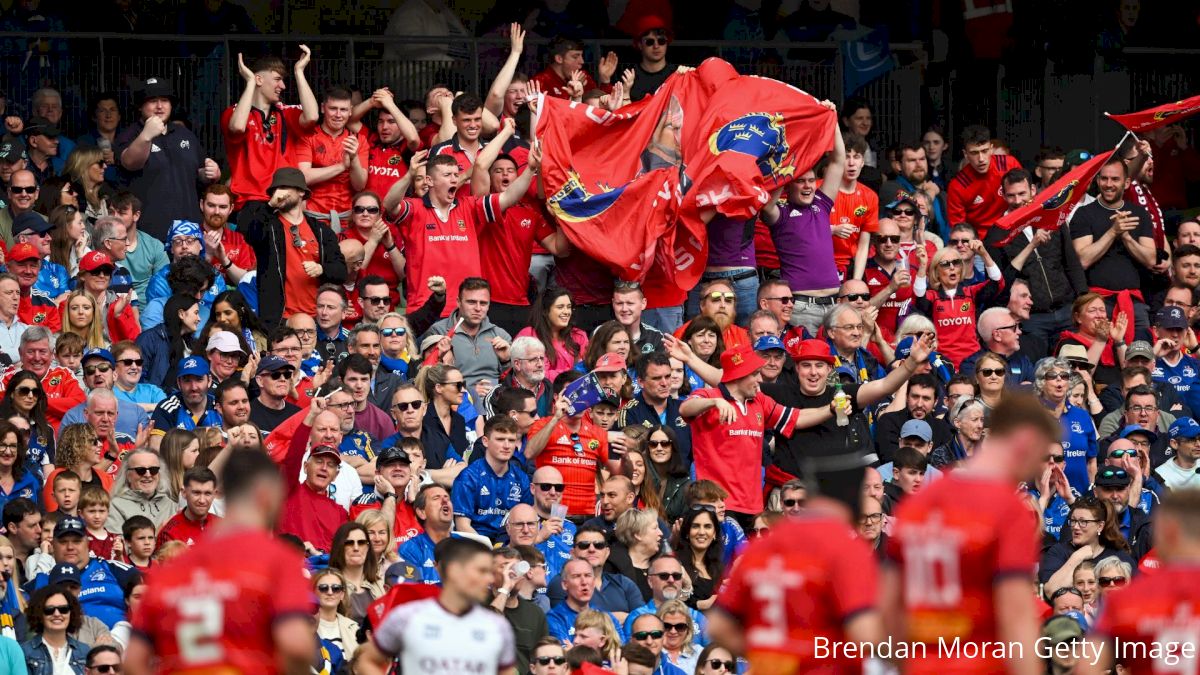 It has been eleven long trophyless seasons for one of European Rugby's pre-eminent clubs. Winners of two Heineken Cups and three league titles in the early to mid-2000s, it is hard to believe that despite several deep play-offs runs, the men in red have not secured a trophy since 2011.
Now at the gates of glory, Munster have travelled to Cape Town once again, looking to repeat their round 17 heroics by overturning the DHL Stormers in their own backyard.
Whilst it has been a long and winding road to get to this point, one thing has remained a constant. When Munster's backs are to the walls, they come out swinging and, more often than not, deliver a spectacular performance.
Undefeated in their last seven road games, Munster will carry no fear heading into the cauldron-like atmosphere in this Saturday's final.
So, without further ado, here are the top five Munster moments from the 2022/23 United Rugby Championship season.
Did you know…@MunsterRugby are unbeaten in their last 7️⃣ away #BKTURC matches 🔥#URC | #UnitedWeRise pic.twitter.com/btwq9sth7M

— BKT United Rugby Championship (URC) (@URCOfficial) May 24, 2023
5. Ben Healy Turns The Tide In Belfast
When a clutch moment presents itself, there are few players better than Munster flyhalf Ben Healy. Unfortunately for Munster, their homegrown budding superstar will be playing his Rugby in Edinburgh next season, having signed for the Scottish side earlier this season. Despite his defection from the province, Healy is a beloved member of this Munster squad and has been the difference in several key moments for the men in red this season. Never more so than in Munster's key away clash with rivals Ulster. Trailing by six points with ten seconds to play, Healy, who had recently come onto the pitch, barged over for a try before converting the score to seal a remarkable 15 – 14 win.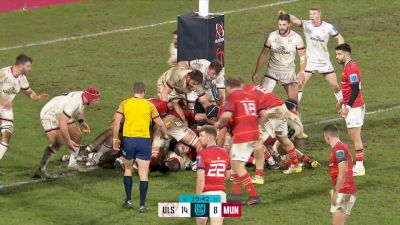 4. Titanic Defence Denies The Bulls In Limerick
Edging the Bulls by just two points on the combined log at the end of the regular season, the two teams' seasons seemed to be intertwined right until the final round. Thus, it was little surprise that their meeting back in October would prove to be a titanic struggle. Whilst Munster won the clash 31 – 17, the Bulls came within inches of picking up a losing bonus in the dying seconds of the match. Having started the season with just one win from four, this bonus point victory was crucial ahead of what proved to be two tough losses to local rivals Leinster and Ulster in the coming weeks.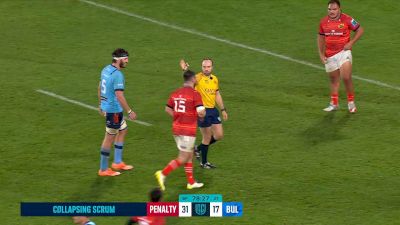 3. Dramatic Comeback At Shark Tank Seals Northern Quarterfinal
In professional rugby, the 16th player can often have a profound effect on the outcome of a fixture. Whether it is influencing refereeing decisions, creating a hostile environment, or simply motivating their team, the fans in the stand play their part. For Munster, the horror show that was their 50 – 35 last sixteen defeat at Hollywood Kings Park (The Shark Tank) just three weeks prior appeared to be unfolding once again, this time in their crunch round 18 clash. Trailing 22 – 3 at halftime, Munster had been under the pump from the Sharks' immense physicality, which the home supporters thoroughly got behind. Yet, what unfolded in the next forty minutes was nothing short of a Munster miracle as they went on to nil their hosts in the second half whilst scoring 19 unanswered points. Such was the turnaround that Munster left Durban feeling as though they let a win slip as ended the game over the Sharks line only to be held up.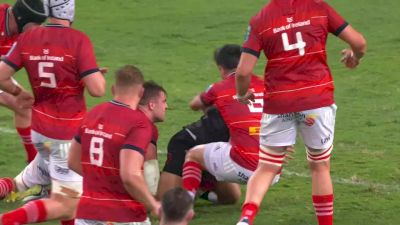 Unlock this video, live events, and more with a subscription!
Get Started
Already a subscriber? Log In


2. Dominant Performance Ends Stormers' Home Run
Hands down their best performance of the regular season, Munster's dominant win at the DHL Stadium in Cape Town set the stage for their late-season push. Whilst the final score of 26 – 24 would indicate a close match, it was anything but as Munster soaked up the Stormers' pressure before landing shots of their own. Securing a bonus point win at a venue where the Stormers had not lost 19 games proved the Munster championship mentality. Taking everything the Stormers could throw at them, the men in red battened down the hatches and secured a season-saving victory.


1. Jack Crowley Sinks Leinster In Dublin
Big-time moments require big-time players, at just 23-years-old, Jack Crowley is already a big-time player. The Bandon Grammar product is the greatest flyhalf prospect the southern province has seen since Ronan O'Gara hung up his boots a decade ago. Like his hero O'Gara, Crowley carries with him an infectious level of self-belief and a never say die attitude. Despite playing the majority of the rugby, Munster found themselves in the all too familiar position of trailing Leinster at the Aviva Stadium with time running out. Having hustled and pressured their more fancied rivals all afternoon, it would be Crowley who started what would eventually culminate in a historic moment for the province. Running the ball back hard at his opposite number Harry Byrne, Crowley got his team on the front foot as they inched their way towards the Leinster posts. Sitting deep in the pocket, Crowley gave the signal to Craig Casey that he was ready. As if in slow motion, the ball came so sweetly off his boot that the outcome was never in doubt. Emulating his hero with a fist-in-the-air celebration, Crowley sent Leinster packing and, with it, booked his team's ticket to the final.