French Top 14
WATCH: Stade Rochelais Come Home To A Heroes Welcome
WATCH: Stade Rochelais Come Home To A Heroes Welcome
Stade Rochelais celebrate their second successive Heineken Champions Cup title win with their fans in the early morning hours.
May 22, 2023
by Philip Bendon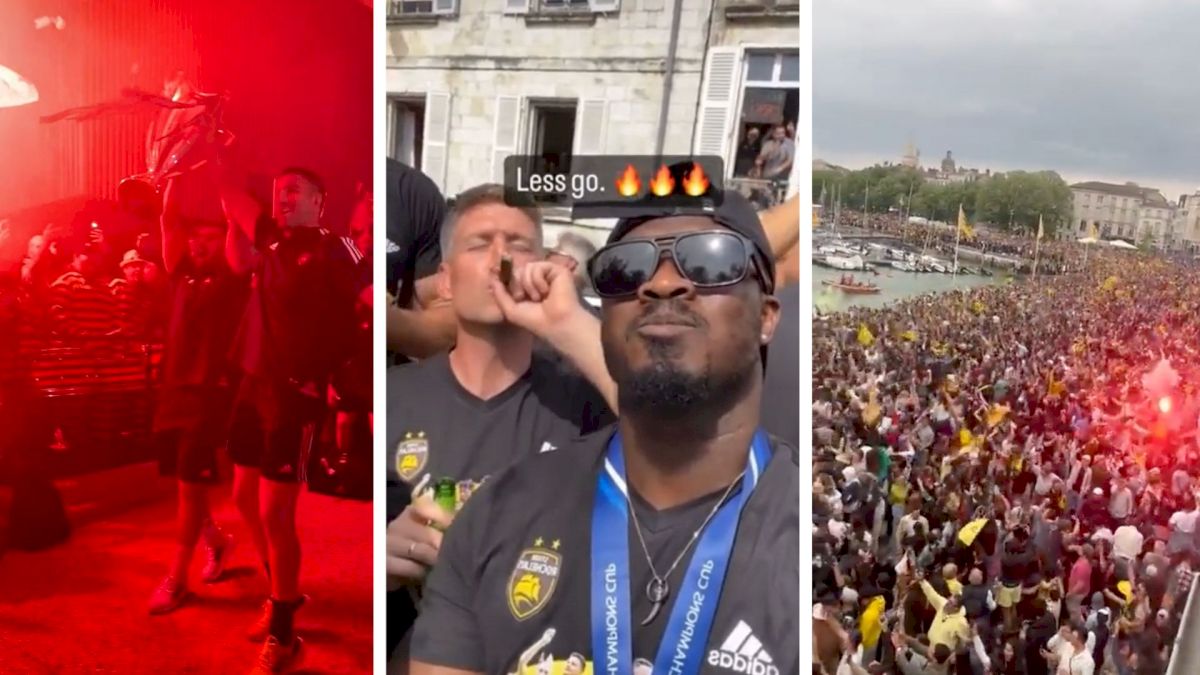 The parade in La Rochelle looks phenomenal.

What a rugby culture they've got out there.#HeinekenChampionsCup pic.twitter.com/nFAOZLzjcY

— Tight Five Rugby (@TightFive_Rugby) May 21, 2023
Ronan O'Gara and La Rochelle stamped their names into the history books as they secured a second successive Heineken Champions Cup title.
𝐅𝐎𝐔𝐑 𝐈𝐍 𝐓𝐇𝐄 𝐌𝐎𝐑𝐍𝐈𝐍𝐆! 🤩@StadeRochelais's received a champions welcome back to La Rochelle in the early hours 🏆pic.twitter.com/KYDxJVMdWY

— Heineken Champions Cup (@ChampionsCup) May 21, 2023
Falling into a deep deficit early on, the French powerhouse showed their championship mettle to hammer away at the Leinster defensive line.
"I love being coached by @RonanOGara10.

"He's instilled belief in us that we didn't have before."

Will Skelton lauds the La Rochelle DoR as he reflects on an extraordinary win in Dublin.#HeinekenChampionsCup pic.twitter.com/qTgGejetHo

— Rugby on BT Sport (@btsportrugby) May 20, 2023
Eventually, their pressure would tell as they crossed for what would prove to be the decisive try with seven minutes remaining.
Dillyn Leyds and Raymond Rhule after La Rochelle win back to back @ChampionsCup Trophies #SaffasAbroad pic.twitter.com/xqRiSi5ymy

— Rugby Bits (@RugbyBits) May 21, 2023
Whilst the celebrations of their first title in 2022 led to incredible scenes in the French port city, the fans appear to have stepped up another level this year.
📍 La Rochelle, 4h du matin.

🫶🏻 Vous êtes toujours aussi incroyables et c'est pourquoi vous êtes le meilleur public du monde. #LEIvSR | #ChampionsCup | #FievreSR pic.twitter.com/zFjQBcmMLA

— Stade Rochelais (@staderochelais) May 21, 2023
Now a bona fide Rugby force, the people of La Rochelle can expect many more great days with this special group of coaches and players.
VIDÉO 3h30 - L'arrivée des doubles Champions d'Europe à l'aéroport de La Rochelle. La folie ! 🟡⚫🔥👊⭐⭐🏆🏆 @staderochelais @ChampionsCup_FR @ClubBagnards @AvecXv #FievreSR #LaRochelle pic.twitter.com/PDbqjpP6uy

— France Bleu La Rochelle (@Bleu_Rochelle) May 21, 2023