French Top 14
Heineken Champions Cup Five Keys To Victory For Leinster In The Final
Heineken Champions Cup Five Keys To Victory For Leinster In The Final
Heineken Champions Cup five key points for Leinster Rugby in their bid to defeat La Rochelle in the Champions Cup final at the Aviva Stadium in Dublin.
May 19, 2023
by Philip Bendon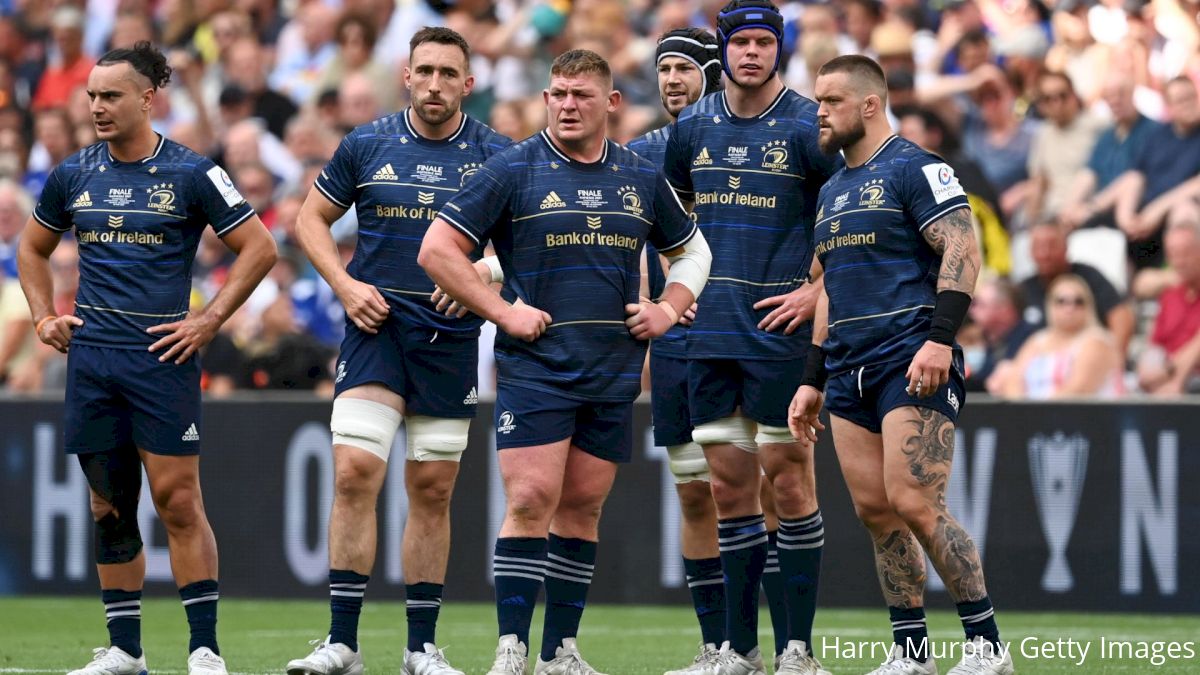 For the third year in a row, La Rochelle stands in the way of Leinster Rugby and the fifth Heineken Champions Cup star they so desperately covet.
Having fallen to the French powerhouse firstly in a semi-final in the 2020/21 semi-final and then again in agonising fashion at the final hurdle in last season's final, the pressure is firmly on the Dubliners to reverse the tide.
Here are five key points that Leo Cullen's men will need to do to ensure a victory in front of their home fans on Saturday afternoon.
Minimise The Power Game
Notoriously their Achilles heel, Leinster's inability to negate powerful packs has seen them come unstuck more times than they would like to admit. Struggling firstly with the power of Saracens when they were at their peak before La Rochelle took over the mantle as the big bullies. One title win in the past decade is a rather dour return for a side who have by and large been guaranteed to reach the knockouts every season. Leinster fans will not forget the job that Sarries did on them in both Newcastle and then again in Dublin a year later. On both occasions, Leinster played the bulk of the rugby only to be worn down by the power of their English rivals. As Sarries faded into oblivion due to their salary cap scandal, La Rochelle appeared ominously over the French Atlantic coast. Whilst it took until the 80th minute for La Rochelle to claim their first title last season, their ability to stunt a Leinster attack which just a week earlier had put 40 points on Toulouse, was supremely impressive. Key to that victory was the power of the La Rochelle set piece spearheaded by the likes of Uini Antonio, Levani Botia, Gregory Aldritt and Will Skelton. Rather interestingly, no player has had a bigger effect on Leinster's late-season collapses than Skelton, who was a key player for Saracens during their heyday. To minimize this power game, the key for Leinster will be the kicking game led by Ross Byrne. Limiting La Rochelle's mauling and scrum opportunities inside the 22 will go a long way to starving them of scoring opportunities. Whilst they have proven to be a more dangerous opponent for Leinster on the whole, they don't pose as much of a long-range attacking threat as other sides such as Toulouse, the Stormers and, dare we say it, Munster.
Take The Points On Offer
Known for their willingness to go for the corner rather than take the points on offer, Leinster will be all too aware of the incredibly potent defensive game that La Rochelle possesses. Whilst all their points came from the boots of Jonathan Sexton and Byrne in last season's final, you can be sure Leinster will score tries this year. Before this, however, building a score will be crucial, given La Rochelle's ability to stay in the fight. If Leinster can play Cup Rugby and get more than a converted try clear, then the space will open up as La Rochelle chase the game. As the past two fixtures between the two sides show, Leinster has rarely failed to get more than a score clear, and as such, we are yet to see how La Rochelle would respond to having to chase a game.
Up The Tempo
Tying into the first two points, La Rochelle did an incredible job and turning the breakdown into a minefield. This, in turn, slowed the usually up-tempo Leinster attack to a snail's pace and stunted their attack. The key here is Leinster's front five, who will need to secure quick ball for scrumhalf Jamison Gibson-Park to impose his game. Offering an interesting insight into this was the recently retired Leinster hooker James Tracy who was speaking on the radio show Off-The-Ball. Tracy offered his analysis that referees had been rather lenient with La Rochelle defenders lying in the ruck and slowing down the game. A note that La Rochelle head coach Ronan O'Gara was quick to dispute during his weekly segment just days later on Off-The-Ball. Clearly, this will be a major factor, so how the likes of Tadhg Furlong, Andrew Porter and James Ryan handle the rucks will make for an interesting subplot.
🗣 'My 10 years has taught me to try and control the things we can control'

🏉 Ronan O'Gara gave his response to James Tracy claiming on #OTBAM recently that La Rochelle push the boundaries in terms of staying legal at the breakdown@GilletteUK | #EffortlessFlow pic.twitter.com/vy7VvaLEM8

— Off The Ball (@offtheball) May 12, 2023
Bring The Crowd Into The Action
For the first time in the three meetings between the two sides, the game will not be played in France but in Dublin. Having fallen only to the Vodacom Bulls and Munster at home over the past two seasons, it is fair to say that Leo Cullen's side go to another level at home. Having highlighted their struggles with the heat during the past two meetings between the two sides, Saturday's forecast for cloud cover and 16C will be a welcome sight. Yet, it is the raucous support that Leinster often join at home that will likely play a role. Having already sent out a call to arms in asking their fans to get to the stadium early to build a hostile atmosphere for the visitors, the Dubliners will be hoping their presence will not only influence their opposition but also the match officials. The officials were subjected to hissing, howling and boos from last year's heavily French-influenced fan base in Marseille in last year's final. Whilst Irish fans have a reputation for being less flamboyant than their French brethren, they will no doubt make their feelings heard with every call either for or against their boys in blue.
🗣️ | "𝗧𝗵𝗲 𝘀𝘂𝗽𝗽𝗼𝗿𝘁 𝘄𝗲'𝘃𝗲 𝗵𝗮𝗱 𝗵𝗮𝘀 𝗯𝗲𝗲𝗻 𝗮𝗯𝘀𝗼𝗹𝘂𝘁𝗲𝗹𝘆 𝗮𝗺𝗮𝘇𝗶𝗻𝗴 𝘄𝗵𝗲𝗿𝗲𝘃𝗲𝗿 𝘄𝗲 𝗽𝗹𝗮𝘆."

Josh van der Flier explains the impact the #SeaOfBlue has on matchdays. 🌊 #LEIvSR #HeinekenChampionsCup pic.twitter.com/28pm9ODHc3

— Leinster Rugby (@leinsterrugby) May 18, 2023
Show Venom In The Face Of Adversity
Far too often, Leinster has had things go all their own way for the bulk of the season before being punched in the face come the business end of the season. Whilst there is no doubt they would not have enjoyed last weekend's URC semi-final defeat to arch-rivals Munster, it could prove to be the best thing to happen to them. There is nothing like a gut-wrenching loss to focus the mind, and fortunately for Cullen and his charges, they have a chance to rectify the issues of last weekend immediately. Despite being starved of possession by Munster, Leinster came within three minutes of pulling off the win. Yet uncharacteristically sloppy play in the final minutes cost them. Just how much they can parlay this hurt into a performance remains to be seen, but one gets the sense there would've been an extra bit of bite in this week's training sessions.