French Top 14
Heineken Champions Cup Final: The Battle Of The Halfback Combinations
Heineken Champions Cup Final: The Battle Of The Halfback Combinations
Heineken Champions Cup final the battle of the halfbacks see's Leinster Rugby duo Gibson-Park and Byrne Tackle La Rochelle's Kerr-Barlow and Hastoy.
May 18, 2023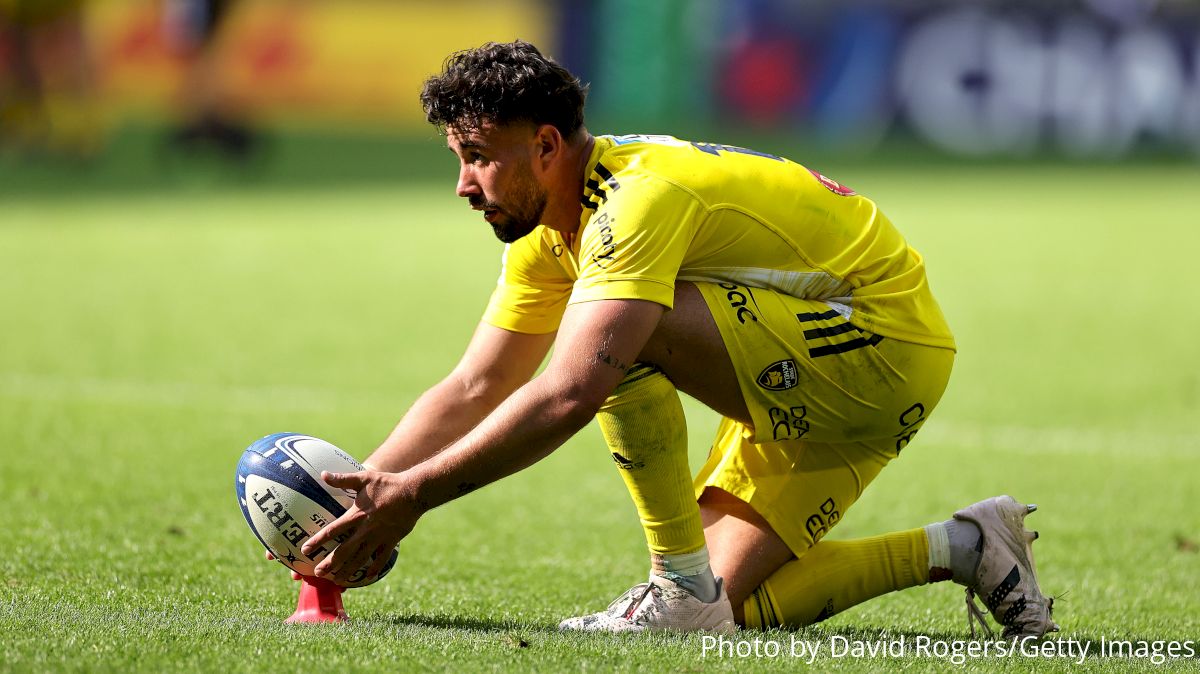 For two straight seasons La Rochelle and Leinster will cross paths in the final of the Champions Cup. Both have been at the height of their powers when facing the best Europe has to offer and remain resolutely top of the pecking order.
Leinster have the greater haul of intentional talent, boasting the majority of Ireland's starting fifteen in their ranks, while La Rochelle possess one of the most physically team of men the rugby world has ever seen.
That strength and brawn was a crucial asset in Marseille last year, as the French side came from behind to tip Leinster at the death, clinching their first ever European title.
They now have aspirations of doing the repeat by besting Leinster in what promises to be another gruelling, yet engrossing 80 minutes of rugby.
There's no question that both packs will play a huge part in the contest, steering the trajectory of the set piece and the game at large, but just as much onus will fall on the shoulders of the halfback combinations marshalling each battalion.
On the one side we have flyhalf Ross Byrne, alongside either Luke McGrath or Jamison Gibson-Park at scrum half.
Previously considered an average talent, Byrne is now heir apparent to the Leinster and Irish ten jersey and demonstrated during the latest Six Nations exactly why that honour has been bestowed upon him.
With Johnny Sexton entering the twilight of his career, Byrne has become a worthy replacement, orchestrating the Leinster attack with relative comfort and has greatly improved his quality of kicking, turning the tide against oppositions with one single thrust.
He'll have to be at the peak of his powers to ensure he lifts the esteemed trophy, with flashbacks of last year's final still looming large. In that match Leinster struggled to break through the La Rochelle defensive line and had to rely upon Sexton's boot to keep them in the game.
With the yellow wall still as strong as ever, Leinster can expect a similar challenge this time around, and will likely call upon Byrne to convert the extras to keep them ticking over on Saturday afternoon.
He will of course be aided by his scrum half. Both McGrath and Gibson-Park are excellent sidekicks, with enough pace and vision to cause problems around the fringes of rucks. However, the crux of their duties will be based upon possession and territory, as is the case in most finals.
Box kicking in particular will be a useful tool in releasing territorial pressure, pushing La Rochelle as far away from the Leinster line as possible. Last season Ronan O'Gara's men were baying for blood and scored three tries in total, making the territorial battle even more important this time around.
Tawera Kerr-Barlow will be a key component in that department for La Rochelle, offering similar attacking capabilities at scrum half as that of his opposite number. The New Zealand veteran has plenty of big game experience, indeed more so than McGrath and Gibson-Park, which gives him valuable nous once the game enters crunch time.
But the key battle will be at fly-half. There we will see the head-to-head between two players in the infancy of their international careers, with the two-cap Frenchman Antoine Hastoy lining up for La Rochelle opposite Byrne.
This match is a primed for them both to signpost their ability, not just in front of the posts, but in managing the clock and playing to the strengths of their respective sides.
Hastoy has done just that since moving to the port city in the summer, brandishing his precise place-kicking and accuracy off the tee. Indeed, that accuracy means he is the leading points scorer in the Champions Cup, with a total of 81 points.
The pressure on him as he kicks will amplify this weekend, but Hastoy has claimed he doesn't feel the pressure, and instead feels excited about a first major final.
Byrne will arguably have more pressure to bear, after Leinster suffered a shock loss to Munster in the semi-finals of the URC last week, and now face the prospect of slipping to a second straight season with no silverware.
With the talent Leinster possess, that result seems unimaginable.
Such pressure can invigorate a team, but it can also make them crumble. With Byrne they have a chance, but it's a tough ask against such a dominant La Rochelle outfit.
It'll probably be just as tight as it was last year, and as spectators we can only hope for an equally dramatic finale. But in the end Flo Rugby believes La Rochelle, powered by the bite of their pack and the solemnity of Hastoy, will come away with a second consecutive European title.