World Rugby
'Saturday's Crowd Was Different, RFU Cannot Afford To Take It For Granted'
'Saturday's Crowd Was Different, RFU Cannot Afford To Take It For Granted'
Anyone who happened to be in Twickenham on Saturday morning would have noticed something different with the gathering matchday crowd.
May 3, 2023
by RugbyPass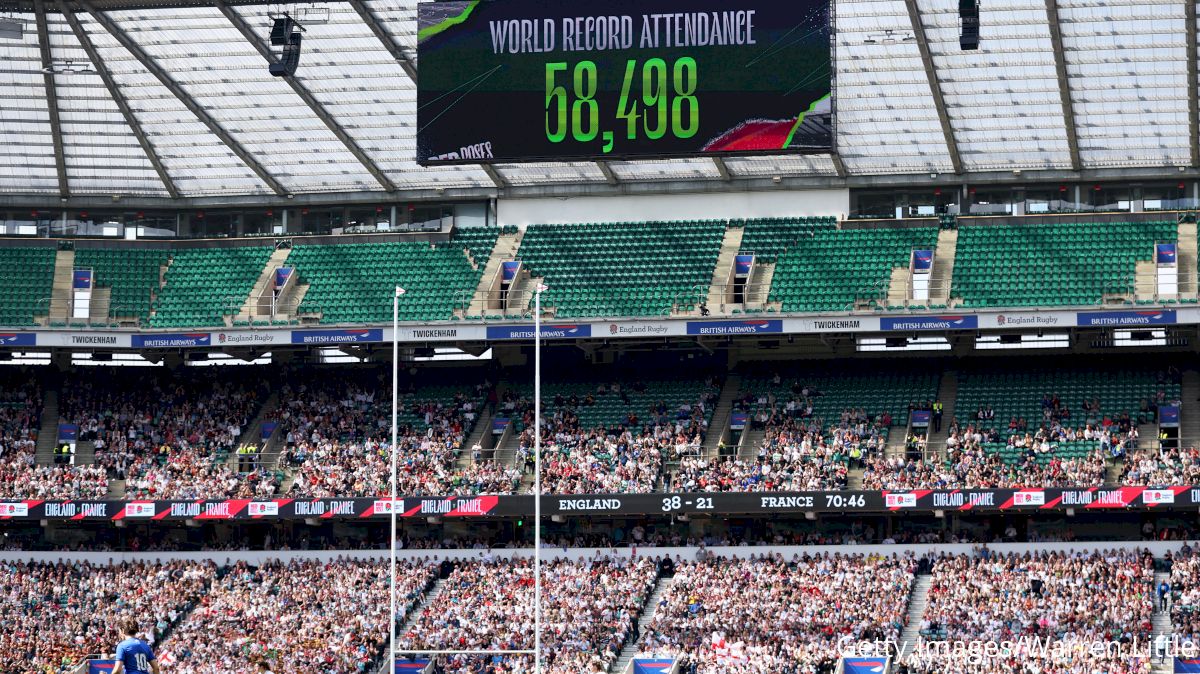 Anyone who happened to be in Twickenham on Saturday morning would have noticed something different with the gathering matchday crowd.
Fans who stepped off trains that had become busy on their journeys from Waterloo, Windsor or Reading were corralled on their exit, just as those who disembark to watch Harlequins or England's men, but perhaps unusually, their dispositions were as bright as the beaming sun above them, as they waited to leave the station.
Many of the 58,498 men, women and children who made their way to Twickenham on Saturday did so with a look of satisfaction on their faces, happy to queue and endure mild discomfort for the opportunity to watch England's Grand Slam-decider against France in a world-record crowd.
Even better, those who arrived at around 11:20 a.m. were treated to the sight of the England coach as it drove down London Road on its way to HQ. Winding through busy roads, flanked with waving fans, was as new an experience for the players, as it was for those cheering back.
"The thing that got us was coming in on the bus," Hannah Botterman said. "I don't think that many of the girls really understood what 58,000 looked like because we've never had it, but our minds were just blown."
The feeling of euphoria flowed into the stadium, where nearly 60,000 fans – a very different congregation than would normally file down Whitton Road and into the stands – were whipped up into a frenzy by pre-match DJs and pitch-side flame throwers.
For the first quarter of an hour, it looked as though the occasion might, again, get away from the hosts. France certainly wasn't cowed by the noise emanating from the stands and hammered away at the England line.
But England's players drew strength from their supporters. First to repel each wave of French pressure and then to turn the game on its head in the 17th minute, as Tatyana Heard put Helena Rowland through a gap and Abby Dow, receiving the ball on the right wing, did what she does best.
𝐒𝐢𝐭 𝐛𝐚𝐜𝐤 𝐚𝐧𝐝 𝐞𝐧𝐣𝐨𝐲...

Every @abbydowberg try from the 2023 #TikTokW6N 🙌#RedRoses pic.twitter.com/z9EMILc2Wo

— England Rugby (@EnglandRugby) May 3, 2023

The Red Roses were suddenly back on track and on their way to the Grand Slam.
"It is incredible, they give you that extra man," Botterman, who produced a try-saving turnover with the score at 0-0, said of the support. "Having everyone here was just incredible, and they willed us on."
Rowland added: "You could hear the crowd constantly, and I think it really picked us up at times, particularly [due to] potentially a little bit of a slow start in the first half. But having the crowd behind us really helped."
Four tries and a 33-0 scoreline followed before halftime, and at that stage, it looked as though victory would arrive at a canter.
However, France's second-half fight back ensured the final score was less flattering for the Red Roses, but did the result ever, really, look in doubt?
Perhaps if Cyrielle Banet had touched down Les Bleues' fifth try a few seconds sooner – and forced England to take a restart – one of the most unlikely comebacks in Championship history would have been completed. But in truth, the hosts had won the match in 24 first-half minutes.
Victory was a fitting way for Simon Middleton to sign off as coach, giving him and his players closure on last November's heartbreak at Eden Park. It also was apt that Sarah Hunter was able to soak up the adoration of the crowd as she walked onto the Twickenham turf at full-time to deliver the Women's Six Nations trophy.

On the eve of the match, Marlie Packer had again asked Hunter – her co-captain for the opening match of the Championship – whether she wanted to join the team for the trophy presentation should they win it.
"For me, she's the ultimate Red Rose," Packer said. "You don't win 141 caps without being fully dedicated to the job in hand, and she's always been that person. She was definitely a 'no' when I asked her last night, but to see her walking on and getting the standing ovation she deserves, was special."
This has not been a straightforward Championship for Middleton or England.
Injuries and the retirement of Hunter have forced his hand over selection, to an extent, and this was the first time he put out what could be said to resemble his best team.
But there obviously are plenty of positives for the incoming coach – whomever it may be –to take from a fifth successive Women's Six Nations clean sweep.
Packer has emerged as the team's totem, a natural leader, while her namesake, Lucy, looks ever more assured at scrum-half.
Heard has been one of, if not the player of the Championship and there have been noteworthy performances throughout the squad, from the resurgent Sarah Beckett to the redoubtable Botterman and indefatigable Sadia Kabeya.
In staying on for an extra tournament, Middleton not only has strengthened his own legacy, he has ensured he leaves the sturdiest of platforms for the next person to set up camp in his office.
"We couldn't have wished for a better stage to go out on," Middleton said. "But it's not the end of the road. It's just a stage.
"You've got to put new energy into group and new ideas into the group. It's been brilliant the last eight, nine years, but it's the right time [to go], and you shouldn't be afraid of change.
"We've seen a lot of change this Six Nations, and we'll see more moving forward. The key bit is to keep the energy and feed off today. It's been a special day and a privilege to be here."
For the England players and their next coach, thoughts will switch to the inaugural WXV tournament, certainly once a potentially enthralling Allianz Premier 15s run-in has concluded.
The Rugby Football Union, however, must work out a way to bottle the momentum that has built behind their senior women's team.
They have developed a following that needs and deserves to be nurtured. Saturday's crowd was different to the ones that usually inhabit Twickenham. It was vibrant, welcoming and young, but the RFU cannot afford to take it for granted.
In truth, they did not expect so many to turn up when they originally scheduled this match and the litmus test will arrive next year. Will 60,000 people buy a ticket to watch the Red Roses storm to victory against Wales or Ireland?
In that sense, there might have been a few observers in the governing body's posher seats who were thankful France made a game of it in the second half. Competitive sport is an easier sell.
The only thing England's players can do to help that process along, and continue the RFU's drive toward selling out Twickenham, is to keep winning those close contents. So far, they are keeping to their end of the bargain.