2023 England vs France - Women's
2023 Women's Six Nations Round 5: In Grand Slam Decider, Europe's Best Duel
2023 Women's Six Nations Round 5: In Grand Slam Decider, Europe's Best Duel
The final round of the 2023 Women's Six Nations is here, and France and England again will meet to determine who will hoist the coveted hardware.
Apr 29, 2023
by Briar Napier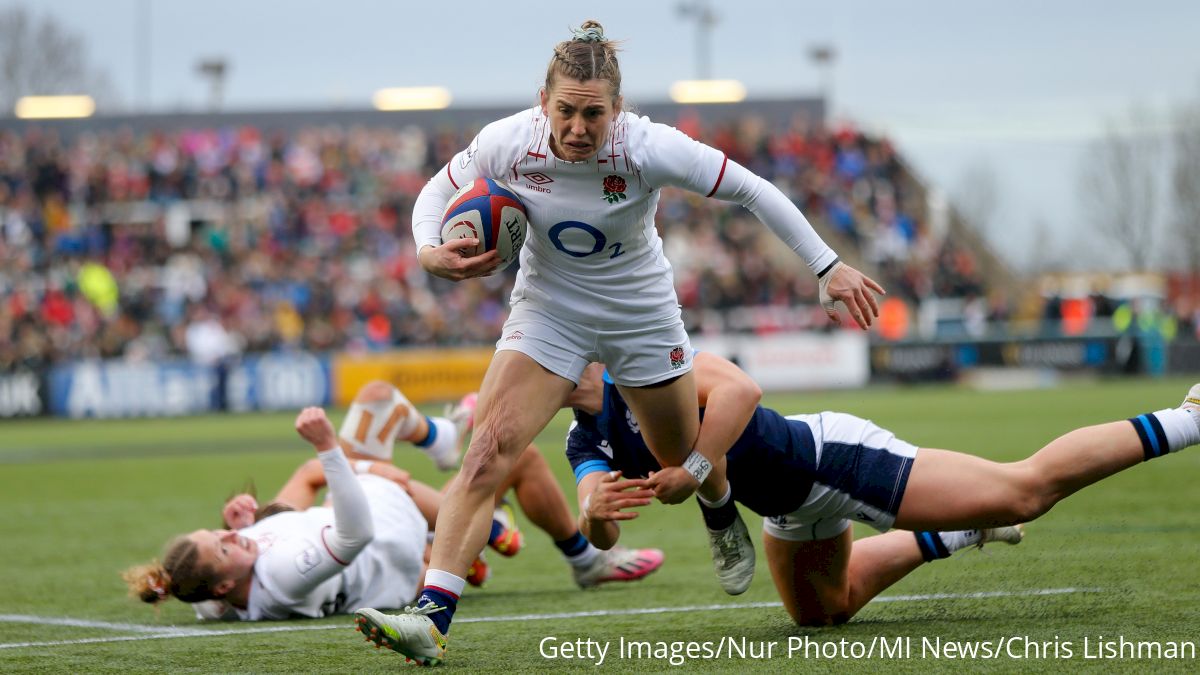 Since 2015, just two of the participating nations have been atop the yearly Women's Six Nations table.
On the final day of the 2023 competition, those familiar foes meet again to decide yet another piece of first-place silverware.
England and France, longstanding rivals and powers of the women's rugby sphere in Europe, are the only countries that can win the 2023 Women's Six Nations title, but that doesn't mean the remaining games on the Saturday slate have no value – far from it, actually.
For other nations in the competition, the 2023 event has been a showcase of how much they're pushing to rise toward the top of the totem pole with impressive performances and extended surges that make them squads to watch for years to come.
It'll be England or France's day in less than 24 hours, but in a few years, don't be surprised if that distinction goes to one of the other four countries in the mix.
For at least this year's competition, however, the proven powers of the continent have earned the right to be in the winner-take-all match – and it should provide an atmosphere worthy of all of the hype and history surrounding it.
Below is a look at the fixtures of the final round in this year's Women's Six Nations, with all remaining matches being streamed in the United States live on FloRugby.
England Vs. France
England and France's Round 5 fixture acting as a de-facto final isn't exactly a surprising outcome to this year's Women's Six Nations, but its predictability has arguably only heightened the tension in each dressing room in knowing that this game is the one that demands the most attention, focus and effort.
Sure enough, Europe's top women's rugby national teams enter the decider unbeaten through their first four matches – solidifying that both sides have done their jobs well to this point.
There's no doubt it will be another classic clash at Twickenham with high stakes between two massive rivals.
The Red Roses hold many of the pre-match advantages.
They'll play for their fifth straight Women's Six Nations championship on home soil, haven't been beaten by a team from the continent since 2018 and hold an all-time record of 39-14 over the French since they first squared off as part of a full international game in 1991.
Devastating when it's on (scoring 39 tries to giving up just two in this year's Women's Six Nations), coach Simon Middleton's squad is aiming to rebound and add to the trophy cabinet after missing out on last fall's Rugby World Cup title to New Zealand.
No matter what happens, though, it'll be Middleton's final game in charge of the team, as he previously announced he'll step down from his post at the end of the competition, leaving giant shoes to fill for a successor. He oversaw many trophy wins and a since-snapped 30-match unbeaten run while in charge since 2015.
But one final formidable foe in France stands in the way of Middleton ending his time on the touchline on a high, with it being both the last European team to have beaten England and the one team that has come the closest to taking down the Red Roses several other times since.
France has only won the Grand Slam twice since 2005 but has the chance to make waves by doing it again and stunning an expected away crowd of 50,000-plus for a momentous achievement in French rugby history.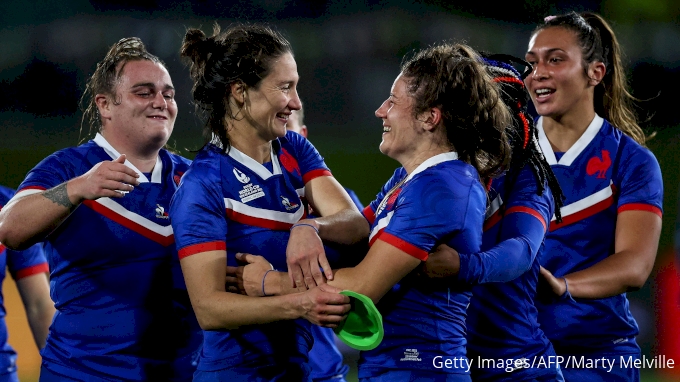 Fullback Jessy Tremouliere – one of the main factors behind France's last Women's Six Nations title five years ago – will be playing her final match in a national-team shirt Saturday, and ruining an English celebration in the continent's biggest competition would be the ultimate way for her to go out.
Italy Vs. Wales
Wales might be kicking itself a little for dropping successive matches after starting this year's Women's Six Nations a red-hot 2-0, but it's still a big improvement from the team's Wooden Spoon campaign of two years ago and a stretch of results that shouldn't see it finish lower than third, barring a Welsh defeat and Scotland pulling off a lopsided bonus-point win against Ireland.
Still, if Wales thinks it's going to coast along to get there, it's in for a rude awakening.
Sure, the Italians probably would've preferred not losing to Scotland in Round 4, as they've now eliminated themselves from top-half contention, but as evidenced by their ability to give France fits in Round 1 and take down Ireland with relative ease as part of a 24-7 victory in Round 3, Italy can string together spurts of play as well as any squad outside of the competition's two leading teams.
Scrum-half and all-time caps leader, Sara Barratin, will play her final match as captain in front of home support in Parma, with coach Giovanni Raineri only making one change from the loss to Scotland. Now, Colorno prop Alessia Pilani could make her international debut off of the bench if brought on.
As for Wales, coach Ioan Cunningham has opted for a little more shifting.
🎙 𝘾𝙪𝙣𝙣𝙞𝙣𝙜𝙝𝙖𝙢 𝙤𝙣 𝘾𝙮𝙢𝙧𝙪

Welsh head coach Ioan Cunningham talks through the team for the Italian clash👇#HerStory | #EiHanesHi | #TikTokW6N pic.twitter.com/Q53FoigZk4

— Welsh Rugby Union 🏴󠁧󠁢󠁷󠁬󠁳󠁿 (@WelshRugbyUnion) April 27, 2023
There are five changes in the starting lineup since losing to France last weekend, with highly regarded teenager Sisilia Tuipulotu and Gwenllian Pyrs (who scored a second-half try against the French) both finding their way back to the Welsh XV. They each came off of the bench in Grenoble.
The position as the best candidate to upend the England-France hierarchy in European international rugby is a good one to be in, and the winner of Wales-Italy match this weekend will have the right to stake a viable claim to that throne.
Scotland Vs. Ireland
How about those sizzling Scots?
Entering Round 4 on a 12-match winless run in the Women's Six Nations, Scotland was absolutely awesome in breaking the slump against Italy by way of a 29-21 victory, with Lana Skeldon and Leah Bartlett both scoring braces in one of the most electric displays in quite some time for Scottish women's rugby.
Seemingly staring a second straight Wooden Spoon in the face just several days ago, Scotland – unless disaster occurs – is all but assured of avoiding rock-bottom this year in a positive step forward to consistent relevancy.
Making it two straight Women's Six Nations wins, as it faces a downtrodden Irish team to cap off the festivities, would go a long way toward doing that.
Ireland has avoided being handed the Wooden Spoon for nearly two decades (last picking up the dishonor in 2004), but absolutely nothing has gone right this year for the two-time Women's Six Nations champions, who were decimated in all four games with a minus-141 point differential, the worst in the table.
To avoid being stuck in last place, Ireland must defeat Scotland, hope Wales beats Italy and probably get a bonus point while it's at it.
Get ready for an action-packed conclusion to our @Womens6Nations campaign.

🎟️ https://t.co/p1Zui1c6A0 pic.twitter.com/BI9CYu2gtc

— Scottish Rugby (@Scotlandteam) April 28, 2023
Ireland sits four points table-wise and nearly 80 points differential-wise from the Italians. The only issue with that, however, is that the Irish attack has heavily struggled to get anything going, only mustering two tries thus far in the tournament.
There's a bit of a saving grace for Ireland in the fact that the Scottish have the leakiest defense in the table (168 points allowed), and that there's always the hope for a bit of a hangover after a big win like the Scots had, but it still must prove it has more in the tank than what it's shown thus far.
Otherwise, Scotland has a very realistic possibility of making it two on the bounce to close out the 2023 Women's Six Nations and build a foundation that can help it gain steam for the rest of the year and beyond.