USA Rugby
As 2023 Rugby World Cup In France Nears, Here Are The 5 greatest RWC Tries
As 2023 Rugby World Cup In France Nears, Here Are The 5 greatest RWC Tries
As the 2023 Rugby World Cup in September approaches, here are the greatest tries in the history of the RWC before teams head to France.
Apr 21, 2023
by Philip Bendon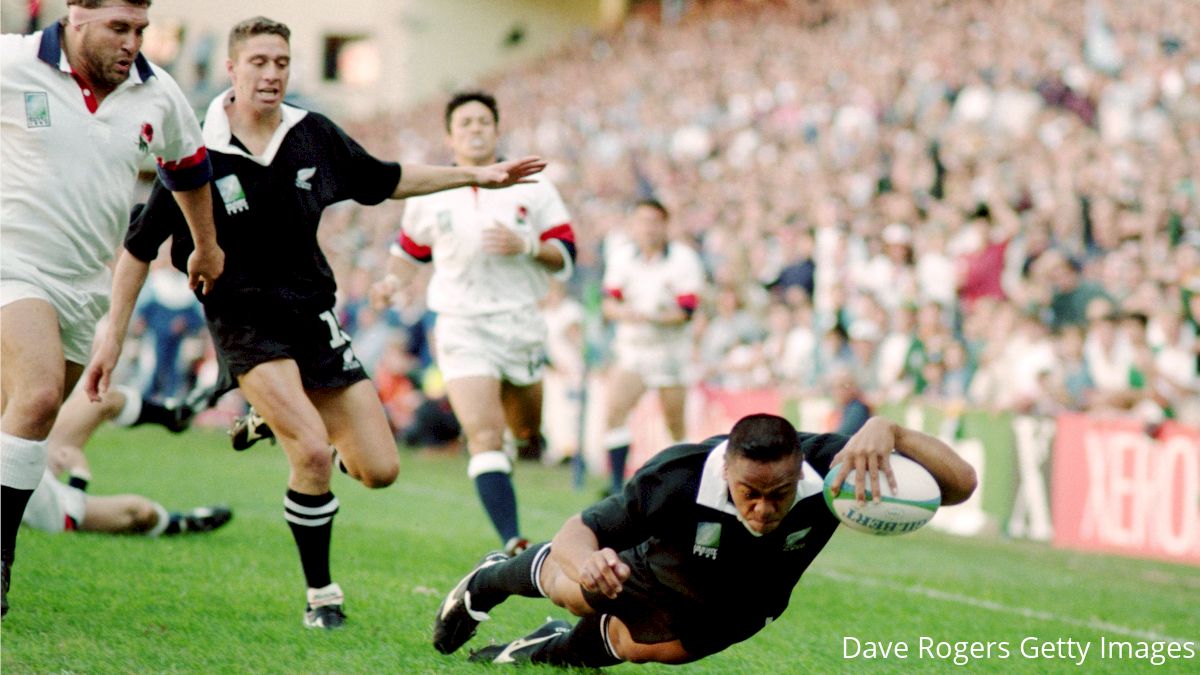 Whether it is a wild fan, a moment of brilliance or Nelson Mandela raising a nation, the Rugby World Cup has produced more moments of magic than a David Copperfield residence.
Living long in the memory of rugby fans the world over, there are at least thirty tries that could crack a top-five list. Thus, you can see the challenge we have faced narrowing it down to just five. Yet, here we are, having spent weeks running through the archives. These five tries left the biggest impression for a variety of reasons.
So without further ado, here are FloRugby's top five tries in Rugby World Cup history.
5. Takudzwa Ngwenya soars through the Springbok defence
USA rugby unearthed a bonified star during their 2007 Rugby World Cup as winger Takudzwa Ngwenya left the game's presumed fastest player Bryan Habana clutching at ghosts during the USA's clash with South Africa. Whilst the Springboks would go on to win the game in the tournament, the USA's length of the field try was the pick of the tournament that year. Receiving the ball following a break from USA Rugby legend Todd Clever, Ngwenya still had plenty to do with Habana coming across in cover. With a little shimmy and shake, the Brookhaven College alum hit the jets and crossed for what to this day is the USA's greatest World Cup try. Ngwenya would go on to have a distinguished career for the powerful French club Biarritz, followed by two stints with San Diego whilst also making 36 appearances for the USA.
Happy Birthday to @USARugby's speedster, Takudzwa Ngwenya. Here's one of his magical moments from RWC 2007! pic.twitter.com/0EoEvomKSr

— World Rugby (@WorldRugby) July 22, 2017
4. Serge Blanco crosses for the most chaotic try in World Cup history
Renowned for their chaotic approach to Rugby, particularly in the 80s and 90s, French Rugby possesses a sense of flair unlike any other. Using the simple philosophy of simply 'Jouer, ' Les Bleus have produced some of the very best moments on a rugby field. During the inaugural 1987 Rugby World Cup, one such moment was etched into Rugby history. Facing a powerful Australian side, the French entered their semi-final fixture as heavy underdogs. Yet, led by the irresistible Serge Blanco, Les Bleus had other ideas as they lured their opponents into a dangerous game of unadulterated chaos. In this realm, no side was more comfortable than the French, who left their more fancied opposition at sixes and sevens en route to a World Cup final appearance. Fitting it would be that Mr Blanco would be the one to land the killer blow.
1987 Serge Blanco
Australia vs France, Concord Oval Sydney
The best try of the best RWC match pic.twitter.com/iGwf2HRyaN

— APSM Rugby Channel 🏉 (@ApsmRugby) November 9, 2022
3. John Kirwan flies solo for long range score in 87
Joining the French in the inaugural final would be hosts New Zealand who rampaged their way to the final with relative ease. Becoming the first of many speed bumps along the way, Italy would feel the full force of the men in black. Showcasing their unrivalled rugby ability in Rugby's first truly global competition, the All Blacks thumped their Azzurri visitors 70 – 6. Front and centre of seemingly every moment of action was legendary winger John Kirwan who scored the first truly great Rugby World Cup try as went on a solo mission from deep inside his own half. In a flash of blonde hair, long strides and unrivalled panache, Kirwan left Italian chasing shadows.
The year is 1987 and @allblacks legend, John Kirwan, is about to score one of the greatest solo tries in RWC History... 😍⚡️ pic.twitter.com/G112ImPDKO

— Rugby World Cup (@rugbyworldcup) June 5, 2020
2. Habana Gets record campaign underway
Equalling the great Jonah Lomu's record of eight tries at a World Cup, South African speedster Bryan Habana had a simply sublime tournament in 2007. Getting his campaign off to a flier, Habana would score four tries against Samoa in the Bok's first game of the tournament. Of course, South Africa would go on to win the tournament with Habana playing a key role in a dynamic back three alongside JP Pietersen and Percy Montgomery. This particular try was a clear example of a player who was high on confidence, with every bounce seemingly going his way.
🇿🇦 @BryanHabana + 🏉 = try time pic.twitter.com/o3PZwTPnxH

— Rugby World Cup (@rugbyworldcup) April 8, 2021
1. Rugby's first superstar barges onto the world stage
There was only ever going to be one contender for the top spot on this list. Rugby's first true global superstar Jonah Lomu did more than any other individual to drive the sport into mainstream consciousness. A physical freak at 6'5" and 120kg, Lomu was clocked at running the 100m sprint in just over ten seconds. Thus, one can get a real sense of what was going through England fullback Mike Catt's head as he was left one-on-one with the bemouth. Having already barged through several would-be tacklers, Lomu stumbled over Catt in the same manner an Elephant would walk over an ant hill. There can be no doubting Catt's commitment to tackling, but in reality, he was never going to stop the freight training coming his way.
Jonah Lomu running straight at you.#SixWordHorrorStory #OnThisDay pic.twitter.com/DlFNY5zlHE

— Rugby World Cup (@rugbyworldcup) June 18, 2019