2023 Wales vs England - Women's
2023 Women's Six Nations: Two Rounds In, Where Do Things Stand?
2023 Women's Six Nations: Two Rounds In, Where Do Things Stand?
Take a peek at the Women's Six Nations with two of the event's five rounds completed. The final three rounds can be watched live on FloRugby during April.
Apr 5, 2023
by Briar Napier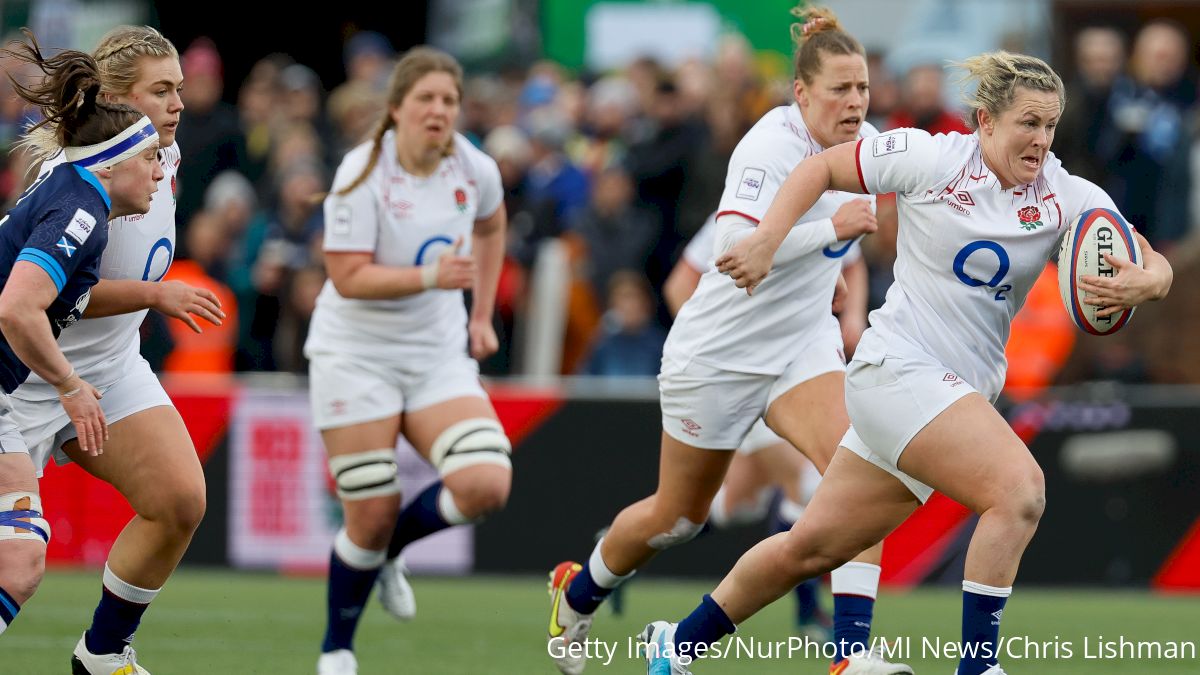 Is the 2023 Women's Six Nations bound to be a case of "the more things change, the more they stay the same?"
Or is it in a position in which an upstart squad full of momentum finally could dethrone the juggernaut that's ruled the competition (and much of the rest of the international women's rugby scene) for years on end?
Two rounds into the 2023 tournament, it's perhaps a little too early to tell exactly what's bound to go down over the final three fixtures, but the usual top dogs are in solid spots with unblemished records.
The fun really begins, however, when they all start playing each other and dropping points to one another along the way.
The top rugby competition between European international sides has been used to one team dominating for a while now, but recent results have shown how that team can be tested and pushed to the brink – and the continent's best behind them are waiting to get a crack at their pedestal.
Here's a peek at how things are looking in the Women's Six Nations with two of the event's five rounds completed and the final three matchweeks being broadcast on FloRugby throughout the month of April.
No Sign Of An English Comedown
After its world-record streak of 30 consecutive match wins came crashing down at the hand of New Zealand in the Women's Rugby World Cup final late last year, England – after literal years of dominance in the international women's rugby scene – got dared to respond to sudden adversity in the Women's Six Nations, its first major tournament since losing to the Black Ferns at Eden Park.
As of right now, it looks as if coach Simon Middleton's squad has gotten over the loss just fine.
The Red Roses lead the Six Nations table after two rounds with 10 points on a massive plus-114 point differential. They've scored 22 tries to just two allowed, as they've ripped off lopsided wins against Scotland and Italy to start their tournament campaign.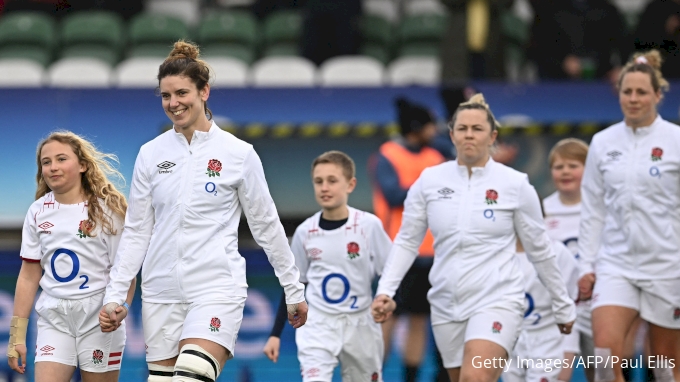 The four-time defending Six Nations champs (and 18-time outright winners dating back to the Home Nations era's beginnings in 1996), the world's No. 1-ranked team hasn't lost to a fellow European country since France beat them in the 2018 Six Nations and is handling with lethal precision and firepower the pressure of being once again being the event's heavy favorite.
England's opening 58-7 win against the Scots was remarkable for two reasons.
First, with the triumph, the Red Roses broke the record for most consecutive games won (now 21) in Women's Six Nations history.
Second, it marked a feel-good end to the career of English co-captain Sarah Hunter, the country's most-capped player all-time and the 2016 World Rugby Women's Player of the Year, who retired following the match played in her hometown of Newcastle.
Dow at the double 🔥@abbydowberg finishes off after another assist from Sarah Bern 🫡#ENGvITA | #TikTokW6N | #RedRoses | @BBCTwo pic.twitter.com/iaBVWTT7QN

— England Rugby (@EnglandRugby) April 2, 2023
In the second match against the Italians a week later, England scored 12 tries (with Abby Dow recording four by herself) en route to a 68-5 romp.
The Red Roses haven taken care of business early, with matches against its closest competitors loom later on this month.
Wales, France Trying To Keep Pace
Until Wales and France actually face England over the next few weeks, all each team can do is get past what's in front of them and try and stay within a short distance of the powerful English.
With both countries sitting at 2-0 following the first two rounds of the Women's Six Nations, they're doing the jobs they need to do on that front.
Likely the only two teams in the field with a realistic chance at dethroning the Red Roses, France has gotten closest to doing it in recent seasons, losing by 12 points in last year's Women's Six Nations and by six in the most recent World Cup, where the two powers were drawn together in pool play.
Against the Italians in Round 1, however, things weren't perfect.
France had to shoo away the Italians with a try in the 76th minute from Caroline Boujard to skate past with a 22-12 win, though a 53-3 demolition of Ireland in the second round looked much more like the France of old, as it had nine tries, including two apiece from scrumhalf Pauline Bourdon and center Gabrielle Vernier.
France's match against England won't come until the final weekend (and very well could act as the winner-take-all fixture, if both sides enter the game unbeaten), but Wales' turn against their fellow Home Nation is coming up in Round 3.
England and Wales will meet in Cardiff on April 15 at 9:15 a.m. Eastern. It will follow a comfortable win over Ireland (31-5) and a more tense meeting with Scotland, which Wales eventually won 34-22, after a 10-point surge in the final five minutes.
🏴󠁧󠁢󠁷󠁬󠁳󠁿 Sisilia Tuipulotu take a bow!#HerStory | #EiHanesHi pic.twitter.com/mL1AkgmiTu

— Welsh Rugby Union 🏴󠁧󠁢󠁷󠁬󠁳󠁿 (@WelshRugbyUnion) April 1, 2023
Welsh teenager Sisilia Tuipulotu is a name to watch for the rest of the tourney.
The 19-year-old (and daughter of former men's Tonga international Sione Tu'ipulotu) has three tries thus far and is one of the brightest young stars of the first two rounds.
A Critical Stretch Ahead
Cutting to the obvious, this year's Women's Six Nations is England's to lose. Still, unlike years past, the Red Roses might be a bit more vulnerable to a slipup – though any nation that has a dream of toppling them has a huge mountain to climb.
Since France's victory over the English five years ago, England's 21 straight wins since in the Women's Six Nations have included 12 victories by 50 or more points, seven shutouts and as many as 80 points scored, including when the Red Roses recorded that many at Twickenham against Scotland in 2019.
Additionally, England hasn't lost at home in all competitions since November 2016, giving it a crucial advantage when France visits Twickenham on April 29 to wrap up the 2023 Women's Six Nations.
However, home pitch won't make a win against the French a guarantee – far from it.
No nation has been a thorn in England's side over the past half-decade like the French, and though they've lost 11 straight matches to the Red Roses since their last win, five of those defeats have come by a try or less, indicating that the talent gap between Europe's two highest-ranked women's rugby teams perhaps isn't as heavy as it may seem.
Also, what about the chances of the competition's dark horse, Wales?
SOLD OUT 👏

Public sale tickets for the upcoming @womens6nations fixture against England have now sold out 🎟️

Diolch am eich holl gefnogaeth 🏴󠁧󠁢󠁷󠁬󠁳󠁿#HerStory | #EiHanesHi

— Welsh Rugby Union 🏴󠁧󠁢󠁷󠁬󠁳󠁿 (@WelshRugbyUnion) April 4, 2023
Wales hasn't defeated England since 2015 and was rocked in last year's Women's Six Nations by the English in a 58-5 blowout, but after a Wooden Spoon campaign two years ago, the Welsh seem to have turned a corner under the tutelage of coach Ioan Cunningham, who was put in charge in October 2021.
Cunningham helped the squad to third place in the 2022 Women's Six Nations and the quarterfinals of the World Cup, where they were beaten by eventual winner New Zealand.
An inspired Wales performance in Round 3 against the English may show there are more cracks in England's armor lingering from its World Cup final defeat – and may give France ample opportunity to pounce in a potential deciding match for the crown.