European Professional Club Rugby
Heineken Champions Cup: Anticipation For Titanic Leinster vs Ulster Clash
Heineken Champions Cup: Anticipation For Titanic Leinster vs Ulster Clash
Leinster and Ulster Rugby coaches speak ahead of their last sixteen Heineken Champions Cup clash at the Aviva Stadium in Dublin on Saturday, April 1st 2023.
Mar 28, 2023
by Philip Bendon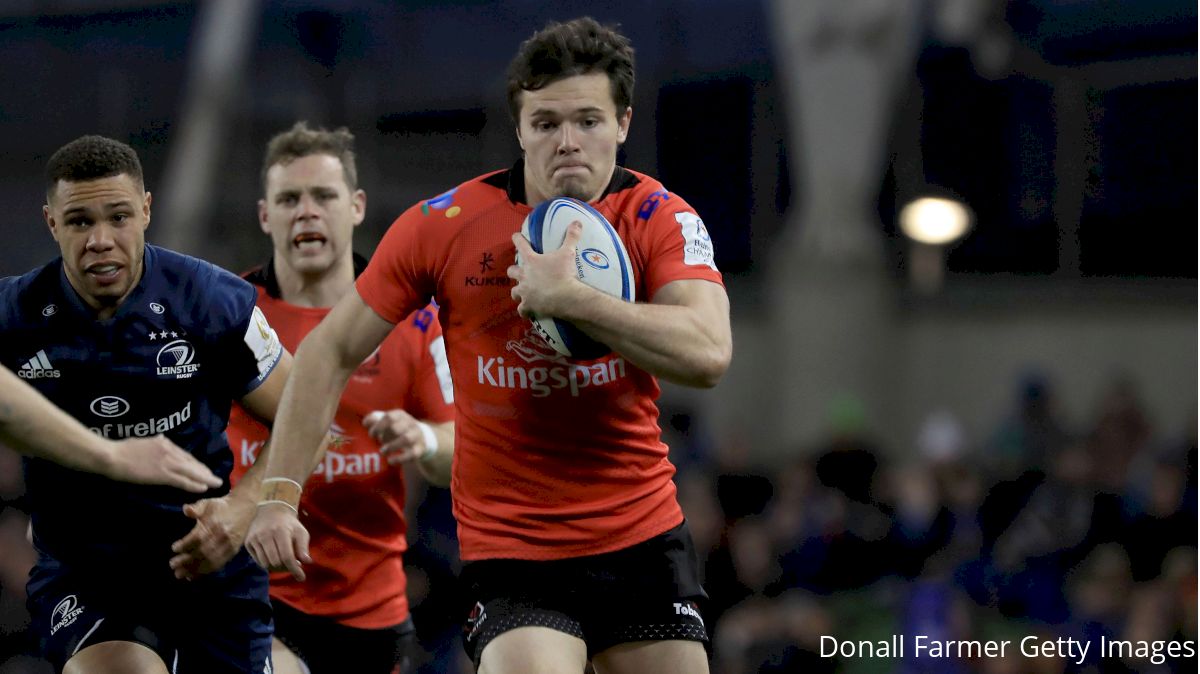 Irish Heineken Cup giants Leinster and Ulster are again on a collision course in European club Rugby's elite competition.
Scheduled to meet at 5.30 pm at the Aviva Stadium in Dublin, the tension surrounding the clash has already begun to mount.
Speaking on Monday, Ulster's Director of Rugby, Dan McFarland, discussed Leinster's strengths and how best to tackle them:
"If you're not able to put pressure on them in multiple ways, it doesn't have to be in every way, but in a number of ways, they are going to find an answer.
"Without wanting to link Ireland and Leinster, when you look at the Ireland-England game, England found a way to put pressure on them in one way with crazy line speed, but Ireland, the country, is so full of quality players that they'll find an answer to that somehow during the game.
"It's the same with Leinster. If we choose one way to stop them, it's not going to do it.
"We have to find a way to create momentum for ourselves off the back of any good defence that we have by being good in attack. It gives them something else to think about.
"How easy is that? Well, it happens their defence is the best in the league as well. You've got to be smart.
"There have been teams that have been able to put them under pressure but not many teams have.
"Leinster's heartbeat is their gainline and their lightning-quick ball. If you let them have that, or if they're able to impose that, then you're going to struggle in the game. That's the bottom line; it's not rocket science.
"We've managed to slow it down in past games, but you have to do it consistently. They are going to score tries against you.
"They'll score tries against anyone. You have to put yourself in a position where you can score tries as well.
"The territory game is really important; they're smart, they've a really good kicking game, kick-chase game. They're very much an error-free team at the back.
"The pressure that comes from the territory game and your ability to create your own gainline and slow down their ball, it starts and stops with that."
Having lost both their games to Leinster this season by relatively tight margins, Ulster will be looking to exact revenge over their neighbours on Saturday. To do so, their star players will need to rediscover their form of last season, where they completed a regular season clean sweep over the Dubliners.
Key among the Ulster stars is winger Jacob Stockdale who is in the best form he has shown since 2018. On the back of several long-term injuries, the 2018 Six Nations record try scorer will have a chance to show Ireland head coach Andy Farrell that he is still an international class player.
Speaking about Stockdale's return, McFarland was excited about his return but tempered expectations:
"The chip and chase against Cardiff, running back on the counter-attack, beating the first defender, he's physical, he's quick.
"We all know he's got a big boot as well.
"Jacob is getting on with his job. There is a lot to that disruption around injury and things that are difficult.
"I personally don't want to overplay the fact that he may have had a dip in form when there was context around it.
"Focus on the things that you're good at and look at the things you need to improve on.
"He's a top-class player and I've every confidence that that trajectory is going up."
Meanwhile, Jacob Stockdale just did this 🔥

Brilliant Ulster try 👏🏻 pic.twitter.com/UDHmc6R78E

— Cian Tracey (@CianTracey1) March 13, 2021
Joining his coach in discussing the upcoming fixture was secondrow Kieran Treadwell who said the players were feeling confident ahead of the match:
"I don't know if it's an upset [if we win], just that we always back ourselves," said Treadwell, whose team lost to La Rochelle (twice) and Sale in the pool stages.
"We've definitely got the team and performance in us to do it, I don't know if it's an upset. I'm confident going into the weekend.
"It's always a massive occasion playing against Leinster and having a sort of interpro within the European last 16, it's massive.
"You can take little bits and bobs from [our defeats this season] but again, it's about moving forward and not looking back too far. It's about building on performance week on week and last week was a foot in the right direction."
Despite entering as favourites, Leinster head coach Leo Cullen was clear that anything can happen when it comes to knockout rugby.
Having last met in a Champions Cup knockout stage in the 2018/19 season, Cullen remembers only too well the intense nature of the clash which his side won 21 – 18.
"We played Ulster previously in a quarter-final game, post-Six Nations as it was then as well, and it was an unbelievable nip and tuck kind of game.
"So there's two teams, in terms of selections they'll know each other very, very well. The derby games, there's the familiarity and all the rest.
"We'll put a plan together, see how everyone has come through Friday's game. There'll be some tight calls in the team but once the team gets named it's about making sure everyone is delivering for the team.
"We've a good group that's hungry and wants to be successful, put their own stamp on this competition, and it won't be easy but it's a great challenge."