Premiership Rugby
We Should Prepare Ourselves For More Diving In Rugby
We Should Prepare Ourselves For More Diving In Rugby
Diving is such an accepted part of football in every corner of the globe that a yellow card may be shown for simulation. Is rugby union headed that way?
Mar 24, 2023
by RugbyPass
Around 20 years ago, two Warwickshire club sides were about an hour into an uneventful match.
The visitors won a defensive scrum about 10 meters from their own line, and with plenty of time, their scrum half passed to his full back, who waited deep in the in-goal area.
The visiting No. 15 duly cleared his lines and found a good touch. A split second later, as the home flanker, who had gotten nowhere near making a charge-down, passed about a meter to his left. He threw himself theatrically to the ground and screamed loudly.
The flanker was momentarily frozen to the spot, then realization hit him.
"What the **** are you doing?" he berated his prone opponent.
All the other players quickly turned to look. Then, one by one, everyone – including the fullback's teammates – began to laugh. He duly went a deep shade of red, clambered up, muttered an apology and the game continued.
A couple of hours later we all were a few pints under, when the home side's flanker approached the referee in the bar.
"Did you think about giving him a yellow card for diving ref," he asked.
I had to confess, like everyone else, I had been too busy laughing to even consider it.
I was reminded of this almost-forgotten incident this weekend when watching France's Damian Penaud, then Ireland's Grand Slam-winning captain Johnny Sexton milk similar incidents for all they were worth.
Penaud stayed on the Stade de France turf for a good 90 seconds after being shoved out of the way by an off-balance opponent, before eventually realizing that referee Nic Berry was not remotely interested in how he got there.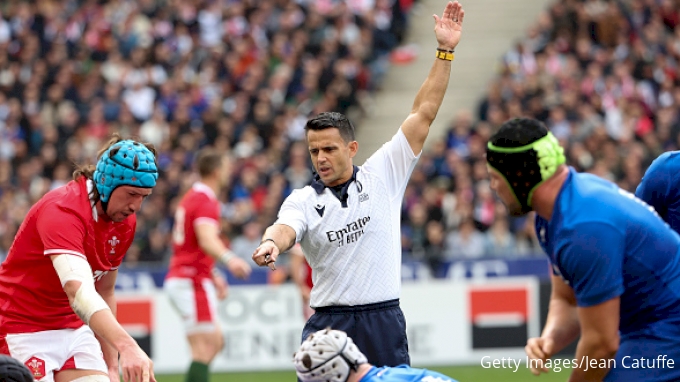 And in Dublin, Sexton feigned a head injury after being shoved in the back by England No. 8 Alex Dombrandt.
Alive to what was afoot, England skipper Owen Farrell then suggested to referee Jaco Peyper that since his opposite number thought he'd sustained a head injury, he also should leave the pitch for an HIA. Unsurprisingly, this brought the whole sorry episode to an abrupt end.
I have never been very comfortable with the ingrained snobbery with which many rugby fans look down upon their football counterparts. This whole 'we know how to behave in rugby' thing, along with the 'thugs game played by gentlemen' line, has always to me overlooked huge historic and cultural differences that exist between the two sports – certainly in England and, I suspect, also elsewhere in the world.
But despite this, few would dispute that the pre-1995 amateur version of rugby union in this respect had some marked differences to its round-ball counterpart, or that in leaning heavily on the so-called 'spirit of rugby' and 'rugby values' our sport's governing bodies have tried to cling on to that essence in the professional age.
But in the same way that calling the referee 'sir' and accepting without question his law book defined status as the sole judge of fact and law has gradually become a relic of the past, does the arrival of diving/simulation represent the removal of another layer of rugby's traditional values?
Speaking to host Jim Hamilton on his podcast 'The Big Jim Show,' Saracens' England No. 8 Billy Vunipola described what happened next after he took a blow to the head in the Premiership final against Leicester.
"I stayed down too long because I thought 'we're going to get a yellow card here, so let's have a rest,'" he said. "I remember our doctor, Laura, holding my head and I was saying, 'Get off me Laura. I'm fine. I'm just trying to milk a penalty.' The next thing I knew, I was in the medical room with the independent doctor, which was my own fault."
Every action generates a reaction, and the knock-on effect of this approach was evident during this season's Six Nations meeting between France and Scotland.
A behind-the-scenes look at Sunday's clash in Paris 📺#AsOne pic.twitter.com/8KBIqeLS7d

— Scottish Rugby (@Scotlandteam) February 28, 2023
Noting that the home side had sent on a doctor to examine the injured Anthony Jelonch, referee Nika Amashukeli clearly suspected the hosts were without good cause trying to delay the game for long enough that the TMO would examine the hit that caused the injury.
His curt instruction to the medic was therefore: "Tell me it's a HIA, and leave the pitch with the player, or leave the pitch immediately."
As events transpired, France's bench clearly knew what had gone on better than the referee, and one review later, Scotland lock Grant Gilchrist was heading for an early bath.
Having yesterday seen clips of England's Lewis Ludlam being the victim of a head contact, as an Irish player flew into a maul during Saturday's contest in Dublin, it is hard not to wonder what would have happened had the arrival of a doctor again triggered a pause.
At the root of all this, is the introduction of first red and yellow cards in the late 1990s, then the arrival of the TMO and citing commissioner.
I recall as a teenager avidly reading all the Sunday newspaper coverage of Wales flanker Paul Ringer's sending off during England's 1980 Grand Slam season following a very late and high tackle on John Horton.
In those days, a sending off was the rarest of commodities, but as we saw with the resigned reaction to Freddie Steward's dismissal at the Aviva Stadium, following the introduction of safety-based changes they are now commonplace.
With it being so much easier to get a red card – even for an unintentional act – unfortunately, it is inevitable in the dog-eat-dog world of professional sport that players and coaches will seek to take the opportunity to reduce their opponents' numbers whenever an opportunity presents itself.
After all, how often does a team that plays with 14 players for a prolonged period manage to win?
At the risk of turning this column into a trip down memory lane, I recall watching football on TV in the 1980s, and when being asked to comment on a British player staying down following a foul, pundits often would say: "One professional would never try to get another sent off."
While this rule of thumb didn't apply elsewhere in the world, when we occasionally saw an Italian or Spanish side in the European Cup, we all would enjoy the ridicule heaped upon their theatrics.
Forty years later, diving now is such an accepted part of football in every corner of the globe that a yellow card may be shown for simulation. Might rugby union be heading in the same direction?
An alternative angle on this is that only the presence of the TMO puts rugby in this position.
I have covered around a dozen games this season in the English Championship and National One at Coventry and Birmingham Moseley and struggle to recall any penalties being awarded for dangerous play relating to head contact, while the only diving done is from the bar at the end of a long evening.
Does this, therefore, add further fuel to those who believe we need separate versions of the law book for the professional game and the rest of us?
Food for thought…