World Rugby
'Political Selection': Eddie Jones Makes Sensational Marcus Smith Claim
'Political Selection': Eddie Jones Makes Sensational Marcus Smith Claim
Former England head coach Eddie Jones tabled a theory on why Steve Borthwick flip-flopped between Marcus Smith and Owen Farrell during the Six Nations.
Mar 23, 2023
by RugbyPass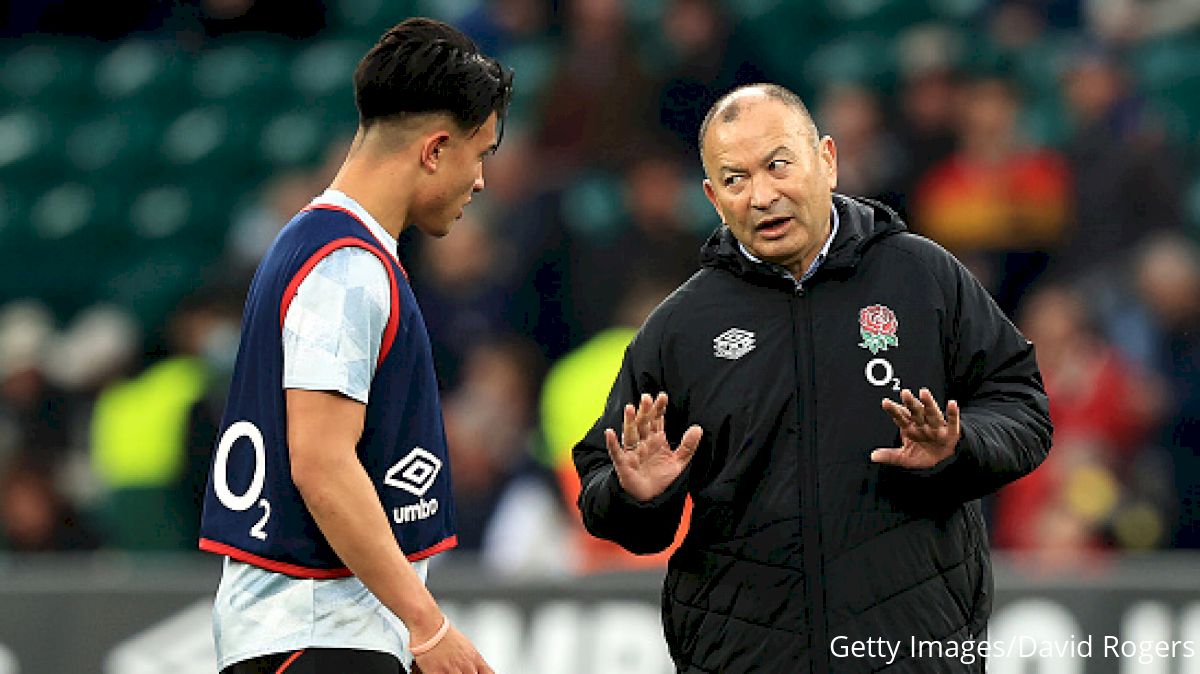 Former England head coach Eddie Jones has tabled a startling theory on why new coach Steve Borthwick flip-flopped between fly-halves Marcus Smith and Owen Farrell during the Six Nations.
Smith opened the tournament in the 29-23 opening loss against Scotland, but Borthwick quickly turned to the experience of Farrell for wins over Italy and Wales, relegating his younger 10 to the bench.
The Harlequins fly-half barely featured in both wins, coming onto the field with less than 60 seconds left in Cardiff, with the 20-10 win already sealed.
But the 24-year-old was re-inserted into the starting XV after starring for his club in the bye week. But after a record loss to France, he was dropped for the second time for the final round against Ireland.
𝐇𝐞𝐚𝐫𝐭𝐰𝐚𝐫𝐦𝐢𝐧𝐠 𝐦𝐨𝐦𝐞𝐧𝐭𝐬 😌@owen_faz@o2 | #WearTheRose

— England Rugby (@EnglandRugby) February 8, 2023
Jones tabled his theory on his Eddie podcast that Borthwick may have received undue interference from the RFU board that forced him to recall Smith into the starting side.
"The selection of Marcus, to me, that's always the political selection," the new Wallabies head coach explained. "A player has been out of form, hasn't quite done well at test level and then he plays one or two club games, and he's a hero.
"The media starts banging on the door – 'you've got to pick him' – and then the board reacts to that, and asks: 'Why aren't you picking him?'
"When you're a young coach at the start of your career, you can get influenced by that."
The 63-year-old expressed his empathy for Smith, who was one of England's best in the 53-10 defeat but paid the price for the loss with his starting role.
Jones believed the UK media's influence is so strong that it creates disharmony within the RFU with executive and board leadership, moving into operational matters.
"I really felt for Marcus in that game," Jones said. "The thing you've got in England is the intenseness of the media, which then affects the board, and they start to step in. That's when you get problems. Allow the coach to coach.
"The board has a strategic role, but because they feel the pressure, they try to get involved in the operational side, and that's when things get worse.
"Unless you have strong people around the team that can be a difficulty."
The RFU has denied Jones' claims that Borthwick's selections were taken out of his hands in a statement released to The Telegraph.