Guinness Six Nations 2023 Rugby Coverage
Guinness Six Nations Final Championship Recap As Ireland Reign Supreme
Guinness Six Nations Final Championship Recap As Ireland Reign Supreme
Guinness Six Nations 2023 Recap - Ireland seals a fourth ever Grand Slam, France get better each week, Scotland, England,Wales and Italy with work to do
Mar 22, 2023
by Philip Bendon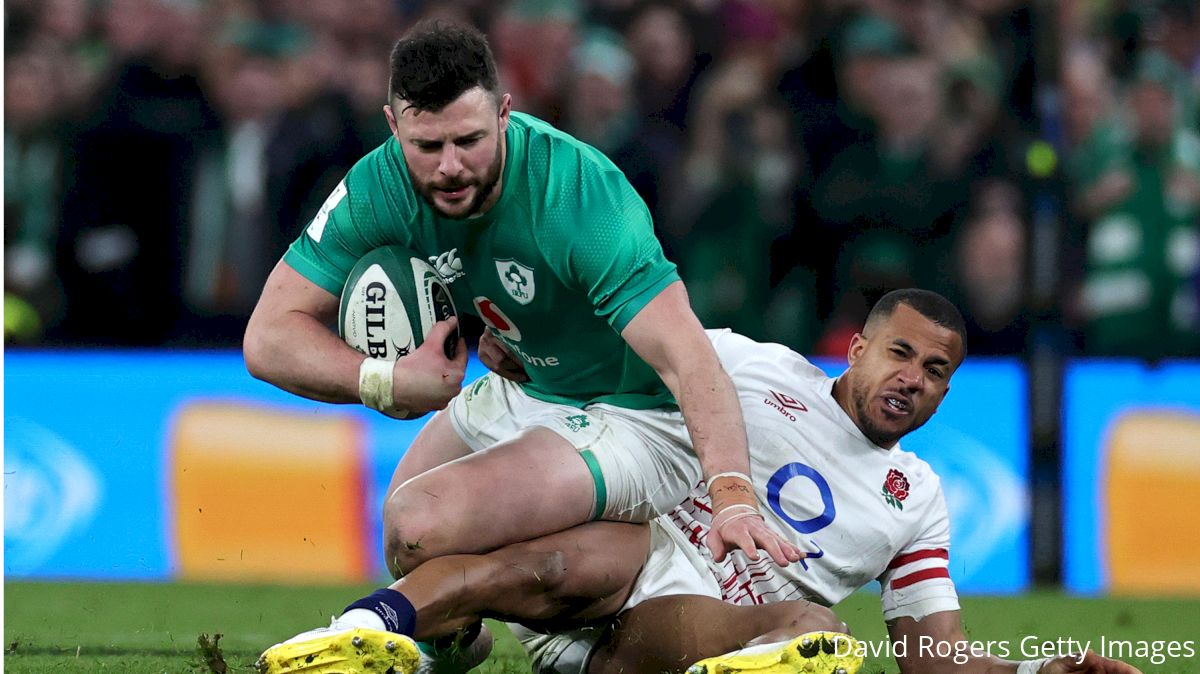 If ever there was a reminder of just how fleeting time can be, the 2023 Guinness Six Nations was it.
As the dust settles on Rugby's greatest Championship for another year, European Rugby's elite will take stock of where they are just five months from the World Cup.
With the world's current top two ranked teams finishing first and second, with Ireland emerging as deserved winners ahead of France. Six Nations rugby enters this year's global showpiece with two out-and-out contenders for the title.
📸 The emotion, passion and intensity of top level sport.

Check out the best photos from the 2023 #GuinnessSixNations. pic.twitter.com/QmwulfckWH

— Guinness Six Nations (@SixNationsRugby) March 22, 2023
Ireland
Starting with the champions, Ireland proved not only their class once again but also a unique ability to strive in the face of adversity.
Take, for example, their audacious victory over Scotland in Edinburgh. Losing five players, including both Hookers, would be enough of a reason for any team to feel aggrieved. Yet, such was the confidence in their squad, Ireland made a plan and put in a second-half performance that blew away their hosts. Shifting Prop replacement Cian Healy to the Hooker position with Backrow Josh van der Flier throwing into the line-out, Ireland remained dominant at the set piece.
Four bonus point wins from five outings was a sublime showing by Andy Farrell's squad. In each of their five fixtures, Irish resilience was tested. In all five fixtures, they had the answers as they landed just a fourth-ever Six Nations Grand Slam.
Many are quick to point out Ireland's propensity to peak between World Cups, most notably the last time around in 2019. This side has now shown across their series win in New Zealand, their undefeated November series and the Six Nations, their ability to adapt and grow not just week-by-week but minute-by-minute.
And the nominees are...

Have you voted for the #GuinnessSixNations Player of the Championship.#TeamOfUs

Vote Now: https://t.co/3IuTCmI4pY pic.twitter.com/zCOfGiPSqs

— Irish Rugby (@IrishRugby) March 21, 2023
France
For perhaps the first time, a coach will not feel aggrieved that his team has relinquished a title. Billed as the heavy favourites to lift the Six Nations and the World Cup later this year. Les Bleus stuttered somewhat as they finished a distant second to Ireland. This dip in standards will give Fabien Galthie and his coaching staff just the ammunition they need to remind their squad that they are far from the finished article.
Starting the Championship slowly, Les Bleus found themselves up against it as they battled past a pesky Italian side in Rome before being put to the sword by Ireland in Dublin. Outworked by their Irish counterparts, France ran out of gas as the fixture entered the final quarter. Until then, their physicality in defence and individual brilliance in their attack had kept them in the institution.
Backing up their loss to Ireland with a lethargic victory over Scotland in Paris, Les Bleus finally hit their straps against England in round four. As the passes began to click, the France of 2022 re-emerged to hand England a record defeat at Twickenham.
Round five would be a slight regression against a determined Welsh team in Paris, but ultimately Les Bleus had enough to put forty-one points on their visitors. Concerning, though, was the fact that they leaked twenty-eight against a side that, till that point, had shown little ability to generate scores.
Still, four wins from five was a reminder that, along with Ireland, Les Bleus are a step above their Six Nations compatriots.
GAËL 𝐅𝐎𝐑𝐂𝐄 🟦@FranceRugby unlock the Welsh defence with serious precision 🔓#GuinnessSixNations | @FickouG pic.twitter.com/NFgUSd8fom

— Guinness Six Nations (@SixNationsRugby) March 21, 2023
Scotland
What could've been will be the mantra once again for Gregor Townsend's side.
Back-to-back wins in the opening two rounds had Scottish fans believing this could be their year. Scotland have routinely pulled out magnificent performances only to falter a week later.
As the positivity around the Championship start reached fever pitch, talk of a potential Grand Slam always seemed premature.
So it would prove that France and Ireland reasserted their dominance as the top two teams in the Championship, leaving Scotland to enter the final round after successive defeats.
A final-round victory over Italy brushed over several cracks as the scoreline flattered the Scots immensely. Defending for their lives with five minutes to play, a long-range Blair Kinghorn try sealed the deal.
Overall, three wins from five outings will be counted as a success. Yet, Townsend will be all too aware that his side's inability to match Ireland could prove to be their downfall at the World Cup. Facing both South Africa and the Irish in the pool stages, Scotland will have to contend with two sides who can physically batter them.
On current knowledge, it must be said that the proof is in the pudding, and Scotland, for all of their positivity, needs to rethink their approach to the more physical sides.
🏴󠁧󠁢󠁳󠁣󠁴󠁿 Duhan van der Merwe v ENG

Vote 🗳 https://t.co/RPkHE0o7yV@Scotlandteam | #GuinnessSixNations pic.twitter.com/CXBo933iFx

— Guinness Six Nations (@SixNationsRugby) March 20, 2023
England
Undoubtedly the toughest team to assess following a rather dour first Championship for the Steve Borthwick era.
Seemingly chopping and changing their approach from round to round, England ended the Championship on a somewhat positive note against Ireland. Yet still, a 29 – 16 defeat shows how far off this squad is from being a contender.
Two home losses would indicate that Twickenham is far from the fortress it has been in years gone by.
Opening the Championship with a third consecutive loss to Scotland before rebounding with back-to-back victories over Wales and Italy, there was hope that Borthwick's side may have turned a corner.
Unfortunately, that corner led them down a dark alleyway where the world's top two teams were waiting.
First up, it would be France, who, as mentioned above, rocked up to Twickenham to inflict as much damage on their long-time rivals as possible.
Having taken the bold decision to drop the experience of captain Owen Farrell for the clash in favour of Marcus Smith. Borthwick watched as his side chased shadows for eighty minutes as the French tore through them at an alarming rate.
Next up was the world's number one side Ireland who, irrespective of the Freddie Steward red card, were always going to find a way to win given the stakes.
Yes, England showed significant heart to rebound from the shellacking handed to them by the French. But one never got the sense that they had the attacking game to trouble Ireland.
The one key point to emerge from the final round was that for England to be successful come the World Cup. The midfield axis of Owen Farrell, Manu Tuilagi and Henry Slade must be selected.
𝐅𝐫𝐞𝐝𝐝𝐢𝐞 𝐒𝐭𝐞𝐰𝐚𝐫𝐝 𝐩𝐨𝐰𝐞𝐫𝐬 𝐨𝐯𝐞𝐫 🎥@ITVRugby | #ENGvFRA pic.twitter.com/PJGVGXPmL8

— England Rugby (@EnglandRugby) March 11, 2023
Wales
Undoubtedly the most disappointing team of this season's Championship, Warren Gatland's side bore the fruit of years of administrative mismanagement.
Hampered by threats of strike action, an ageing squad and an unclear gameplan. Wales are far from the force they were during Gatland's first spell in charge.
An admiral showing in the final round against France to build on their victory over Italy in round four will, at the very least, give Gatland a base to work with.
More than just about another team in this season's Championship, Wales will benefit from an elongated World Cup pre-season. Uncharacteristically unfit, an eight-week build-up to the World Cup will give Gatland an opportunity to rebuild the basics of his squad.
Known for uncompromising physicality in defence, a simple but effective attacking game and a dogged edge, Gatland coached teams do their best work when under pressure.
This will be what Welsh fans will be holding onto. Throw in the fact that they will avoid the top five sides in the world until at least a semi-final, and one does not have to squint too hard to see a World Cup run in this team.
🏴󠁧󠁢󠁷󠁬󠁳󠁿 A look at Tomos Williams' try 👇 #WelshRugby | #GuinnessSixNations pic.twitter.com/4K5te4OhIu

— Welsh Rugby Union 🏴󠁧󠁢󠁷󠁬󠁳󠁿 (@WelshRugbyUnion) March 18, 2023
Italy
Here we go again; there was so much promise, yet nothing to show for it.
Kieran Crowley's squad showed so much endeavour yet were cruelly denied a single victory in this season's Championship.
Pushing both France and Ireland for seventy minutes, Italy showed when on song, they can compete with the big boys of the rugby world.
Yet losses to England, Wales and Scotland, all games they could have feasibly won had they been more accurate in the red zone.
Crucially if there was ever any doubt about how vital Ange Capuozzo is to the Italian cause, his absence through the final two rounds offered a rather grim reality. Providing that extra spark of attacking exuberance combined with a clinical finishing ability, Capuozzo is already the best Italian backline player in a generation.
In a true mark to his class, Capuozzo raises the standards of those around him, most notably mercurial flyhalf Paolo Garbisi. The Montpellier flyhalf's return from injury was a much-needed boost for the Azzurri attack. Garbisi's ability to attack the gain line with probing runs, clever kicks and a long passing game brought to life the Italian gameplan. Thus, having both players fit for the World Cup is a must if Italy is to spring an upset in an intensely challenging pool.
🎥 Il nostro gioco funziona, ma ci sono molte cose da sistemare. Devo ringraziare tutti i miei compagni per quello che hanno dato.

Un punto di partenza per il futuro e parole di apprezzamento per l'intera squadra: così il Capitano Michele #Lamaro chiude il @SixNationsRugby 2023 pic.twitter.com/PaCHJHF206

— Italrugby (@Federugby) March 18, 2023
Written by Philip Bendon