World Rugby
Ref Watch: Brainless Machismo And Courage Under Fire
Ref Watch: Brainless Machismo And Courage Under Fire
From a refereeing perspective, one of the unfortunate aspects of being required to issue a red card is that the rest of your performance gets lost.
Mar 21, 2023
by RugbyPass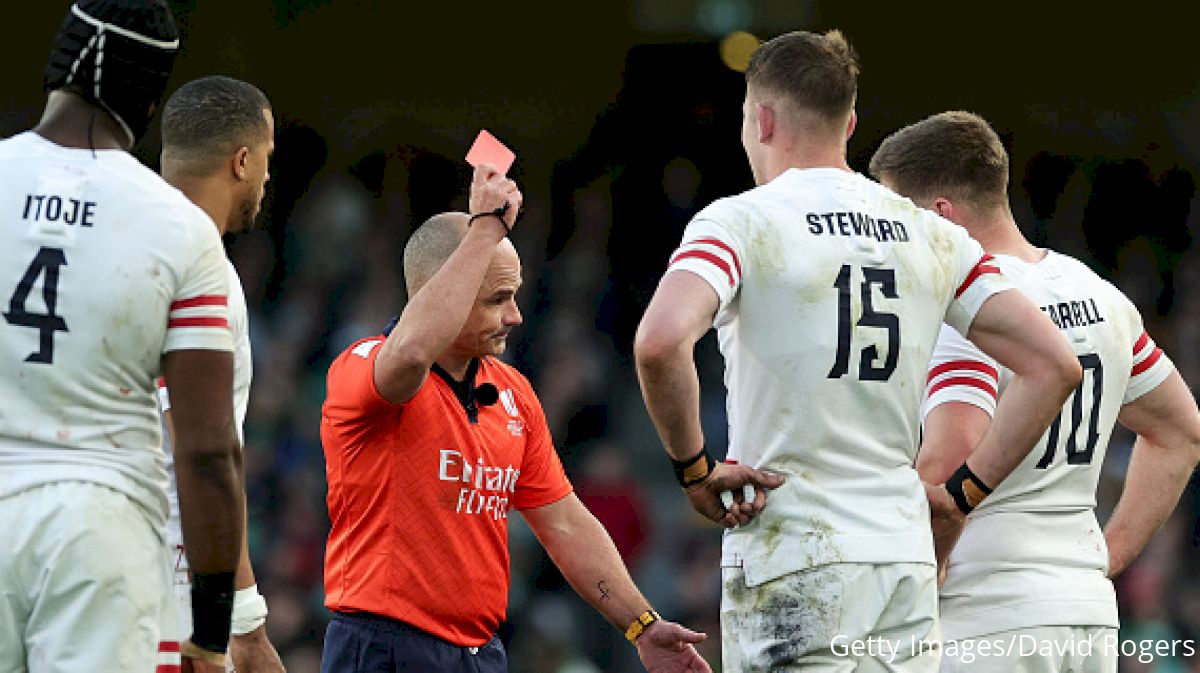 From a refereeing perspective, one of the unfortunate aspects of being required to issue a red card is that the rest of your performance gets lost.
Of course, Jaco Peyper and World Rugby's refereeing department will not allow themselves to be overly distracted by Freddie Steward's 40th-minute dismissal and the fallout from it.
But to a considerable proportion of the watching millions, this defining moment of Ireland's Grand Slam-clinching occasion will be all they remember of the experienced South African official's display – and inevitably, many also will wrongly blame him for ruining the contest.
Being able to stay focused in the aftermath of this kind of incident separates top match officials from the rest of us – and despite what social media suggests, Peyper is at the summit of the sport. Overall, he did a pretty good job in testing circumstances.
A Traditionalist
The South African's refereeing style is quite different to most of his contemporaries. In truth, I find him difficult to warm to as a result.
His refereeing has a clinical feel to it, which is quite old-fashioned, since he hardly engages with the players, and his preventative verbal input is minimal. To those who think international rugby players should know where the offside line is without needing to be repeatedly told, this is very welcome!
At times, he could be accused of being pedantic, but actually, Peyper is straight-down-the-line and generally very accurate. Whereas, some referees overlook the detail in favor of a bigger picture, which wants to let the game flow, he generally blows infringements as he sees them.
And, while this does create more stoppages in the short-term, if the players are smart enough to get the message,, they stop pushing boundaries, and the game soon improves as a spectacle.
The 42-year-old from Bloemfontein made it to the knockout stages of Japan 2019, and we can be confident he will repeat this achievement four years on. Indeed, should South Africa fail to reach the final, he is very much a candidate to take charge.
Times Change
"I hate to see that – it's sloppy, lazy and irresponsible," was how former Ireland center Gordon D'Arcy reacted in commentary to England No. 8 Alex Dombrandt's late nudge, which knocked Johnny Sexton over from behind.
The officials took as little interest in a back-rower letting the opposition's key player know he's around, as they did, in Sexton then feigning a head injury following this contact with his back.
Don't you just love those rugby values?
Are You Looking For New England?
In the light of England's listless display against France last week, it has been interesting to see plenty of debate about big-name players who have failed to deliver in a white shirt over a prolonged period.
This particularly focused on several established forwards – and while reading the criticism, I took my mind back a couple of seasons to an England side with a huge discipline problem.
At that point, under former head coach Eddie Jones, they often conceded between 15 and 20 penalties per match, plus associated yellow cards, with Maro Itoje and Kyle Sinckler being regular offenders.
Might the desire to tackle this issue have tipped some of these players too far, and as a result, beyond controlled to passive?
Doubtless riled by vocal criticism and some harsh words in camp, England certainly brought plenty of snarl to the Aviva Stadium, but with it came a return of the old brainless machismo approach. As a result, Steve Borthwick's team conceded 10 penalties in the first half, four of which were awarded for various types of foul play.
France Vs. Wales
Former top-level-player-turned-referee, Nic Berry, has very much got his second career in the sport back on track, following his savaging at the hands of Rassie Erasmus, following South Africa's defeat by the British & Irish Lions in the first test of their 2021 series.
By being entrusted with a Lions test, it was apparent World Rugby held him in high esteem, but after his admittedly slightly underwhelming display triggered a well-documented online explosion from Erasmus, Berry understandably seemed to take a while to recover his confidence.
It now seems almost certain that the 39-year-old Aussie will be selected as part of the 12-strong refereeing group for the World Cup, but based on recent displays, he has a bit of ground to make up, if he is to outlast his competition into the competition's later stages.
That said, Berry put in a competent display at the Stade de France, after which he should reflect on a job well done in a match that had few talking points from a refereeing perspective.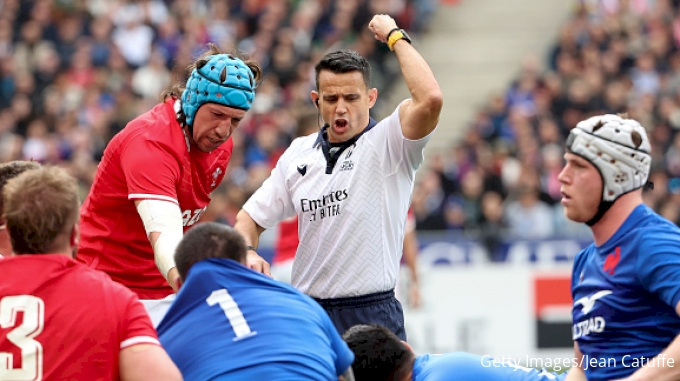 Nice Empathy
Twice during France's comfortable win, Berry and TMO Joy Neville stopped to look at possible deliberate knock-ons, and I thought they handled both superbly.
Many players have told me that stretching for an interception with one hand but failing to hang on does not necessarily mean their intention was to knock the ball to ground.
While I accept the line of thinking that says a defender running at full pace, who gets one set of fingertips to a ball, while lunging to his fullest extent has no realistic prospect of catching it, this should not make every failed one-handed interception a deliberate knock-on.
And, while I'm on the subject, why do so many rugby followers seem to think a deliberate knock-on is always a yellow-card offence?
France prop Uini Atonio was the first player to benefit from Berry's sympathetic approach, after he knocked on toward the end of the opening quarter. Indeed, his one-handed intervention actually diverted the ball backward and up into his own face, before a second touch sent it forward to ground.
And, just before the interval, Wales center George North tried to hold on with his left hand after first making contact with his right, before his hopes of a sure-fire interception try came to an end when ball met turf.
On both occasions, Berry and Neville deemed a scrum feed to be an adequate reward for the non-offending side, and, in doing so, displayed good empathy with what the players were trying to achieve.
Scotland Vs. Italy
Chatty Aussies
I am a big fan of another Australian, Angus Gardner, and his refereeing, but I thought he followed the example set by his seemingly nervous countryman Damon Murphy seven days earlier by having far too much to say to both sets of players during the match between Scotland and Italy.
Whereas Murphy chatted aimlessly at times, never using one sentence when three paragraphs would do, Gardner fell into the trap of trying to be too detailed in his explanation of his decisions.
While I have never been a fan of the old-school approach, which saw the referee blast the whistle and the players march back 10 meters, despite sometimes having no idea why they had been penalized, Gardner's willingness to interact went too far the other way.
By providing detailed explanations – often prefaced with "let me just explain this one" – he opened a communication channel, which subsequently allowed both sides at times to overly challenge his thinking.
Indeed, at one point, he explained a decision three times to a doubting Italian forward – all of which served only to slow down the game and slightly undermine the ref's authority.
A brief explanation is really all that ever is needed, which perhaps, on the odd occasion, can be slightly enlarged upon in a conversation with the captain, but I must confess to then preferring the "this isn't a debate" line, often heard should a player challenge the likes of Wayne Barnes and Nigel Owens.
Spot the gap 👀#AsOne pic.twitter.com/9jLd85S3Vo

— Scottish Rugby (@Scotlandteam) March 18, 2023
Scrum Management
Only four of the 11 scrums that took place during the match completed with clean possession, while Scotland won four penalties and a free kick. Italy was awarded one of each.
Usually, this would suggest that the referee struggled to get his message across to the players, but on this occasion, I couldn't fault Gardner's approach.
There were no scrums in the opening quarter, then when four came in quick succession, all of which ended with a penalty or free kick award, Gardner told Italy: "We can't have this for the rest of the day. The message is to be positive, keep the scrum up or go and sit down."
When the next scrum collapsed, he duly showed a yellow card to visiting prop Danilo Fischetti.
In the pundit's booth, Owens suggested that Gardner may have got this call wrong and that Scottish tight head Zander Fagerson was the guilty party, but replays from the other side of the scrum were far from conclusive.