Guinness Six Nations 2023 Rugby Coverage
Top Five Moments From The 2023 Guinness Six Nations Championship
Top Five Moments From The 2023 Guinness Six Nations Championship
2023 Guinness Six Nations Championship top five moments as Ireland secure a fourth ever Grand Slam title.
Mar 20, 2023
by Philip Bendon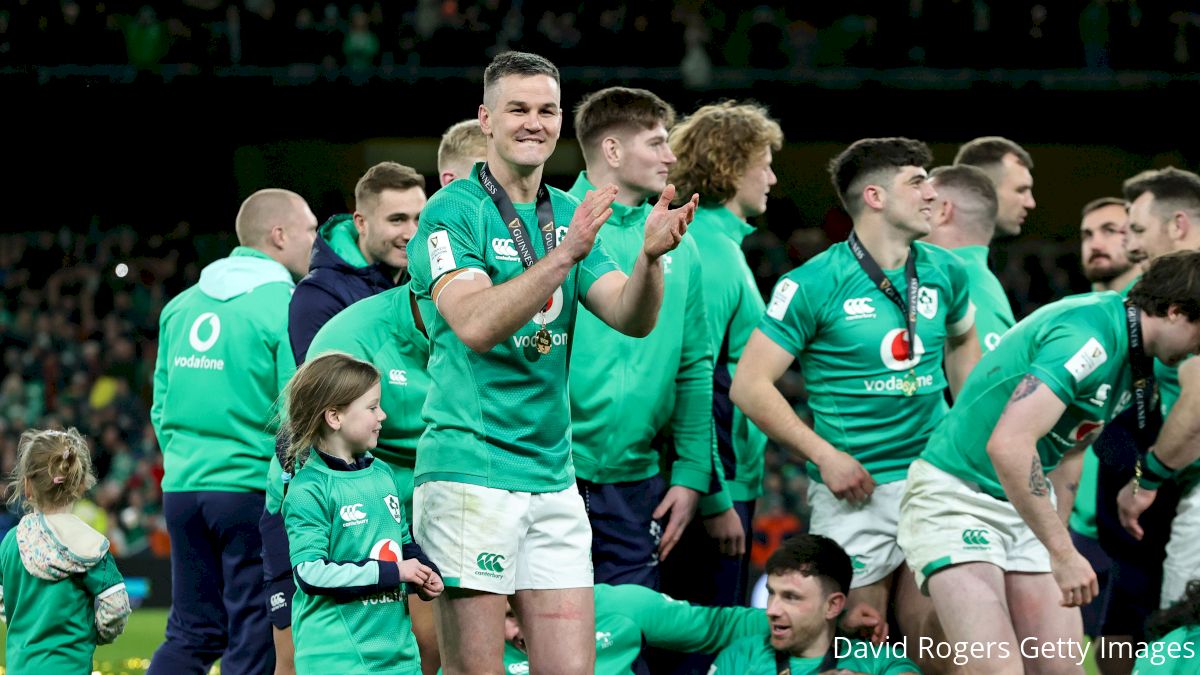 In the end, it felt inevitable. Ireland won a Six Nations Grand Slam, their first since 2018, and it fell on St Patrick's Day weekend. The celebrations in Dublin, and indeed across the whole of Ireland, will go on for days as fans relish the continued upward trajectory of the team.
From the off, the men in green expertly dissected all who stood in their way, wholeheartedly justifying their status as the number one ranked team in the world.
France were the strongest challenger and fought hard to keep their title but came up just short. Meanwhile, England and Wales stuttered to the finish line and watched on as Scotland showed genuine promise and signs of improvement. Italy finished last once again after failing to sufficiently convert pressure into points throughout the tournament.
It's been fascinating watching the Six Nations, and there's plenty to think about as teams turn their attention to the World Cup this autumn. But for now, let's look back on the very best moments of another stellar year of northern hemisphere rugby.
Sexton's final Six Nations outing ends in a Grand Slam
For all the Irish revelry, this was Johnny Sexton's hour. Over the last ten years, the veteran fly-half has steered his nation's rising profile on the international stage.
With his opening penalty of the match, Sexton surpassed his compatriot Ronan O'Gara to become the leading points scorer in Six Nations history.
From then on, he put in a typically poised performance before being subbed off with a knock. The Leinster star then watched on as Ireland clinched a hard-fought 29-16 victory over 14-man England at the Aviva Stadium.
As the final whistle loomed, television cameras fixated upon the jovial face of Sexton as the enormity of the day began to sink in. The whistle sounded, and Sexton raised his hands in celebration.
He is the leading tournament point scorer and a Grand Slam champion once more, and he achieved all this on St Patrick's Day weekend. It just felt right.
Especially since this was Sexton's final ever Six Nations outing after he announced he would retire from international rugby at the end of the World Cup.
Very few players get to write their own ending, but Sexton may just have penned the perfect one.
"Honestly, I couldn't make it up. It's like living in a dream. I'm actually worried I'm going to wake up in the morning."
Dream on, Johnny.
The moments you dream of 🎉#IREvENG | #SuperSaturday ⚡️ pic.twitter.com/pa3USBNNbk

— Guinness Six Nations (@SixNationsRugby) March 18, 2023
France score sublime set move to drop 50 Points on England
Arguably the best performance of the Six Nations belonged to France. They may have relinquished their crown to Ireland, but Le Bleus were still a joy to watch and were at their peak when they demolished England at Twickenham.
With four minutes remaining, France led 48-10. As English fans began to head off home, France strung together a perfectly executed set move off a lineout which resulted in Damian Penaud flying over the whitewash in the right corner.
It was made even more extraordinary by the fact that no English defender came close to tackling a single attacker.
The try pushed France beyond the 50-point mark and forced a smile from head coach Fabien Galthié, who proceeded to shake hands with his coaching staff in celebration.
Crucially, the score succumbed to England to their biggest-ever Six Nations defeat and their heaviest-ever loss at Twickenham. It also confirmed France's first win in England since 2007.
🙌 You voted for @PenaudD's finish to a glorious @FranceRugby move as your Try of the Round.#GuinnessSixNations pic.twitter.com/aJp7V5uHOk

— Guinness Six Nations (@SixNationsRugby) March 15, 2023
Van der Merwe's wonder try
We've come to expect big things from the hulking mass of Duhan van der Merwe. The winger strikes an imposing figure on the rugby field and has already scored some stellar solo efforts. But in the opening round of the Six Nations, he scored what is perhaps his best-ever try.
England launched a kick into the Scotland half towards Kyle Steyn, who quickly shifted possession to his fellow winger. Van der Merwe instantly hit the accelerator and catapulted through the disjointed English defensive line, storming past two flailing tackles.
He then proceeded to step on Freddie Steward, and did the same to Jack van Poortvliet before handing off Alex Dombrandt to score.
The commentators were in awe, and the English home crowd fell silent as they quietly contemplated what they had just witnessed.
Van der Merwe would go on to convert another phenomenal try where he rode three tackles on his way to dotting down. But his first will be the one that gets replayed for years to come.
🏴󠁧󠁢󠁳󠁣󠁴󠁿 Duhan van der Merwe v ENG

Vote 🗳 https://t.co/RPkHE0o7yV@Scotlandteam | #GuinnessSixNations pic.twitter.com/CXBo933iFx

— Guinness Six Nations (@SixNationsRugby) March 20, 2023
Van der Flier shows skills as a lineout thrower.
Josh van der Flier tried his hand at throwing in the lineout after both hookers in the matchday squad were carted off injured.
Dan Sheehan was the first to be removed from play after failing an HIA assessment, while his replacement Ronan Kelleher followed suit and had to make way early in the second half due to a shoulder problem.
In the absence of both hookers, van der Flier took charge of throwing duties and did so in an expert fashion. It appeared Ireland had prepared for this sort of eventuality as the flanker looked naturally at easily launching the ball from the touchline.
Questions were asked of Scotland, as they could have placed more pressure at the front of the lineout – where van der Flier was targeting the majority of his throws.
Despite this oversight, the versatility shown by the flanker was highly impressive and further points to why he was voted the World Rugby Player of the Year.
💭'Please not the back of the lineout'

Very tough test match, a lot of challenges but delighted to come out with a win. Buzzing for the week ahead ☘️ pic.twitter.com/8VkhsuKP6j

— Josh van der Flier (@joshvdf) March 13, 2023
Dupont's last-ditch tackle on Mack Hansen
Antoine Dupont is a one-man highlight machine. You could easily fill this list with his five best moments alone, but here, we'll make do with just one.
It came during France's loss to Ireland, at a crucial point in the first half when Le Bleus were trailing by three. Following a Mack Hansen interception on halfway, the ball was shipped to Hugo Keenan to fire a kick downfield and gave chase.
Neither he nor Gaël Fickou recovered possession so; instead, it fell to Hansen, who looked certain to score just a metre shy of the line. But then Dupont arrived, grabbing Hansen around the waist as if he were carrying an industrial pole, and proceeded to stop the winger from moving and march him towards the touchline.
The tackle was an incredible feat of physical strength and showcased the depth of Dupont's toolkit. He's just a complete freak of a player.
Quel 👏 plaquage 👏de folie!

Antoine Dupont déploie une force incroyable pour éloigner Mack Hansen de la ligne d'essai 🤯#SixNations #ChampionsCuppic.twitter.com/lyt3TqWvWX

— Champions Cup France (@ChampionsCup_FR) February 13, 2023
Written by Stefan Frost