2023 Chiefs vs Highlanders
Super Rugby Pacific Fixtures Of The Week: Chiefs Look To Continue Hot Start
Super Rugby Pacific Fixtures Of The Week: Chiefs Look To Continue Hot Start
After two weeks completed in the Super Rugby season, where do we stand? Probably not where some expected. The action continues this week with Round 3.
Mar 9, 2023
by Briar Napier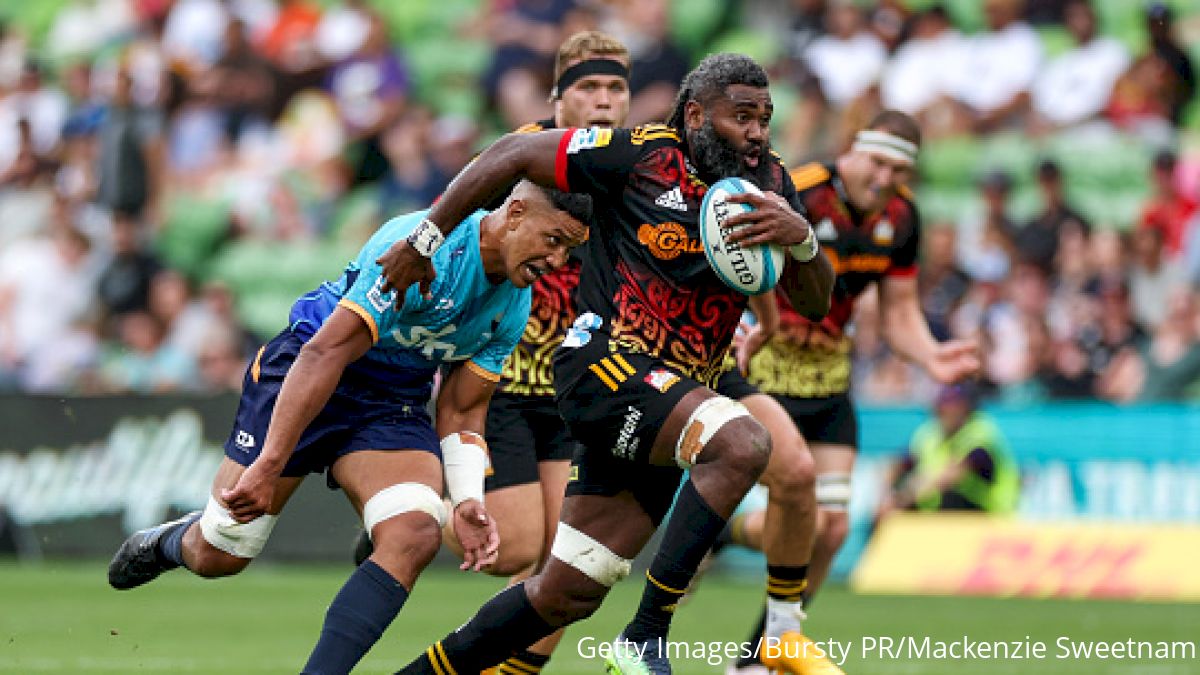 After two weeks completed in the Super Rugby season, where do we stand?
Probably not where some expected.
The juggernaut and long-reigning champion of the competition is languishing in the middle of the table, for instance. The leaders and league's highest scorers haven't won a Super Rugby title in a decade. And so on, and so forth.
Round 3 arriving 🔜

Which match are you looking forward to most?#SuperRugbyPacific pic.twitter.com/WI9sdlWsib

— Super Rugby Pacific (@SuperRugby) March 8, 2023
Round 3 approaches with plenty to sort out about who exactly are the haves and have-nots of this year's competition, but there are some intriguing indicators early on that may only be amplified as a tense matchweek approaches.
Here's a look at the Super Rugby Pacific matches to watch for Round 3 of the 2023 season,
with most fixtures being streamed live on FloRugby.
NOTE: All fixtures are listed in Eastern Time and are subject to change.
Chiefs Vs. Highlanders
After their shocking opening-round victory over the four-time defending Super Rugby champion Crusaders, the Chiefs had no hangover in Round 2, cruising past Moana Pasifika in a record-breaking 52-29 rout.
It was record-breaking due to the fact that the Chiefs' Rameka Poihipi scored the fastest try in the competition's history by going over after just eight seconds at AAMI Park in Melbourne. That try was one of six unanswered tries from the white-hot Chiefs in the first half.
The Hamilton-based club has the solo lead of the competition with 10 points after two rounds.
💥 Etch the name RAMEKA POIHIPI into the record books. #SuperRugbyPacific pic.twitter.com/bjurUxvG3L

— Super Rugby Pacific (@SuperRugby) March 4, 2023
Meanwhile, the Highlanders are going in the complete opposite direction to start their season. They sit in last place on zero points and have a minus-77 point differential.
Though the adjustment to a new system under first-year coach Clarke Dermody is going to take some time (and the Highlanders have had a brutal first two opponents in the Blues and Crusaders, last year's Super Rugby finalists), the team's first two matches have featured little to be optimistic about.
Perhaps the Chiefs could stroll overconfidently into the FMG Stadium Waikato and let the Highlanders make it a competitive fixture, or coach Clayton McMillan's side is bound for yet another decimating performance that shows why it deserves to be taken seriously as a title contender in Super Rugby.
The squad certainly has the personnel to contend.
All Black five-eighth Damian McKenzie (26 points) has been as good as advertised thus far for the Chiefs in his return to the club this season after a one-year stint in Japan, while winger Shaun Stevenson (three tries) looks to be amid a breakout campaign. The 26-year-old already is one try away from tying his previous single-season best in Super Rugby.
Hurricanes Vs. Blues
Only one team has scored 39 points or more in both of its Super Rugby matches, and that honor goes to the Hurricanes, who are off to a 2-0 start that's seen them placed second in the table with nine points.
They're coming off a tense 39-33 victory over the Melbourne Rebels, too, one in which the Hurricanes had to withstand a late Rebels charge that had them a point from tying it as time ticked down. That was before Jordie Barrett crossed over for a try with three minutes remaining to seal the deal.
That might is going to be directly tested by last year's league runner-up in the Blues, another high-octane unit (60 points against the Highlanders in Round 1) that's trying to bounce back from a 25-20 loss in a semifinal rematch with the Brumbies in Round 2.
If the Hurricanes want to prove they're going to be sticking around the top 4 and be in contention to host a playoff match later in the year, getting a good result against a Blues side this weekend that's largely expected to be one of the top Super Rugby teams probably would be a good sign for their future prospects.
Still, expect the Blues to want to get out on the right foot and dare the Hurricanes to respond.
Coach Leon MacDonald's men went toe to toe with the Brumbies last weekend. Both teams scored all of their points in the first half, yet none in the second, unable to penetrate the Australian team's back line as the game dragged on.
UPDATE | Ardie Savea has been suspended for one week for an unsportsmanlike gesture in the clash against the Melbourne Rebels. pic.twitter.com/aDTOCKJ8NH

— Super Rugby Pacific (@SuperRugby) March 7, 2023
A lineup full of world-class players, such as All Black and league points leader Beauden Barrett (35 points), as well as captain Dalton Papalii, isn't going to be held at bay for long, and the fact that Hurricanes star Ardie Savea will be suspended for the match due to a gesture toward a Rebels player following a yellow card he received in the game, won't help matters for the Hurricanes, either.