Premiership Rugby
Wacky Reason Why Chris Ashton Had To Shelf Ash Splash Celebration
Wacky Reason Why Chris Ashton Had To Shelf Ash Splash Celebration
Hard to believe it's four years since Chris Ashton was last capped by England, but he'll follow the updates of their Guinness Six Nations match Saturday.
Mar 3, 2023
by RugbyPass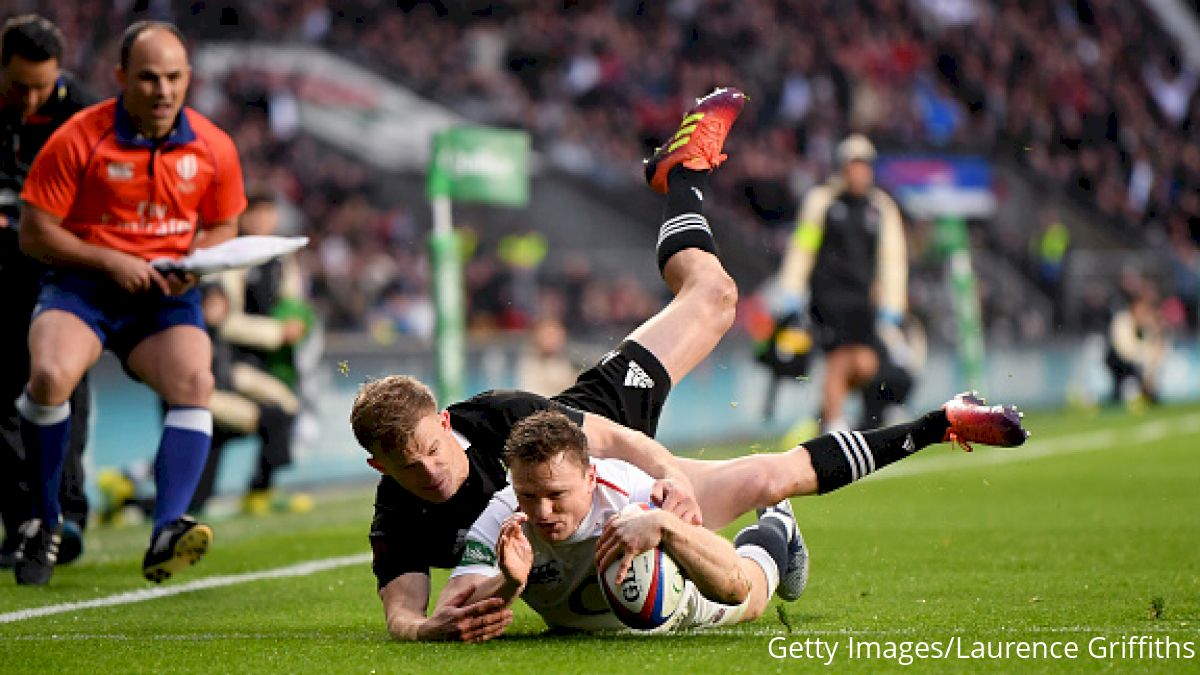 Hard to believe it's now four years since Chris Ashton was last capped by England, but he will keep abreast of the live updates from their Guinness Six Nations match Saturday, even though he has his own Leicester fixture for which to prepare.
With the national team slated to kick off against Wales at 4:45 p.m., Premiership Rugby has penciled in the Tigers' away game at London Irish for a 7:30 p.m. start, a timing that should allow the former test winger the opportunity to monitor most of what is happening in Cardiff, before his warmup begins in Brentford.
We make just our fourth appearance at Gtech Community Stadium this evening in what will be the 73rd meeting with London Irish.#LIRvLEI 🏉 #COYT 🐯

— Leicester Tigers (@LeicesterTigers) February 25, 2023
Ashton exited the England scene on something of a downer.
He had been coaxed into returning from France by Eddie Jones with a view to competing for a place in the 2019 Rugby World Cup squad. However, he earned the last of his 44 caps in February of that year against the French at Twickenham, and that was that.
The intensity of the Jones' environment was too much for the family man's liking, and he felt it best that he stepped away, not that there was any lingering acrimony.
He continued to want England to do well, a feeling that is even more now, given that it's Steve Borthwick, the coach who brought him to Leicester, who has now taken over from Jones for this Six Nations and beyond.
"Yeah, of course," enthused Ashton when quizzed by RugbyPass about whether he still takes an interest in the fortunes of the England team. "Very much an England fan, and even more of a vested interest now with the coaches that have gone in there and all the players that are there from Leicester.
"It's such a great group of lads in there, and hopefully, they will be in there for many, many years. So yeah, I'm very much looking forward to the game (against Wales). Our game is on after, so people will be following on straight after."
There are five Leicester players in the latest England match-day 23, with Borthwick confirming Thursday he was giving Anthony Watson his first start for his country since March 2021.
Currently, the rookie test head coach is at breakeven – one win and one loss.
What has Ashton made of the early days of the Borthwick era?
"It's always going to be difficult for Steve to come in at such a short time," Ashton said. "It is a positive getting him in there earlier (than after the World Cup). There is going to be some change from coach to coach in how they want to play, and the main focus has to be the World Cup and just use these games how he sees fit to fit into the big summer that is coming up."
Soon to be 36, Ashton is one of several veterans at Leicester who have bucked the consensus that rugby is supposedly a game for young men.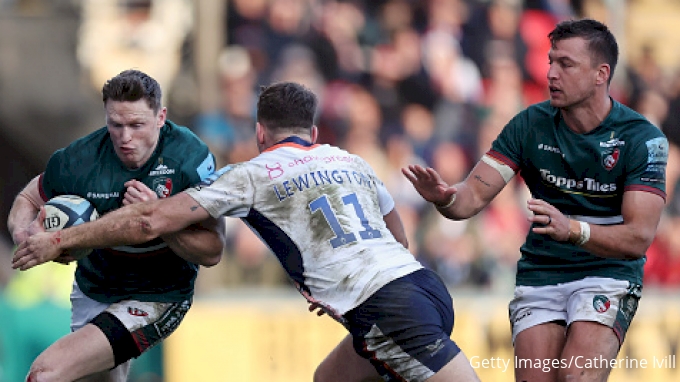 Alongside him at London Irish will be the 37-year-old Mike Brown and the 39-year-old Jimmy Gopperth. They amusingly stand out in certain aspects in the Leicester inner sanctum.
"One group is talking about daddy daycare, and the other group is talking about TikTok," quipped Ashton about the dynamics of the Tigers dressing room. "I don't even know how to get that app on my phone. There is a difference, but it blends together. The younger lads in the majority, from my experience with them, have got an older head on their shoulders.
"They are a lot more intelligent than what they let on, and they have come through a really good academy or been professional from the off, so they appreciate the standards of where things need to be a lot easier than maybe what I would have done as a young fella."
Ashton now definitely knows his body well and what is needed regarding the best preparation for him to perform. He endured a terrible time since stepping away from England, quitting Sale in a hurry, after a falling out with Steve Diamond and then enduring unsettled periods at Harlequins and Worcester.
He made just 26 appearances in a two-and-a-half-year period from September 2019, but the lifeline given to him by Borthwick this time last year was a career saver. Ashton went on to play 24 times for Leicester in the past 12 months.
"Really pleased," he enthused when that statistical contrast was put to him. "I have got a part to play in that, obviously, but it is also down to the management and the physios, coaches and Aled Walters, the head of S&C here, who understands the benefit of having older and experienced players around, but also managing them right.
"You have to get a level of training high enough to be able to perform at the weekend, but the most important thing is the weekend and getting that bit right and getting the best out of each other. It has been massive for me to have people who are very understanding and want the best for the players to be able to perform on the weekend."
So, what has changed to ensure Leicester fans get to enjoy peak Ashton?
"I wouldn't be expected to do what the younger lads do," he said. "I'd do the main sessions with the team, but I would be looked after and expected to make it up in different areas, when you are a bit warmer and after training and stuff. I'm not necessarily missing. I just get to do it at different times of the day, let's say.
"Every coach has got their different schedules and how they want to do training. Here, this works for me, allowing my body to rest in between big sessions. Not going back to back to back on days of training. It's all timed and put in place to have enough rest to be able to recover and go again, which helps me just have the time in between to get myself ready again and be able to train.
"I have only given myself a week or two off in preseason," he added. "I find it is better not to stop, just keep going, keep training. Otherwise, if you let levels drop, and you have got to go all the way back up, it makes it too hard. I prefer to stay at one level and maintain. You have to enjoy training. You're struggling from the off, if you don't enjoy it."
All the while at Leicester, Ashton has delivered 10 tries (nine in the Premiership and one in Europe), enough to finally enable him to surpass Tom Varndell and become the English league's all-time record try-scorer.
He paused when asked to pick his best five-pointer as a Tigers player.
"Good question," he said. "I think Bristol at home. Because it was a long run in. I prefer those ones."
Remember this try? Chris Ashton won the 2010 try of the year with this outstanding effort. Who will be this year's winner? #WorldRugbyAwards pic.twitter.com/v2WRY4prix

— World Rugby (@WorldRugby) September 3, 2017
Where has the infamous Ash Splash gone, though, the much debated, dive-in-the-air celebration in the act of scoring?
"The in-ball area at Mattioli Woods Welford Road is too short. I'll end up jumping into the stands. It's that possible," he chuckled.
Did he learn this the hard way?
"Me and Steve (Borthwick) practiced it, and we went too far, so not possible," he explained, laughing.
Crowned Premiership champions last June with a Twickenham win over Saracens, Ashton's former club, eighth-place Leicester trailed the table-topping Londoners by 23 points heading into this weekend's Round 18 fixtures.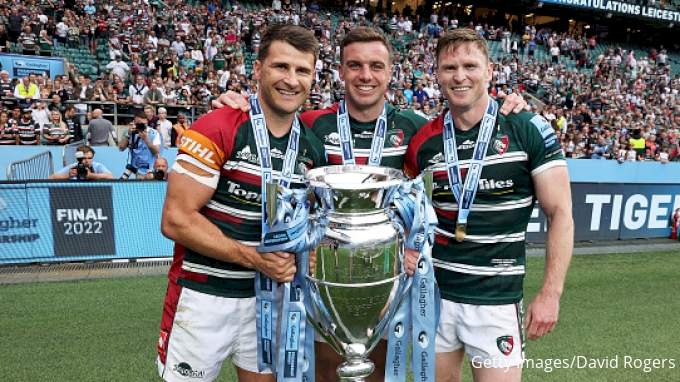 How does he rate the Tigers' title-retention hopes?
"We have come close in a couple of games, we have lost in the last five minutes, and it was really disappointing," Ashton said. "Last season, it would have gone the other way, just because the flow and the confidence were behind us, so we have been unlucky.
"But not much has changed here (with Richard Wigglesworth as interim head coach). Not much has changed in our approach, so we are confident we are going to be able to get through it, and that is the goal, that is the target. We want to get back to the final and defend the trophy."