2023 Highlanders vs Blues
Super Rugby Pacific: Blues Player Ratings Against Highlanders
Super Rugby Pacific: Blues Player Ratings Against Highlanders
After falling short of Super Rugby Pacific-glory in last year's final, the Blues have come out of the blocks in red-hot form to start their 2023 campaign.
Feb 26, 2023
by RugbyPass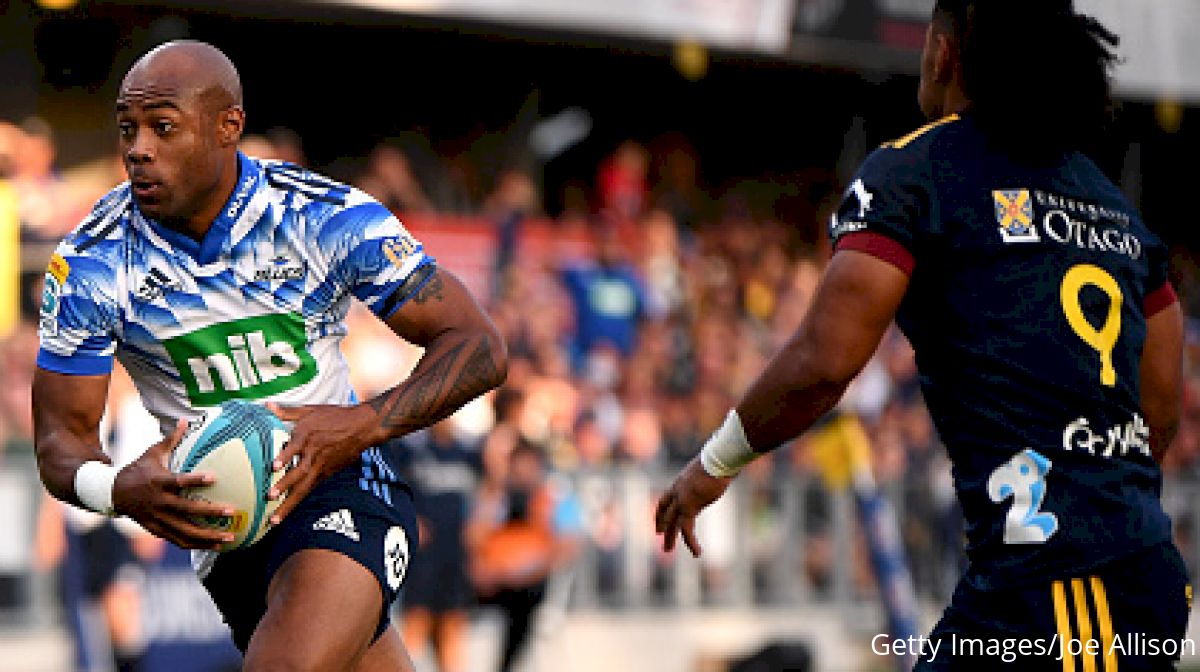 After falling short of Super Rugby Pacific-glory in last year's final, the Blues have come out of the blocks in red-hot form to start their 2023 campaign.
Traveling south to Dunedin to take on New Zealand rivals, the Highlanders, at Forsyth Barr Stadium, the Blues went on a point-scoring onslaught.
The Blues scored eight tries to two, as they recorded a staggering 60-20 win away from home Saturday.
Winger Mark Telea set the tone early with a try in the 13th minute and went on to star.
Following on from his All Blacks debut last year, Telea certainly made a statement ahead of this year's World Cup.
Player of the match performances 🔥

Number 14 goes hard rn pic.twitter.com/74h2Wg0lRm

— The Blues (@BluesRugbyTeam) February 25, 2023
While Telea was the standout, it takes a team to win a rugby game. Here's how the Blues rated:
15. Stephen Perofeta – 7/10
In a backline full of world-class talent and human highlight reels, Perofeta may have flown under the radar on Saturday. While his playmaking was all-class, and his kicking game, too, the fullback didn't repeat his teammates' efforts of producing stunning line breaks or big tackles.
But that's not say he wasn't impressive. In fact, he played his role quite well – the perfect balance, which helps Beauden Barrett shine, as well.
14. Mark Telea – 9
Mark Telea was a man on a mission, as he ran rampant against a tiring Highlanders defense. Not only did the star winger score two tries of his own, he also had two try assists – so nearly had a third try late in the contest.
Telea scored the Blues' first try of the season in just the 13th minute after receiving a wonder pass from prop Ofa Tu'ungafasi. Shortly after, the winger played the role of provider, as he set up Beauden Barrett and then Rieko Ioane.
One of his standout moments from the match was what initially appeared to be a standard carry, but there was nothing standard about it. Telea beat six defenders on the single carry, which somewhat summed up his night. According to ESPN, Telea ran for more than 200 meters from 12 carries on the night, and also made six tackles.
13. Rieko Ioane – 7.5
Blues center Rieko Ioane struggled to make an impact throughout the first half, aside from his try. Ioane had only run the ball twice for 44 meters at the main break – but improved in the second 40. The 25-year-old was in the middle of the action a lot more in the second half but failed to make any highlight plays.
12. Roger Tuivasa-Sheck – 7.5
Roger Tuivasa-Sheck needs to stand out this season, if he wants to make the All Blacks' squad for the World Cup. That's no secret. In fact, it has been discussed over and over, as rumors of a possible return to rugby league continue to persist.
But 'RTS' was quite good in the season opener, aside from a yellow card just before the halftime break. Not only did he run the ball seven times – which was the second-most of any Blues back – he also made a staggering 11 tackles.
11. Caleb Clarke – 6.5
Some may consider this rating to be quite harsh, considering he scored a try, but for the most part, Caleb Clarke was quite quiet against the Landers. While he ran outran Umaga-Jensen for a try – courtesy of some Beauden Barrett brilliance – Clarke was otherwise kept at bay.
The All Blacks winger only ran the ball five times and made just one tackle.
10. Beauden Barrett – 8.5
For a player who didn't take part in any of the Blues' preseason matches due to illness, star playmaker Beauden Barrett didn't skip a beat against the Highlanders. On commentary, former All Black Justin Marshall described the first-five as a "world-class" player – and he's not wrong, not that that's a secret either.
Barrett was especially impressive during the Blues' attacking onslaught in the first half, where he scored a try and a try assist. His assist was especially impressive, as he caught the Highlanders napping with a kick for Caleb Clarke.
Overall, the two-time World Rugby Player of the Year finished the night with a 25-point haul.
9. Finlay Christie – 8
Finlay Christie has shown time and time again that he's one of the best halfbacks in New Zealand Super Rugby. But the 27-year-old still has a point to prove ahead of this year's World Cup.
While he was a test regular in the black jersey last year, there are a number of halfbacks gunning for his spot.
He made a statement in Dunedin, showing All Blacks selectors why he has to be on the plane to France. Not only were his leadership, passing game and rugby IQ clear for all to see, his combination with Beauden Barrett also caught my attention.
In attack, Christie made a brilliant line break to set up Beauden Barrett's try in the first half, having thrown a flick pass to middle man Mark Telea. Defensively, the halfback also cut down his opposite Folau Fakatava just short of the try-line.
1. Ofa Tu'ungafasi – 6.5
Ofa Tu'ungafasi is one of the best props in New Zealand, and rugby fans witnessed glimpses of this on Saturday evening – but it was far from a perfect display.
The Blues were relatively solid at the set-piece, and Tu'ungafasi deserves praise for that. But elsewhere around the park, he struggled to get involved.
Tu'ungafasi only ran the ball once and missed three of his 10 tackle attempts. However, the 30-year-old deserves praise for his brilliant pass to setup winger Mark Telea for the Blues' first try of the season. But his playmaking ability both can't and won't define his rating tonight.
2. Kurt Eklund – 6
Eklund did his core job quite well, as fans have come to expect during his time with the Blues.
While he had some useful carries and made some strong tackles, it wasn't a standout display from the hooker.
The Blues No. 2 was subbed off about 46 minutes into the match and had somewhat failed to fire during his time in the middle. While he made five tackles, Eklund had missed six – a 45% tackle accuracy.
3. Nepo Laulala – 6
Playing in his 100th match, Blues prop Nepo Laulala struggled to make his mark. The All Blacks veteran had only run the ball six times by the time he was subbed off, and had also only made three tackles.
4. Patrick Tuipulotu – 7.5
Lock Patrick Tuipulotu was quite good, but he did make some simple errors. The lineout general was the go-to player for hooker Kurt Eklund and also made his mark around the field. In the 61st minute, the towering lock won a penalty at the breakdown.
5. Cameron Suafoa – 6
Just like his second-row partner, Suafoa didn't really stand out during the emphatic win – but was still good, as he did his job quite well. Nine runs and six tackles from a tight five forward is incredibly useful, regardless of the level of rugby. He did have a moment to forget late in the first half, though, after being shown a yellow card.
6. Akira Ioane – 7
Unfortunately, Ioane left the field just before the half-hour mark. The All Black had run the ball six times and made as many tackles.
7. Dalton Papali'i – 8.5
Following on from Sam Cane's impressive performance for the Chiefs on Friday night, Papali'i had a point to prove in Dunedin. There's been a lot of talk – for quite some time, too – that the Blues flanker should start for the All Blacks. But it's up to him to prove it.
Papali'i would've caught the attention of All Blacks fans and selectors Saturday with his performance, having led the way with a simply world-class defensive effort. The star flanker made 19 tackles and also crossed for a try late in the piece.
8. Hoskins Sotutu – 8
Sotutu had some impressive bursts with the ball in hand, but for the most part, he didn't really stand out. But not to sound like a broken record, the loose forward still made his mark. With 12 carries for 82 meters, and seven tackles, it was a solid outing from the No. 8.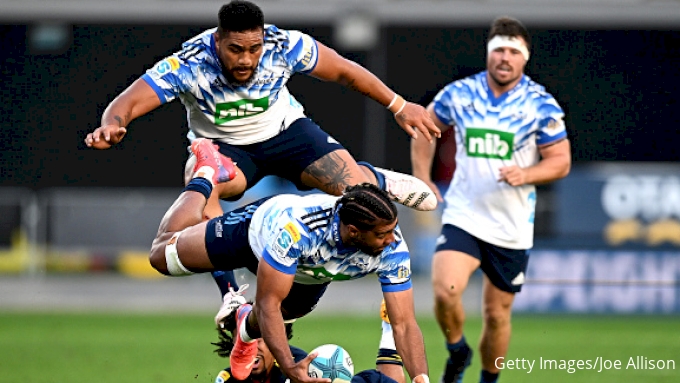 REPLACEMENTS
16. Ricky Riccitelli – 6.5
17. Josh Fusitua – 6
18. Marcel Renata – 7
Scored a try after coming on as a replacement.
19. James Tucker – 6
20. Adrian Choat – 7.5
Came on earlier than he would've expected, having replaced Akira Ioane in the 29th minute – and made the most of it. With 15 tackles to his name, it was a sublime performance from Choat.
21. Taufa Funaki – 6
22. Bryce Heem – 6
23. AJ Lam – 6.5