Guinness Six Nations 2023 Rugby Coverage
Six Nations Results & Takeaways From Round 1
Six Nations Results & Takeaways From Round 1
Guinness Six Nations 2023 Round One Recap - Five rugby talking points as Ireland defeat Wales, Scotland beat England and Italy narrowly lose to France.
Feb 6, 2023
by RugbyPass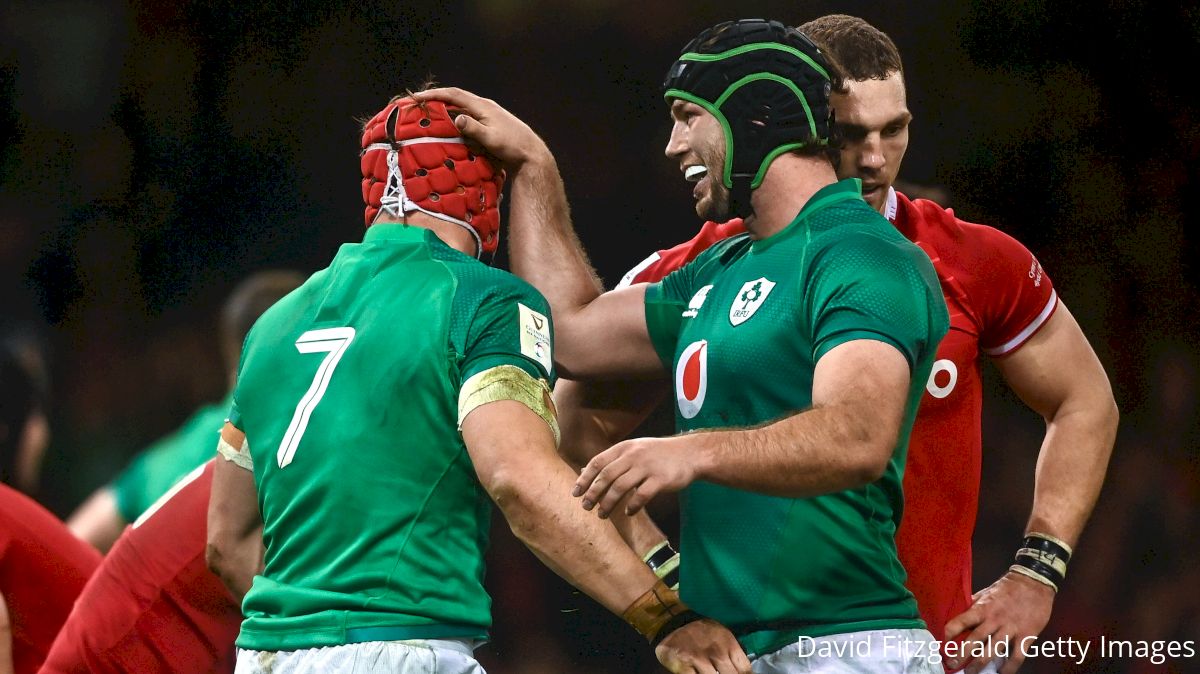 Round one of the 2023 Guinness Six Nations more than lived up to its billing as Rugby's greatest annual international Championship.
In an interesting benchmark of where Europe's Tier One Rugby Nations sit heading into this year's Rugby World Cup, there were a number of notable performances across the three fixtures.
Opening proceedings were World Number One ranked Ireland who headed to Cardiff in search of a first Six Nations victory in the Welsh capital since 2013.
Dominating from the off, Andy Farrell's side looked every bit the best team in the world as they emerged with a dominant 34 – 10 victory.
Elsewhere at Twickenham, Scotland reaffirmed their current dominance over England as they got Steve Borthwick's tenure as England coach off to a shaky start.
Finally, World Rugby's hottest team France had to rely on Italian inaccuracies to escape Rome with a narrow 29 – 24 victory.
Here are five of the biggest takeaways from round one.
Italy Rugby Improvement Offset By Halfback Horror
The renaissance is real, Italian Rugby is back in our lives as a force for the first time in over twenty years.
Built on a foundation of youthful exuberance, genuine talent and belief that success in the national jersey is achievable. Kieran Crowley's young side gave the presumed best team in the world all they could handle on Sunday afternoon in Rome.
Undone only by their own mistakes, Azzurri Rugby fans will have left the Stade Olimpico dreaming of what might have been, hand their halfbacks not missed fired so dramatically.
Stephen Varney and Tomasso Allan produced perhaps one of the more head-scratching performances by an international halfback duo in quite some time.
Each produced moments of madness that ultimately cost their side what would've been a famous Six Nations victory.
Varney opened the fixture by setting up two easy scores for the opposition that had the Italians chasing their tails before the action had really begun. Slow clearing the breakdown, sloppy with his kicks and inaccurate with his passing, Varney will need to learn from this slow start to remain as the Italian starter.
In the 21-year-old's defence, he did rebound to produce a solid showing for the next hour of action in what a true show of his character.
Outside Varney, Allen started the fixture strongly as he distributed well whilst also challenging the French line. Crucially he kicked the majority of his goals to keep the scoreboard ticking over as the Azzurri fought back to take the lead.
Then almost as inexplicably as Varney's opening twenty-minute meltdown, Allen cost his side the opportunity to take the lead in the dying moments of the clash.
Winning two penalties as the French defence was scrambling, Allen needed to find a strong touch as close to the French line as possible for the Azzurri to launch a rolling maul.
Yet with both kicks, he miscued so greatly that the Italian pack had little chance of making any real inroads. As French stopped the Italian maul with relative ease, Allen's inability to get his side closer became the immediate talking point.
Fortunately for the Azzurri, regular starter Paolo Garbisi looks set to return for his side's trip to Twickenham. The return of the Montpellier pivot should see Allen revert to the bench and should offer both more creativity and big-game aptitude in what will be a crucial test.
Nominees for Try of the Round:

🇮🇹 CAPUOZZO
🏴󠁧󠁢󠁳󠁣󠁴󠁿 VAN DER MERWE
🏴󠁧󠁢󠁥󠁮󠁧󠁿 MALINS
☘️ LOWE

VOTE 🗳 https://t.co/kVzeaGd4sI pic.twitter.com/8VCBBCQWbr

— Guinness Six Nations (@SixNationsRugby) February 5, 2023
Irish Buck World Cup Year Downward Spiral Trend
Hold your breath Irish fans, this side will not be derailed like those that have gone before them.
Why the confidence? Well given Ireland only played to their potential for forty minutes in Cardiff and still beat Wales 34 – 10, shows they truly are in the upper echelons of World Cup contenders.
Starting at the top, Andy Farrell's coaching team has an ability unlike any Irish coaching ticket before them to not implement just the right strategy. But has also shown the ability to thread the needle between picking on form whilst also showing faith in those who have produced before.
Case in point being Ulster centre Stuart McCloskey who has been tearing up trees for Ulster over the past two seasons. Rarely given a fair crack at the whip, McCloskey has taken his game to another level under Farrell and attack coach Mike Catt.
A physical specimen with all of the skills required of an international inside centre, McCloskey has well and truly broken into the monopoly held by the dynamic trio of Robbie Henshaw, Garry Ringrose and Bundee Aki as a viable starting option heading into the World Cup.
Behind McCloskey is the 21-year-old Jamie Osborne who captain Jonathan Sexton has tipped as the next great Irish centre alongside Ringrose.
Now three deep in every position outside of perhaps flyhalf, Ireland have the depth of squad to sustain a gruelling World Cup campaign.
Yet it is not just the players that make this team tick, the system and environment that the Farrell coaching ticket have put in place is the match of any set-up in the world.
Capable of ripping teams to shreds when given half a chance, this Irish side have an All Black like ability to score twenty points in a flash. In equal measures they are capable of winning an arm wrestle with the biggest teams in the world, not through man-to-man combat but through weathering storms and striking at just the right time.
Next weekend's clash with France is the final test for this side ahead of the World Cup. Beat the World Cup hosts, and they will have the psychological advantage over all of their World Cup pool and potential knock-out stage opponents.
Wales And England More Than A Quick Fix Away
Both sides came into this tournament with a renewed sense of optimism that regularly accompanies wholesale changes.
Yet both sides fell flat in their debut fixtures under new coaching tickets. In fact, both losses were disappointing for very different reasons.
To be clear it is impossible to suggest the two sides face the same challenge, so let's start with the more positive of the two.
England was once again outduelled by Scotland in the Calcutta Cup. However, despite the loss, there are a number of positives to take away.
Starting with the attacking game, new attack coach Nick Evans has brought a set of fresh ideas that look to have broken the monotonous crash, bang, wallop style that dominated the Eddie Jones era.
Marcus Smith and Owen Farrell each looked better as individuals but in reality, the combination of the two still looks clunky.
The back three of Ollie Hassell-Collins, Max Malins and Freddie Steward put on a performance that bettered any that England had put on in the past two years.
In Borthwick's specialist area of the forward pack, the England scrum looked far more assured whilst the second row combination of Maro Itoje and Ollie Chessum has the makings of something special.
Unfortunately, the backrow trio of Ben Curry, Lewis Ludlam and Alex Dombrandt didn't quite live up to their billing as they struggled to contain their Scottish counterparts.
All three had their moments, Ludlam's break down the right flank early on was a sign of what could be achieved by the lighter, faster players that Borthwick has opted for.
Dombrandt unfortunately looked incapable of maintaining a full eighty-minute performance at this stage. Looking out on his feet he may prove to be a better impact player from the bench.
The most concerning takeaway for Borthwick will be that England lacked the self-belief to close out the win despite being in control on several occasions.
Thus, the question for England is more a case of when will they click rather than will they? It would be fair to expect growing pains as they transition to their new style of play but crucially they showed more in one performance for Borthwick than they did for Jones in the past two years.
Warren Gatland on the other hand has a mountain of a job to do with this Welsh side.
In blunt terms, they were not at the races on Saturday and at times looked unworthy of pulling on the red jersey.
Yes, they fought back in the second half but by that point, the game was lost, and Ireland had dipped in their intensity. Even still this fightback only yielded a single try whilst they still conceded the bonus point try to Ireland.
Unfortunately, this side is past its prime and wholesale changes are needed. Legends of Welsh Rugby such as Alun Wyn Jones, George North and Taulupe Faletau are no longer international quality players.
The two shining lights for Welsh Rugby are backrow Jac Morgan and centre Joe Hawkins both of whom acquitted themselves well in challenging circumstances.
Two players do not make a squad however and the fact that Wales has very few players between the ages of 25 – 30 is a crying indictment on how the Welsh Rugby Union have managed the development of their talent over the past decade.
The question facing Gatland now is does he start planning for the future now whilst risking some heavy defeats along the way or hope that his old warriors can step up for one last season?
The #GuinnessSixNations table. #R1 pic.twitter.com/dm6zgJT9CM

— Guinness Six Nations (@SixNationsRugby) February 6, 2023
Scottish Brilliance Needs To Be Back Up
A third consecutive Calcutta Cup victory over arch-rivals England once again provided a snapshot of what Scotland is capable of when they are in the mood.
Like a pack of pesky Hyenas, the Scots simply refused to fade away as the chipped away at their hosts. As the contest wore on with Scotland very much in touch, English fallibility was etched all over Steve Borthwick's side.
Unlike the thirty years that preceded Scotland's 2018 victory, England now appears incapable of seeing off their northern rivals. Seemingly unsure of themselves in a manner unlike at any point against other opposition, an air of inevitability floated around Twickenham that England would be scuppered yet again by Scottish brilliance.
The challenge now facing Gregor Townsend's side is to back up this strong outing with a string of victories. Something they have historically been unable to achieve in particular when coming up against Wales and Ireland.
Thus, next week's clash with a struggling Welsh side is an opportunity to double down on round one's efforts in a game they will enter as heavy favourites.
Win that game and then suddenly the challenges only get more daunting with a trip to Paris being followed by a red-hot Ireland coming to Murrayfield.
Win one or both of those contests and the Championship title is a real possibility. Yet they would be foolish to overlook an ever-improving Italy who once again showed they are here to compete.
What the remainder of this Championship will prove is whether this Scottish team are pretenders once again or a side capable of sustaining success at just the right time.
Referees Clamp Down On Time Wasting
In a hugely positive step forward for the game as a whole, time-wasting looked to be a real area of focus for the match officials in round one.
Instead of mulling over decisions for minutes at a time or resetting scrums continually, referees kept the tempo of the games up.
Certainly, this new approach will likely lead to a number of missed calls, but it would appear preferable to the stop-start mess that has dominated the game over the past five seasons.
A prime example is Karl Dickson's performance in Cardiff. Clearly, the two sides had different ideas of how the game was to be played with the Welsh looking to slow proceedings at every opportunity whilst the Irish looked to put some zest into the contest.
Instead of continually resetting an at times sketchy-looking scrum contest, Dickson went to the whistle for free kicks and penalties. Both sides of course looked to push the limits with early engagements, loose binds and caving in, yet the former scrumhalf-turned-referee was onto it and did a remarkable job.
Other examples include his handling a rather dubious moment of foul play that had the Principality Stadium fans up in arms.
Experienced Welsh fullback Liam Williams seemingly milked an attempted charge down by Ireland second row Iain Henderson. Instead of bowing to the pressure of the fans, Dickson blew for just a penalty following a quick assessment of the situation rather than sending Henderson from the pitch.
At Twickenham Kiwi referee Paul Williams played a blinder with the whistle as he contributed to one of the greatest Calcutta Cup contests in recent memory.
Having been a hot topic for debate over the past few years, most notably by South African Director of Rugby Rassie Erasmus. Refereeing seems to be at a higher standard than it has been for quite some time.
There can be little doubt about the challenge facing the match officials with the continual rule changes combined with the pace of the modern game.
Yet in as challenging an arena as imaginable, the men and women with the whistles are doing a heck of job and this weekend further emphasised this.
Written by Philip Bendon