Guinness Six Nations 2023 Rugby Coverage
France Begin Six Nations Title Defence With Victory Over Improving Italy
France Begin Six Nations Title Defence With Victory Over Improving Italy
France defeats Italy in round one of the 2023 Guinness Six Nations to begin their title defence on a positive note.
Feb 5, 2023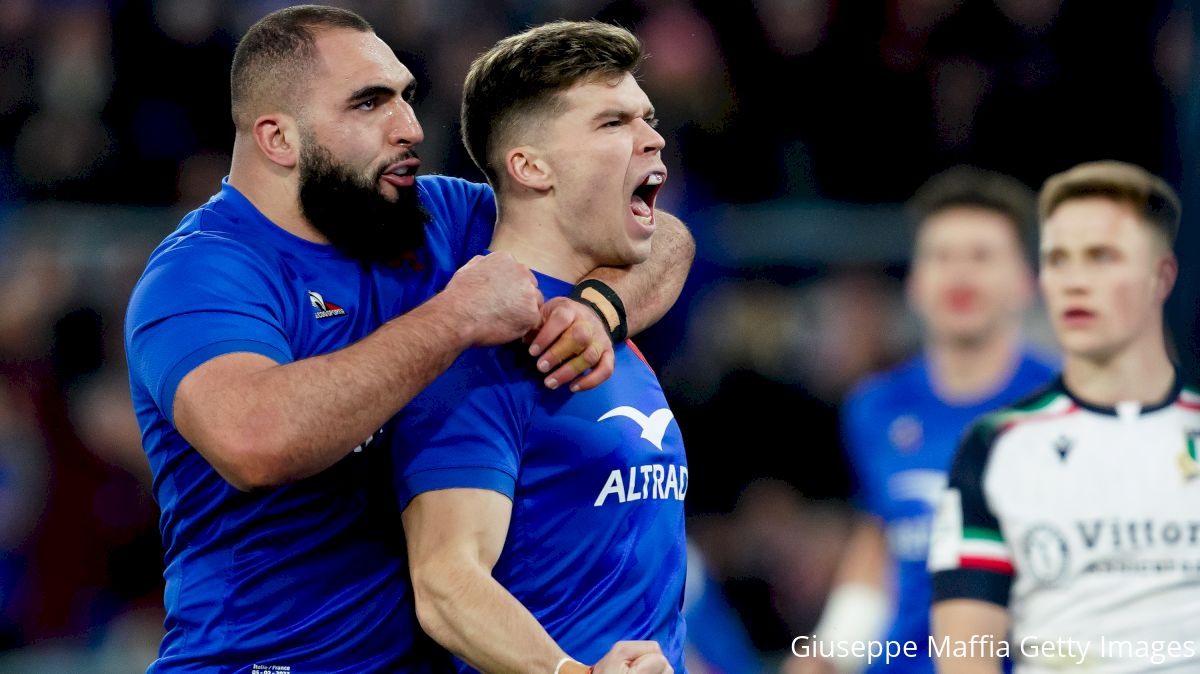 Defending Six Nations champions France held off a daring yet inaccurate Italian side to open their campaign with a 29 – 24 victory in Rome.
Seemingly hell-bent on handing victory to their visitors, Italy were their own worst enemy at crucial points in this fixture.
Having gifted France three easy tries to start the contest, Kieran Crowley's side was staring down a heavy defeat against the World's form side of the past two years.
Leading the way with the sloppy play was scrumhalf Stephen Varney who all but served up two tries on a silver platter to the visitors inside the first twenty minutes.
Normally a consistent operator, it took Varney until late in the first half to really settle down by which time the French had rushed into a commanding lead.
Yet despite their inaccuracies, The Azzurri kept probing and slowly the tide began to turn in their favour.
First up was the magnificent Agne Capuozzo who picked up where he left off in the Autumn Nations Series with a sublime try that further confirmed his status as a world-class talent.
Given little space to work with, Capuozzo wrong-footed one of the best tacklers in the game French Number Eight Gregory Aldritt to score Italy's opening try.
🤩 Ce finish d'Ange Capuozzo
#SixNations | #ITAvFRA pic.twitter.com/s15Kxxd0MS

— Six Nations (FR) (@SixNations_FR) February 5, 2023
From here it was all on as France went into halftime with a mere five-point advantage at 19 – 14 despite by and large dominating proceedings.
As the two sides came out for the second half there was an air of anticipation building amongst the Italian supporters.
Clearly feeding off the most electric atmosphere in perhaps twenty years at an Italian Six Nations fixture, the Azzurri went to work.
Pressuring their heavily favoured visitors, the Italians mounted wave after wave of attack.
Such was the pressure being exerted on the French that their normally resolute defence and exceptional discipline record were pushed to the brink.
Now thoroughly under the pump, France would concede a penalty try that saw former captain Charles Ollivon sent to the sin-bin.
A man up, Italy were firmly in the ascendancy as they hit the front for the first time courtesy of a Tommaso Allen penalty which put them two points ahead at 24 – 22.
Seemingly dead and buried, France showed why they are on a 14-game winning streak as they launched an assault on the Italian line.
Utilising their size advantage, the giant French ball carriers ripped into the Azzurri defenders with reckless abandonment.
Eventually, the pressure would prove too much for Italy as they conceded the try to replacement flyhalf Mathieu Jalibert who reaffirmed the thoughts that he could displace Romain Ntamack as the starting number ten going forward.
Big players step up in the big moments. Matthieu Jalibert did just that for Les Bleus in Rome. #Breitling ⌚️ #DefiningMoment pic.twitter.com/2kOaYaJPDA

— Guinness Six Nations (@SixNationsRugby) February 5, 2023
Despite conceding the score, Italy continued to fight as they mounted the pressure on the French once again.
In the end, it would be the Italian's own inaccuracies that would be their undoing as they won two penalties that should've been hit into the corner only for flyhalf Allen to shank both kicks.
Having needed to be on the French 5m line to launch a realistic maul attack, Allen's two kicks killed off any genuine chance of victory.
The game would come to a rather anticlimactic finish as France halted the Italian maul with relative ease and with it sealed a rather fortunate victory.
Both sides will leave this contest with questions. For the French their defence employed a bent don't break approach as opposed to their usual rush defence. This only worked due to the Italian inaccuracies as Les Bleus seemed confident that the Italians would sooner or later cough up possession.
In attack, Fabien Galthie's side were extremely fortunate to be gifted two tries by Varney and didn't really have to work that hard for their other two.
Against Ireland, this passive approach simply won't work and as such a major step up in performance is both needed and expected.
Kieran Crowley and his charges will be left rueing a missed opportunity that would've set them up nicely for a real run at a top-half-of-the-table finish this season.
As is the case with all developing sides, there comes a point when games like this are won. For the time being this Italian side is perhaps just a bit too raw in the experience stakes to truly believe they can close out a top side like France.
"You don't win with heart" ❤️

Captain Michele Lamaro says heart and passion are a given - execution is the key - as his side impress in defeat to France. @Federugby | #ITAvFRA pic.twitter.com/uOJqAYAA55

— Guinness Six Nations (@SixNationsRugby) February 5, 2023
This is not to take anything away from the Azzurri who have silenced all critics, this writer included who questioned their position in the tournament.
The days of losing 36 straights Six Nations fixtures look to be well and truly banished and this team should pick up at the very least a victory this season.
Written by Philip Bendon