World Rugby
WRU Chief Steps Down After Welsh Regions Join Discrimination Row
WRU Chief Steps Down After Welsh Regions Join Discrimination Row
WRU Chief Executive Steve Phillips resigned after alleged examples of misogyny, sexism, racism and homophobia within his governing body came to light.
Jan 31, 2023
by RugbyPass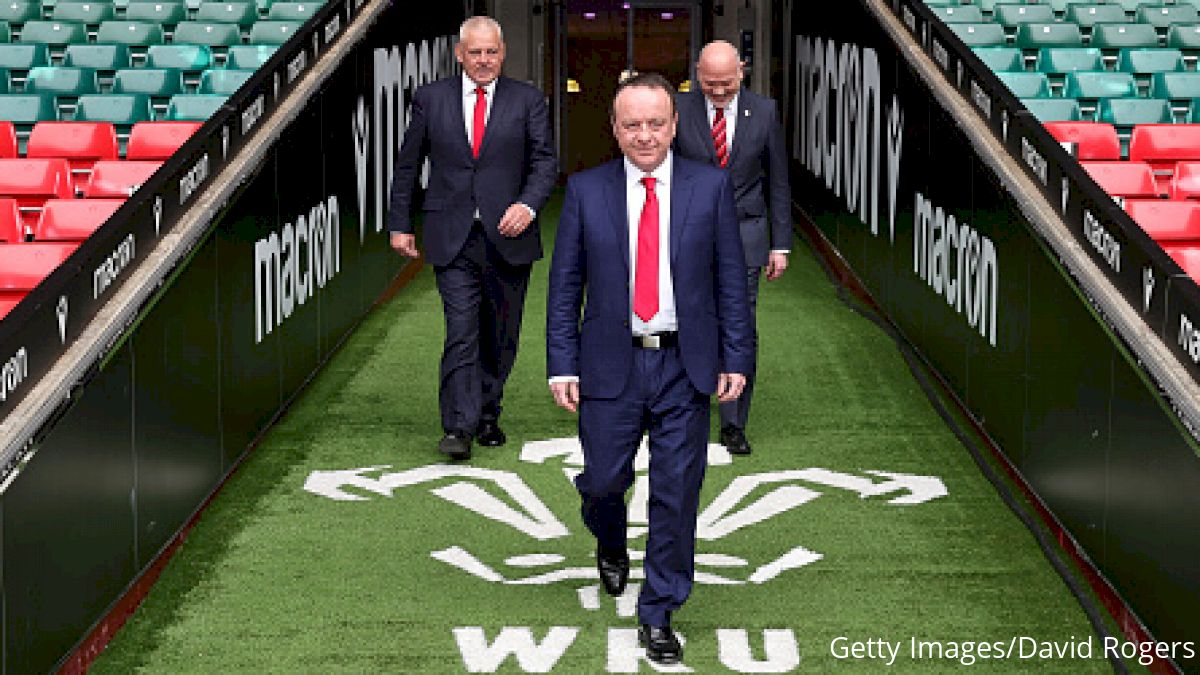 Welsh Rugby Union Chief Executive Steve Phillips has resigned after numerous alleged examples of misogyny, sexism, racism and homophobia within his governing body came to light last week.
He has been temporarily replaced by performance director Nigel Walker, as the WRU begins its search for a long-term successor.
Nigel Walker appointed acting CEO as Steve Phillips resigns👇https://t.co/tNrjk7F2Dt

— Welsh Rugby Union 🏴󠁧󠁢󠁷󠁬󠁳󠁿 (@WelshRugbyUnion) January 29, 2023
The major shakeup comes days after the Welsh Rugby Players Association wrote a letter to the WRU, demanding decisive action be taken after multiple instances of erroneous behavior within the WRU were revealed last Monday.
Each of the Welsh regions already had acted by endorsing a letter written by Cardiff Rugby Non-Executive Director Hayley Parsons, addressed to WRU chairman Ieuan Evans. In it, Parsons demanded the immediate resignation of Phillips, along with the rest of his board.
That letter was followed by another from the players' body chair Ashton Hewitt and chief executive Gareth Lewis, written to Evans on behalf of members from all four Welsh provinces – the Dragons, Scarlets, Ospreys and Cardiff.
In the letter they argued, "It is time that the WRU and its leadership truly takes responsibility."
In response, Evans backed up Phillips but did order that an external taskforce be set up to clean house.
This momentous saga was set in motion by an investigation by BBC Wales, which aired on Monday night. In the broadcast, a number of ex-WRU employees spoke about instances of misogyny and discrimination throughout their time working for the governing body.
A message to member clubs from WRU CEO Steve Phillips 👇https://t.co/hWbKupWsfU

— Welsh Rugby Union 🏴󠁧󠁢󠁷󠁬󠁳󠁿 (@WelshRugbyUnion) January 24, 2023
Many chose to remain anonymous, but it created a wider conversation, which brought other people into the limelight.
One of those was Charlotte Wathan, the former manager of Welsh women's rugby, who said she was on the receiving end of offensive comments and what she calls a "toxic culture" of sexism at the WRU, which reduced her to tears, made her feel sick and endangered her life.
She resigned from her post last February and was not alone in her observations.
Amanda Blanc used to chair Welsh rugby's professional board, and during her tenure, recalls being asked if she had "sufficient business experience" to chair the board.
Blanc, who now is the chief executive of the Aviva Insurance Company, resigned last season and back then warned the WRU it was facing a diversity and discrimination crisis that needed handling imminently.
During her leaving speech, Blanc recalled how an elected WRU member made misogynistic comments in public, which included that "men are the master race."
In early 2022, Wathan reached a resolution with the WRU, which meant a planned employment tribunal case was withdrawn, but Blanc opposes this and believes an independent review of the entire governing body is long overdue.
"I would say that some of you need to sit down, pause and reflect on what answer you would give to a Select Committee, if this evidence was put in front of you. What would you say to the nation when an MP asks, 'does the WRU respect women?'" she said.
In their letter to the WRU, the WRPA demanded an internal review be undertaken to uncover how these allegations were handled.
"As stakeholders in Welsh rugby, we all have a responsibility to actively combat any form of intolerance and discrimination – including misogyny, sexism, racism and homophobia – setting an example for the wider community to which our organizations contribute. This is something that begins internally," the letter reads.
"These unacceptable incidents, arising from a culture that enables such behavior, have a profound impact on individuals and communities throughout society, and within the game we love.
"It is time that the WRU and its leadership truly take responsibility for living up to the inclusive values that rugby claims to pride itself on.
"Otherwise, discriminatory behaviors, with a lack of condemnation and consequences, create an environment that discourages people from being part of our game, including, but not limited to, women and those from marginalized groups."
🗣"It's harrowing. It's upsetting. It's despicable."

Acting CEO of the WRU Nigel Walker talks on the allegations made about the WRU and the task force that will be looking into them.

📺 Tune in now on BBC Two Wales #BBCRugby pic.twitter.com/VEcy2eYPTQ

— BBC ScrumV (@BBCScrumV) January 29, 2023
The WRPA went on to ask that the WRU investigates how it handled these allegations to discern whether the outcomes were the right ones. They also demand that the impending review of the WRU's culture be made public, along with the solutions that will be put in place.
"Ultimately, we support the strongest possible action being taken as soon as possible, to address the wide-ranging concerns that have been voiced from across the game and our nation," the letter continues.
"Without the appropriate action being taken, it sends a clear message to victims of sexism, misogyny, racism and any other form of discrimination that they are not protected and supported by those in leadership positions.
"Otherwise, rugby is not truly an inclusive sport."
Evans already has announced an externally sourced taskforce will be brought in to review the culture, systems and structures of the WRU. He also will appear in front of the Welsh Parliament for questioning.
"We are not deaf to the observations and criticisms," he said. "We need to respond to the public scrutiny we are currently experiencing, but this is also the right thing to do. We are listening."
Amidst all the uproar, Phillips initially planned to remain in post, though he did apologize for what transpired at the WRU.
"I have a general sense of being very sorry for how those individuals that worked for the WRU felt and a genuine sense of sorry that we managed to seem to create a culture between 2017 and 2019, where employees were not in a position or comfortable enough to approach the WRU and raise their concerns with us," Phillips said.
"Could we have done things better? Probably, and I think we can always be better. I think I can't turn back the clock, but I would like to look forward and say we will take on board everything that's been said externally."
When handing in his resignation, Phillips later added: "I have always had the best interests of Welsh rugby at the heart of my every action and thought, but I have come to the conclusion that it is now time for someone else to lead the way."
Written by Stefan Frost