Premiership Rugby
Rugby Round Up - Tackle Laws, Players On The Move And FFR Boss Resigns
Rugby Round Up - Tackle Laws, Players On The Move And FFR Boss Resigns
FloRugby's Weekly Rugby Round Up - World Rugby follows RFU lead on new tackle laws, Bernard Laporte resigns and international stars set for new clubs.
Jan 27, 2023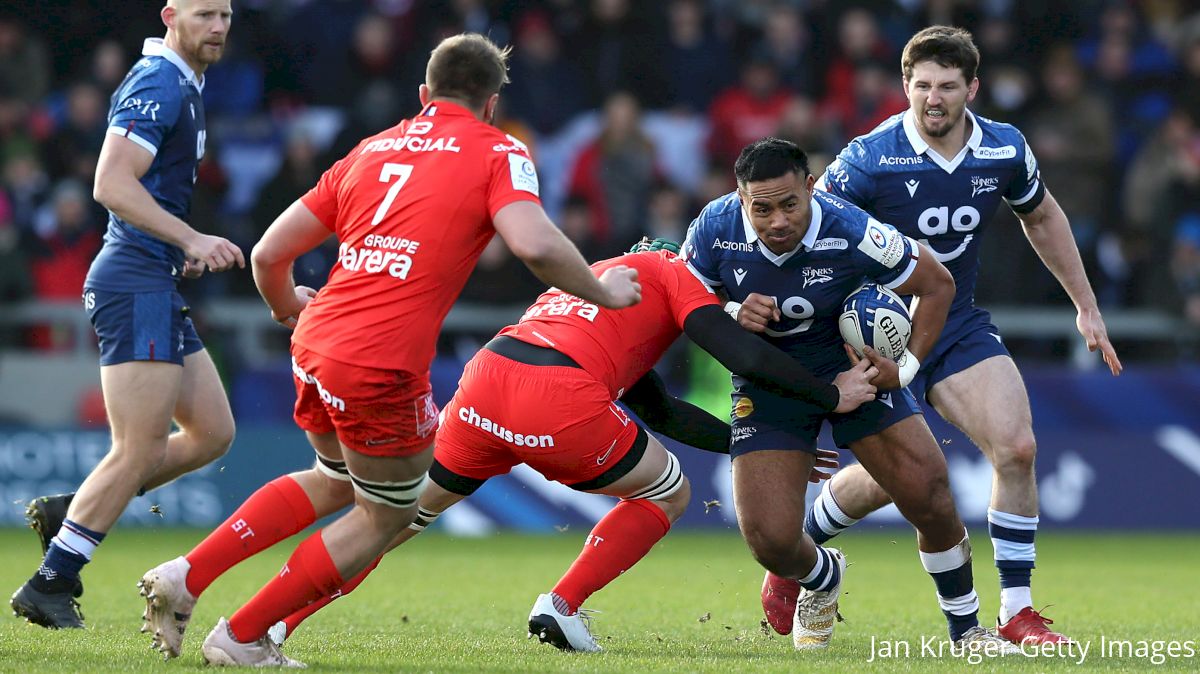 World Rugby Follow RFU Lead
World Rugby has announced its intention to lower the legal tackling height at the elite level worldwide in the coming years to reduce the risk of head injuries in the sport.
The announcement comes in the wake of the Rugby Football Unions' announcement that from July 2023, grassroots clubs in England will see the legal tackle height dropped down to the waistline.
Despite facing a major backlash from fans, players and coaches alike, World Rugby now look set to follow the RFU by changing the height at the elite level of the game.
Speaking to the Telegraph, World Rugby CEO Alan Gilpin said: "Yes, we're looking to make sure that we are implementing a lower tackle height across all parts of the game. The RFU is in the process of implementing some changes around tackle height that we support.
"There's a lot of work to do to educate people. But we've got to, as a sport, try to find that really difficult but hugely important balance between safety but making the game entertaining to watch."
"We need to get players tackling lower at every part of the game ... How that's actually implemented is slightly different in the community game to the elite game.
"The key message is let's get the tackle height lower at every level of the game because that will reduce – absolutely reduce – the number of head injuries that we see in rugby." Gilpin concluded.
French Rugby Boss Resigns
Bernard Laporte has reportedly resigned as the President of the French Rugby Federation. Based on reporting in the French publication Rugbyrama.
The report from Rugbyrama read as follows: "This Friday morning, in the steering committee of the federation, although physically absent, Bernard Laporte submitted his resignation with immediate effect. An interim president is expected to be named, and new elections just for the president's post are due to take place in the coming weeks.
"Since the announcement on Thursday of the victory of the 'no' vote in the referendum (51.06 per cent) on the appointment of a delegate president in the person of Patrick Buisson, we have been carefully scrutinising the reaction of president Laporte.
"Withdrawn since January 6 at the request of the Minister of Sports, Amelie Oudea-Castera, Laporte has decided to submit his resignation, according to information from Midi Olympique. The announcement was made this morning at the FFR's steering committee, which is being held in Marcoussis in the presence of the minister.
"The latter took note of Laporte's departure but called for a global resignation from the steering committee. That's what she said when she left.
"For the post of interim president, the name of Alexandre Martinez, current treasurer, comes up insistently. According to the statutes, an election for the post of president must take place at the next FFR congress, from June 29 to July 1, in Lille. However, if the entire steering committee resigns according to the ministerial wish, then elections should be held within six weeks."
Scottish Star Has His Contract Torn Up
22-year-old Glasgow Warriors and Scotland wing Rufus Mclean has had his contract terminated.
Having pleaded guilty to charges under the Domestic Abuse (Scotland) Act constituted gross misconduct and breach of contract.
Glasgow Warriors released the following statement in the wake of McLean's dismissal:
"Glasgow Warriors fully acknowledges the seriousness of domestic abuse and recognises the impact it has on the mental and physical welfare of those affected by it,"
"The club was already working with Police Scotland to support and promote its male education campaign don't be THAT GUY and further workshops are planned in the coming weeks."
Glasgow Warriors managing director Al Kellock said: "Glasgow Warriors prides itself on being a family-centred club and are proud to always represent our fans and our city.
"Rufus admitted domestic abuse and his actions cannot be condoned which has resulted in his employment with Glasgow Warriors ending.
"We have taken this matter extremely seriously. Sadly, with any crime, there is a victim and as a club, we want to acknowledge the impact on the young woman involved.
"We are committed to ensuring our players continue to be positive role models and recognise the privileged positions they hold.
"We found the recent work with Police Scotland on male education to be hugely instructive and we are grateful for the opportunity to continue working with them in the near future."
Lending his weight to the decision, Scottish Rugby CEO Mark Dodson said: "I fully support the approach taken by Glasgow Warriors in ending Rufus McLean's employment with the club.
"There is no place in today's society for any form of abuse and his actions have impacted not only his club and rugby in Scotland but more importantly the life of his former partner, which is both sad and regrettable.
Major Transfers & Rumours
Manu Tuilagi – Sale Sharks, England and Lions star Manu Tuilagi has long been a target for French Top 14 giants Racing92. It would now appear as though the Paris-based side may finally get the physical centre that would fill the void left by the recently retired Virimi Vakatawa. First reported by The Rugby Paper, Tuilagi has previously been offered contracts by Racing but instead opted to remain in England in order to continue his international career. Now 31 years old, Tuilagi may opt to leave England to post the World Cup in search of a big money deal elsewhere. In addition to the Racing links, Tuilagi has reportedly received interest from Japanese Top League and Major League Rugby clubs.
Cory Hill – Welsh International second row could be on the verge of a homecoming to push for international selection with Warren Gatland's side. Speaking about a potential return Gatland said, "There's been chat about Cory potentially coming back; some of the other coaches have been watching his performances in Japan," Gatland said.
Leicester Fainga'anuku – 23-year-old winger Fainga'anuku could be in line for a shock exit from New Zealand Rugby with French publication Midi Olympique reporting that at least two Top 14 sides are interested in acquiring his services. Making his debut against Ireland in July 2022, a departure from New Zealand at such a young stage would be a blow for the All Blacks ahead of the World Cup. Whilst it is unusual to see a top-level player leave so early into their career, the precedent has been set by former All Blacks Malaki Fekitoa and Steve Luatua. Like Fekitoa, Fainga'anuku could switch allegiances to Tonga after serving the required three-year period away from the international arena.
Josh Adams – Cardiff, Welsh and Lions winger Adams is reportedly set for departure from his contract with Welsh Rugby. Based on reporting from Wales Online the 27-year-old has become a target for several French Top 14 clubs. Currently leading the charge is Lyon who will see giant Fijian Josua Tuisova. Standing in the way of any move are the two years remaining on Adams' contract as well as his international ambitions as he would not be eligible for Wales should he leave. Both issues are rectifiable however with Lyon reportedly willing to buy the winger out of his contract whilst Welsh Head Coach Warren Gatland could request a special dispensation to select Adams.
Ramiro Herrera – Veteran Argentinean prop Herrera is on his way to the USA with Major League Rugby side Old Glory DC. The 33-year-old has 39 international test caps to his name and will bring with him an exceptional scrummaging game having played at the top level of the game for over a decade.
Stuart Hogg – Former Scotland captain Stuart Hogg could be on his way to the Japanese Top League based on reporting by Rugbypass. The 30-year-old is on the verge of hitting the 100-test cap mark for his country and should do so during this year's Guinness Six Nations tournament. Hogg's departure would be a further blow for Premiership club Exeter Chiefs who have seen a number of their homegrown talent sign contracts to leave the club at the end of the season.
Written by Philip Bendon