2022 Leinster Rugby vs Racing 92
Frustrated Finn Russell Explains Racing's Champions Cup Elimination
Frustrated Finn Russell Explains Racing's Champions Cup Elimination
Finn Russell has shed light on how frustrated and disappointed Racing 92 is following its elimination from the pool stage of the Heineken Champions Cup.
Jan 24, 2023
by RugbyPass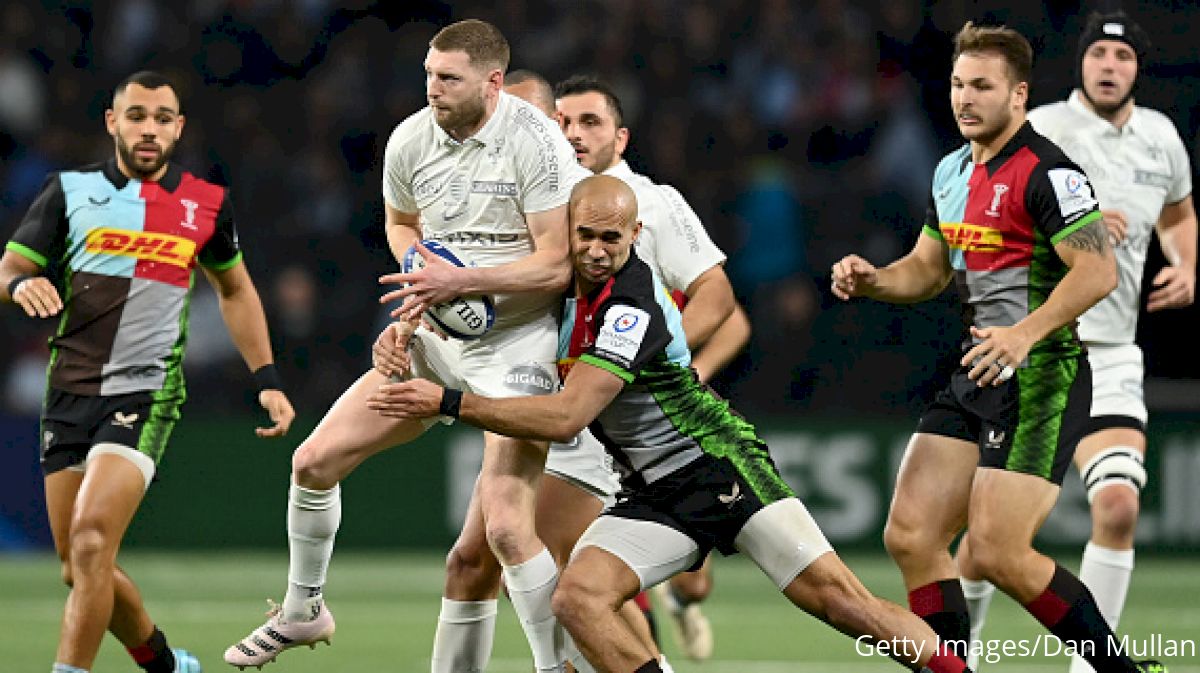 Finn Russell has shed light on how frustrated and disappointed Racing 92 is following its elimination from the pool stage of the Heineken Champions Cup.
The big-spending Parisians have never made a secret of their ambition to win the premier European tournament. However, having contested three finals in five seasons, that last defeat coming against Exeter in 2020, their latest campaign has woundingly ended after just four pool matches.
The Scotland out-half tried to offset that disastrous outcome during the Aviva Stadium game.
It was his splendid assist that put Christian Wade in for the 48th-minute try that had Racing ahead of Leinster, 10-7, and in possession of the winning score line that would have clinched the top-eight finish necessary to progress to the Round of 16.
However, that scoreboard advantage lasted only five minutes, and Racing then was blown away by a late Leinster power surge that included three tries in an eight-minute spell.
Ten months after his last appearance in Dublin was accompanied by the controversy that was being one of six players reprimanded by Scotland boss Gregor Townsend for an unsanctioned bar visit, it was about an hour after the 36-10 loss to Leinster that Racing talisman Russell arrived into the media center to say his piece on the French club's Champions Cup demise.
"For us, it is very disappointing to get knocked out in the pool stages. As you can imagine it was very flat in the changing rooms. I thought tonight we played really well for 65 minutes, and then the power of Leinster showed in the last 15 minutes.
"It's very frustrating to be knocked out in the pool stages, but if we managed to play like that first 65 minutes in the rest of the season, we can do well, and we can hopefully go to win the Top 14 and Challenge Cup. We have got a big game next weekend, La Rochelle at home, so we need to focus as much as we can on Top 14. I don't know how it all works, the Challenge Cup. I'm not too sure, but we will get stuck into that and try and win it.
"Champions Cup was our main goal, having been in three finals and not managed to win. The main goal for the team is Europe, so it is frustrating and disappointing to have been knocked out in the group stage."
💙 | MERCI ! @AVIVAStadium pic.twitter.com/lm5oqnIzxc

— Racing 92 (@racing92) January 21, 2023
Where did Russell, who next season will be at Bath, apportion the blame for the French club's deflating exit?
"The first game against Leinster, it was 42-10, and we didn't show what we could do as team, and the game against Harlequins we were pretty poor over there, as well.
"The character and the heart we showed there today, if we had done that the first two games, we could have been in a different situation today, but the damage was done in the first two rounds."
In just two weeks' time, Russell will be hoping to be in a far better post-match mood than in Dublin.
Scotland is set to take on England at Twickenham in the opening round of the Guinness Six Nations, and the seasoned campaigner will head into that camp alongside test newcomer, Ben Healy, the Irish out-half from Munster, who has opted to represent Scotland.
"I don't know him at all," Russell admitted. "I have spoken to Mike (Prendergast, the current Munster assistant who worked at Racing) a little bit, and he is a good guy, so I'm looking forward to getting to know him and working with him in the next six, seven weeks.
"There is always competition, and Ben coming in from Munster, he will bring a different view of the game and how we can play it. It will be good working and learning from him and working together, what we can try and build in the Scotland squad."
🎥 𝘽𝙚𝙝𝙞𝙣𝙙 𝙩𝙝𝙚 𝙨𝙘𝙚𝙣𝙚𝙨 𝙖𝙩 𝘼𝙫𝙞𝙫𝙖 𝙎𝙩𝙖𝙙𝙞𝙪𝙢

Relive Saturday's epic matchday. 🤩 👊#LEIvR92 #HeinekenChampionsCup pic.twitter.com/irlidhkUMH

— Leinster Rugby (@leinsterrugby) January 23, 2023
Leinster boss Leo Cullen was understandably in a more cheerful mood than Russell following Saturday's Champions Cup tie, his team pulling away in the end to seal the win that guaranteed them the No. 1 Pool A seeding for the knockout stages.
"You have got to be very respectful always," he said of Racing. "It definitely didn't feel like a 26-point win. We had some opportunities early, but were just snatching at things, not quite accurate enough, a little bit slow in some of our ruck arrivals.
"Racing, to their credit, were very brave defensively. You saw how aggressive they were, their chop tackles, getting guys on the ground quickly which meant they had players on the ball quickly, and they came up with some big turnovers at different stages. They were a constant threat, so you couldn't switch off for a second."