2022 Stade Rochelais vs Ulster Rugby
Heineken Champions Cup: Round 3 Recap - Red Cards And Atlantic Storms
Heineken Champions Cup: Round 3 Recap - Red Cards And Atlantic Storms
Take a look at Round 3 of the 2022-2023 Heineken Champions Cup. Two contrasting classics took place on French soil, and red cards heavily affected games.
Jan 15, 2023
by RugbyPass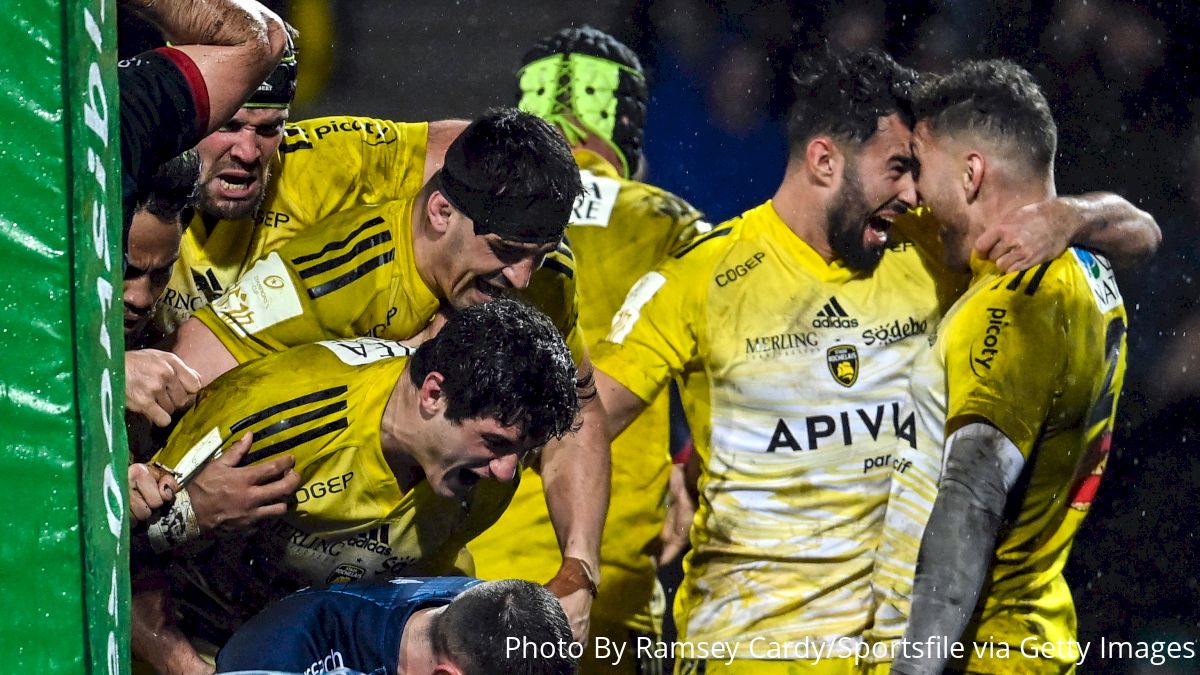 Round 3 of the 2022-2023 Heineken Champions Cup began with several teams on the precipice of playoff qualification.
With so much on the line, Europe and South Africa's elite teams did not disappoint.
In total, there would be eight teams that guaranteed themselves qualification to the business end of the season.
Several of the usual suspects once again were found to have stamped their tickets, with five former champions now locked and loaded with a game to go before pool action comes to a close.
While several teams now have the luxury of fighting it out for seeding positions, other teams find themselves at a crossroad.
Mathematically, only three teams are out of the running, while the remaining 13 that have yet to confirm their qualification have it all to play for.
Thus, Round 4 remains a crucible for the majority of the teams in the competition.
With so much still to play for, here are five of the biggest takeaways from Round 3.
United Rugby Championship Teams Dominate Proceedings
Seven wins from eight matches is a heck of return for the United Rugby Championship, as the league's teams proved once again just how competitive they are from top to bottom.
In fact, it should have been a clean sweep of victories for URC teams, only for Ulster's heroic performance away to defending champion La Rochelle to fall short in overtime (more on this later).
While the consistently superb Leinster once again was at its rampaging best, Munster, Edinburgh, Ospreys, C Cell Sharks, Vodacom Bulls and the DHL Stormers each closed out significant victories.
Elsewhere in the Challenge Cup, it was a similar story, as six of the eight URC sides handled business. They, too, are closing in on playoff action.
All-in-all, it was a great weekend for the URC, and it sets the stage for a frightfully exciting run for URC teams across all competitions. In particular, for top-8 qualification in the URC.
Red Cards Heavily Affect Crunch Clashes
Three red cards made big-time differences in three crunch clashes this weekend, as Munster, the Sale Sharks and Exeter Chiefs all found themselves fall victim to the referees whistle.
Starting with Sale, so much was promised early on, when Springboks hooker Akker van der Merwe went over for the opening try in their matchup with Top 14 giant Toulouse.
As quickly as they started, the Sharks came to a shuddering halt, as gargantuan second row Cobus Wiese was given his marching orders in the 19th minute.
Speaking on the ref mic, referee Mike Adamson said, "We have got a tucked arm, do we? So, he is coming from distance, we have got a tucked arm… we have got a serious act of foul play here. We are on a red card. The player has come from distance, high level of danger, direct contact with the head."
Undoubtedly, Adamson and his officiating team got the call right. Unfortunately for Sale, Wiese's absence made the already mighty task of tackling Toulouse nigh-on-impossible as they fell, 27-5.
Munster's Jack O'Donoghue would be the next player to be shown a red for a high tackle in the 22nd minute in his side's clash with the Northampton Saints at Thomond Park.
At the time, Munster was leading 17- 0 and would go on to get the next score to take an unassailable 24-0 halftime lead.
The second 40 would prove to be an entirely different kettle of fish, as the Saints came marching back into the contest, scoring 24 points.
In the end, Jack Carty would save Munster blushes with a late penalty, and with it, keep their qualification hopes alive with a 27-24 win.
FULL-TIME: Munster 27-23 Northampton Saints

The 14 men of Munster hang on for a huge @ChampionsCup victory!#MUNvNOR #SUAF 🔴 pic.twitter.com/dDNClLzOpb

— Munster Rugby (@Munsterrugby) January 14, 2023
The final red card of the weekend would be shown to Exeter Chiefs captain Henry Slade, who is perhaps the only player of the three who could feel aggrieved.
Already behind at the time of the incident, the Chiefs certainly still were in the contest with 20 minutes left to play.
Chasing down a kick that had been gathered by Bulls and Springboks flyer Kurt-Lee Arendse, Slade attempted to wrap up the winger with a high-speed hit.
Unfortunately for both Arendse and Slade, the center got his positioning slightly wrong as he initiated contact at the shoulder, before sliding up.
Both players and fans have argued online about mitigating circumstances surrounding the incident, but the officiating team hand its hands tied, as the red card was brandished.
For Slade, the red card brings with it a potential that he may miss England's opening rounds of the Six Nations, should he be suspended.
Two Contrasting Yet Thrilling French Battles
Defending champion La Rochelle was given the fright of its life, as Ulster had them all but beaten as the clock struck 80 at the Stade Marcel-Deflandre.
Battling the elements, as an almighty Atlantic storm engulfed the port town, Ronan O'Gara's side battered away at the Irish visitors, with no joy for 80 minutes.
Despite physically overpowering Ulster for much of the contest, the French giants were on the ropes and staring down the barrel of what would be a historic loss.
As the clock went into the red, viewers the world over were reminded of just why La Rochelle is the reigning champion.
In a near carbon copy of last year's final, weather aside, La Rochelle barged its way over the Ulster line from close range, breaking the hearts of Dan McFarland's men.
Finishing 7-3, some may argue this was a game for the purists, but this could not be further from the truth.
This clash was a battle of wills, who blinks first? Tactics were to the fore, as both sides for the most part kicked smart, wrestled for every ball and went toe-to-toe in an unconventional Champions Cup classic.
The second classic to take place on French soil could not have been any different than the weather-trodden affair of Saturday evening, as Racing92 hosted Premiership's Harlequins.
The first clash between the two sides was played out in nearly identical conditions to the La Rochelle/Ulster battle back in December, as London was battered with winter storms.
This clash took place at the mesmerizing La Defence Arena, a purpose-built indoor stadium that ensures a world-class pitch, no matter the time of year.
Trailing its English visitors with just minutes remaining, Racing was down to 12 men, having picked up three yellow cards for repeated infringements.
Somehow, the hosts managed to coax Harlequins into conceding a penalty straight from the kickoff. A kickoff that had come on the heels of the hosts conceding a penalty try.
Seemingly heading for a whimpering exit from Champions Cup competition, having lost their opening two fixtures, Racing now enters Round 4 needing a win away at Leinster.
While heading to Dublin is perhaps the toughest task facing any team this season, at least Racing has a pulse, and stranger things certainly have happened in rugby.
Ulster Continue Remarkable Decline
It was yet another case of so close, yet so far for Dan McFarland's men.
As discussed above, Ulster put on a tactical masterclass to frustrate its physical French hosts for the full contest, only to fall at the final hurdle.
Now sitting with six defeats in its past seven matches, one could be forgiven for thinking it would be time to sound the panic alarms in Belfast.
Just how Ulster snatched yet another defeat from the jaws of victory, is a look more into the psychology surrounding the side at the moment, more so than their play.
𝙈𝙖𝙩𝙘𝙝 𝙍𝙚𝙥𝙤𝙧𝙩

Ulster suffer late heartbreak in a tightly contested 7-3 defeat with European Champions Stade Rochelais at the Stade Marcel- Deflandre.

Read More ⬇️https://t.co/Xum3faLAEK

— Ulster Rugby (@UlsterRugby) January 14, 2023
As Ulster has proven in just about every defeat outside of its loss away to Sale, Ulster knows how to play itself into a strong position.
Crucially, it is the inability to close out a win, no matter how convincing the lead, that truly is a worrying issue for McFarland and his coaching ticket.
There can be no doubting their dedication and passion for the jersey, but as the saying goes, winning is a habit, and the same is true for losing.
Still with a chance of qualifying with a win next week as they host Sale, no side in the competition could do with a win more than the Ulstermen.
International Bolters Stand Up
Now just 20 days from the kickoff of the 2023 Six Nations, several players who were seemingly not on the radar at the start of the competition have put up their hands for international selection.
Leading the charge is Northampton Saint's Lewis Ludlam, who has been nothing short of sublime for his side, albeit in losing causes.
A rampaging backrow that mixes in a loose running style with an ability to mix it up in the physical exchanges, Ludlam looks to be the perfect fit for new England attack coach Nick Evans.
Having seen his stock drop under former England boss Eddie Jones, Ludlam could well find his way back into Steve Borthwick's side, especially if as the mentioned Evans envisages a ball carrying backrow capable of playing in the wider channels.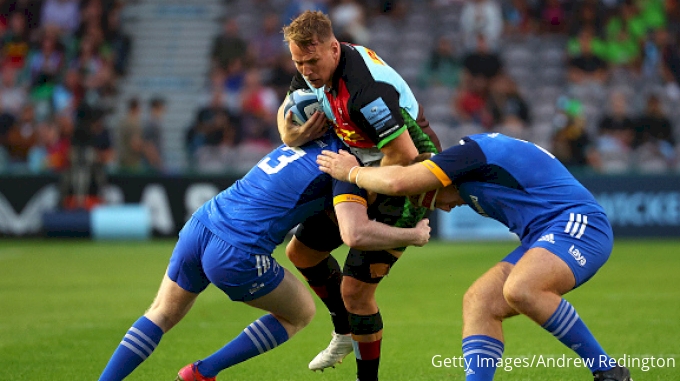 Next up, is Leinster's 21-year-old do-it-all backline maverick Jamie Osborne, who looks like the next coming of Robbie Henshaw.
A rock-solid defender with a powerful left-footed kicking game, Osborne has all the traits required to be an international quality center.
From an attacking perspective, Osborne has the uncanny knack of running the perfect line, while having enough pace and power to make a half break stick.
Also playing into his favor, is his ability to cover several positions, which is a trait coveted by coaches the world over, especially with a World Cup in the not-too-distant future.
Finally, comes Stormers winger Angelo Davids, who possesses an ankle-breaking sidestep, as well as immense work rate that is required of a modern-day winger.
Once again proving to be a difference maker, as he secured the bonus point in the Stormers 28-14 wins over London Irish, Davids continued to make his case for an international call-up.
Having been one of the form players in the URC so far this season, Davids faces stiff competition in what is a congested Springboks back-three.
Just when his international call-up will come is up to the Boks selectors, but should he continue this run of form, it would be tough to ignore him for too long.