Premiership Rugby
FloRugby's Weekly Rugby Roundup: Six Nations To Hit The Big Screen
FloRugby's Weekly Rugby Roundup: Six Nations To Hit The Big Screen
In this weekly roundup from the rugby union, read about Owen Farrell's suspension, a new England attack coach and rugby hitting the big screen.
Jan 13, 2023
by RugbyPass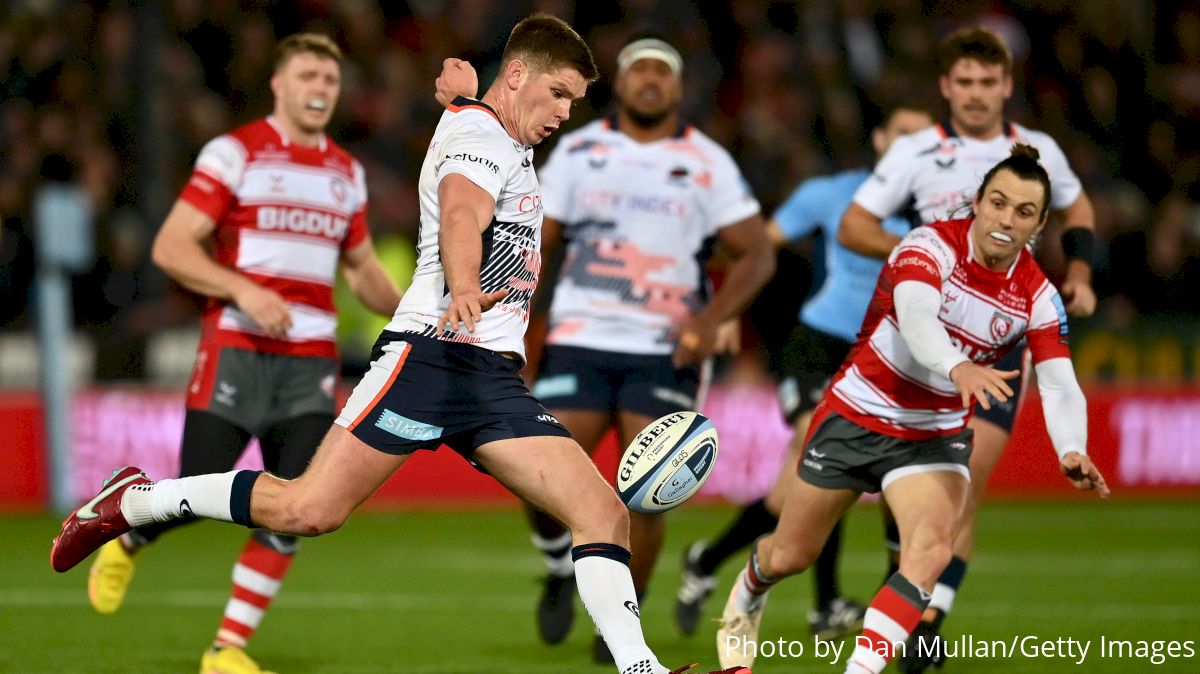 A shortened suspension, winds of change in national setups and rugby does Hollywood.
All of that has happened in the world of rugby this week, and here are some of the top headlines from the oval ball game.
England Captain Set For Spell On Sideline
England stalwart and long-term leader Owen Farrell has been handed a four-week ban for his dangerous tackle in Saracens recent victory over Premiership rival Gloucester.
Despite the ban, Farrell will be eligible for Six Nations selection, should he complete a World Rugby coaching intervention program.
Completion of the program will reduce the fly-half's ban to three weeks, making him eligible for England's campaign opener with Scotland at Twickenham.
The 31-year-old was cited for making contact with Gloucester forward Jack Clement's head with his shoulder.
Farrell was given two weeks' mitigation for his early admission of the charge and exemplary conduct during the hearing.
Following the hearing, a disciplinary report was released which read, "The panel accepts that the player thought he had struck the chest of his opponent, but our view the footage confirms he was wrong.
"We acknowledge there was no injury to the opposition player and have taken this into account in our decision.
"We do not however think this affects our conclusion that a high degree of danger existed."
"For me, Farrell shouldn't have been on the pitch to make that drop goal."

💭 Let's discuss Owen Farrell's hit on Jack Clement...

Ben Kay and Austin Healey consider why the Saracens captain wasn't reprimanded and what it could mean for England.#GallagherPrem pic.twitter.com/Zx2Ha6kzpz

— Rugby on BT Sport (@btsportrugby) January 7, 2023
Winds Of Change Blow For Women's Rugby In France
France Women's Rugby selectors have announced a revamped 32-player squad has been contracted through to June 2024.
The bronze medalist in the recent Rugby World Cup, France is ushering in a new era led by coaches Gaelle Mignot and David Ortiz.
Replacing former coach Thomas Darracq, who coached the side for just one season, the new coaching team will be tasked with finding replacements for stalwarts Safi N'Diaye, Marjorie Mayans, Laure Sansus and Celine Ferer, who all have called time on their international careers.
Former All Black Joins New-Look English Coaching Ticket
Former Harlequins, Auckland Blues and New Zealand playmaker Nick Evans has been unveiled as the new English attack coach for the upcoming Six Nations Championship.
The 42-year-old Evans arrived in the UK following New Zealand's gut-wrenching 2007 Rugby World Cup campaign.
As a stalwart in the playing ranks between 2008-2017, Evans transitioned into a coaching role with the club.
Overseeing one of the most exciting and potent attacks in the English Premiership, Evans' rise through the coaching ranks has been nothing short of meteoric.
Working closely with England stars Marcus Smith, Joe Marchant and Danny Care on a regular basis, Evans will enter the camp with a level familiarity.
Just how much of a say Evans will have on selection remains to be seen, but if his track record at Harlequins is an indicator, then England fans look set for a revamped exciting attacking game.
"It might look loose, but there's a lot of detail that goes into it."

"It's about letting players make good decisions."

Last season, new @EnglandRugby attack coach Nick Evans gave @alastaireykyn an insight into the approach that helped @Harlequins win the 2021 @premrugby title. pic.twitter.com/UYcUTst3vr

— Rugby on BT Sport (@btsportrugby) January 6, 2023
New Welsh Coaching Ticket Confirmed
Returning Wales head coach Warren Gatland has announced wholesale changes to the Welsh backroom staff ahead of his return as head coach.
Having departed as the greatest Welsh coach in history following the 2019 Rugby World Cup, Gatland's return ahead of the Six Nations comes after the firing of Wayne Pivac brings with it a multitude of questions.
One major question was, just who would Gatland bring with him as assistants this time around?
Having seen his immensely impressive stable of assistants take up roles elsewhere after the 2019 World Cup, Gatland has named a new-look team.
Taking the reins in attack is former England and Wasps fly-half Alex King, who played under Gatland with the Wasps. Based on reporting in the Wales Online publication, Gatland attempted to bring with him former assistant Rob Howley.
This move reportedly was blocked by the Welsh Rugby Union's non-executive director. Whether this was linked to Howley's 18-month ban by World Rugby prior to the 2019 World Cup has not been reported.
Defense is perhaps the biggest question mark hanging over Gatland's second term in charge following the departure of Shaun Edwards to the French coaching ticket.
His replacement, Mike Forshaw, certainly follows a sizeable shadow, given Edwards success in the role.
Like Edwards, Forshaw is a former Wigan rugby league player with a world-class pedigree in the 13-man game.
Finally, in the forwards, 11-year stalwart in Gatland's previous run, Robin McBryde, has moved on to Irish side Leinster.
His replacement is the one coach from Pivac's tenure to remain - Jonathan Humphreys.
Surviving the axe, despite inconsistencies in the Welsh forward game under Pivac, Humphreys now has the opportunity to get his international coaching career back on track.
Rugby Coming To A Screen Near You!
Streaming giant Netflix has announced a groundbreaking behind-the-scenes Rugby documentary.
Following all six teams in the upcoming Six Nations championship, the production will be launched in 2024.
Perhaps the closest production in recent years was the Amazon behind-the-scenes "All or Nothing" series, which followed the All Blacks for a season in 2018.
Known for their sport productions, such as Last Chance U, QB1 and the Last Dance, Rugby fans will be waiting with excitement for what promises to be a major step forward for the game in wider society.
SIX NATIONS (2024)

That's right – rugby's getting in on the act! We'll follow all six teams through one of the most iconic and hard-fought competitions in the sport. Six Nations (working title) will feature the upcoming 2023 tournament, and will launch in 2024. @SixNationsRugby pic.twitter.com/RyWEjiYiJp

— Netflix UK & Ireland (@NetflixUK) January 12, 2023
England Rugby Doubles Down On Decision To Dismiss Jones
Following their dismissal of longtime head coach Eddie Jones, English Rugby's governing body, the RFU, has come out confirming that players have backed their decision.
Speaking on the "Good, The Bad & The Rugby Podcast," RFU Chief Executive Bill Sweeney said:
"I spoke to a number [of players], Conor [O'Shea, the RFU's Director of Performance Rugby] spoke to a number. The conversations I had, without naming players, because I don't think it would be fair or reasonable to do that, were disappointed in terms of the decision of Eddie going but [had] a real understanding and support for the decision being made.
"The ones that I spoke to said, 'look, we're disappointed for Eddie, we like Eddie, but we understand why the decision was taken,' and without naming players said, 'we think it's the right decision.'
"One of them said to me, 'I was misquoted in the media because what I said was I was disappointed for Eddie, but I wasn't disappointed in the RFU decision, but that was reported as 'I'm disappointed in the decision'. So, the ones I spoke to get the overall situation.
"Some things weren't quite clicking, weren't working the way we all thought they were going to work, probably the way Eddie thought they were going to work.
"We reached the situation following the review where we felt some changes had to be made that probably Eddie wasn't able to put into place just because of the tenure of the job.
"You sense the fans' frustration. Nobody wants to hear booing at Twickenham after the South Africa match, but that wouldn't be a reason to make a decision to change the head coach, it was other factors."
Written by Philip Bendon