Pro D2
Four Uncapped Players Named In The 34-Man Italy Six Nations Squad
Four Uncapped Players Named In The 34-Man Italy Six Nations Squad
Kieran Crowley named four uncapped front-row players for his Italy squad for the Guinness Six Nations, while also recalling Gloucester's Jake Pollederi.
Jan 11, 2023
by RugbyPass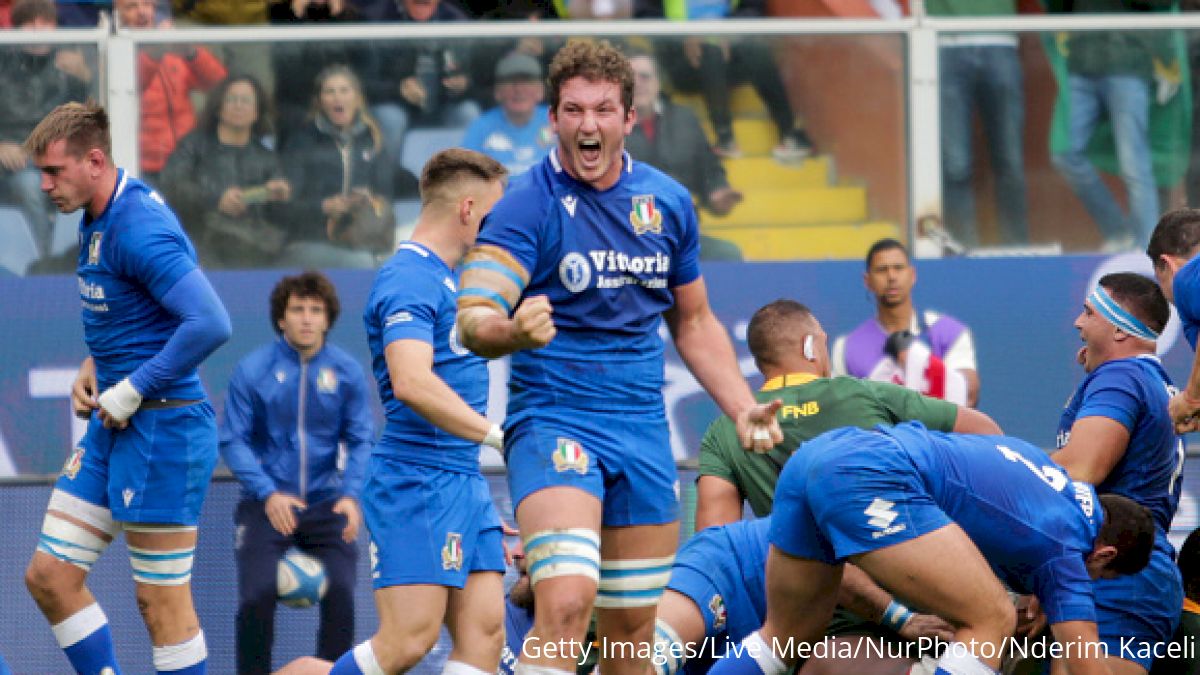 Kieran Crowley has named four uncapped front-row players for his Italy squad of 34 for the upcoming Guinness Six Nations, while also recalling Gloucester back-rower Jake Pollederi.
The Italians open their campaign at home against France, the defending champion, on Feb. 5, and the Italian squad will assemble in Verona for a training camp on Jan. 22-27.
Twenty-four players are chosen from the two Italy URC franchises, Benetton and Zebre Parma, while there also are six from the Gallagher Premiership, two from the Top 14, one from the Pro D2 and another from the domestic Italian Top 10 league.
1️⃣ ᴍᴏɴᴛʜ ᴛᴏ ɢᴏ 🤩

Domenica 5 febbraio #ITAvFRA allo Stadio Olimpico: inizia il @SixNationsRugby 2023 di #Italrugby 🇮🇹

Vi aspettiamo per cantare #insieme il nostro inno sugli spalti 💙
🎟️ @TicketOneIT #rugbypassioneitaliana pic.twitter.com/xm12Y7aiQr

— Italrugby (@Federugby) January 5, 2023
Prop Mirco Spagnolo of Petrarca is the grassroots player named by Crowley, and he is joined on the Italy squad by fellow test rookies, the front-rower trio of Luca Rizzoli and Marco Manfredi of Zebre and Benetton's Matteo Nocera.
Among the half-dozen Premiership-based players selected is Pollderi, who was last capped in the 2020 Autumn Nations Series game versus Scotland in Florence. A serious knee injury sustained in that loss has left him capless since then, though he did attend the October training camp ahead of the recent series of November matches.
Winger Monty Ioane is unavailable following his switch to the Melbourne Rebels, while Paolo Garbisi of Montpellier, Benetton trio Toa Halafihi, Gianmarco Lucchesi and Leonardo Marin, and Zebre's David Sisi weren't considered due to injury.
"We can't wait to take the field in the Six Nations," Crowley said. "Over the last year, we have worked hard to develop an identity as a team and earn respect and credibility. We have some new players and some returning players, and this tournament will give us all the opportunity to continue building on that foundation we have created."
ITALY SIX NATIONS SQUAD (34)
Prop (8)
Pietro CECCARELLI (Brive, 24 caps)
Simone FERRARI (Benetton Rugby, 40 caps)
Danilo FISCHETTI (London Irish, 25 caps)
Matteo NOCERA (Zebre Parma, newcomer)
Marco RICCIONI (Saracens Rugby, 17 caps)
Luca RIZZOLI (Zebre Parma, newcomer)
Mirco SPAGNOLO (Petrarca Rugby, newcomer)
Federico ZANI (Benetton Rugby, 16 caps)
Hooker (3)
Luca BIGI (Zebre Parma 42 caps)
Marco MANFREDI (Zebre Parma, newcomer)
Giacomo NICOTERA (Benetton Rugby, 7 caps)
Second Row (4)
Niccolo CANNON (Benetton Rugby, 24 caps)
Marco FUSER (Massy, 41 caps)
Federico RUZZA (Benetton Rugby, 36 caps)
Andrea ZAMBONIN (Zebre Parma, 2 caps)
Back Row (6)
Lorenzo CANNON (Benetton Rugby, 3 caps)
Michele LAMARO (Benetton Rugby, 21 caps) - captain
Sebastian NEGRI (Benetton Rugby, 40 caps)
Giovanni PETTINELLI (Benetton Rugby, 8 caps)
Jake POLLEDRI (Gloucester Rugby, 19 caps)
Manuel ZULIANI (Benetton Rugby, 6 caps)
Scrum-Half (3)
Alessandro FUSCO (Zebre Parma, 5 caps)
Alessandro GARBISI (Benetton Rugby, 3 caps)
Stephen VARNEY (Gloucester Rugby, 15 caps)
Out-Half (2)
Tommaso ALLAN (Harlequins, 66 caps)
Giacomo DA RE (Benetton Rugby, 1 cap)
Center (4)
Juan Ignacio BREX (Benetton Rugby, 18 caps)
Enrico LUCCHIN (Zebre Parma, 1 cap)
Tommaso MENONCELLO (Benetton Rugby, 6 caps)
Luca MORISI (London Irish, 39 caps)
Wing/Fullback (4)
Pierre BRUNO (Zebre Parma, 7 caps)
Ange CAPUOZZO (Stade Toulousain, 7 caps)
Matteo MINOZZI (Benetton Rugby, 24 caps)
Edoardo PADOVANI (Benetton Rugby, 40 caps)