United Rugby Championship
United Rugby Championship Round 12 - Five Major Takeaways
United Rugby Championship Round 12 - Five Major Takeaways
Round 12 of the 2022-23 URC brought about several notable results as well as a whole host of intriguing subplots as the tussle for playoff berths heats up.
Jan 8, 2023
by RugbyPass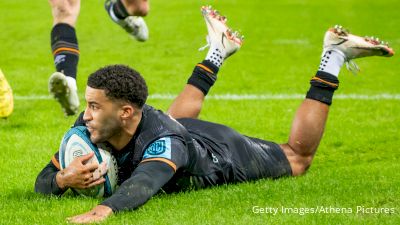 All 16 of the United Rugby Championships teams to the pitch this weekend for round 12 of the 2022/23 season.
Ahead of next weekend's Heineken Champions Cup there were several notable results as well as a whole host of intriguing subplots as the tussle for play-off berths heats up.
Here are five of the major takeaways from this weekend's action.
Ulster Slip Continues
Snatching defeat from the jaws of victory has become the Ulster way of late as the early season darlings have nose-dived at an alarming rate.
Dan McFarland's side hit the ground running as they looked every bit a side capable of taking the title come May. This was of course until their gut wrenching 38 – 29 loss to Leinster in a clash in which they were thoroughly in the ascendancy for a significant portion.
That late collapse has since spread like wildfire through the Ulster psyche as they slip to their fifth loss in their last six clashes. Their one win in this period came via a rather fortuitous missed Jack Carty conversion as time expired.
This weekend's loss to Benetton courtesy of a late Rhyno Smith penalty comes on the back of an overtime home loss to Munster leaving a cloud of doubt hanging over Belfast.
Having made some rather tough remarks in the media over the past two weeks, Director of Rugby Dan McFarland struck a more supportive tone this weekend.
"We stuck in there, perhaps not playing as well as we can. Just at the moment it's not quite ticking for us as a team,"
"Quite a few errors in that first half which was similar to last week,"
"Really proud of the way when things went against us in the second half, we came back into it to take the lead with three minutes to go.
"It's a situation when things aren't going great for you that we could easily have just sat on our hands and felt sorry for ourselves but we're not like that - I was proud of the fellas for that.
"We've got to be more productive with the ball. The key thing is when we're given chances in the opposition's third is to take those chances.
"We have threatening plays and we have threatening players. We have to be able to execute those."
It certainly doesn't get any easier for McFarland's side as they travel to the home of the defending Heineken Cup champions La Rochelle for what is now a do or die scenario.
Taking the glass half full approach, this trip presents Ulster with an opportunity to right in the ship in a match-up they will enter as heavy underdogs. Exacting revenge over La Rochelle following the debacle that was their previous meeting should add an extra layer of motivation for McFarland's side.
Leinster The Only Side With True Squad Depth
Whilst every URC side possesses squads bursting at the seams with quality rugby players, only one squad is capable of making wholesale changes without skipping a beat.
Leinster are without a shadow of a doubt the class of the competition once again this season. Having seen their title hopes pitter out last season as the Vodacom Bulls came to Dublin and caused the upset, Leo Cullen's side appear to have found a new gear this season.
Losing out on both the Heineken Champions Cup and the URC last season left an unusually baren looking trophy cabinet at Leinster HQ.
Certainly, there are a number of worthy challengers but if round 12 taught us anything it was that Leinster's squad depth is unmatched by any in the competition.
As both the Sharks and Stormers fell on the road, Leinster pulled a reverse Ulster as they fought back from an early deficit to put a plucky Ospreys side to bed.
Making the 24 – 19 victory ever more impressive was the drastic change in personnel from last weekend's domination of Connacht.
Although a title cannot be won in the middle of the season, it can certainly be lost. Leinster's ability to satisfy their player's game time needs with constant rotation combined with the seemingly endless supply of emerging talent makes them the class of the competition once again.
Dynasties are often not appreciated until they come to an end, this Leinster side are firmly on a path that will lead them to the upper echelons of sporting excellence. Often reserved for the likes of the All Blacks of the 2010s, Sir Alex Ferguson's Manchester United and the Brady/Belichik Patriots, there can be no doubting the greatness of the Dublin side.
Midtable Congestion To Produce A Genuine Contender
As the old adage goes, it is not how you start but how you finish that counts.
Having not quite hit their straps early on, a number of midtable sides have begun their ascension from participants to genuine contenders capable of playing knockout rugby come May.
Three sides in particular look capable of upsetting the apple cart as the traditional powerhouses that are Munster and Glasgow appear to have once again found their mojo.
Joining their Celtic brethren are the Rainbow Cup champions Benetton who look set to be flying the Italian flag in next season's Heineken Champions Cup.
All three sides are on a roll in terms of both results and performances having each knocked over fancied opponents in recent weeks.
Starting with Munster who followed up a devastating one-point loss to Leinster with back-to-back victories over Ulster and the Lions. Graham Rowntree's re-established their standing as Ireland's second-best side, having unearthed a core of young talent.
Both recent victories were significantly different in terms of score, but one key characteristic shone brightly in both.
Accused of perhaps living off the success of Munster teams of the past, this Munster side have rediscovered the doggedness that is associated with the legendary Heineken Cup winning teams of the 2000s.
Sure, there have been stellar one-off performances over the year, but this Munster team finally have the air of a side on the verge of breaking through. This doggedness has seeped into their style of play where they contest everything from loose balls, to rucks, to the tackle point. This Munster side are better only by Leinster in the most important defensive metric of points conceded.
Shutting down both Ulster and the Lions despite losing the scrum and possession battle, Munster dug deep to pick up two valuable wins.
Glasgow in contrast have rediscovered their attacking spark that was a trademark of their title winning team of 2015.
Where they were once Gregor Townsend, Finn Russell and Stuart Hogg, there is now Franco Smith, Sebastian Cancelliere and Ollie Smith.
Whilst the faces have changed the style of play has returned in a way that has fans caught in a mist of nostalgic déjà vu.
This evening's victory over the defending champions DHL Stormers a side stacked with international talent, Glasgow showed they are a tough out for anyone in the competition.
Smith, Cancelliere and Sione Tuipulotu were simply immense with all three playing a key role in the build-up to the winning score.
Looking ahead, the Warriors also have the benefit of three infinitely winnable games before tackling Munster away in round 16. Do what they should, and the Warriors may well find themselves hosting a knockout game of their own.
Finally, the Italian revolution is once again in full swing as Benetton snatched a late victory over the admittedly freefalling Ulster.
Although Ulster were at times their own worst enemy, there can be no arguments that Benetton deserved the victory. Following back-to-back victories over local rivals Zebre over the festive period, Benetton have a real opportunity to make a statement over the coming months in what would be further proof that Italian Rugby is once again on the rise following a downtrodden twenty years.
URC Referee To Lead First All-Female Officiating Team In Challenge Cup
Scottish referee and URC regular Hollie Davidson will make history next weekend as she leads the first ever all female officiating team in a men's European rugby match.
Davidson, a former Murrayfield Wanderers scrumhalf, will be assisted by Sara Cox and Clara Munarini, while Claire Hodnett will be on TMO duties and Helen O'Reilly will be the Citing Commissioner.
The team will be overseeing the Challenge Cup clash between URC side the Scarlets and South African side the Toyota Cheetahs.
Davidson was last in action as she took control of round 12's clash between Munster Rugby and the Emirates Lions in incredibly difficult conditions at Cork's Musgrave Park.
A clear communicator and experienced former player, the 30-year-old Davidson became the first full-time female Scottish referee in 2017.
Speaking on her upcoming match, Davidson said, "To be the first woman to referee a men's Six Nations team is a tremendous honour and an achievement I am proud of,"
"I couldn't believe it when I heard the news as I didn't think something like this would have happened so quickly in my career, but I'm really proud and looking forward to the summer."
World Rugby chairman, Sir Bill Beaumont, added: "Congratulations to Hollie, Sara, Aurélie and Claire on this historic appointment. Today's announcement signifies the strength and depth that has been developed in female match officials globally and demonstrates the many pathways available to women and girls wanting to get involved in this great game."
Munster's Loss And Edinburgh's Gain Is On Full Display In Cork
In the wake of this week's announcement that Munster and former Ireland U20 star Ben Healy will be departing for Edinburgh at seasons end, the stand-off put on a display of just what a difference he will make to both sides next season.
In a masterful display of playing in touch European winter conditions, Healy bossed proceedings for Munster in atrocious conditions at Musgrave Park.
A physical operator in the flyhalf channel, Healy threw his weight around in both attack and defence as he marshalled his side around the park with authority.
Crucially it was his kicking game that really set the tone for the Munster victory as he bludgeoned the ball with immense force into a near gale force wind.
His kicking power and accuracy saw a Munster side that was for large portions of the first half under pressure, hit the release valve as he found touch deep in Lions territory.
From these kicks, Munster scored two tries seeing them hit the half-time break with a commanding 12 – 3 lead and with it leaving their visitors questioning just how they hadn't capitalised on the wind at their backs and their domination of the Munster scrum.
This clash was just the latest example of why Irish Rugby's decision to let Healy defect to Scotland could come back to bite both Munster and the national team in years to come.
At just 23-years-old, Healy's best days are ahead of him and he could well be the man to take Edinburgh to the next level.
Speaking post-match, Munster head coach Graham Rowntree praised Healy's performance.
"I'm proud of the lads because we've played three games in a very short period of time," Rowntree said. "We want to challenge teams with the ball in hand and we've done a lot of training in terms of our fitness.
"I thought we did it a bit too much at times tonight. I want to have guys putting their hands up and consistently they're leading the charge.
"I'm particularly pleased for Ben Healy and he has a lot of things going on emotionally. He's led us there tonight and pulled us through."