2022 Sharks vs Vodacom Bulls
South African United Rugby Championship Derby Weekend Preview
South African United Rugby Championship Derby Weekend Preview
The South African United Rugby Championship teams close out 2022 with another weekend of action-packed derby clashes.
Dec 31, 2022
by RugbyPass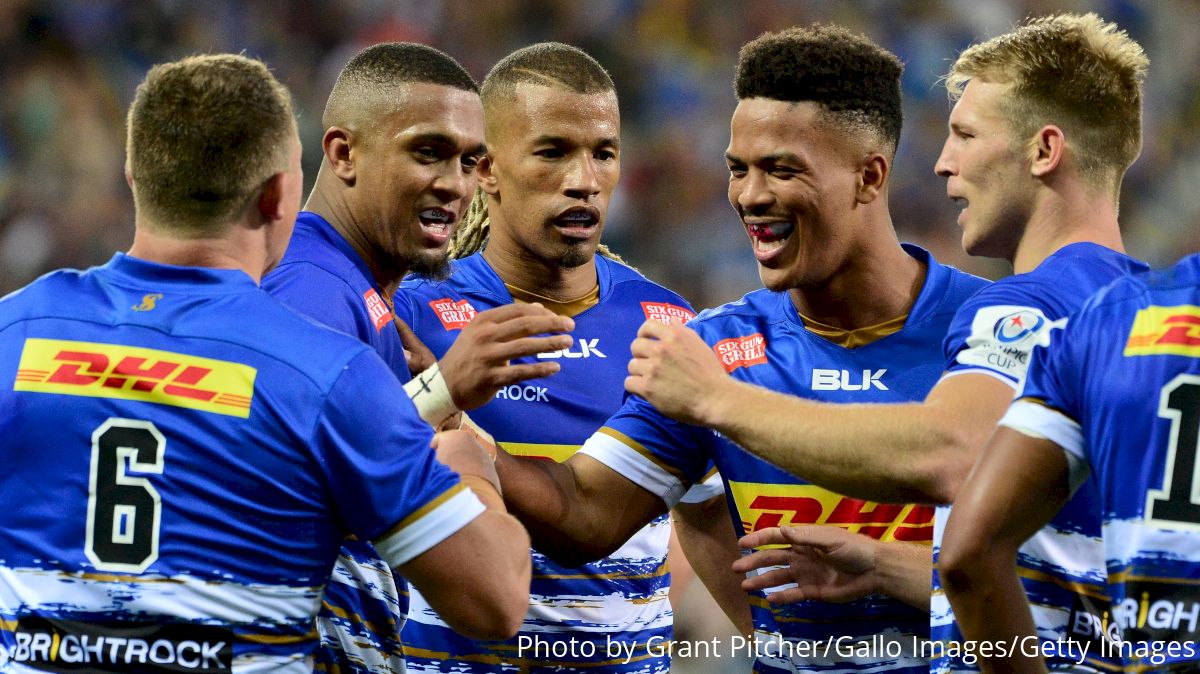 On the final day of 2022, the second half of the United Rugby Championship's 2022-2023 season sees a second successive weekend of intense South African derby battles get underway.
Last weekend's clean sweep by the coastal sides will have their highveld brethren baying for blood before the New Year celebrations get underway.
In a rather interesting turn of events, the definite split in playing styles between the coastal teams and their northern rivals has been a fun subplot to follow.
Both the Sharks and Stormers have proven their ability to play total rugby, striking a perfect balance between close-quarters power and attacking exuberance.
On the flipside, the Bulls and Lions have returned to their roots and relied on forward power, with a smattering of strike running and individual brilliance from their backlines.
At the halfway mark of the season, it would appear the total-rugby approach is leading the way.
How this will play out come the business end of the season remains to be seen, but on current form, both of the highveld sides will need to look to their coastal rivals for inspiration to get their seasons back on track.
Round 10 saw the return of #URC, great action & festive fun ☃️

Vote for your favourite @OFX Exchange of the Week for a chance to win match tickets ⬇️#OFX

— BKT United Rugby Championship (URC) (@URCOfficial) December 29, 2022
Cell C Sharks Vs. Vodacom Bulls
For South African rugby fans, this clash represents arguably one of the highest peaks in South African rugby history.
The date was May 19, 2007, and for the first time in their illustrious careers, the Sharks and Bulls completed a South African first- and second-place finish on the Super Rugby table, and they were about to contest a first all-South Africa final.
Following 11seasons of antipodean domination, the republic was yearning for a champion to call its own.
In what was a tense regular season that saw the top 6 sides finish within a mere five log points of one another, it would come down to the final round to decide who would contest that season's semifinal.
An action-packed final weekend started with the Chiefs upsetting an in-form Crusaders side in Christchurch and, with it, providing an opportunity for the two South African contenders to have a chance to clinch home semifinals.
No less than they deserve! 💪

The Vodacom @BlueBullsRugby go over in emphatic style! 🤩 #BKTURC #URC | #STOvBUL pic.twitter.com/kSYLgqbUM9

— BKT United Rugby Championship (URC) (@URCOfficial) December 23, 2022
Packed with Springboks stars, both the Bulls and Sharks would go on to record wins, and with them, home semifinals, where they would host New Zealand's two juggernauts and multiple- time champions, the Crusaders and Blues, respectively.
From here, the magical carpet ride would begin, as both South African sides dismantled their Kiwi visitors with ease to ensure that the Super Rugby title would reside in the Republic for the first time in the competition's history.
In what would go on to be one of the greatest finals in rugby history, Springboks winger Bryan Habana produced a moment of brilliance as time expired.
Ducking and weaving his way through the Sharks defense, Habana scored an 82nd-minute try that would see the Bulls home, 20-19. It was the beginning of a Bulls' dynasty that included three Super Rugby titles in four seasons.
While the Sharks players licked their wounds, the pain would be short-lived for many of their squad, as they linked up with their Bulls compatriots to win the 2007 Rugby World Cup.
Now 15 years later, the rivalry between the two sides remains as fierce as ever, with both winning multiple Currie Cup titles and regularly contending for Super Rugby titles.
For the here and now, this clash is of utmost importance for playoff seedings as the season enters its second half.
For the Sharks, this will be their ninth match of the season, having had two games postponed for factors out of their control. Despite this, they remain eighth on the combined log, with a potential to rise as high as third, should they collect two bonus-point wins.
Jake White's Bulls, on the other hand, are sitting in fourth position but have seen a regression in their performances as of late.
Beginning with some rather mediocre performances on their mini-European tour, as well as in the Heineken Champions Cup, the Bulls come into this clash in dire need of a win.
Last weekend's loss away to the Stormers, a rematch of last season's final, highlighted the Bulls shortcomings in terms of the attacking game.
Despite possessing some of the very best attacking players in the competition, the Bulls over reliance on their powerful forward pack has seen them look short of ideas when matched physically.
In a 15-minute Stormer's blitz last weekend, the Bulls went from being level at 13 to 21 points down in a flash.
Leaving that clash empty-handed brought into question White's decision to all but throw away a chance at beating the Exeter Chiefs the week by resting his starters.
Now, in a position where a victory is a complete necessity, White has picked a matchday-23 full of rockstars for their trip to Durban.
Picking an all-Springboks back three, with Johan Goosen shifting from his regular fly-half position to partner with speedsters Canan Moodie and Kurt-Lee Arendse, White appears to be looking to add a strong distributor as a second receiver option.
Goosen's passing and kicking games should open more space for Moodie and Arendse, who both were, by and large, anonymous in the attacking box score against the Stormers.
In the forward pack, the ever-present figure of Elrigh Louw continues in the No. 8 berth, and his performance around the breakdown and set piece will be crucial in creating quick ball for the Bulls backline.
On the other side, Neil Powell has picked a dangerous-looking Sharks side, which will be led by Springboks captain Siya Kolisi in the backrow.
Kolisi will be tasked with neutralizing Louw and the other big Bulls forwards, and his combination with Sikhumbuzo Notshe, and Henco Venter in the backrow has the look of a well balance back row.
Notshe, in particular, possesses a brilliant carrying game with a particularly impressive turn of pace over 40 meters.
Elsewhere in the pack No. 4-1 all are Springboks, with the gargantuan Eben Etzebeth looming large in the second row. Now a test centurion, Etzebeth is playing the best rugby of his career and appears rejuvenated in Durban, following a rather tumultuous time with Toulon in the French Top14.
In the front row, Bongi Mbonambi will be tasked with neutralizing Bull's bolter Johan Grobbelaar, who has been one of the finds of the season thus far.
Both hookers are combative figures and will come face to face in a breakdown battle that will go a long way to deciding this contest.
GET OFF ME!
Mapimpi is on a CHARGE! 💪 #BKTURC #URC | #SHAvLIO pic.twitter.com/bGDhPqlV06

— BKT United Rugby Championship (URC) (@URCOfficial) December 23, 2022
Prediction: Sharks by six.
Sharks
15 Boeta Chamberlain, 14 Marnus Potgieter, 13 Lukhanyo Am, 12 Rohan Janse van Rensburg, 11 Makazole Mapimpi, 10 Curwin Bosch, 9 Grant Williams, 8 Sikhumbuzo Notshe, 7 Henco Venter, 6 Siya Kolisi (captain), 5 Gerbrandt Grobler, 4 Eben Etzebeth, 3 Thomas du Toit, 2 Bongi Mbonambi, 1 Ox Nche
Substitutes: 16 Kerron van Vuuren, 17 Dian Bleuler, 18 Carlu Sadie, 19 Hyron Andrews, 20 Phepsi Buthelezi, 21 Jaden Hendrikse, 22 Lionel Cronje, 23 Yaw Penxe
Bulls
15 Johan Goosen, 14 Canan Moodie, 13 Cornal Hendricks, 12 Harold Vorster, 11 Kurt-Lee Arendse, 10 Chris Smith, 9 Bernard van der Linde, 8 Elrigh Louw, 7 Cyle Brink, 6 Marco Van Staden, 5 Ruan Nortje (captain), 4 Ruan Vermaak, 3 Mornay Smith, 2 Johan Grobbelaar, 1 Simphiwe Matanzima
Substitutes: 16 Jan-Hendrik Wessels, 17 Gerhard Steenekamp, 18 Sebastian Lombard, 19 Janko Swanepoel, 20 Nizaam Carr, 21 Embrose Papier, 22 Lionel Mapoe, 23 David Kriel
Emirates Lions Vs. DHL Stormers
While suggesting this clash is a case of David and Goliath certainly would be an overstatement, the challenge facing the Lions in this fixture is perhaps the toughest they will face all season.
The URC's reigning champion, the Stormers, have not missed a beat this season and look every bit capable of repeating last season's heroics.
Entering the clash, John Dobson's side is missing several first-choice players, with the Springboks trio of Evan Roos, Salmaan Moerat and Frans Malherbe being the most notable absentees.
Once again, at the Cape Town Stadium home, the Stormers will be looking to put a bow on a highly successful 2022 with a glitzy performance.
Starting in the backline, this Stormers side is brimming with attacking talent ready to explode into a flash of blue attacking waves, as the Bulls found to their detriment.
Damian Willemse continues as the ultimate utility player, as he once again lines up in the fullback jersey, despite having played the bulk of his international rugby in the fly-half berth this season.
Willemse's jack-of-all-trades reputation certainly is underplaying just what he brings to the table.
As a physical specimen who does everything outside of goal kicking to an incredibly high standard, the Paul Roos alum has risen to the ranks of superstardom and now appears certain to play a central part in the Boks 2023 World Cup campaign.
A superb team try from the @TheStormers for this weeks @BKTtires Power Play of the Week! 💪#BKTURC #URC | #Teamwork pic.twitter.com/uKPlWtHEMO

— BKT United Rugby Championship (URC) (@URCOfficial) December 28, 2022
Elsewhere, the front row duo or Joseph Dweba and Steven Kitshoff, go again this weekend and are two of the linchpins of this Stormers pack.
Dweba, who has, at times, struggled with his line-out throwing, offers so much around the park. His powerful try last weekend showed, while Kitshoff quite possibly is the best scrummager in World Rugby.
In the backrow, the Stormers are blessed with a girth of talent, with their current first-choice trio of Hacjivah Dayimani, Willie Engelbrecht and Deon Fourie, each bringing very specific skills to the table.
Dayimani showed his attacking prowess once again, as he left the Bulls backline in his wake with his world-class pace, which would be the envy of even the very best wingers in the world.
Former Lion Englebrecht is as close of a player to Pieter-Steph Du Toit as the Stormers could hope to find and is a heck of a line-out operator, while being an ever-present threat as a try scoring battering ram.
Finally, Fourie has gone from a high-level club player to an international at the age of 36. as the Springboks look to find their new Schalk Brits as a hooker-cum-backrow bench option ahead of the World Cup.
Fourie has rewarded both Dobson and the Boks' coaching ticket with sustained excellence and arguably is the best jackler in the game today. His stocky build and superhuman strength make him nigh-on-impossible to move when he latches onto the ball.
While the Stormers clearly are the finished product, this Lions side has shown that its young talent has what it takes to become a force over the next few seasons.
Starting with Paarl Boys High product Ruan Venter, who at 20 years old, already has become an internet sensation star, smashed experienced Scottish international Hamish Watson into another stratosphere earlier in the season.
The 6-foot-6 and 118-kilogram backrow has been heralded as the next coming of Willem Alberts as a bone-crunching monster capable of dominating opponents with his sheer power.
Speaking of Alberts, the now 38-year-old former Springboks stalwart has had somewhat of a career revival in the second row. He still packs a heck of a punch.
Forming an experienced partnership with Pieter Jansen Van Vuuren, as two of the old heads in the Lions squad, Alberts' decision making will be crucial, should the Lions garner real aspirations of a playoff berth this season.
In the backline, Jordan Hendrikse appears to have regained favor as the first-choice fly-half ahead of Gianni Lombard, as he forms an exciting combination with Sanele Nohamba.
Both players appear a few seasons away from international recognition but can take a real step forward with an impressive showing against Boks playmaker Manie Libbok.
Finally, winger Edwill van der Merwe arguably has been the Lions' best back so far this season and certainly will have his hands full with the Stormers back three defensively.
Should the Lions upset the applecart, they will put a significant dent in the Stormers hopes of closing the gap on league-leading Leinster, while also leapfrogging their way back into a playoff berth of their own.
However, if the bookies are correct, and the Stormers leave the clash with the full five log points, they will head into 2023 a mere three points behind the Irish giants.
Prediction: Stormers by 18
Stormers
15 Damian Willemse, 14 Angelo Davids, 13 Suleiman Hartzenberg, 12 Dan du Plessis, 11 Leolin Zas, 10 Manie Libbok, 9 Paul de Wet, 8 Hacjivah Dayimani, 7 Willie Engelbrecht, 6 Deon Fourie, 5 Marvin Orie, 4 Ben-Jason Dixon, 3 Neethling Fouche, 2 Joseph Dweba, 1 Steven Kitshoff (captain)
Substitutes: 16 Andre-Hugo Venter, 17 Brok Harris, 18 Sazi Sandi, 19 Connor Evans, 20 Junior Pokomela, 21 Marcel Theunissen, 22 Godlen Masimla, 23 Clayton Blommetjies.
Lions
15 Quan Horn, 14 Sibahle Maxwane, 13 Henco van Wyk, 12 Marius Louw, 11 Edwill van der Merwe, 10 Jordan Hendrikse, 9 Sanele Nohamba, 8 Emmanuel Tshituka, 7 Ruan Venter, 6 Jarod Cairns, 5 Pieter Jansen Van Vuuren, 4 Willem Alberts, 3 Asenathi Ntlabakanye, 2 PJ Botha, 1 JP Smith
Substitutes: 16 Jaco Visagie, 17 Morgan Naude, 18 Ruan Smith, 19 Ruben Schoeman, 20 Sibusiso Sangweni, 21 Morne van den Berg, 22 Gianni Lombard, 23 Manuel Rass
Written by Philip Bendon