2022 Exeter Chiefs vs Vodacom Bulls
Five Talking Points Ahead Of Round 2 Of The Heineken Champions Cup
Five Talking Points Ahead Of Round 2 Of The Heineken Champions Cup
Check out five talking points ahead of Round 2 of the 2022 Heineken Champions Cup, where the best clubs from Europe and South Africa are set for battle.
Dec 16, 2022
by RugbyPass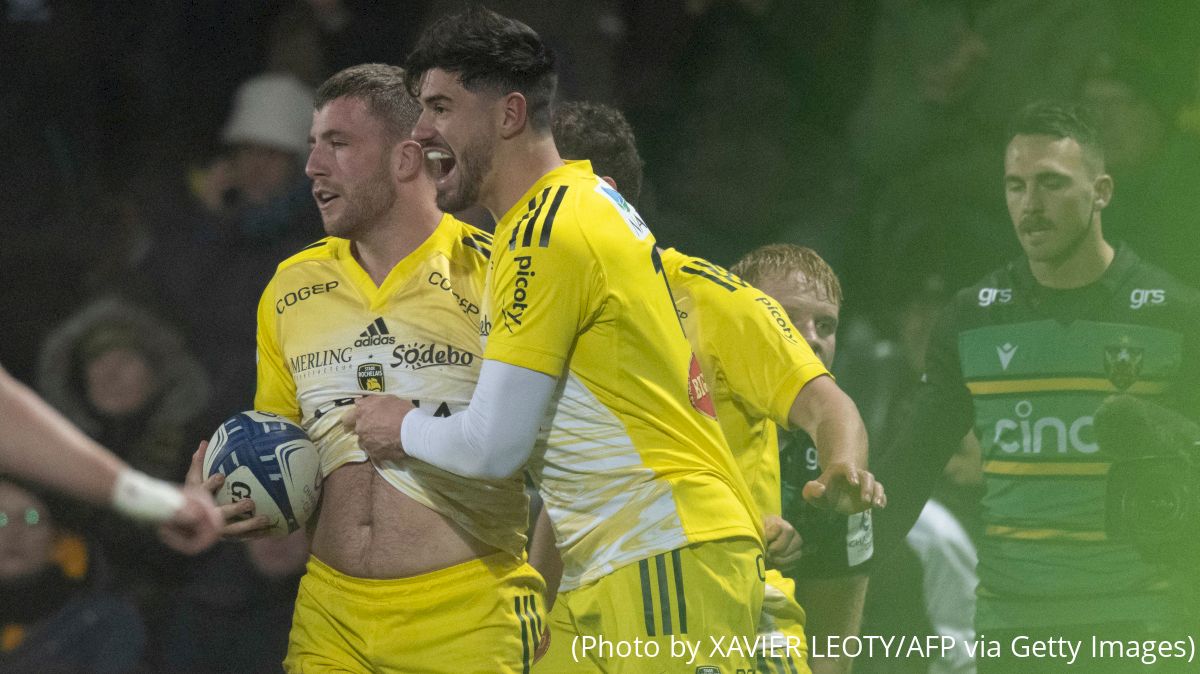 Can The South African Sides Be Successful In "European" Rugby?
South Africa's addition to the biggest club rugby competition in the world has certainly caused a stir in the Rugby world.
Change always brings both good and the bad, especially in the early days.
Traditionalists will argue that the competition no longer is the realm of the European elite, while also flagging the additional travel to a country heading into their summer months.
For those interested in seeing the continued growth of the game outside of a prism of the traditional north versus south viewpoint, the change has been a breath of fresh air.
Bringing with them a sizeable fan base, South Africa's provincial sides offer the tournament a new market that is crying out for a tournament to rival the heydays of Super Rugby.
While remaining on the point of Super Rugby, the South African sides brought with them a new approach to the Champions Cup in Round 1. Both the Sharks and Bulls employed the all-out-attack ideology - if you score five tries, we will score six.
Both sides emerged victorious in highly entertaining fixtures, but both sides gave up losing bonus points. In the case of the Bulls, they conceded two log points to Lyon.
While the two clashes on South African soil saw home success, the same could not be said for the reigning United Rugby champions, the Stormers.
Rushing out to a sensational 14-3 halftime lead away to French giants Clermont Auvergne, the Cape Town side would go on to concede 21 unanswered points and leave France with no log points.
Thus, the question must be asked at this stage - can the South African attacking exuberance achieve success in Europe's toughest competition as the European winter months roll on?
Thinking back to all of the best sides in European history over the years, there comes a point when a team needs to grind out a crucial close victory.
Remembering champions gone by, such as the dogged Munster sides of the mid 2000s, Saracen's pragmaticism throughout the 2010s, Toulouse's immense physicality in both 2000s and the present day or the sustained clinical edge of Leinster since 2009.
All four of these champion sides have had that ability to get into a fist fight in the mud and grind out crucial victories.
While the excitement factor of all-out attack can work on the dry, fast tracks of the South African summer, can it be replicated on the heavy winter pitches of Europe?
What a crazy ending in Pretoria 🤯

Up 6 points with seconds left @BlueBullsRugby thought it was over...👀

But @LeLOURugby pushed them all the way - brilliant contest 👏#ThrowbackThursday pic.twitter.com/yNjFwXFiiZ

— Heineken Champions Cup (@ChampionsCup) December 15, 2022
This question is rather ironic, based on the criticism of the Springboks over the years who have been labeled "boring," based on their propensity to play a tight, physical, cup style of rugby. This style arguably has landed them their three World Cup titles but now may be absent in their provincial sides, who at the moment, are playing some incredible attacking rugby.
Throwing Up The White Flag?
Despite being just one round into this season's tournament, a number of sides appear to be shifting their focus toward domestic success.
Two key examples are the English Premiership's Gloucester and United Rugby Championship's Bulls, both of whom have picked significantly changed sides for Round 2.
Bulls Director of Rugby Jake White has made such a huge wash of changes to his side that defeated Lyon in Round 1 ahead of their trip to meet the Exeter Chiefs.
"We'd like to do well in both competitions, but I'm also a realist," White said when asked about the changes. "I would love to take my main guys and measure and evaluate them against a team like Exeter, who won this competition two years ago and are a really difficult team to play against.
"We play Exeter away, then the Stormers away, then the Sharks away. The next week we're away at the Dragons, before we're at home against Exeter again.
"There's enough pressure and travel for this (main) group, so we'd rather not take them away at another game."
📰 "I have full faith in the guys… I have no doubt they will give more than 100% and hopefully that will be good enough to get the result"

Read more from the boss's team announcement here: https://t.co/EG48Cr1sEf

— Official Blue Bulls (@BlueBullsRugby) December 16, 2022
Joining White in heavily rotating his squad is Gloucester head coach George Skivington, who has made 13 changes to his team ahead of their trip to take on four-time champions Leinster.
Interestingly, both the Bulls and Gloucester emerged with the full five points from Round 1, thus making their wholesale changes an interesting debating point.
Due to the competition's new format, it is possible for a team to make it through to the knockout stages with just a single win in the pool round. Therefore, this calculated bet from both coaches, as they rest star players ahead of their return to their domestic competitions, could pay dividends in the long run.
In the here and now, however, both sides are taking a real gamble against former champions, who have the capability of putting over 50 points on opponents in a flash.
Coming Out Swinging?
As is the way with the world, while many sides enjoyed a flying start to Round 1, several others experienced the bitter disappointment of defeat.
Leading the charge of the disappointing sides were the Irish duo of Munster and Ulster, as well as French giant, Racing92.
For Munster, losing at Thomond Park is unacceptable, regardless of the opponent. That being said, there are two sides in the competition who do not fear the "Thomond Park Factor."
One is Munster's fierce local rival, Leinster, and the other is Toulouse, which is just a season removed from its fifth Heineken Champions Cup title.
Munster was by no means blown away, but there also wasn't ever a realistic chance of upsetting the apple cart. A lot of the team's issues were self-inflicted, time and again letting scoring opportunities go a drift.
Discipline-wise, Munster was on the wrong side of a number of key decisions that released the pressure valve on the visitors. In the end, a score line of 18-13 perhaps flattered Graham Rowntree's side, but it equally highlighted how tough of a nut they are to crack.
Now on the road to a hurting Northampton side that was blown away by defending champion La Rochelle, a Munster bounce-back performance is imperative to any hopes of success this season.
Dan McFarland's Ulster was perhaps the most shocking side of Round 1 for all the wrong reasons. A 39-0 away loss to Sale Sharks was a result that nobody saw coming.
Consistently one of the best sides in Europe and the URC over the past few seasons, the Belfast side looked unhinged from the kick-off. Unsurprisingly the story about their severally disrupted travel plan that saw the squad split in two and arriving at different times was highlighted as a factor in their lacklustre performance.
Interestingly the result feels like such an aberration that a strong rebound of a performance at home to reigning champions La Rochelle this weekend would not be entirely shocking.
Ulster's biggest issue was the disparity in physicality between them and Sale. At every major juncture McFarland's side were second best again making this performance feel more like a one-off shocker rather than a season altering beating.
𝗠𝗔𝗧𝗖𝗛 𝗛𝗜𝗚𝗛𝗟𝗜𝗚𝗛𝗧𝗦 | 🦈 39-00 🔴

Watch #YourSharks whitewash Ulster Rugby in the first round of this season's @ChampionsCup! 👇

WHAT. A. DAY. 🤯

— Sale Sharks 🦈 (@SaleSharksRugby) December 13, 2022
If Ulster's defeat was shocking, Racing's hammering at the hands of Leinster was at the very least eye-opening.
Yes, the game did not take place at Racing's traditional home in Paris, but rather in La Havre, due to a scheduling issue. Still, losing 42-10 was an abysmal showing.
Take into consideration that the two sides have built a healthy rivalry after several playoff clashes, and the dearth of ideas from the Parisians shows two clubs going in different directions.
Leinster remains an innovator that continually adjusts to remain ahead of the pack, while Racing, which despite sitting second in the Top14, looks like anything but a title contender.
Scotland star Finn Russell at times appeared to be the only Racing player with any spark about them but even his magic rarely threatened the sublime Leinster defensive line.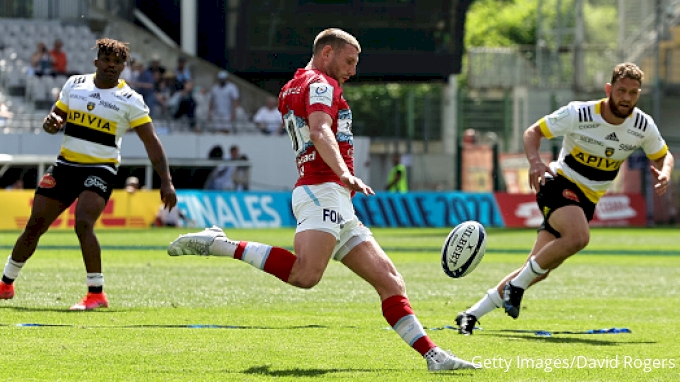 Unlike Ulster and Munster, Racing's issues appeared deep-rooted. Key amongst these issues was their inability to slow down the quick ruck game of Leinster. Defensively, they were then on the back foot, as the Leinster ball carriers ran onto the ball at a rate of knots.
Now facing a trip to London to take on a tough Harlequins side, it is a case of now or never for Racing. Lose in London, and the Parisians will need to pick up a win away in Dublin against Leinster, which on current form, looks far beyond them. Win in London, however, and then again on the return leg at the La Defence Arena, and Racing could find its way into the last 16.
The Battle For The French Number Shirt Heats Up
Oh to be a French rugby fan in 2022….
Arguably the best-placed nation to lift the World Cup on the home soil next year, Les Bleus have as much strength in depth as any other nation in the game.
Now throwing his name into the ring for the pivotal fly-half position is the silky-smooth Antoine Hastoy.
The La Rochelle playmaker has emerged as a real find for the defending champion since his arrival from Pau.
Going back over La Rochelle's game yesterday, this was such a nice tap-on from Antoine Hastoy.#SRNOR pic.twitter.com/A0fo4DGouq

— EK Rugby Analysis (@ek_rugby) December 11, 2022
Very much a traditional French-style playmaker, Hastoy has an almost laid-back running style, which when combined with his exceptional passing game, provides a potent attacking threat.
This running style see's Hastoy glide through contact without really getting hit too hard, all the while, his passing game brings his backline into the game beautifully.
Learning under one of the best fly-halves in Rugby history in his head coach Ronan O'Gara, Hastoy has a real opportunity to push Romain Ntamack for game time ahead of the Six Nations.
Speaking of Ntamack, the Toulouse star looks to be getting back into form following his injury layoff. Playing outside his longtime partner in crime Antoine Dupont, Ntamack controlled proceedings brilliantly at Thomond Park.
Joining Ntamack and Hastoy are the likes of Jules Plisson, Mathieu Jalibert and Louis Carbonel, and the frightening prospect of the sheer depth of quality in the French game.
Back To The Future For Game Of The Week
Few names are bigger in the Champions Cup than those of Leicester Tigers and Clermont Auvergne.
They're two proud clubs, each with a long and storied history, and both in their domestic leagues. But, more crucially, in European competition.
Leicester, which lifted the trophy in back-to-back years in 2000-2001 and 2001-2002, has enjoyed somewhat of a revival following a tough run since its last semifinal appearance during the 2015-2016 season.
Winning the English Premiership, while making the quarterfinals last season, was a step forward for Steve Borthwick's side, which has enjoyed a mixed start to this season.
They're in the fifth position on the Premiership table. Last week's win away at the Ospreys was a great shot in the arm, and perhaps just the springboard they needed to push their title ambitions forward.
Now hosting Clermont at Welford Road in a clash that would have taken top-billing in the early-to-mid 2010s, the Tigers face an acid test against a side that also claimed a valuable victory in the opening round.
Training Week complete ✔️ in Tigers Town ahead of tomorrow's Heineken Champions Cup clash with Clermont.#COYT 🐯 pic.twitter.com/VIFBV1BjQj

— Leicester Tigers (@LeicesterTigers) December 16, 2022
It is easy to forget that while Clermont has yet to lift the Champions Cup, it has narrowly lost in the final on three occasions.
The 2017 French Top 14 champions have had a slight slide over the past few seasons, which has prompted a renewed focus on the powers that be at the Stade Marcel Michelin.
Clermont has made it clear it wants to once again dine at the top table and has signed some incredible players to see out a number of the aging current crop next season.
Thus, this year could prove to be the final chance for a number of stalwarts to land the holy grail that is the Champions Cup.
As is the case for the Tigers, this clash while not make-or-break in terms of knockout qualification, could yet prove to be season-defining.
Win away at one of the toughest venues in the European game, and suddenly a high seed and with a possible home knockout draw could have the Michelin men back at the business end of the season.
Written by Philip Bendon