2022 Ospreys Rugby vs Leicester Tigers
Five Breakthrough Stars Set To Make Their Marks On The Champions Cup
Five Breakthrough Stars Set To Make Their Marks On The Champions Cup
As the kick-off of the 2022 Heineken Champions Cup comes into focus, we take a look at five of the brightest young stars looking to leave their mark.
Dec 8, 2022
by RugbyPass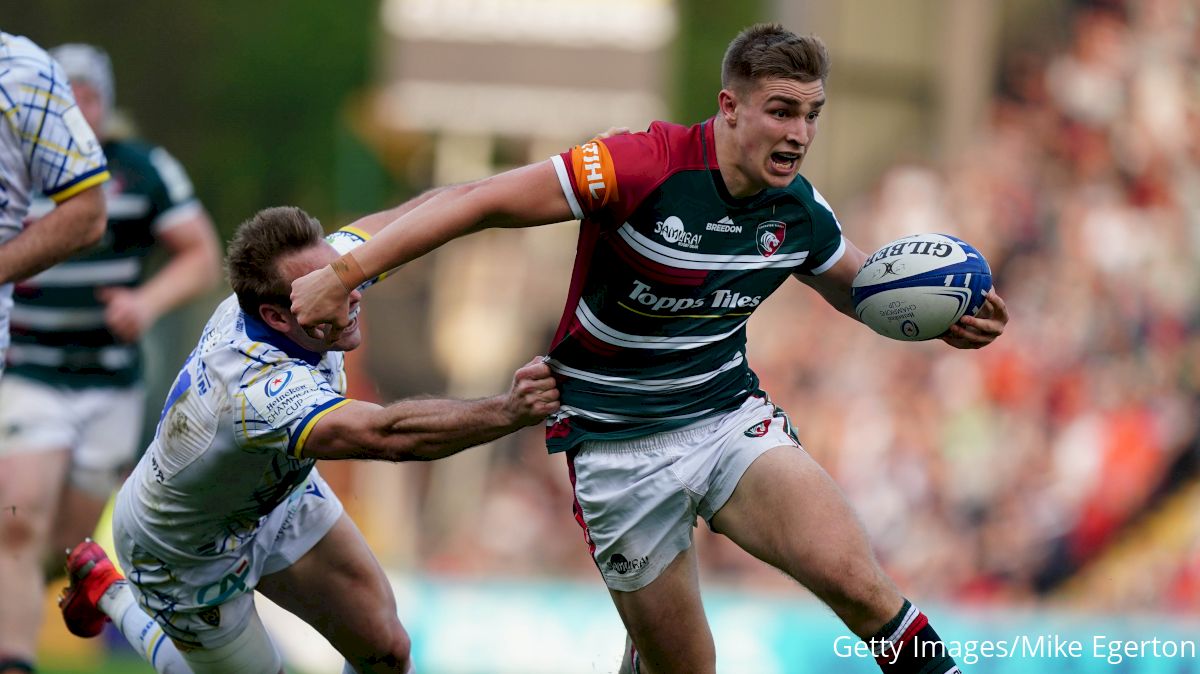 As the cool November winds give way to the Baltic winter storms of December, so too does the Rugby calendar transition from international back to club level competition.
November's Autumn Nations Series was one for the ages as the World's top nations settled into a rather muddled looking pecking order ahead of a seismic World Cup year in 2023.
Individually, there were a number of incredible performances being produced across the full November series as the next generation of rugby stars made their mark on the global stage.
Fortunately for European (And South Africa) rugby fans a number of these young stars are going to once again be on display as they return to the clubs for the 2022/23 Heineken Champions Cup.
Undoubtedly the highest quality club competition in world rugby, the Champions Cup is a who's who of professional rugby. Whether it is big money clubs in France, the ever present and efficient Irish provinces, England's powerful clubs or the plucky Scottish, Welsh and Italian sides this competition is the pinnacle for any player looking to test themselves outside of the test arena.
Now for the first time in history, European success is under siege from the sensational South African clubs who will look to add another dimension to the competition. Since joining the United Rugby Championship in 2021, South Africa's addition to Europe's top table has been much anticipated.
Each of the four South African sides bring present a new puzzle for their European opponents to tackle.
With all of this being said, just who should you be looking out for? Well below are a list of five of the most exciting young prospects in the World game who will be on show come the Champions Cup kick-off on December 9th .
Ange Capuozzo, Toulouse
Is there currently a hotter prospect in World Rugby? If so please do feel free to let us know in the comments! Toulouse and Italy's Capuozzo has enjoyed a meteoric rise over the past twelve months.
This rise has taken him all the way to the World Rugby awards where he has been crowned World Rugby's breakthrough player of the year for 2022.
Electric with ball in hand, the fullback is almost certainly Italy's greatest prospect in the past twenty years. At 5'10" and 80kg, Capuozzo is not the most physically imposing player in the position but what he lacks in size he more than makes up for in pace, precision and craftiness.
Seemingly untouchable, Capuozzo has a similar ability to New Zealand's Damian McKenzie when it comes to just gliding through tackle whilst changing direction at full pace.
Playing in a Toulouse squad that includes former World Player Of The Year Antoine Dupont and fellow French stars Roman Ntamack, Thomas Ramos and Melvyn Jamine will only help the fullback's cause.
Simply put Toulouse are rightly considered amongst the favourites coming into this season's competition and Capuozzo should play a starring role.
A star is born. 🌟

Ange Capuozzo wins #GuinnessSixNations Player of the Round. pic.twitter.com/GAqmWQ724b

— Guinness Six Nations (@SixNationsRugby) March 21, 2022
Jack Crowley, Munster
At long last the next great Munster flyhalf has emerged….
Yes, it may seem premature to crown the former Bandon Grammar school star as the next coming of Ronan O'Gara, but the kid has swagger that is simply undeniable.
Taking like a duck to water, Crowley seamlessly made his international debut this Autumn against Fiji before a week later being thrust into the starting line-up to face Australia due to stalwart Jonathan Sexton's last-minute injury.
For over a decade Munster have been in search of a true replacement for O'Gara without ever really landing on a truly viable option. Joey Carbery is the current incumbent and when fit is pretty close to World Class in an attacking sense but through no fault of his own, he has simply been unable to remain on the field of play due to serious and often times long term injuries. Ben Healy is another young star making his way through the ranks and appears to possess a big game aptitude as well as a monstrous kicking game.
Whilst both players certainly have their strengths, Crowley appears to combine the best of both of them. What truly sets him apart however is his ability to marshal his side around the park with authority, a trait regularly associated with O'Gara and Sexton.
Crowley however is very much a modern playmaker with the ability to take on the defensive line himself as a ball carrier often times freeing up those around him.
Although he remains second choice behind Carbery there have been murmurings coming out of Limerick that Crowley may well play alongside Carbery who could shift to what many consider his best position of Fullback.
Henry Arundell, London Irish
Has there been an English player with the electric ability of Henry Arundell since Jason Robinson?
Breaking onto the scene last year in a rather under the radar clash with French giants Toulon, Arundell would go on to score one of the tries of the season with his first touch of the ball.
Since then, he has taken the step up to international rugby with ease, once again scoring with his first touch of the ball in England's dominant series win over Australia in June.
Whilst scoring with your first touch is not an indicator of a world class finisher it was the manner in which the twenty-year-old finished the scores which were impressive.
Against Toulon, Arundell went from just outside his own try line to beat the Toulon defence by himself whilst his score against Australia was a show of power as he barged over the Wallaby defenders.
Now on the brink of a return from injury, Arundell will slot into the very exciting Irish back-three alongside fellow youngsters Ollie Hassell-Collins, Kyle Rowe and Logan Trotter.
As English Rugby remains in flux following Eddie Jones's firing, Arundell will be looking to impress whoever the next coach will be just nine months out from the kick-off of the 2023 World Cup.
Henry Arundell is box office 🎟

The @londonirish and @EnglandRugby man will get his chance to perform on the biggest European stage this season.#HeinekenChampionsCuppic.twitter.com/KV86sxRySf

— Rugby on BT Sport (@btsportrugby) November 30, 2022
Evan Roos, Stormers
Now a fully-fledged Springbok, last season's United Rugby Championship breakthrough star is fast becoming one of the most dynamic number eights in the game.
A man mountain standing at 6'4" and weighing in at 110kg, Roos is an old school South African loose forward with a twist. In a rather unique way, he blends the power of Springbok stalwart Duane Vermeulen with the ball playing ability of Bok great Bobbie Skinstad as he operates a lethal link player between forwards and backs.
Fortunately for both Roos and the Stormers, the Paarl Boys High product fits perfectly into their sublime attacking game.
Also benefitting Roos is the number of Springboks surrounding him in the Stormers pack with the front row of Frans Malherbe, Steven Kitshoff and Joseph Dweba setting a brilliant platform for Roos to attack from.
Having started the Boks final game of their Autumn Nations Series, European fans will have caught a glimpse of his immense potential before seeing the full show throughout the Champions Cup.
WOW WOW WOW
Take a bow Evan Roos 👏 #BKTURC #URC | #STOvCON pic.twitter.com/nnN8hkT6Ps

— BKT United Rugby Championship (URC) (@URCOfficial) September 24, 2022
Jack van Poortvliet, Leicester Tigers
Likely England's first-choice scrumhalf heading into next season's World Cup, van Poortvliet will need a strong campaign to keep his clubmate Ben Youngs on the bench.
Irrespective of his England ambitions, van Poortvliet is one of the most highly touted scrum halves England have produced for quite some time as is evidenced by Young's 110 Test Caps.
Outside of England's recent clash with the All Blacks, van Poortvliet has been a revelation. Fffering an attacking spark built around his ability to clear the ball from the ruck at lightspeed which is a must for a scrumhalf in the current climate.
Circling back to his issues against the All Blacks, one could certainly see this as a mulligan showing more the fragility of the English pack who were dominated at the contact point. This therefore led to incredibly messy and slow ball with All Blacks defenders swarming every breakdown.
Now back behind one of the better packs in European club rugby, he should have a better base from which to showcase his attacking prowess.
Also benefitting him will be the presence of World Cup winning flyhalf Handre Pollard who by all accounts is a calming and dominant figure who will likely call the Leicester plays.
Talk about a flying start ✈️

Jack van Poortvliet following up his Player of the Match performance in Round 1 with an early try for @EnglandRugby #SixNationsU20 pic.twitter.com/xRS9IxEcdE

— Six Nations Under-20s (@SixNationsU20) June 25, 2021
Written by Philip Bendon